We recently had a very good friend over for dinner. He lives out of town, so when he visits it's always a special treat. He's not related by blood, but he's family. 😉
Prior to him coming over (let's call him "J") AJ and I were trying to think of what to make for dinner. J is a big meat eater, and mostly follows a modified Paleo type diet. We eventually decided to make grilled steaks, sautéed green beans, and mashed sweet potatoes, but I wanted to do something a little different with our steaks. Something to "dress" them up and give them a little extra "oomph."
Since I had a generous amount of fresh rosemary on hand, and had just made a batch of homemade ghee, I decided to make a mock "butter" of sorts to melt on top of the steaks right after we pulled them hot off the grill.
We anticipated loving the Rosemary Garlic Ghee with Smoked Sea Salt on the steaks, but after tasting it we couldn't help but add it to everything.
I'm not kidding when I say this stuff is completely amazing. Just think of the possibilities: use it on pizza in place of marinara, sauté veggies in it, roast a chicken covered in it, make garlic bread with it, toss it in pasta or zucchini noodles, etc… We've even fried eggs in it!
AJ requested we always have a jar sitting out on the table to have with every meal. That might be a tall order since fresh herbs are scarce up here in the winter, but whenever I'm able, this will be a regular fixture at our table.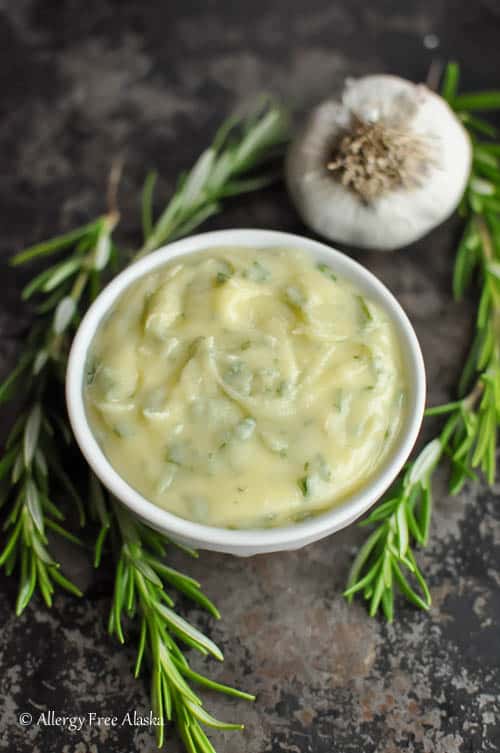 Ghee is unsalted butter that has been simmered to burn off (remove) the milk solids, leaving only the healthy butter fat behind. The girls and I react to the casein and whey in butter, and other dairy products, but have no problems digesting ghee.
Store bought ghee can be expensive, which is why I make my own ghee using unsalted butter. While I don't have any directions written up (yet) on how to make homemade ghee, Danielle does at Against All Grain, and you can view those directions HERE.
When the ghee is done simmering, I normally strain it through a fine mesh strainer that's lined with paper towels (to ensure all, or almost all, of the excess milk proteins are captured and kept out of the ghee). You can use a cheese cloth in place of the paper towels, but it's so much easier to simply throw the paper towels away instead of having to wash a greasy cheesecloth. I'm all about easy clean up!
All my love,
Megan (with a long E)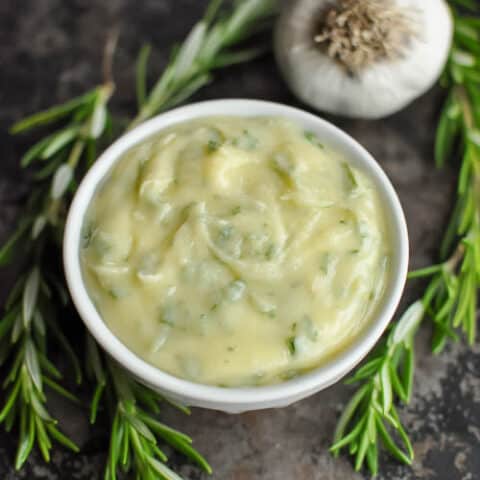 Rosemary Garlic Ghee with Smoked Sea Salt
Ingredients
1 cup ghee, at room temperature
2 tablespoons minced fresh rosemary
2 garlic cloves, minced
½-1 teaspoon smoked sea salt (I use the full teaspoon)
Instructions
Use a mortar and pestle to grind the minced garlic cloves and smoked sea salt, until the mixture becomes a paste.
Add the minced fresh rosemary and grind for 20-30 seconds. This will release the full true flavor from the rosemary.
In a small mixing bowl, stir together the ghee and rosemary mixture until well combined.
Place in an air tight container and store in the refrigerator. Use within 5-7 days.
This post may contain affiliate links which I may receive a small commission from (without any additional costs to you). The money earned from these commissions helps me maintain this website. Thank you for your support in this way!