It's been a busy weekend for us, filled with lots of errand running, cleaning, reorganizing, and furniture shuffling. Abbi's birthday is coming up soon, so as an early birthday present, we got rid of her toddler bed and upgraded her to a twin bed with a new comforter/sheet ensemble. When Abbi saw her new bed all made up in her room she jumped into it and giggled, and giggled, and couldn't stop giggling. I wish I would've had my camera ready to get a video of it. It was priceless!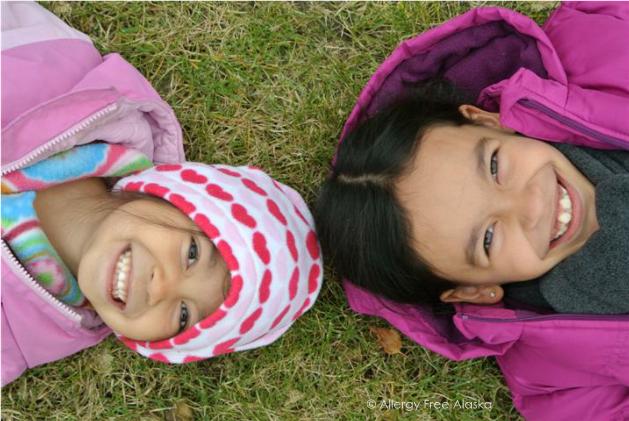 Speaking of my camera, I've also been taking lots of pictures this week. I'm trying to teach myself how to shoot in manual mode (you manually adjust your camera settings, like shutter speed and the aperture value) instead of auto (the camera automatically adjusts the settings for you). It's not an easy task, or at least I don't think it is anyways. We have a Nikon D90, and although I have no clue how to use it properly, I love it. Photography is something I've always loved, but lately I've developed a real passion and appreciation for it. I don't want to be a professional photographer by any means, but I'd love to be able to take amazing photos and grasp how to set up my camera properly given the lighting, weather, type of shot, etc…
I actually took this next picture (below) in manual mode (and in case you couldn't sense it through your computer screen, I'm really, really happy I was able to somewhat figure the settings out). I'm not saying this shot is perfect, because I know it's not, but it's an improvement for me, and well… I'm slightly giddy about it. If any of you photographers out there would like to critique this photo, I'd love to hear what you have to say!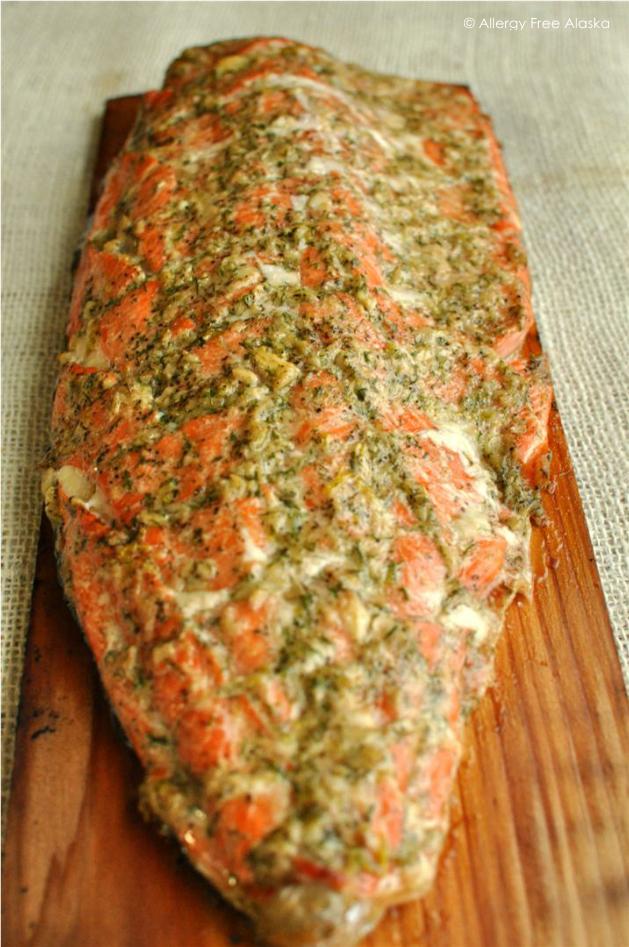 As for the object of the picture above, many of you know we are very blessed to have a freezer full of Alaska wild salmon. It's one of the perks that comes along with living in this great state, along with the gorgeous views and sub-zero temperatures (my voice is laced with sarcasm re: sub-zero temps!). I try to prepare fish for dinner at least 1-3 times a week, but because we eat it so often, I have to season our salmon really well and try to switch it up as much as I can. We love our Slammin' Alaska Salmon Burgers with Garlic Dill Aioli, but there's also something to be said about a fresh grilled fillet – especially one grilled on a cedar plank.
This Lemony Cedar Planked Salmon with Garlic & Dill is especially flavorful and moist. Scoring the flesh prior to slathering on the marinade allows the flavors to easily permeate the fish. It will produce a flaky, savory, and absolutely delicious salmon fillet. And the smokiness of the cedar gives the fish just the right amount of added "wow factor." Holy yum — it's so good!!
We enjoyed our salmon with a side of potatoes (either sweet potatoes or white potatoes would be delicious) and green beans, but you could easily pair it with a side salad and peas, steamed broccoli, a veggie stir fry, or whatever else you have on hand. Salmon is especially versatile and generally couples well with any savory side dish.
I hope you all have an incredible week!
All my love,
Megan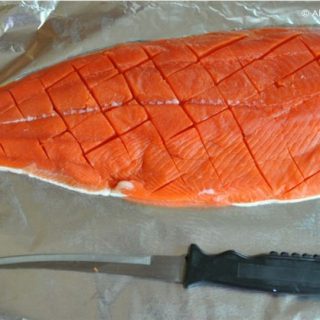 Lemony Cedar Planked Salmon with Garlic & Dill
Total Time:
4 hours
25 minutes
This Lemony Cedar Planked Salmon with Garlic & Dill is especially flavorful and moist. Scoring the flesh prior to slathering on the marinade allows the flavors to easily permeate the fish. 
Ingredients
1 cedar grill plank
2 lbs. salmon fillet with the skin on (I used Alaska Sockeye)
4 garlic cloves, minced
½ teaspoon sea salt
1 teaspoon dried dill
½ teaspoon black pepper
½-3/4 teaspoon lemon zest (depends on how lemony you want it)
1 tablespoon mayonnaise
1 tablespoon olive oil
1 tablespoon ghee, melted
Instructions
Soak the cedar plank in cool water for at least 4 hours. Use something heavy to place on top of the plank to keep it submerged (I used a heavy drinking glass, but you could also use a heavy bottomed pan, or a brick).
Blot the salmon off with paper towels and place the fillet skin side down on large cutting board or sheet pan. Use a fillet knife to score the flesh of the fish by making a number of shallow diagonal cuts across its surface, about an inch apart (take a look at the picture above to see how I did it).
Use the back of a large kitchen knife to work the garlic and sea salt into a paste. Scrape the paste into a small mixing bowl, and add the dried dill, black pepper, lemon zest, mayonnaise, olive oil, and ghee. Stir together and then slather the mixture on the flesh of the salmon fillet.
Place the cedar plank on a grill that has been preheated to high heat. Close the lid until the plank begins to smoke, about 3-5 minutes. Flip the plank over and place the salmon fillet directly on the plank. Cook on medium-high to high heat (see notes) for 15 - 25 minutes, or until the salmon reaches an internal temperature of 130-135 degrees (F).
Notes
Every grill is different and some are hotter than others, which is why I suggest grilling the salmon at medium-high to high heat. You want the cedar plank to produce smoke, but you don't want it to dry out or catch fire before your salmon is finished cooking (not that you ever want it to catch fire!). I started cooking my salmon fillet on medium-high, but eventually had to turn up the heat to high because it was taking too long to cook. Start out at medium-high heat. If the plank is smoking and you feel like it's doing well, leave it be. But if the plank isn't smoking and your fillet doesn't appear to be cooking fast enough, turn the heat up to high and let it finish cooking at that temperature.