This Gluten Free Vegan Cherry Pie will easily become your newest obsession. The crust is perfectly flaky and savory while the cherry pie filling is decadent and bursting with sweetened tart cherries. Add a scoop of dairy-free vanilla ice cream on top of your slice and you've got yourself a swoon-worthy dessert. Everyone will be fighting for seconds!
When was the last time you had cherry pie? Do you remember?
The last time I did was years ago (like maybe 9-10 years ago?!). WAY before I gave up gluten (and everything else). My mom made it for some holiday (Christmas, or a birthday…?). Her pies are SO good, you guys.
Slowly but surely, I've been making over my mom's pie recipes, to make them work for our food sensitivities. I've already made over her pumpkin pie, pecan pie, and apple pie to make them gluten and dairy free.
And while this recipe isn't based on my mom's, I can't wait to try these gluten-free peach hand pies.
My biggest hurdle making over mom's pie recipes was developing my Best Gluten-Free Flaky Pie Crust. It literally took me years of experimenting to perfect that recipe, but once I nailed it, the world of pie making opened right up!
Gluten Free Cherry Pie Crust Notes:
While this crust has superb flavor and texture, because it is gluten-free, it doesn't have the bend to it that a gluten-filled crust would have. So making a lattice weave isn't possible.
If you want a lattice-like design on the top of your pie, simply cut strips of pie crust pastry, and then carefully lay the strips down in a criss-cross pattern without weaving them. Attempting to weave your pie crust strips will most likely result in them breaking.

Feel free to be creative with the crust design on top of your pie. Instead of doing a lattice-like crust design, you can use cookie cutters to make cut outs, or cut free-form random shapes using a pastry dough cutter (or pizza cutter).
My absolute favorite tool for rolling out pie crust dough is this Mrs. Anderson's 14″ Pie Crust Bag. If you don't have one already, get one! They are cheap, and make rolling out pie crust a dream.
I prefer to serve my pie at room temperature, or cold, and topped with dairy-free vanilla ice cream. The vanilla ice cream with the cherry filling is a match made in heaven.
You can also top your pie with coconut whipped cream, or enjoy it plain.
Other Gluten Free Cherry Pie Helpful Tips:
Place your uncooked pie on a baking sheet lined with parchment paper before placing in the oven to bake. The filling will most likely overflow, and it's best you have a parchment lined baking sheet to catch the spillage vs. having it burn on the bottom of your oven (trust me, you don't want that!).
You will (most likely) have leftover pie crust pastry. You can make your own Gluten Free Vegan Pop Tarts with the extra dough, or you can roll it out and make a cinnamon sugar treat my mom used to make for my brother and I when we were kids. Here's how she made it: Simply roll out the extra pastry dough to ¼″ thickness (the shape doesn't matter) and place it on a parchment lined baking sheet. Top with cinnamon and sugar, and bake until golden.
Unfortunately, I can't make a pie for all of you (if I could, I would), but since I can't, I hope you feel a little bit of my love when you serve this to your family.
xoxo,
Megan
Other gluten-free pie recipes to try:
No Bake Gluten Free Chocolate Cream Pie from Faithfully Gluten Free
Chocolate Raspberry Mousse Pie from My Gluten-Free Kitchen
Gluten-Free Chicken Pot Pie from Gluten-Free Palate
Gluten-Free Vegan Mocha Cream Pie from Sarah Bakes Gluten-Free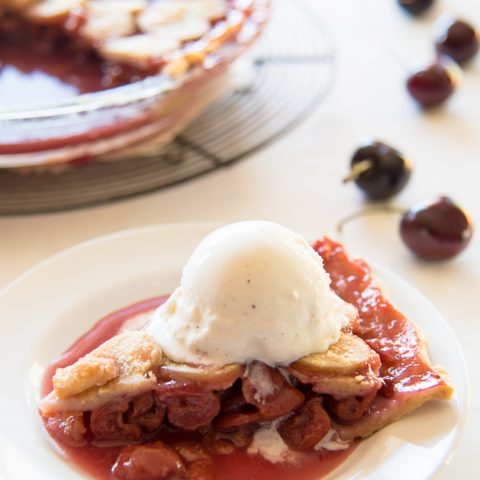 Gluten Free Vegan Cherry Pie
Additional Time:
10 minutes
Total Time:
1 hour
30 minutes
This Gluten Free Vegan Cherry Pie will easily become your newest obsession. The crust is perfectly flaky and savory while the cherry pie filling is decadent and bursting with sweetened tart cherries.
Ingredients
For the cherry pie filling:
1 cup organic cane sugar
¾ cup reserved tart cherry juice from cans
2 tablespoons vegan butter
For the pie crust:
⅔ cup millet flour
1 teaspoon sea salt
1 tablespoon apple cider vinegar
6-10 tablespoons cold water
Instructions
To make the cherry pie filling:
Strain the canned red tart cherries, but reserve ¾ cup of the juice (you can discard the rest).
In a 3 quart heavy bottomed saucepan, whisk together the organic cane sugar, sweet rice flour, and arrowroot starch (mixing the flours into the sugar prevents them from clumping once the liquid is added to the saucepan).
Add the strained red tart cherries and the ¾ cup reserved tart cherry juice.
Bring to a boil over medium heat, and then reduce to medium-low and simmer for 10 minutes, stirring often (otherwise the mixture could burn on the bottom of the pan).
Remove from heat and stir in the vegan butter and almond extract until well blended. Set aside to cool.
To make the pie crust:
In a large mixing bowl, whisk together the sorghum flour, millet flour, arrowroot starch, brown rice flour, xanthan gum, and sea salt.
Cut in the palm shortening until the mixture resembles coarse crumbs.
Add the apple cider vinegar and water, and stir gently until the mixture comes together to form a dough.
To roll the dough, lay a piece of parchment paper on a work surface and lightly sprinkle with flour (I like to use millet flour for this). Place the disk of dough in the middle of the parchment paper, sprinkle the disk with more flour, and roll the dough into an 11-12" round starting from the middle and working out towards the edges. Keep sprinkling the dough with flour as needed to prevent the dough from sticking to the rolling pin.
Carefully ease the crust into a 9" pie plate. Or use the bottom layer of parchment paper to invert the entire pie crust over the top of the pie plate (say a little prayer) and gently peel off the parchment paper. Press the dough evenly into the bottom and sides of the pie pan (if there are any tears in the crust, simply wet your fingers and try to smooth them out as best as you can).
To assemble the pie:
Preheat oven to 425 degrees (F) and line a large baking sheet with parchment paper.
Pour the cherry pie filling into the prepared pie plate.
Roll out the top crust. Use a pastry dough cutter or a pizza cutter to cut the top crust into strips for a lattice-like crust, or use a cookie cutter to make other designs. Decorate top with crust as desired.
Trim the edges of the bottom and top crust (if applicable) ½-1" beyond the edges of the pie pan. Fold under and either flute or crimp the edges of the crust using your fingers, or with the tines of a fork.
If desired, brush the top crust with dairy-free milk, and sprinkle with sugar.
Place the pie on the parchment lined baking sheet, and bake at 425 degrees (F) for 15 minutes. Reduce heat to 350 degrees (F) and bake an additional 35-40 minutes. The pie will be done when the crust is golden brown.
Cool completely before enjoying!
Notes
Need some more tips on working with gluten-free pie crust? Check out this post for my Best Gluten-Free Flaky Pie Crust recipe. The crust recipe you see above is my Best Gluten-Free Flaky Pie Crust, but doubled, and with a touch more xanthan gum added.