I was in Costco the other day (By myself… kid-free… that never happens!) and came across these pretty Brussels sprouts.
My oldest daughter loves Brussels sprouts – like loves them, loves them. So I decided to get some, and make this Pan Roasted Brussels Sprouts with Bacon and Apples dish for her that's full of her favorite foods – crispy bacon, Honeycrisp apples, and dried tart cherries.
A 9 year olds dream come true… ha ha. I know, not quite.
I'd imagine most would prefer Fluffy Corn-Free Marshmallows with Coconut Sugar, or this Vegan & Paleo Fudge Tracks Ice Cream. Don't get me wrong, Kylie loves those, too, but thankfully she enjoys and appreciates savory dishes also.
She ate 1/4 of the pan for snack the other day. Seriously. And she was over the moon excited about it!
I start making this dish by frying bacon until it's crispy in my favorite cast-iron skillet. I remove the bacon from the pan, but add in ghee. I roast the Brussels sprouts in the excess bacon fat and ghee until they are nice and golden, which adds a beautiful rich flavor to the dish. Then I layer in the apples, and season them with cinnamon and nutmeg (it smells so good!), and add a liquid mixture of apple cider vinegar, maple syrup, and water to caramelize and steam the Brussels sprouts and the apples. Lastly, I toss in the cooked crispy bacon and the dried tart cherries with the Brussels sprouts and apples.
This truly is the perfect one-pan autumn dish! And perfectly acceptable to server with your Thanksgiving meal, too. 😉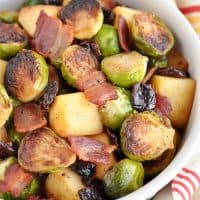 Pan Roasted Brussels Sprouts with Bacon and Apples
Ingredients
5 slices gluten-free bacon, cut into 1-inch pieces
2 tablespoons ghee, vegan butter,
or coconut oil
1 pound Brussels sprouts, cleaned and halved
2 large Honeycrisp apples, peeled & chopped into 1-inch cubes
2 teaspoons apple cider vinegar
2 teaspoons pure maple syrup
2 teaspoons water
small pinch of ground cinnamon
small pinch of ground nutmeg
1/2 cup dried tart cherries or dried cranberries
sea salt to taste
Instructions
In a small mixing bowl, combine the apple cider vinegar, pure maple syrup, and water.
In a 12-inch skillet (my favorite skillet is this cast-iron one) over medium-low heat, cook the bacon until crisp. Use a slotted spoon to remove the bacon from the pan and place it on a plate to cool.
Over medium-high heat, melt the ghee in the same skillet used to cook the bacon. Add the Brussels sprouts to the pan, cut side down, and cook undisturbed over medium-high heat for 3-5 minutes, or until the Brussels sprouts are golden brown (they will only be golden on the one side).
Now work quickly to place the Honeycrisp apples in the pan on top of the Brussels sprouts (otherwise the Brussels sprouts might burn). Season them with a small pinch of cinnamon and nutmeg, and then stir the apples and Brussels sprouts together.
Pour the apple cider vinegar, maple syrup, and water mixture into the pan; it will sizzle and steam.
Add the dried tart cherries and cooked bacon to the pan. Mix continuously and continue to cook for another 2-4 minutes, just long enough to finish cooking the Brussels sprouts and slightly soften the apples. Season with sea salt to taste.
This post may contain affiliate links which I may receive a small commission from (without any additional costs to you). The money earned from these commissions helps me maintain this website. Thank you for your support in this way!