This delicious roasted butternut squash recipe will be the highlight of your dinner table. Sweet squash and tangy apples are paired with tart cherries and crunchy walnuts. It's literally a match made in heaven!
Fall is here! Our weather has cooled down and my electric blanket is already getting a ton of use! One of the things I love most about fall is the freshly harvested apples and squash… and the baking. I probably bake more in the fall than I do any other time. I mean, hello Gluten-Free Pumpkin Scones!!
Maybe the baking is a comfort thing?! Do you find yourself baking more in the fall, too?
In celebration of the transition of the seasons, I wanted to create a simple and delicious side dish my whole family would love. I tell you what… you guys are going to love this Roasted Butternut Squash with Apples, Tart Cherries and Walnuts. My family gave it rave reviews! The flavor combination is right on point. Sweet brown sugar roasted butternut squash and apples, with dried tart cherries and crunchy toasted walnuts.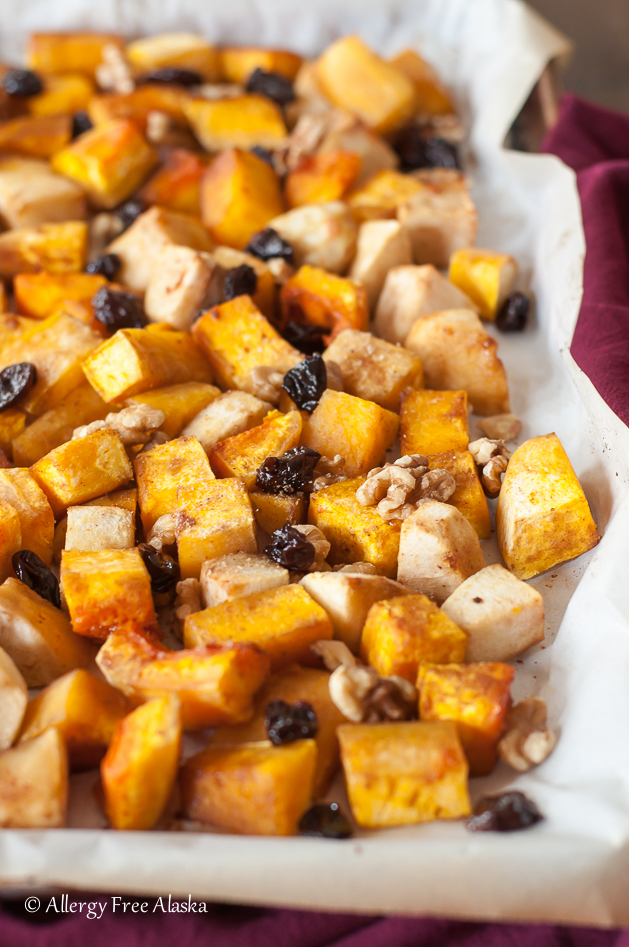 Walnuts are a delicious and versatile ingredient that adds flavor, crunch and depth to sweet and savory dishes alike. They are perfect in this dish! Not to mention they are the champion of plant-based omega-3 among nuts, and are the only nut to provide a significant source of the essential nutrient (2.5 grams per ounce). I love walnuts!
How to peel a butternut squash
Just in case you're not quite sure the best way to peel a butternut squash, I hope these directions and pictures will help you.
Use a sharp knife (I use and recommend Global brand knives) to cut off both the top and bottom ends of the squash.
Use a peeler to peel the outer skin of the squash. This can be a little tricky, especially when the squashes can be large. Place one hand firmly on the end of the squash closest to you, and then peel from the middle of the squash out to the top end (be very careful of your fingers!). Do this until half of the squash is completely peeled.
Flip the squash around and peel the other side.
Once the butternut squash is peeled, the hard part is done. Cut it in half, scoop out the seeds, then cube into 1 inch pieces. Easy peasy!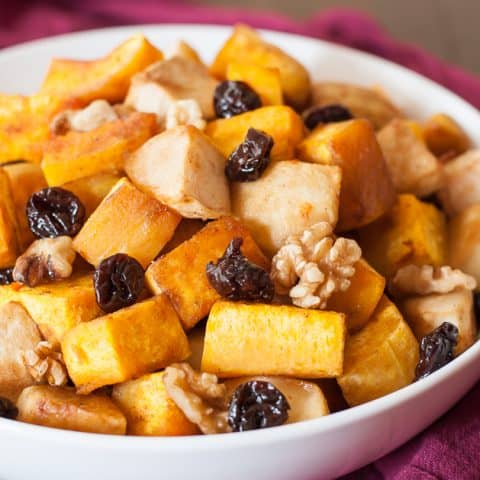 Roasted Butternut Squash Recipe
Total Time:
1 hour
5 minutes
This delicious roasted butternut squash recipe with apples, tart cherries, and walnuts will be the highlight of your dinner table.
Ingredients
1 butternut squash (about 3 lbs.), cubed into 1 inch pieces
3 Pink Lady apples, peeled and cubed into 1 inch pieces
2 tablespoons of vegan butter, melted (or ghee or butter for non-vegan)
2 tablespoons organic brown sugar
¼ teaspoon ground cinnamon
¼ teaspoon ground nutmeg
½ cup walnuts, roughly chopped
½ cup dried tart cherries (or cranberries)
Instructions
Preheat oven to 400 degrees (F) and line a large baking sheet with parchment paper.
Place the cubed butternut squash and apples in a large mixing bowl.
Drizzle with melted butter, then sprinkle with organic brown sugar, ground cinnamon and ground nutmeg. Toss to coat thoroughly.
Pour the contents of the bowl onto the parchment lined baking sheet, and use a spatula to spread it out in an even layer.
Bake for 35 minutes, stirring once. At the end of the baking time, pierce 1-2 pieces of squash with a fork, to ensure it is soft. If it is not soft, bake an additional 5-10 minutes.
Add the roughly chopped walnuts and dried tart cherries and bake an additional 5 minutes.