The most precious recipes are made with a loved one in mind. So when my daughter told me gluten-free oatmeal raisin cookies were her favorite, they were the next treats to emerge from our oven.
These gluten-free oatmeal cookies are wonderfully soft and chewy in the middle with a lightly crisp exterior, and the smiles they elicit are priceless. Just be sure to have some dairy-free milk or coffee on hand, because it's impossible to stop at just one. Each tender morsel hits the sweet spot between deliciously hearty and guilt-fully indulgent.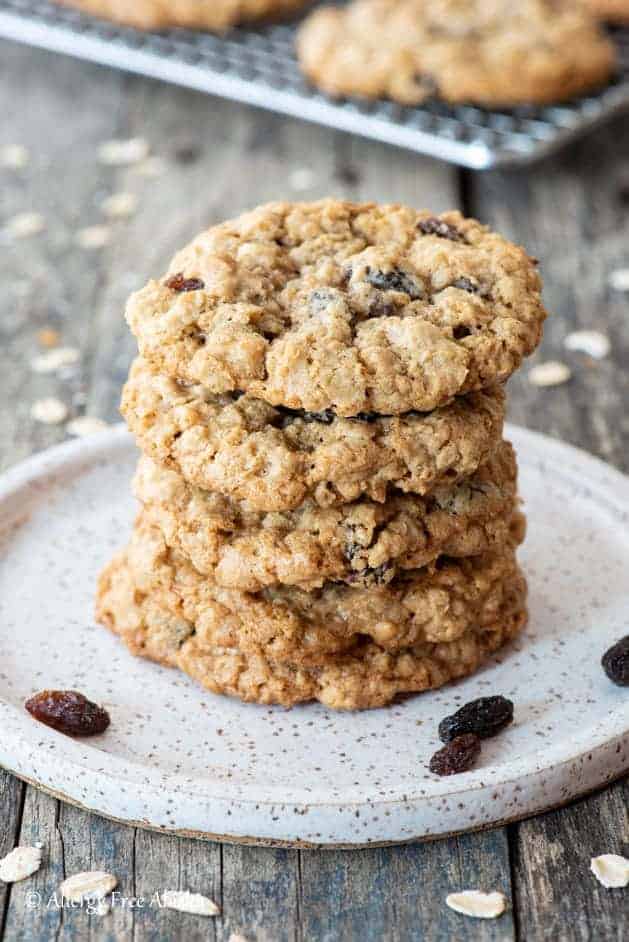 Gluten-Free Oatmeal Cookie Varieties
The naturally rustic texture of oatmeal cookies just begs for tasty add-ins, and there's no reason why you can't mix things up. Prepare the base dough for these gluten-free oatmeal cookies yourself or with helpers, then stir in your choice of flavorful ingredients.
20 Mix-In Options for Gluten-Free Oatmeal Cookies
My old standbys are raisins and chocolate chips (as shown in the recipe), but you can use up to 1½ cups (total) of any of the following.
Raisins (black or golden)
Semi-sweet chocolate chips
White chocolate chips (dairy-free, if needed)
Dark chocolate chunks (chopped chocolate bars work great!)
Coated chocolate candies (like No Whey Choco No No's)
Dried blueberries (those little wild ones if your store has them)
Gluten-free cereal (like crispy rice or corn flake cereal)
Dried cranberries
Chopped dried apple
Dried cherries (whole or chopped)
Sunflower seeds
Pumpkin seeds
Chopped walnuts or pecans (if nuts are okay)
Sliced almonds (if nuts are okay)
Allergy-friendly trail mix
Chopped crystallized ginger
Chocolate-covered fruit or coffee beans (dairy-free, if needed)
You can also add these ingredients in much smaller amounts.
Pumpkin pie spice – Whisk up to 1 teaspoon into the dry ingredients. You can use it in place of the cinnamon or double down on the spices.
Almond, orange, maple, or rum extract – Add 1/4 to 1/2 teaspoon with the vanilla extract, or in place of it. I love each of these options for gluten-free oatmeal chocolate chip cookies or gluten-free oatmeal raisin cookies.
Natural food dye – Once you've combined the wet ingredients, stir in drops to get your desired color, like in my Gluten-Free Mint Chocolate Chip Cookies.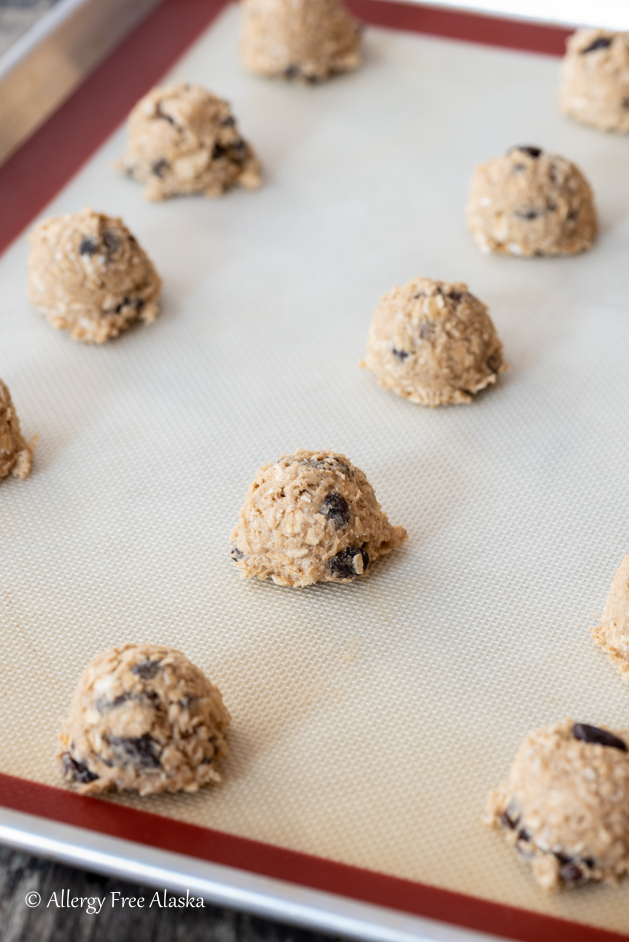 Bake an Assortment of Gluten-Free Oatmeal Cookies
Divide the dough into a few bowls and stir different mix-ins from the list above into each bowl. Bake the dough as directed, and arrange the cooled cookies on a platter for parties. You can keep it simple with gluten-free oatmeal raisin cookies and gluten-free oatmeal chocolate chip cookies, or customize your assortment to fit the event.
Have a Gluten-Free Oatmeal Cookie Party
I think this is fun for a child's birthday, an easy weekend activity with your kids, or even a wine and cookie night with friends. Put several of the mix-in options listed above in separate bowls on a table. Give everyone a small bowl of the gluten-free oatmeal cookie dough, and let them stir in their favorite ingredients. They can make their own single batch or a few different varieties.
Half the fun is seeing what everyone else makes! Who goes for traditional gluten-free oatmeal raisin cookies, and who makes designer cookies with multiple mix-ins?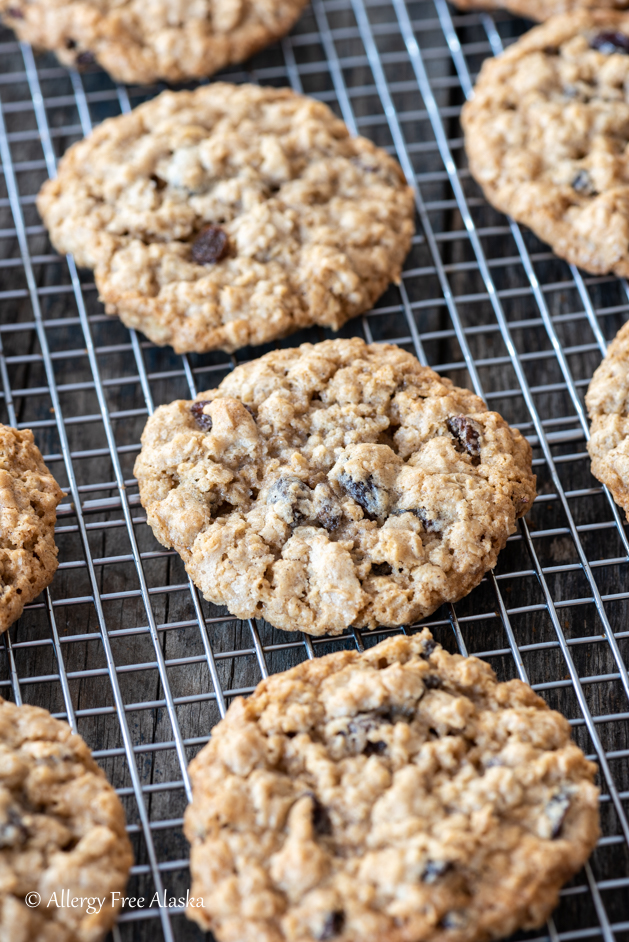 FAQs for the Best Gluten-Free Oatmeal Cookies
They might seem like the simplest of baked goods, but gluten-free cookies can be even trickier than flaky gluten-free pie crust or perfectly tender gluten-free cake. But don't worry – I've got answers to your most pressing questions about this recipe.
Why Do You Use Palm Shortening?
Organic palm shortening is non-hydrogenated, top allergen-free, and it provides a reliable texture to cookies that dairy-free butter alternatives can't match.
If you do try to substitute dairy-free buttery spread, the cookies will most likely be dryer, and they might come out a little greasy. That's because alternative butters are an emulsified combination of water and oil. The water evaporates, causing the cookies to dry out, and it's possible for the oil to separate somewhat in baking.
I use palm shortening that's organic and RSPO certified, like Nutiva and Spectrum. You can substitute pure butter, if you are okay with dairy.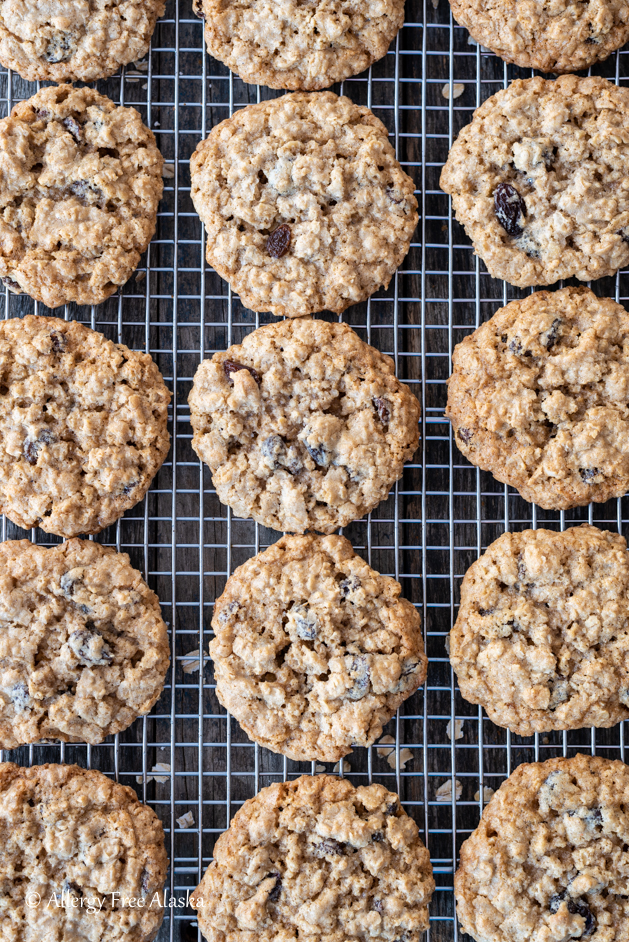 Can I Use Unrefined Sweetener in this Recipe?
You can substitute coconut sugar for both of the cane sugars in these gluten-free oatmeal raisin cookies. I have tested it, and the cookies come out a bit denser and a smidgen less chewy, but they are still delicious. The coconut sugar is also lower glycemic, so your unrefined gluten-free oatmeal raisin cookies will be a little less sweet.
Do You Have an Egg-Free Option?
Eggs provide all of the moisture and quite a bit of structure to these gluten-free oatmeal raisin cookies. So substituting them will affect the results significantly.
I highly recommend using the eggs, but if you absolutely need an egg-free option and want to experiment, try an egg substitute like aquafaba. Use about 6 tablespoons in place of the eggs, adding a touch more or less as needed to get a thick cookie dough consistency. Please note that I haven't tested this substitute, and your gluten-free oatmeal cookies will definitely have a different texture if made without eggs.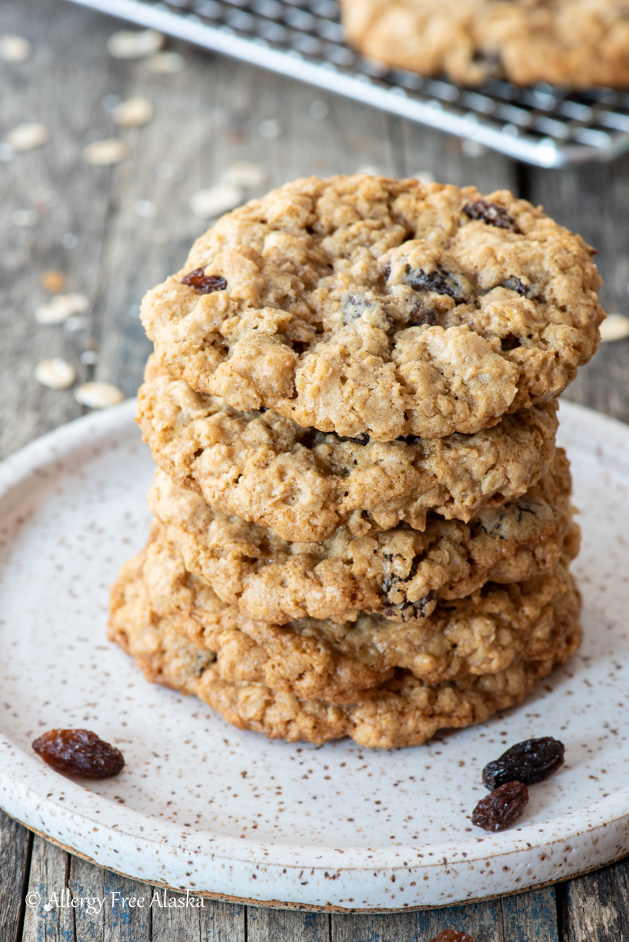 Can I Substitute a Gluten-Free Flour Blend?
I always caution against this since I customize each recipe using just the right mix of gluten-free flours, starches, and gums. If you do opt to use a store-bought gluten-free flour blend, I can't guarantee the results. Also, make sure you carefully read the ingredients of your blend to see if it already contains xanthan gum or a similar binder.
What if I want Crispy Cookies?
In my family's world, gluten-free oatmeal cookies are always soft and chewy. But if you're partial to crispy gluten-free oatmeal chocolate chip cookies, bake the cookies for at least 12 minutes, or until they are completely golden and look relatively firm.
If you want soft cookies, make sure you do not over-bake them. They will crisp up more as they cool, so I often under-bake them slightly to ensure a chewy interior.
More Gluten-Free Cookie Recipes
Gluten-Free White Chocolate Macadamia Nut Cookies
Big & Soft Paleo Ginger Molasses Cookies
Dairy-Free, Gluten-Free Sugar Cookies
Gluten-Free Monster M&M Cookies from Fearless Dining
Gluten-Free Pumpkin Spice Sandwich Cookies
Flourless Sunbutter Cookies from Gluten-Free Palate
Ultimate Paleo Chocolate Chip Cookies
Grain-Free, Dairy-Free Snickerdoodles from Go Dairy Free
Gluten-Free Iced Lemon Cookies from My Gluten-Free Kitchen
Gluten-Free Mocha Hazelnut Cookies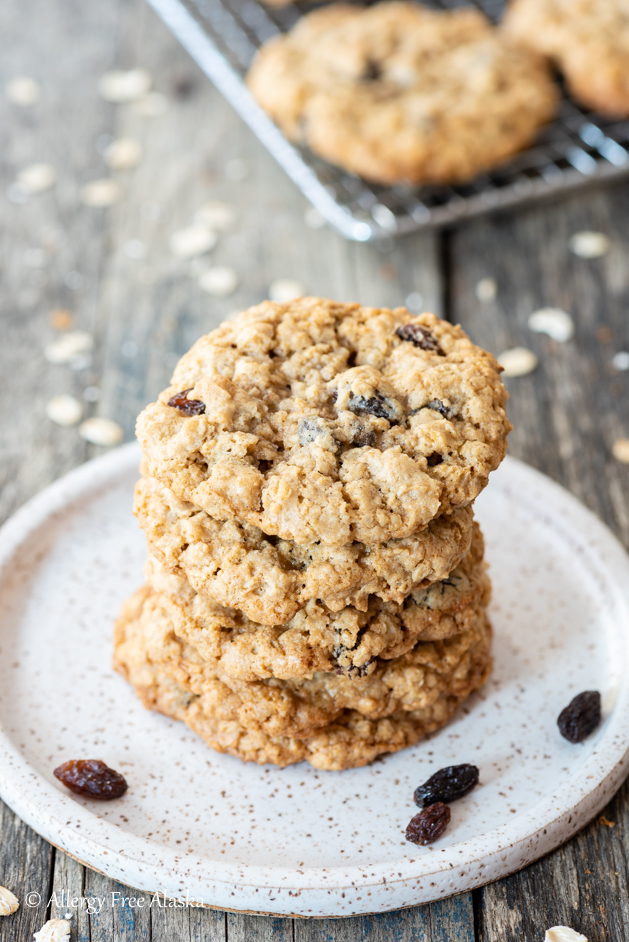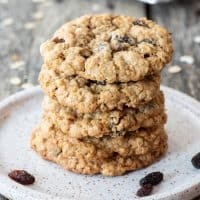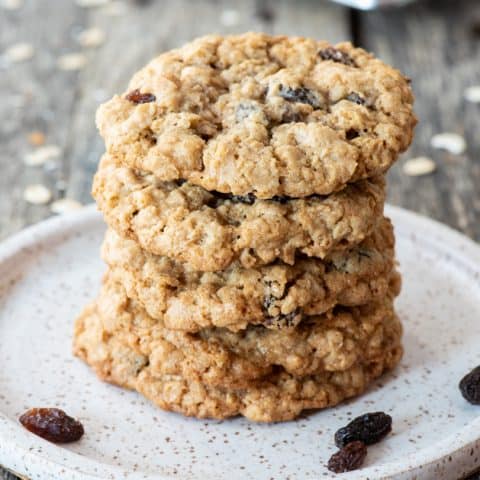 Gluten Free Oatmeal Cookies
Yield: 32-36

Prep Time: 15 minutes

Cook Time: 9 minutes

Total Time: 24 minutes

These gluten-free oatmeal cookies are wonderfully soft and chewy in the middle with a lightly crisp exterior, and the smiles they elicit are priceless.
Ingredients
3/4 cup palm shortening
1/2 cup organic cane sugar
3/4 cup organic brown sugar
2 large eggs
1 teaspoon vanilla extract
3/4 cup sorghum flour
3/4 cup tapioca starch
1 teaspoon baking soda
1 teaspoon ground cinnamon, optional
1/2 teaspoon sea salt
1/2 teaspoon xanthan gum
2 3/4 cup gluten-free quick cooking oats
1 – 1 1/2 cups raisins or chocolate chips
Instructions
Preheat oven to 375 degrees (F) and line 2-3 baking sheets with parchment paper or silicone liners.
In a large mixing bowl, cream together the palm shortening, organic cane sugar, and organic brown sugar. Mix for 2-3 minutes, or until the mixture is light and fluffy.
Stir in the eggs and vanilla.
Add the sorghum flour, tapioca starch, baking soda, ground cinnamon, sea salt, and xanthan gum, and mix until just combined.
Stir in the gluten-free quick cooking oats, and then add the raisins or chocolate chips, and mix until incorporated.
Drop dough by tablespoonful onto the prepared baking
sheets, leaving space between the dough for it to spread.
Bake for 9-12 minutes, or until the edges just start to turn golden brown. For soft cookies - under bake by 1-2 minutes.


Notes
For Gluten-Free Chocolate Chip Oatmeal Cookies, you may
choose to omit the ground cinnamon; it all depends on your personal preference.


If gluten-free quick cooking oats are not available,
pulse gluten-free rolled oats in a food processor a few times to make your own quick cooking oats.





We are a participant in the Amazon Services LLC Associates Program, an affiliate advertising program designed to provide a means for us to earn fees by linking to Amazon.com and affiliated sites.