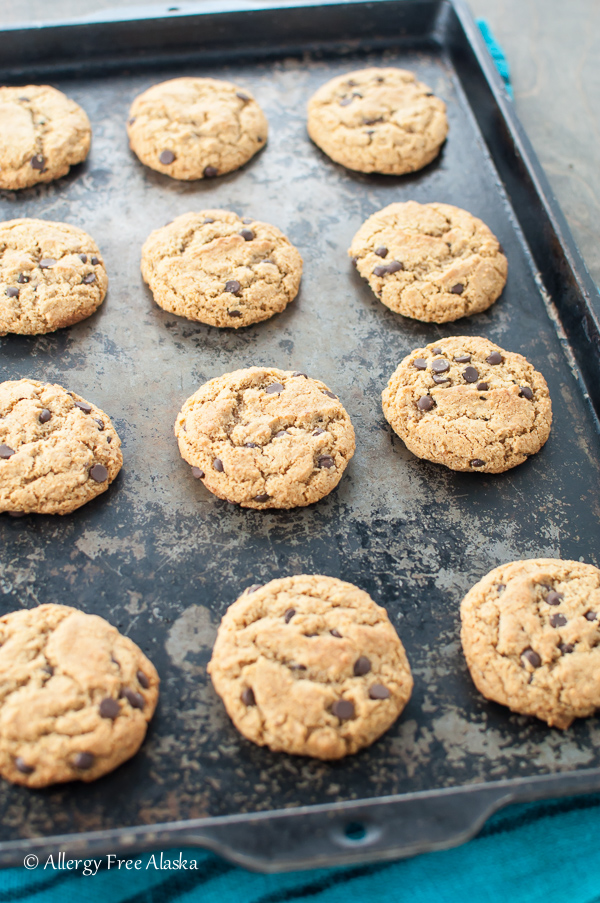 These Paleo Chocolate Chip Cookies are my favorite cookies. They are crispy on the outside, yet chewy and soft on the inside. I make these for my family when we want a treat or a pick me up (I may have even let my girls have 2 for breakfast the other day… but I won't confirm or deny that). I've made this recipe for several friends, some are gluten free, some are not. Regardless, everyone loves them, and most are completely surprised these cookies are grain free. They taste very similar to regular "Toll House Style" chocolate chip cookies. Grain-free tastes SO good!
A Few Notes About Substitutions:
1. If you can't do almond flour or nuts, this recipe isn't for you. Try my Gluten Free Toll House Style Chocolate Chip Cookies instead (the recipe calls for ¼ cup of almond flour, but you can substitute sorghum flour instead).
2. If you are egg free, try these Chocolate Chip Cookie Bites, these gluten free breakfast cookies.
All my love,
Megan (with a long E)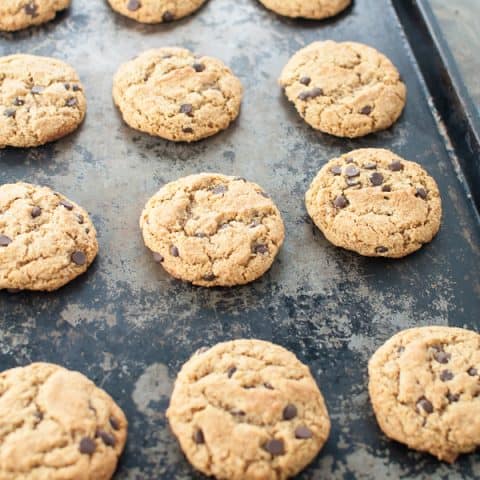 Paleo Chocolate Chip Cookies
These paleo chocolate chip cookies are a family staple recipe. They are chewy, low-carb, and filled with melty-chocolaty goodness!
Ingredients
2 ¼ cups blanched almond flour
½ cup tapioca starch
1 cup coconut sugar
1 teaspoon baking soda
½ teaspoon sea salt
⅓ cup coconut oil
2 large eggs
1 teaspoon vanilla extract
½-3/4 cup dairy-free mini chocolate chips
Instructions
Preheat oven to 375 degrees (F) and line 2 baking sheets with parchment paper or silicone liners.
In a large mixing bowl, combine the almond flour, tapioca starch, coconut sugar, baking soda, and sea salt.
Cut in the coconut oil until the mixture resembles coarse crumbs.
Whisk in the eggs and vanilla. The dough will appear to be dry, but keep mixing until the ingredients come together to form a thick cookie dough.
Stir in the Enjoy Life Chocolate Mini Chips.
Drop by heaping tablespoonfuls onto the prepared baking sheets. Bake for 9-11 minutes, or until the cookies are golden brown.
Cool on the baking sheets for 5 minutes until transferring to cooling racks to finish cooling completely.
Recommended Products
We are a participant in the Amazon Services LLC Associates Program, an affiliate advertising program designed to provide a means for us to earn fees by linking to Amazon.com and affiliated sites.
This post may contain affiliate links which I may receive a small commission from (without any additional costs to you). The money earned from these commissions helps me maintain this website. Thank you for your support in this way!