Juicy blueberries with refreshing lemon… this Gluten Free Blueberry Lemon Bundt Cake is light and summery, and big on lemon flavor (without artificial extracts)! It's completely dairy-free. This is the perfect dessert for Easter or to usher in spring!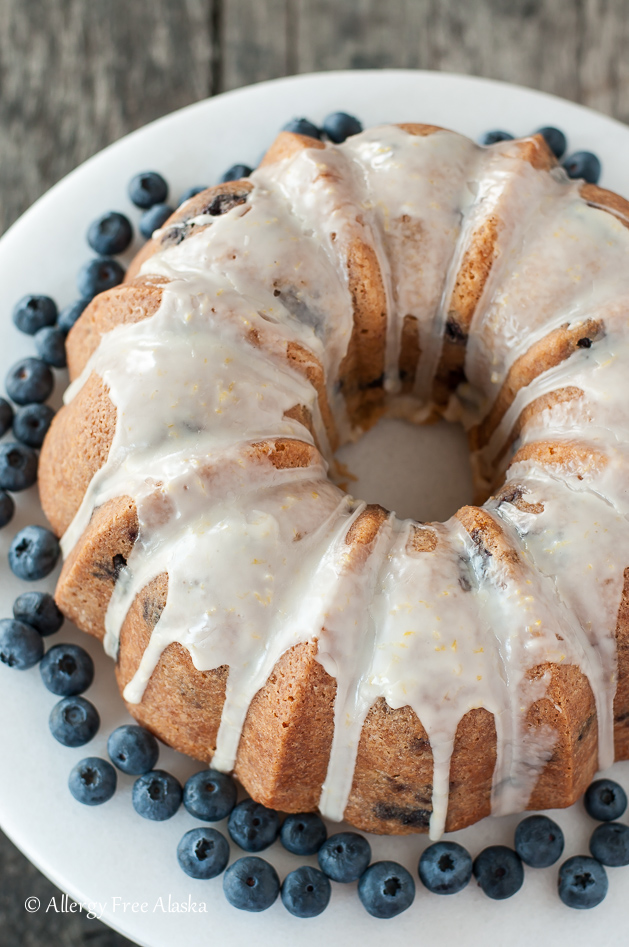 Every year around this time I find myself creating another new cake recipe; last year I created my Gluten Free Cinnamon Streusel Coffee Cake. Maybe it's because my birthday is right around the corner? Or it's because I'm anxious to usher in spring and be gone with all of the snow? I don't know, but I will tell you this:
No one is complaining about having to eat cake.  🙂 Including me. Not that I need to be eating tons of cake right now, but seriously… cake makes everything better!
And this cake? Well, you need to make it. Like, now.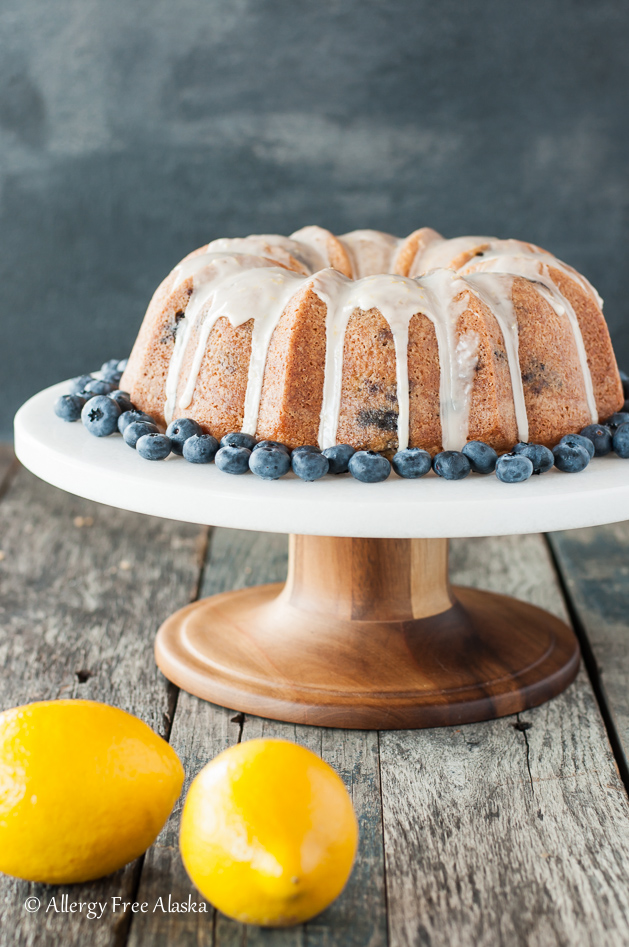 If you've never made a bundt cake before, let this recipe be your excuse to buy a bundt cake pan and give it a whirl. I actually prefer making bundt cakes to regular cakes. Why? They are so easy to decorate (I'm an awful layer cake decorator… seriously). You spread the glaze on top of a bundt cake and it literally drips down all its beautiful crevasses. It's hard to mess up the glaze on a bundt cake. My 8 year old could do it and it would still look amazing!
Also, you don't have to worry about splitting the cake batter up between two different cake pans with a bundt cake, unlike a layer cake. With a bundt cake you make your batter, pour it into the bundt cake pan, then bake it. There's no cutting layers, etc. What you see is what you get. It's really simple (and this mom is all about simple these days!).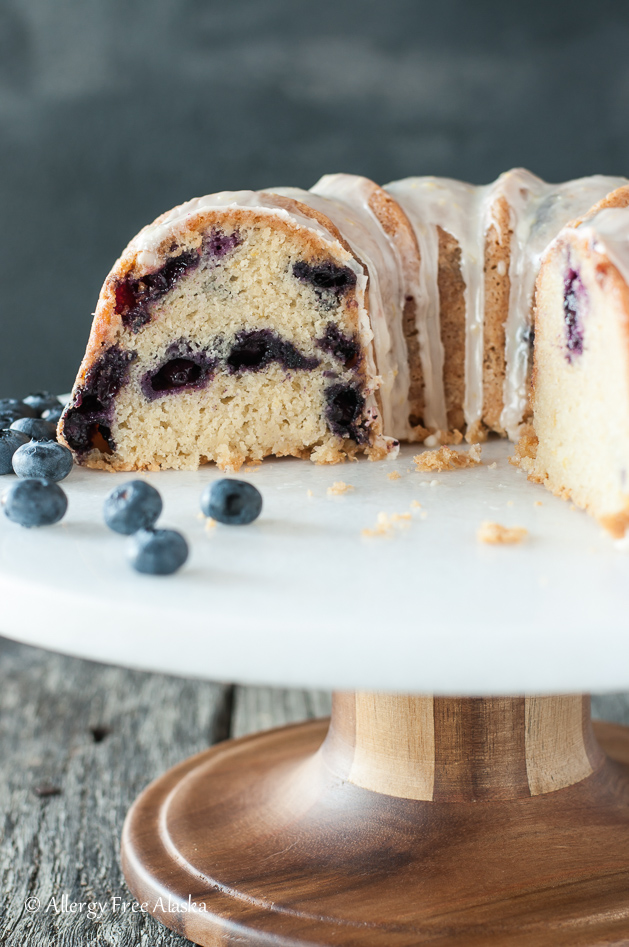 This Gluten-Free Blueberry Lemon Bundt Cake is similar to a pound cake, without being as heavy or as dense. It has a tighter crumb than a layer cake, yet is still tender and moist. It will be moist even 2-3 days after you make it. It's by far, one of my favorite cakes (I heart lemon). Perfect for anyone who is a lemon lover.
Make sure you spray your bundt cake pan well with oil (I use an oil mister similar to this one), and then dust well with millet flour. I actually pour more flour into the pan than what I need, but after I make sure the inside of the pan is completely dusted (including the middle area), I invert the pan upside down over my sink and gently tap it to eliminate any excess flour.
Before oiling/dusting with flour: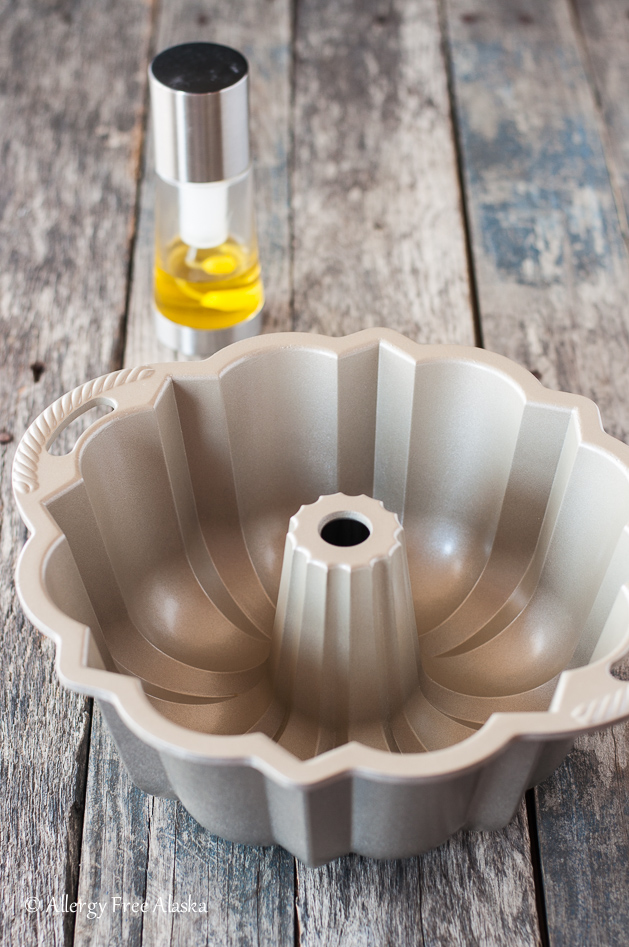 After oiling/dusting with flour: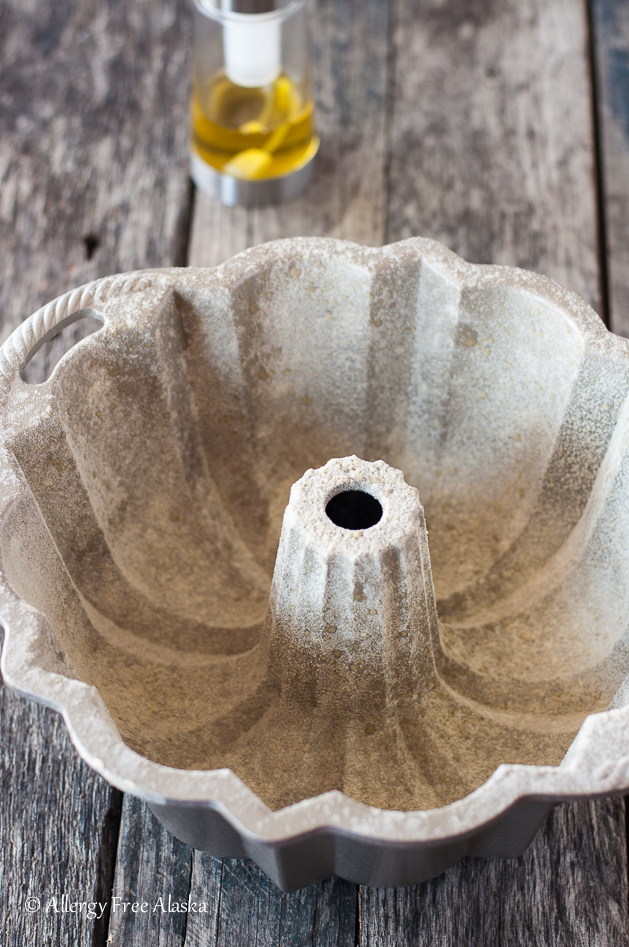 Pour the batter into the bundt cake pan, and use a spatula to evenly spread the batter.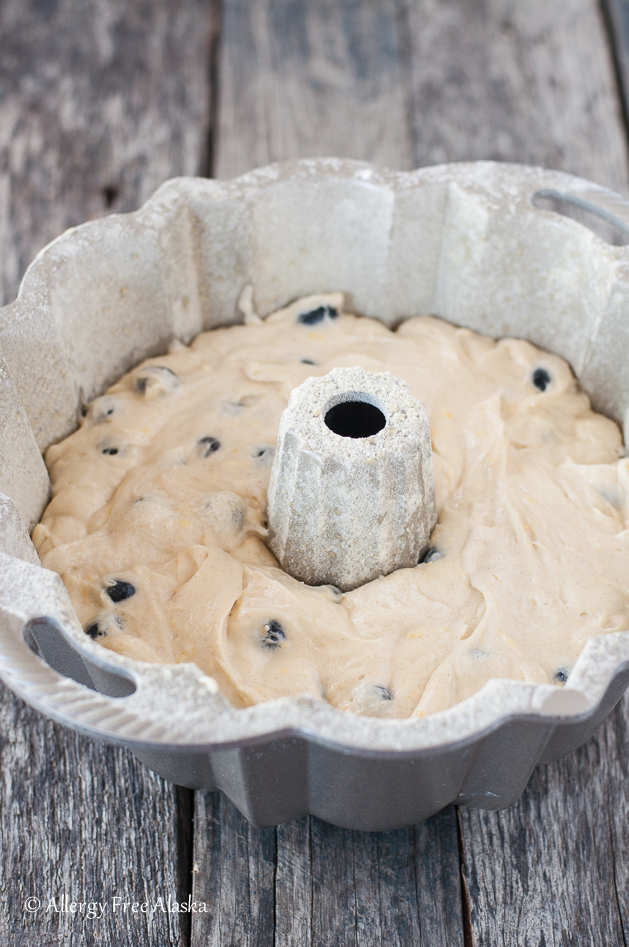 When the bundt cake is done, pull it out of the oven and let it sit for 10 minutes before removing the cake from the pan. As long as you oiled/dusted the pan well, the cake should pop right out.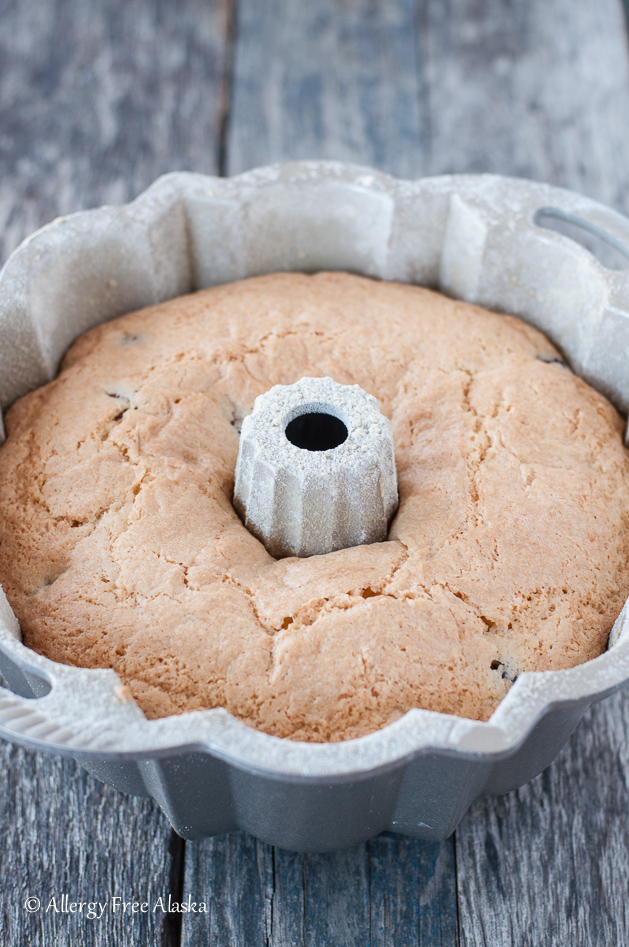 Once the cake is removed from the bundt pan, and while it's still warm, it's brushed with a syrup of organic cane sugar, water, and lemon juice. This syrup sinks into the cake and permeates it with intense lemon flavor.
This is what the bundt cake looks like right out of the pan: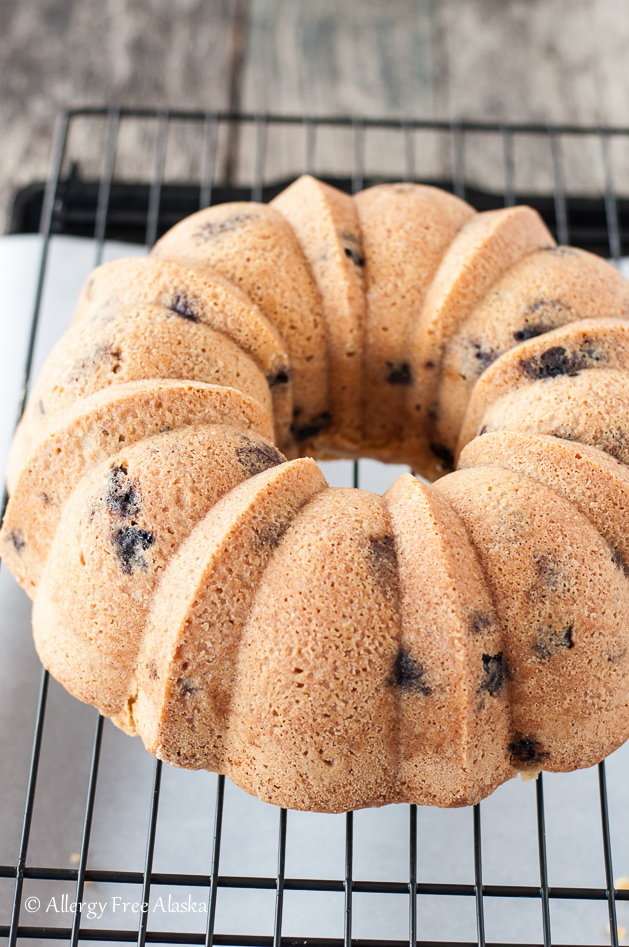 This is the cake after it is brushed with the syrup. You can see it's glossy and shiny now: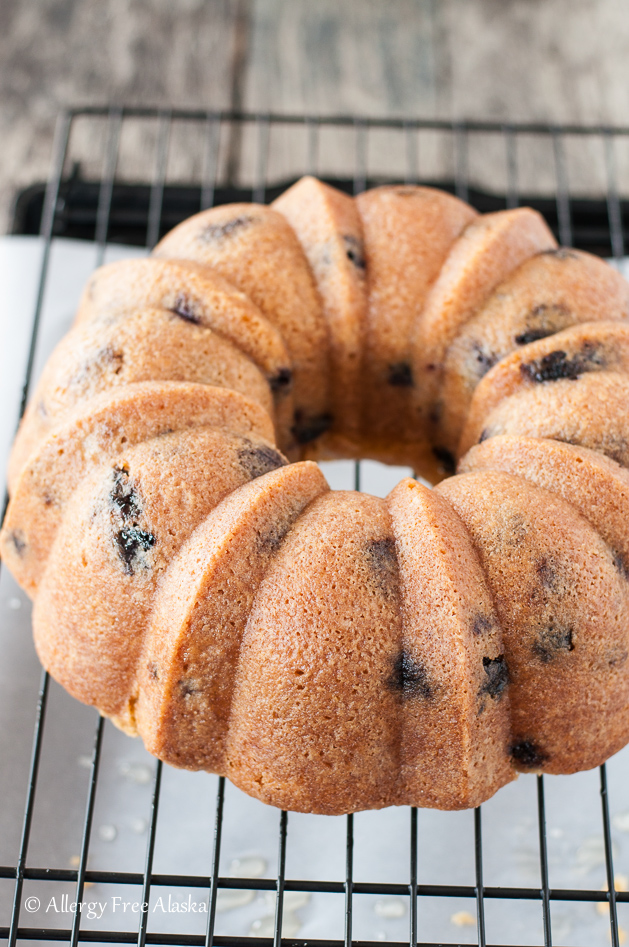 Some of the syrup will drip off as you brush it on, but try to take your time so a good majority of the syrup sinks into the cake.
Now let the cake fully cool (about 1-2 hours). When it's cool, make the tart lemon glaze and spread it on top of the cake. The glaze will naturally drip down all of the cracks of the bundt cake, which makes it so pretty and unique.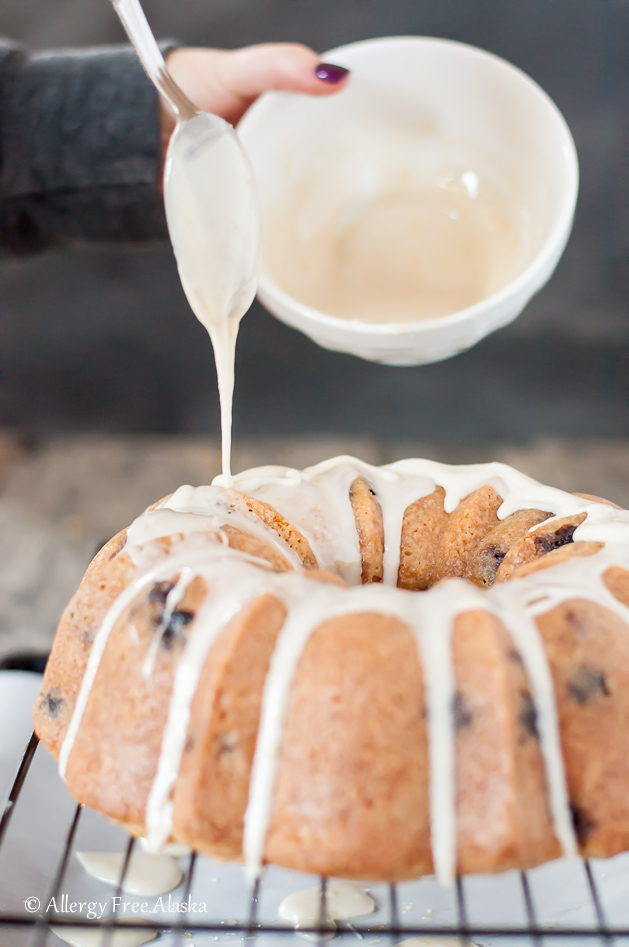 This cake is definitely a show stopper. A lovely dessert for Easter or spring. I actually think it tastes best the second day, because the syrup has even more of a chance to sink into the cake. My mouth might actually be watering right now thinking about it. I just ate the last piece of this cake, but I could easily eat more!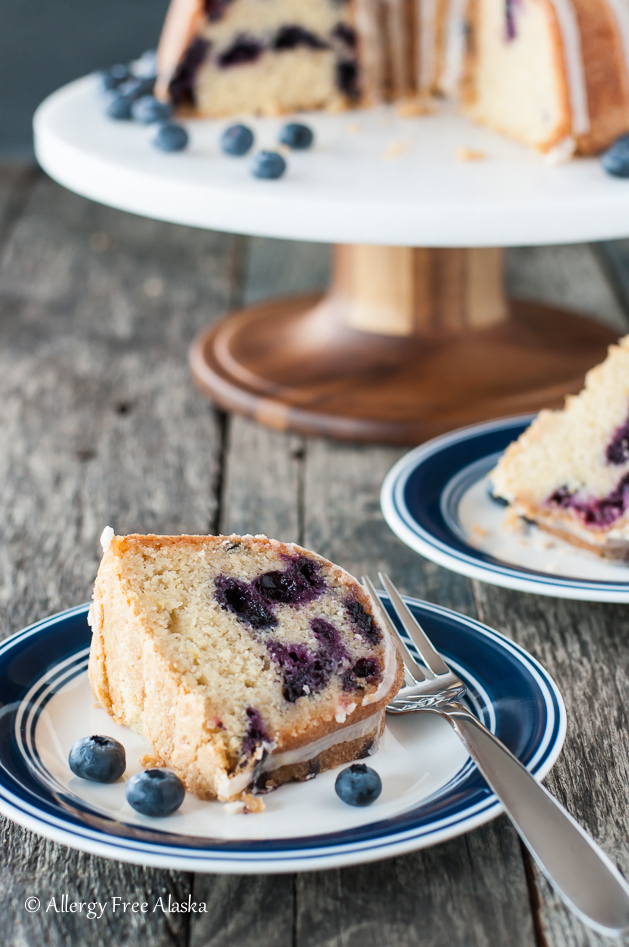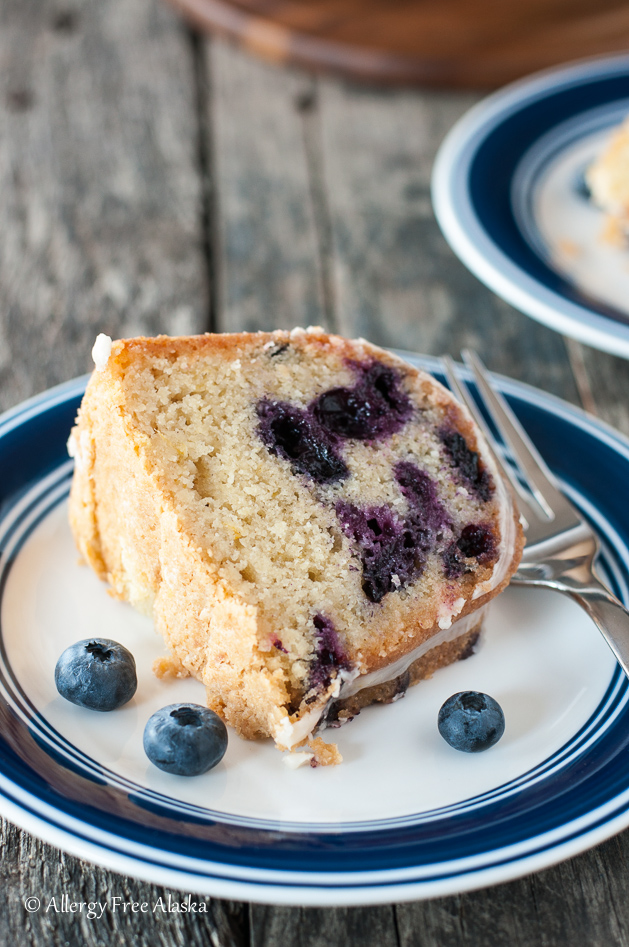 Gluten Free Blueberry Lemon Bundt Cake
Author:
Megan Ancheta, Allergy Free Alaska LLC
Ingredients
For the Bundt cake:
For the syrup:
1/3 cup water
1/3 cup organic cane sugar
2 tablespoons lemon juice, fresh squeezed
For the glaze:
1 1/2 cups organic powdered sugar
2 tablespoons lemon juice, fresh squeezed
1/2 teaspoon lemon zest, packed
Instructions
Preheat oven to 325 degrees (F).
Generously spray a 10-inch Bundt pan with cooking spray (I use a similar oil spritzer to this one filled with olive oil) and then dust the inside of the pan with millet flour.
In a small mixing bowl, combine the canned coconut milk, lemon juice, and the lemon zest. Set aside.
In the bowl of an electric mixer, cream together the palm shortening, vegan butter, and cane sugar until fluffy, about 3-4 minutes. Stop the mixer and scrape down the sides of the bowl with a spatula as needed.
Add the eggs, one at a time, and beat well after each addition.
In a large mixing bowl, sift together the millet flour, tapioca starch, sorghum flour, brown rice flour, xanthan gum, sea salt, and baking soda.
Now add about a fourth of the dry ingredients and a fourth of the wet ingredients into the bowl of the electric mixer. Mix well and scrape down the sides of the bowl with a spatula as needed. Keep repeating this step until all of the wet and dry ingredients are incorporated.
Wash the blueberries and while they are damp, mix in the 2 teaspoons of millet flour (this will ensure they won't sink to the bottom of the batter). Fold the blueberries into the cake batter.
Carefully pour the cake batter into the prepared bundt pan. Use a spatula to evenly spread the batter.
Bake for 60-70 minutes. It can be hard to tell when this cake is done, so here's a few tips: a). A bundt cake is deep, so in lieu of using a toothpick to see if it comes out clean, use a gluten-free spaghetti noodle, or anything skinny (as skinny as a toothpick) and long will work. b). When in doubt, a bundt cake should be finished baking when it reaches an internal temperature of 210 degrees (F).
Let the cake rest in the pan for 10 minutes, and while it's resting, make the syrup by combining the water, sugar, and lemon juice in a small pan. Heat the mixture until boiling, and then remove from heat.
Carefully invert the cake onto a cooling rack and pop the cake out of the pan. Place the cooling rack on a large baking sheet lined with parchment paper or foil (to catch the run off from the syrup and glaze). Brush the cake with the syrup. Some of the syrup will run off, but take your time to ensure the bulk of it sinks into the cake.
Let the cake completely cool (about 1-2 hours).
Make your glaze, and then top the bundt cake with it. The glaze will naturally drip down all the crevasses of the bundt cake (making it beautiful and unique!).
Recipe Notes from Megan
You'll need about 4-5 large lemons for this recipe, or 6-7 small.

Make sure all ingredients are at room temperature.

I don't recommend using frozen blueberries in this recipe for 2 reasons:
1. This is a beautiful cake. Frozen blueberries will turn the cake batter blue and it just won't look as nice (but if that doesn't bother you, read point #2).
2. Frozen fruit never bakes well in cake. Some of you might disagree with me on this, but I've never had success with it. If you must use frozen blueberries, thaw them first, then discard the juice before folding the blueberries into the batter.
We are a participant in the Amazon Services LLC Associates Program, an affiliate advertising program designed to provide a means for us to earn fees by linking to Amazon.com and affiliated sites.