These Big & Soft Paleo Ginger Molasses Cookies certainly live up to their name. They are big, and so soft they nearly melt in your mouth. Bet you can't eat just one!
Oh goodness… I can't believe it's December! What happened to November?!
In less than 2 weeks AJ and I will celebrate our 10th wedding anniversary, and then in 2 ½ weeks it will be Christmas. It's all coming so fast – time needs to slow down so I can get done what I want to! And actually, as far as shopping is concerned, I'm just about done; I just want more time time to fit in all of the craft and baking projects. 😉
I have a weakness for cookies… especially ones of the ginger molasses variety (they taste SO good dunked in a cup of black coffee!).
These Big & Soft Paleo Ginger Molasses Cookies are great any time of year, but I especially enjoy them around the holidays.
The distinct molasses and spicy ginger flavors blend so well together, and while I do like the harder ginger snap cookies, there's something equally amazing about the big and soft ginger molasses cookies (you know what I mean?).
These cookies are so incredibly soft… they quite literally melt in your mouth. Before you know it, friends will be begging you for the recipe.
I prefer these cookies a bit more on the "well done" side. Even still, these cookies will still remain soft.
You can also try these other ginger flavored goodies from my friends:
Gluten-Free White Chocolate Gingerbread Cookies from My Gluten-Free Kitchen
Soft Gluten-Free Ginger Cookies from Faithfully Gluten-Free
Gluten-Free Gingersnaps from My Gluten-Free Palate
Enjoy!
xoxo,
Megan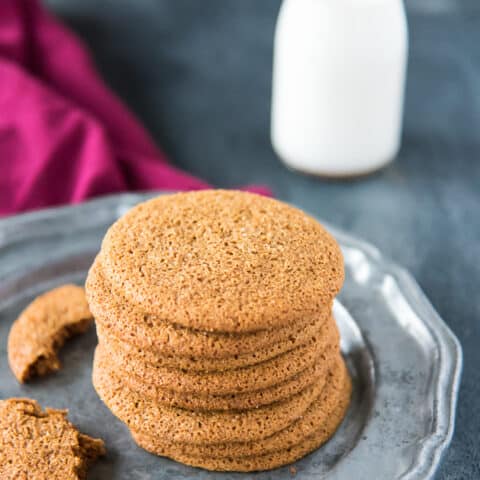 Big & Soft Paleo Ginger Molasses Cookies
Ingredients
1 ½ cups blanched almond flour
½ cup arrowroot starch or tapioca starch
¼ cup coconut flour
2 teaspoons ground ginger
1 teaspoons baking soda
¾ teaspoon ground cinnamon
½ teaspoon ground cloves
¼ teaspoon sea salt
½ cup coconut oil, just melted
¼ cup unsulphured molasses
¼ cup honey or pure maple syrup
1 large egg
Instructions
Preheat oven to 350 degrees (F).
In a large mixing bowl, combine the almond flour, arrowroot starch, coconut flour, ground ginger, baking soda, ground cinnamon, ground cloves, and sea salt.
Mix in the coconut oil, unsulphured molasses, honey or pure maple syrup, and the egg and mix until combined.
Drop heaping tablespoons of dough onto a parchment or silicone lined baking sheet.
Bake for 9-12 minutes. Leave the cookies on the baking sheet to cool (otherwise they will be very soft and will break apart).
We are a participant in the Amazon Services LLC Associates Program, an affiliate advertising program designed to provide a means for us to earn fees by linking to Amazon.com and affiliated sites.