The first Thanksgiving that I was gluten, dairy, and refined sugar free was interesting. It wasn't bad by any means, just different. I was going through a time of transition, an adjustment period in my diet, and I had to learn how to make my favorite recipes differently. It was actually my sister in law who made me a gluten and dairy free pumpkin pie that first Thanksgiving (it was awesome… and crust-less). Since then I have tweaked her substitutions to come up with this Gluten & Dairy Free Maple Pumpkin Pie. And let me tell you what, you won't miss the refined sugars or dairy – at all. The maple syrup is such a wonderful addition to the pumpkin and spices. It really is delicious!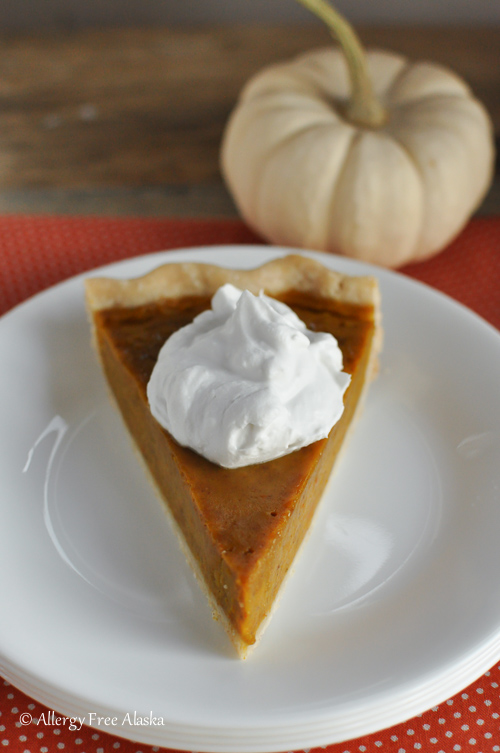 The whipped topping you see in the picture is simply chilled coconut cream (the thick cream that separates from the liquid in certain brands of canned coconut milk, like the Thai Kitchen Brand) whipped with a few drops of liquid vanilla stevia (course, you could use maple syrup, honey, or another sweetener instead). If you prefer to use another brand of coconut milk (that's maybe guar gum free), simply place the entire can of coconut milk in the blender, sweeten to taste, and blend. Place in an airtight container in the fridge overnight. The coconut milk will thicken, and then you can use it as whipped topping (it just might not be quite as thick as what's pictured above, but still delicious). 
Wishing you all an early, but very Happy Thanksgiving! 
xoxo,
Megan
*If this recipe doesn't accommodate your dietary needs, please check out my gal pal, Shirley's, Gluten-Free Pumpkin Pie Recipe Roundup with Over 30 Recipes! There is certainly a recipe to accommodate nearly all types of dietary needs: egg free, Paleo, nut free, etc…
Gluten & Dairy Free Maple Pumpkin Pie
Ingredients
1 unbaked Best Gluten-Free Flaky Pie Crust Recipe
15 ounces unsweetened pumpkin puree
1/2 cup almond milk (or rice milk, hemp milk, coconut milk beverage, etc...)
1/2 cup pure maple syrup
2 eggs
1 teaspoon ground cinnamon
1/2 teaspoon ground nutmeg
1/2 teaspoon sea salt
1/4 teaspoon ground cloves
Instructions
Whisk all of the ingredients in a medium size mixing bowl until well blended.
Pour filling into the prepared unbaked pie shell and bake in a preheated 400 degree (F) oven for 15 minutes. Reduce the oven temperature to 350 degrees (F) and bake for an additional 40 to 50 minutes. The pie is completely cooked through when a toothpick inserted in the center of the pie comes out clean.
Allow to cool completely before serving.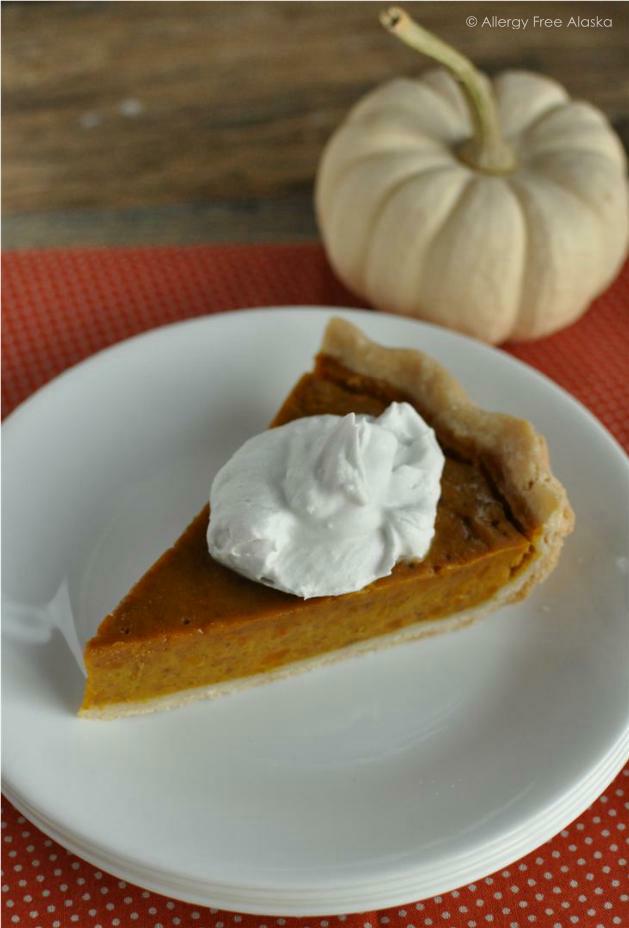 This post may contain affiliate links which I may receive a small commission from (without any additional costs to you). The money earned from these commissions helps me maintain this website. Thank you for your support in this way!  
This recipe is linked to Savoring Saturdays, Make Your Own Monday, Teach Me Tuesday, Fat Tuesday, Slightly Indulgent Tuesday, Allergy Free Wednesday, Frugal Day Sustainable Ways, Thank Your Body Thursday, Tasty Traditions, Full Plate Thursday, Simple Lives Thursday, Pennywise Platter, and Gluten Free Friday.