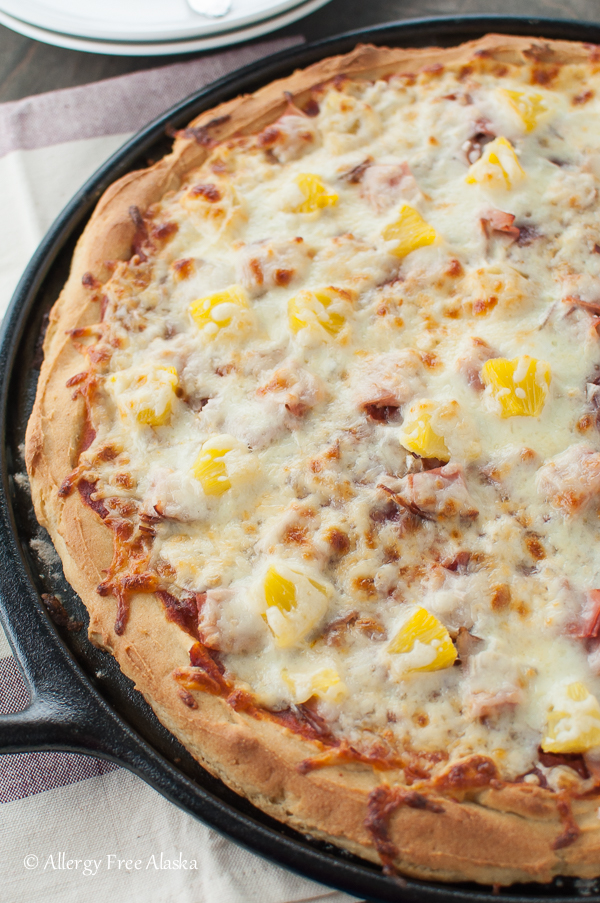 Pizza is one of those timeless classics that never loses popularity. It can be personalized according to individual preference, and thankfully, allergies. Just because you're gluten and/or dairy free doesn't mean you still can't sink your teeth into a delicious slice of pizza. 
I developed this Best Gluten-Free Pizza Crust out of necessity. Shortly after my girls and I went gluten-free, we became desperate for pizza. I used to make all of our gluten-filled pizzas from scratch, so I had to re-learn how to make our favorite recipe gluten-free. This Best Gluten-Free Pizza Crust isn't a thin one, but it's not overly thick either. It's just thick enough to hold up to a plethora of toppings; you can pile them on! It's a subtly sweet crust, since I prefer mine not too sweet. If you prefer a sweeter crust, simply add a tablespoon of sugar to the dough (I don't recommend adding more honey, as that would make the dough too heavy).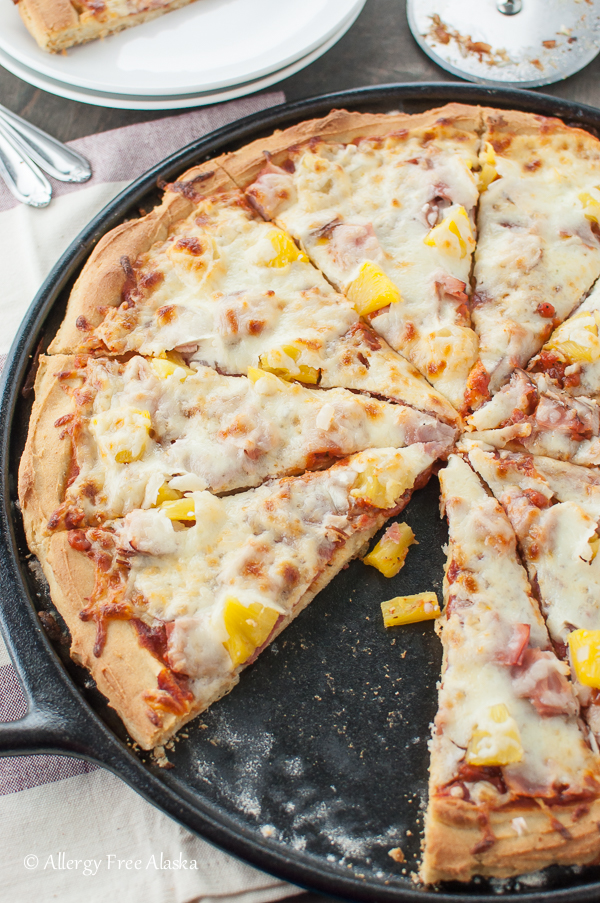 While this recipe isn't written as egg-free, I think substituting a chia egg for the egg would work just fine. To make a chia egg, combine 1 tablespoon chia seed meal and 3 tablespoons boiling water. Let the slurry sit for 10 minutes before adding it to your dough. 
Need a yeast-free gluten-free pizza crust recipe? Try this Gluten-Free Pizza Crust from Nicole of Gluten Free on a Shoestring. Doesn't it look amazing?! 
What's your favorite way to top a pizza?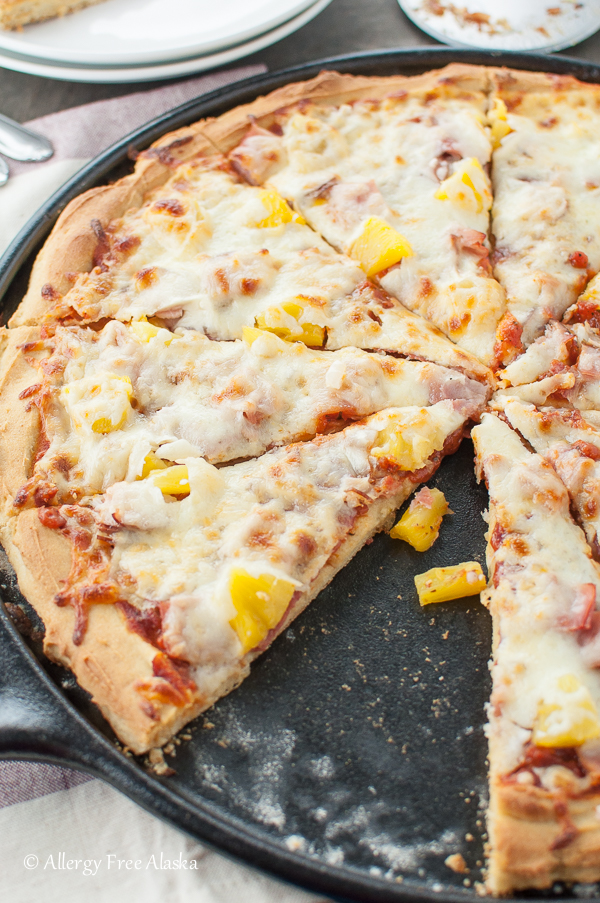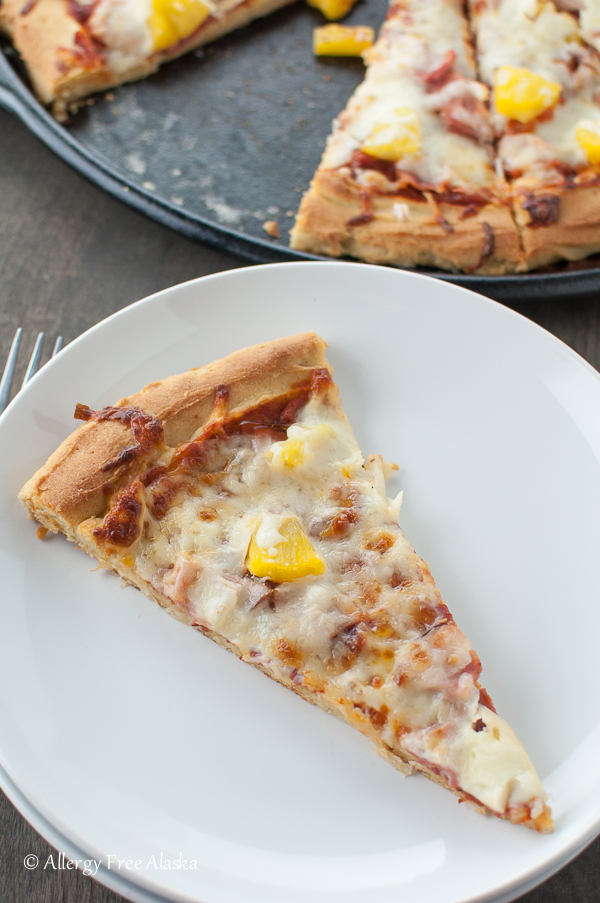 Perfect Gluten-Free Pizza Crust
Author:
Megan Ancheta, Allergy Free Alaska LLC
Serves:
one 14-inch pizza
Ingredients
Yeast Ingredients
1 tablespoon honey
3/4 cup hot water (between 105 – 115 degrees F)
2 1/4 teaspoons active dry yeast
Dry Ingredients
Wet Ingredients
1 egg
1/4 cup olive oil
1/2 teaspoon apple cider vinegar
Instructions
Lightly oil and dust a large 14-inch pizza pan with sorghum flour (or corn meal if you tolerate it). I use this cast iron pizza pan.
In a small mixing bowl, combine the honey and the hot water. Sprinkle in the yeast and give it a quick stir to combine. Proof for 7 minutes (set a timer!) – NO more, NO less time. Make sure to have the other wet and dry ingredients mixed and ready to go when the 7 minutes are up!
Using a heavy duty mixer with a paddle attachment, combine the dry ingredients.
In a separate mixing bowl, whisk together the egg, oil, and vinegar.
When the yeast is done proofing, add the wet ingredients to the dry ingredients. Stir until it's a little paste-like and then slowly add the yeast mixture. Using the mixer's low speed setting, mix for about 30 seconds. Scrape the sides of the bowl and then mix on medium 2-3 minutes or until the dough is smooth (you may need to scrape the sides of the bowl a few more times).
Place the dough on the prepared pizza pan. Use a frosting spatula (I like this one) to spread the dough out into an even round. If you are having difficulty spreading out the dough, wet your hands, and press the dough out with your hands (continue to wet them as needed). Start in the middle of the dough and work out to the edges. Rise in a warm place for 30-40 minutes.
Prebake the crust in a preheated 425 degree (F) oven for 10 minutes.
Top with desired toppings, and bake for an additional 10-14 minutes. The crust should be nice and golden brown around the edges when done.
Recipe Notes from Megan
While this recipe isn't written egg-free, I think it would do quite well with a chia egg as a substitute (1 tablespoon of chia seed meal + 3 tablespoons of boiling water = 1 chia egg. Allow the mixture to sit for 10 minutes before adding it to the dough).

This post may contain affiliate links which I may receive a small commission from (without any additional costs to you). The money earned from these commissions helps me maintain this website. Thank you for your support in this way!