It's pouring here – a cool 54 degrees (F). The leaves are falling and it's getting darker earlier, indicating summer is quickly coming to a close. We Alaskans often joke that we only have 2 seasons up here: winter and road construction. All joking aside, it's true – we hardly have a spring or fall, but I personally love our quick excuse of a fall. I like wearing sweatshirts and fleece jackets, and being comfortable without freezing my buns off in sub-zero temps. 😉
All this cool weather we're having makes me want to bake, cook, and load up my freezer for the winter. It's full of Alaskan wild salmon and blueberries, but it could use a little more variety if you know what I mean. 😉 And a few things to make throwing dinners together on busy nights easier, like this Simple Homemade Pizza Sauce.
Pizza sauce can easily make or break a pizza, and I'm a very picky pizza sauce person (say that 10 x's fast). The jarred variety I used to buy pre-gluten free wasn't quite as healthy as I thought it was once I was forced to look at the label. Nor was it quite as tasty as this homemade version I freeze to have on hand whenever I need it. This simple sauce is delicious, and I bet once you try it, you'll never want to buy the jarred variety again either!
This sauce is perfect on my Foolproof Gluten-Free Pizza Crust!
All my love,
Megan (with a long E)
Homemade Pizza Sauce Recipe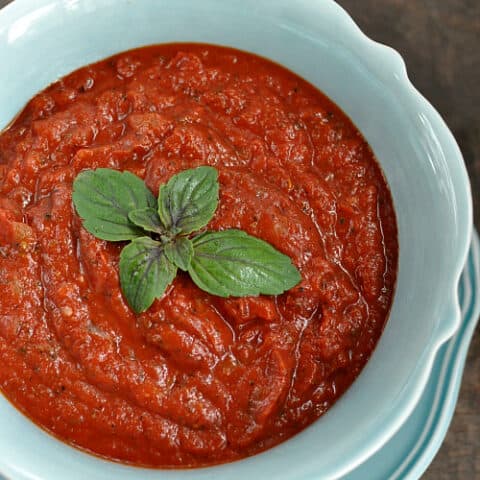 Simple Homemade Pizza Sauce
Ingredients
2 tablespoons olive oil or coconut oil
1 cup onion, minced
2 garlic cloves, minced
1 ½ teaspoons dried basil
1 ½ teaspoons dried oregano
1 teaspoon Italian seasoning
15 ounces tomato sauce
6 ounces tomato paste
½ cup water
1 tablespoon palm sugar
½-3/4 teaspoons sea salt
½ teaspoon ground black pepper
Instructions
In a large saucepan, warm the olive oil over medium-high heat and then add the onions. Cook for about 5 minutes, and then add the garlic, basil, oregano, and Italian seasoning. Cook for another 1-2 minutes, or until the garlic is tender and the onions are soft and translucent.
Reduce heat to medium and add the tomato sauce, tomato paste, water, palm sugar, sea salt and black pepper. Bring to a boil, and then remove from heat.
Allow the sauce to sit and cool to room temperature. This will allow the flavors to merry.
Use immediately, or store in an air tight container in the refrigerator or freezer.
Notes
I freeze my Simple Homemade Pizza Sauce in glass mason jars, but I only fill the jars ¾ of the way full. This helps prevent the jars from breaking when the sauce freezes and expands.
This post may contain affiliate links which I may receive a small commission from (without any additional costs to you). The money earned from these commissions helps me maintain this website. Thank you for your support in this way!