You won't believe these baked Chocolate Chip Doughnuts with Chocolate Glaze (Grain Free) are gluten-free and Paleo. And the chocolate glaze… it's finger-licking good!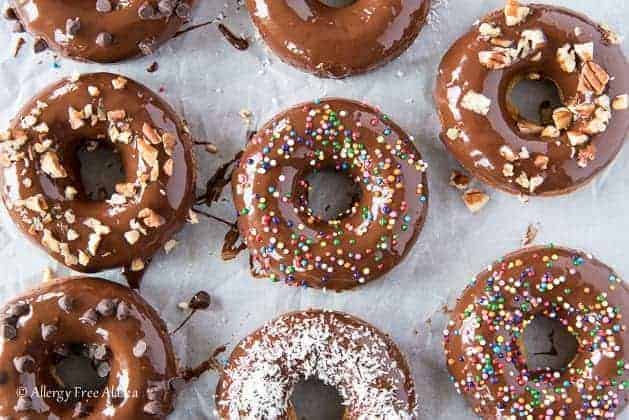 What a crazy month this has been! Between keeping up with activities with our girls, my husband's Subaru breaking down (that old girl had 274,000 miles on her), needing to purchase another vehicle, and just the busyness of summer, my free time has been stretched a little thin.
Which is exactly why it's taken so long to post this recipe for all of you (sorry). Rest assured the minute you sink your teeth into one of these blissful Chocolate Chip Doughnuts with Chocolate Glaze you'll be in absolute heaven and forgive me for taking so long. 🙂
Or at least I'm hoping!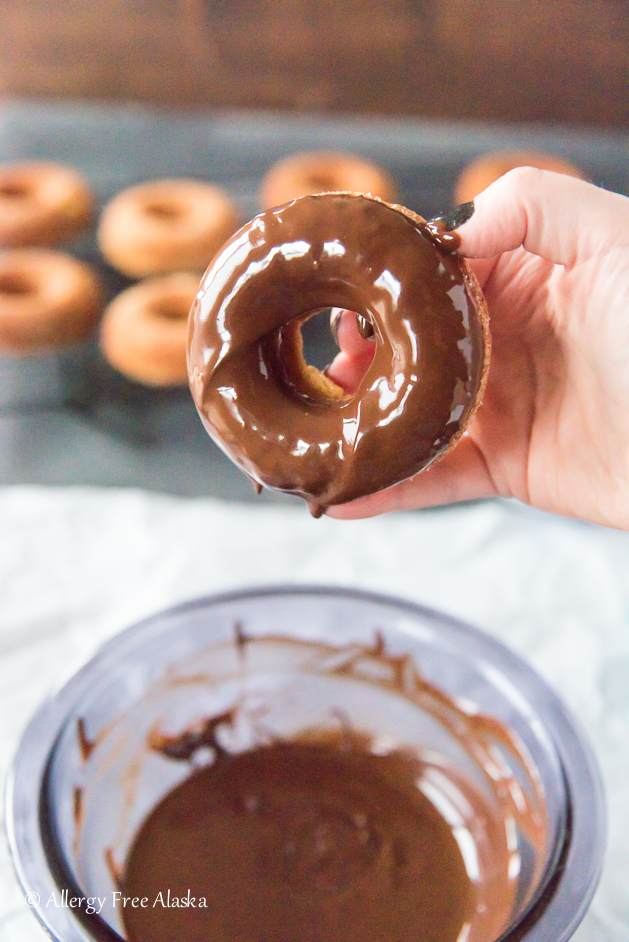 As a special morning treat when I was little, my dad would sometimes surprise us with a fresh box of doughnuts. I never met a doughnut I didn't like, but the ones with the chocolate frosting were my absolute favorite.
Which is why I developed these grain free doughnuts for my girls.
The girls were invited to a birthday party, so instead of baking a whole cake, I wanted to make something with individual servings – that wasn't a cupcake. So what's better than a chocolate covered doughnut?!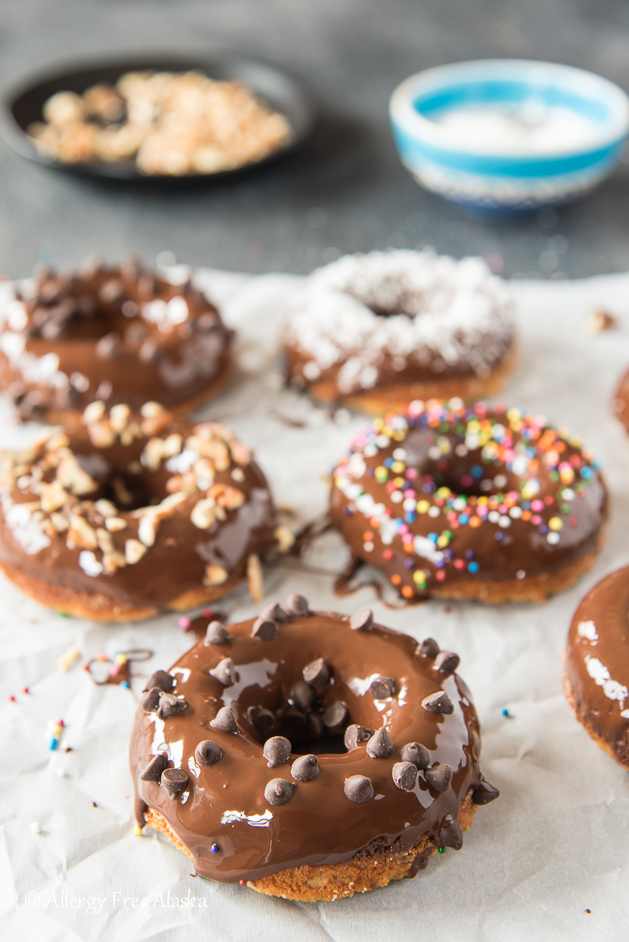 These decadent chocolate dipped beauties got an overwhelming response at the party. Everyone loved them and the girls were delighted. The smiles on their little chocolate covered faces were priceless. Doughnuts just have a way of  making people happy, don't they?
Did you have a favorite type of doughnut prior to becoming gluten free? Were you able to find a recipe or a bakery that makes your favorite doughnut after going gluten free? What's your favorite doughnut topping? Sprinkles or chocolate chips? Nuts or shredded coconut?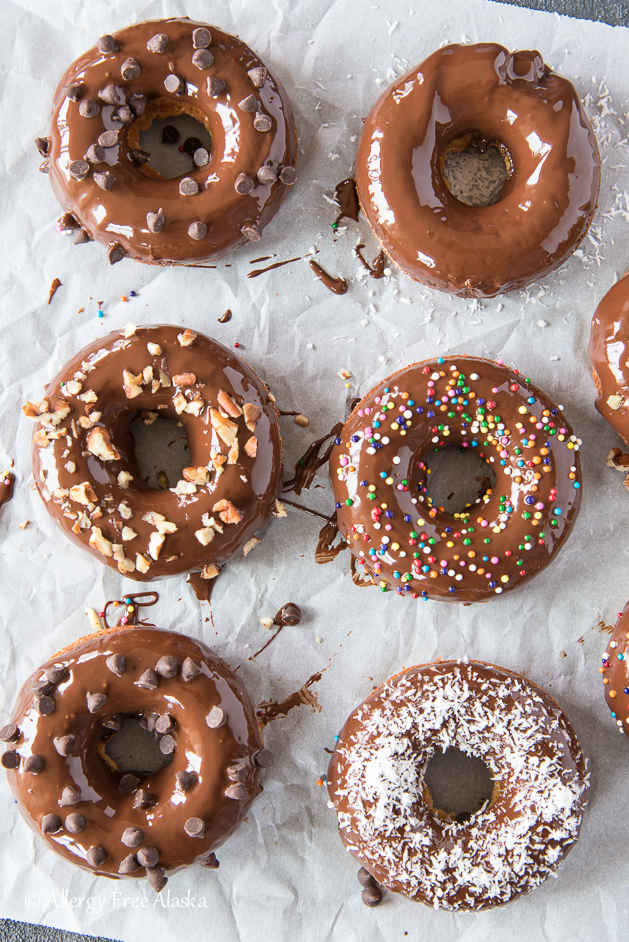 Other gluten-free doughnut recipes to check out:
Gluten-Free Cinnamon Sugar Donuts from My Gluten-Free Palate
Gluten-Free Maple Donuts from My Gluten-Free Kitchen
Chocolate Chip Doughnuts with Chocolate Glaze (Grain Free)
Serves:
about 8 doughnuts
Ingredients
1 1/2 cups blanched almond flour, gently packed + more for dusting the doughnut pans
2 tablespoons arrowroot starch or tapioca starch
1 1/2 teaspoons baking powder
1/2 teaspoon sea salt
1/2 teaspoon nutmeg
1/4 cup solidified coconut oil
2 eggs
3 tablespoons runny honey
2 tablespoons almond milk
1 teaspoon vanilla extract
3-4 tablespoons Enjoy Life Chocolate Chips
For the Chocolate Glaze
Instructions
Preheat oven to 325 degrees (F) and generously grease 2 doughnut pans (I use these pans) with palm shortening. Dust with almond flour, and knock off the excess into the sink or a trash can.
In a large mixing bowl, combine the blanched almond flour, arrowroot starch, baking powder, sea salt, and nutmeg. Cut in the coconut oil until the mixture resembles coarse crumbs.
Whisk in the eggs, almond milk, honey, and vanilla extract. Stir in the chocolate chips.
Transfer the batter to a piping bag or a plastic storage bag (snip off one corner for piping) and pipe into the prepared pan, filing each well about 2/3 full.
Bake for 13 - 16 minutes, or until a toothpick comes out clean when poked into one of the doughnuts. Cool for 5 minutes before removing from the pan and placing on a wire rack to completely cool (I use a butter knife if necessary to loosen the edges of the doughnuts from the pan).
For the Chocolate glaze, place the chocolate chips and the palm shortening in a small microwavable bowl, and microwave on high in 30 second increments, stirring each time, until the chocolate chips and palm shortening are melted and mixed until smooth.
Place doughnuts, one by one, upside down half way into the chocolate glaze. Remove and place right side up on a piece of parchment or waxed paper to set. If toppings are desired, sprinkle the doughnuts with desired toppings and place immediately in the freezer to set for 5 minutes (otherwise the toppings will slide off). Remove from the freezer and store in an airtight container at room temperature.
We are a participant in the Amazon Services LLC Associates Program, an affiliate advertising program designed to provide a means for us to earn fees by linking to Amazon.com and affiliated sites.

(Visited 6,494 time, 19 visit today)