Thai Sweet Potato Noodle Bowls are packed with fresh veggies and tender chicken. A spicy almond satay sauce adds a serious amount of Thai-style flavor!
Thai Chicken Sweet Potato Bowls
These bowls are packed with healthy ingredients and tons of nutrients. A base of spiralized sweet potato noodles with bell pepper and chicken is sauteed in sesame oil, then tossed in a fragrant almond butter coconut curry satay sauce, and garnished with chopped cashews and fresh lime wedges.
This Thai sweet potato stir fry dish is loaded with Asian flavors that your whole family will love. If you love cooking gluten free Asian style meals, you'll love my Asian Chicken Salad and Sesame Zucchini Noodle Salad.
How to Make Sweet Potato Noodles
To begin prepping your Thai sweet potato bowls, you'll need to spiralize a couple of sweet potatoes.
Clean your sweet potatoes thoroughly to remove excess dirt. Peel the sweet potatoes using a vegetable peeler or paring knife.
Fit a sweet potato to your spiralizer and follow the manufacturer's directions for spiralizing the sweet potatoes into noodles. Repeat with the remaining sweet potato.
Lay your sweet potato noodles out on a paper towel and pat off any excess moisture before cooking.
I own this spiralizer, and I recommend using the smaller noodle blade instead of the larger one.
How do you make a noodle bowl?
First, cook your noodles. For this Thai Chicken & Sweet Potato Noodle Bowl, you'll saute the sweet potato noodles and sliced bell pepper in sesame oil for a few minutes. Then, add some water to the pan, place a lid over top, and steam the noodles and pepper slices for 2 minutes until they're softened.
Next, add spinach to the noodles and cook until wilted. When the spinach is wilted, add diced cooked chicken and cook until everything is heated throughout.
Next, add your sauce and carefully toss all of the ingredients together. Remove the skillet from the heat and divide the contents into bowls.
Finally, garnish your Thai chicken stir fry bowls. I like to serve these bowls with chopped cashews for crunch and a lime wedge for a bit of extra acidity.
Substitutes for Chicken in Thai Cuisine
You can absolutely swap out the chicken for another protein if you prefer. Try shrimp or thinly sliced steak.
If you're vegan, I recommend tofu as a non-meat alternative.
Almond Butter Satay Sauce
A traditional satay sauce is made with peanuts or peanut butter, coconut milk, soy sauce, curry paste, and brown sugar or palm sugar to add sweetness. In this recipe the sweet potatoes have enough natural sweetness, so no added sugar is necessary.
This peanut free satay sauce recipe uses almond butter in place of the peanuts and also contains garlic, ginger, and chili paste for heat and flavor. You'll add coconut milk, water, lime juice, and fish sauce along with the almond butter to create a rich and creamy satay sauce that is good enough to eat right from the spoon!
If you can't do almonds, you could use cashew butter or peanut butter for these Thai chicken & sweet potato noodle bowls with similar texture results.
To make Almond Butter Satay Sauce
Warm some sesame oil in a pan on the stove over medium heat.
Add curry paste, minced garlic, and fresh grated ginger to the pan and cook for a few minutes to allow the aromas and flavors of the ingredients to emerge and meld together.
Add the rest of the ingredients to the pan and whisk until smooth.
Looking for another low-carb, Paleo recipe? Try these Scalloped Sweet Potatoes or  Caribbean Chicken Bowls with Grilled Plantains from Food Faith Fitness.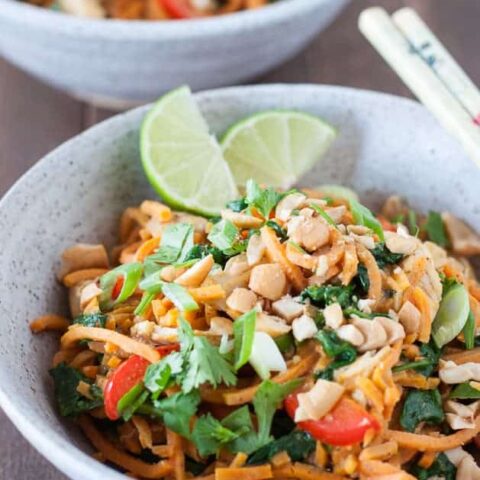 Thai Chicken & Sweet Potato Noodle Bowls
These Thai Chicken & Sweet Potato Noodles Bowls are a delicious way to give into your Thai craving while staying low-carb. Spiralized sweet potato "noodles" take the place of rice noodles, and are covered in a spicy satay-like sauce.

We are a participant in the Amazon Services LLC Associates Program, an affiliate advertising program designed to provide a means for us to earn fees by linking to Amazon.com and affiliated sites.