These Quick Kimchi Cucumbers will easily become one of your favorite healthy recipes. The combination of salty + spicy is addicting! 
2018. Happy New Year, everyone! I'm starting off this new year feeling very inspired. I recently bought a new camera, enrolled in a new photography course, and am looking forward to creating more new recipes for all of you.
Hopefully healthier recipes – at least for the next few months. 😉  I don't know about you, but I'm ready to detox from all the sugar and carbs from over the holidays (ooohhh man, I was so bad you guys)!
This Quick Kimchi Cucumbers recipe is one I've been making for a few months now. My husband and I love it (it's a bit too spicy for my girls). We normally eat it as a snack, or along with a meal as a side dish. It has all of the classic flavors of kimchi, without taking days or months to make.
What does kimchi taste like? It's incredible, you guys! Spicy, salty, garlicy, gingery…. it's actually hard for me to describe. It's just plain awesome!
To make the Quick Kimchi Cucumbers, I start by tossing half-moon cucumber slices with salt. The salt draws the liquid from the cucumbers, making them crisp.
Once the cucumbers have sat for at least 30 minutes in the salt, I drain them and mix in the remaining ingredients. You can either eat the cucumbers immediately, or refrigerate to allow the flavors to marry. I generally can't help myself, I always eat a little bit immediately, then save the rest for later.
All my love to you and your families. Happy New Year!
Megan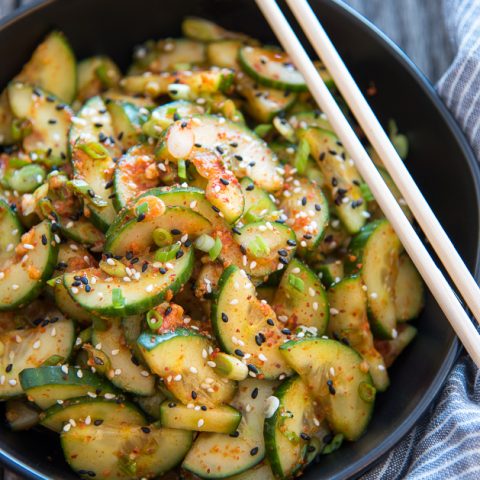 Quick Kimchi Cucumbers
Additional Time:
10 minutes
These Quick Kimchi Cucumbers will easily become one of your favorite healthy recipes. The combination of salty + spicy is addicting!
Ingredients
1 ½ English Cucumbers, sliced into half moons
1 medium-sized garlic clove, pressed or finely minced
¾ teaspoon grated ginger
1 teaspoon lite rice vinegar
¼ cup sliced green onions
black & white sesame seeds for garnish
Instructions
Place the cucumber slices in a medium to large sized colander and toss with the sea salt. Place a plate under the colander and let sit for 30 minutes. The salt will start to draw the moisture out of the cucumber slices, and will help make them crisp.
Shake the excess liquid from the cucumbers into the sink, and then place the cucumber into a medium sized mixing bowl.
Add the Korean Red Pepper, garlic, ginger, lite rice vinegar, sesame oil, fish sauce, and green onion. Mix well.
Garnish with black & white sesame seeds. Serve immediately, or refrigerate until ready to serve.
Notes
One and a half (1 ½) English cucumbers are needed for this recipe.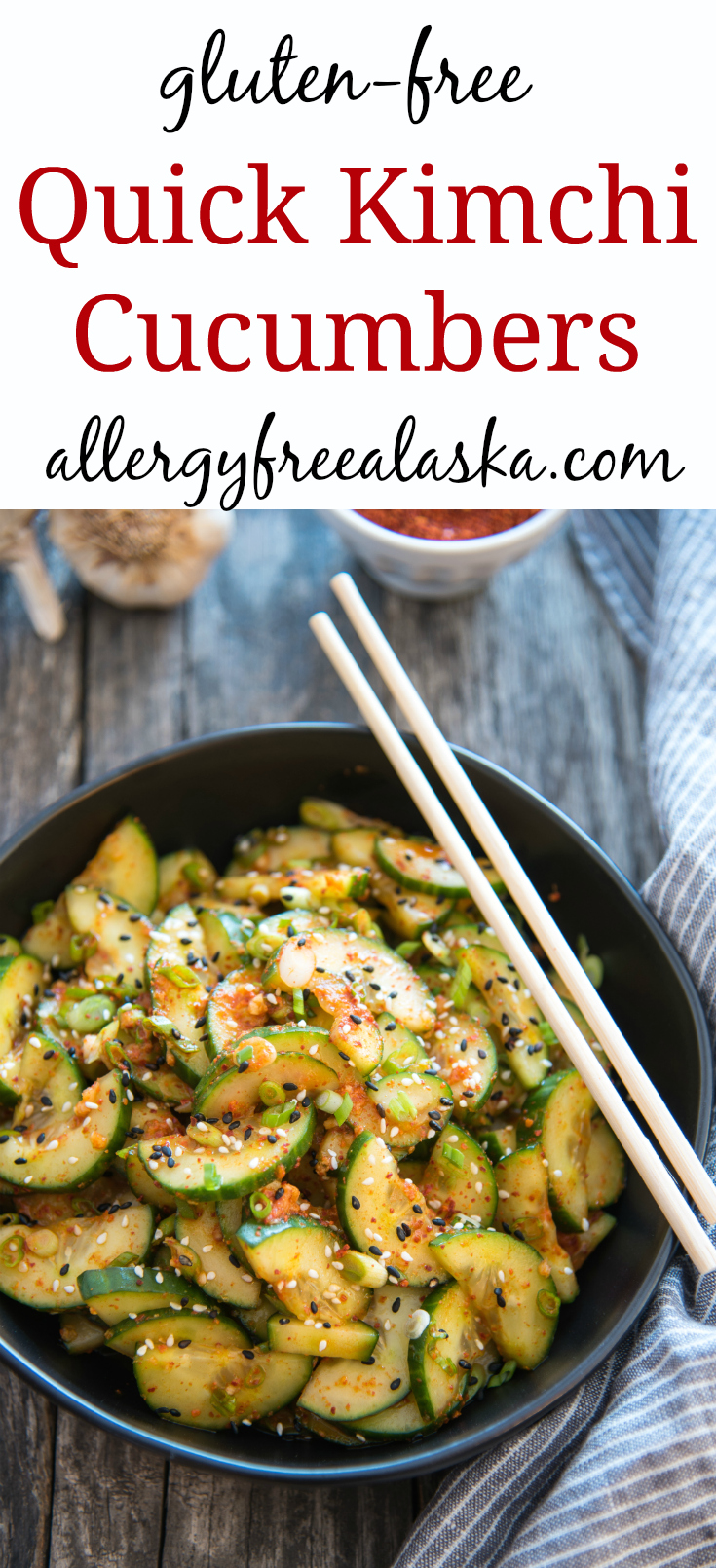 We are a participant in the Amazon Services LLC Associates Program, an affiliate advertising program designed to provide a means for us to earn fees by linking to Amazon.com and affiliated sites.