If these Paleo Vegan Double Chocolate Protein Cookies look somewhat familiar to you, it's because they are the chocolate version of my vegan, Paleo, and nut-free Protein Packed Monster Breakfast Cookies.
That recipe is one of the most popular recipes on my website, and is definitely a family favorite around our house. The girls love those cookies so much, that I decided to make a chocolate variation of them.
This chocolate variation is just as good as the non-chocolate version. But… I think the girls decided they like the chocolate variation better (no surprise there).
Did I mention that my girls love chocolate?!
These cookies are packed with protein, fiber, and healthy fats. A sweet treat, yet a very filling one, so you won't be tempted to eat the whole batch. 😉
Not that I would know anything about that. *Ahem*
But… because they are so filling, these Paleo Vegan Double Chocolate Protein Cookies make an excellent quick breakfast or snack, and are perfect for on-the-go travel. I often make a batch when I know we'll have a busy, full week of activities. I pack the cookies in an air tight container, and depending on the weather, I'll leave them in the car for convenience.
One of my favorite thing about these cookies (besides the chocolate chips) are the hemp seeds, the little white seeds, you see scattered throughout the cookies. I also use hemp seeds in my Date Sweetened Creamy Vegan Fudgesicles recipe.
Hemp seeds are incredibly healthy. They contain both omega 3 and omega 6 fats, are high in magnesium, and have a quality amino acid profile.
All good things.
And now you can sneak all those good things into your kiddos! They don't need to know these are healthy cookies. As long as they taste good, and there's chocolate chips, that's all that matters, right?! 😉
All my love,
Megan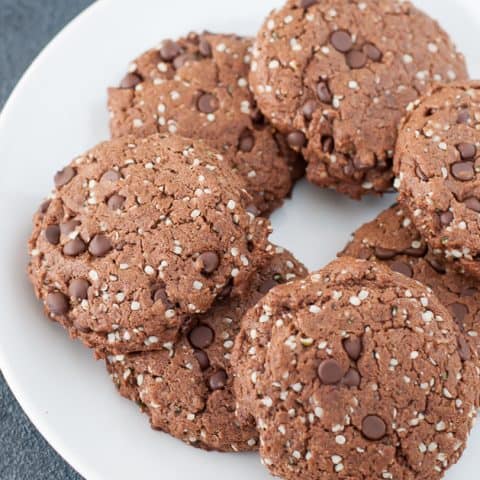 Paleo Vegan Double Chocolate Protein Cookies
These Paleo Vegan Double Chocolate Protein Cookies make an excellent quick breakfast or snack, and are perfect for on-the-go travel.
Ingredients
1 tablespoon flax meal
3 tablespoons boiling water
1 cup SunButter Creamy Sunflower Seed Spread
⅓ cup coconut sugar
¼ cup pure maple syrup
1 teaspoon vanilla extract
½ teaspoon baking soda
¼ teaspoon sea salt
¼ cup cocoa powder
½ cup unsweetened shredded coconut
⅓ cup hemp seeds
¼-1/3 cup allergy free mini chocolate chips
Instructions
Preheat oven to 350 degrees (F) and line 2 large baking sheets with parchment paper or silicone liners.
Stir together the flax meal and boiling water; set aside and allow it to sit for at least 10 minutes.
Using an electric mixer, cream the SunButter, palm sugar, maple syrup, and vanilla. Beat in the baking soda and sea salt, and then stir in all other remaining ingredients (don't forget the flax meal slurry!).
Roll the dough by heaping tablespoon into balls and place them on the baking sheets spaced about 3 inches apart. Using the tips of your fingers, gently flatten the dough until it is about ½ an inch thick.
Bake for 12 to 14 minutes, or until the edges of the cookies are set. Leave cookies on the baking sheet to cool.
When the cookies are cool and firm, transfer them to plate lined with a paper towel (this will help draw out the excess oils from the SunButter). Store the cookies uncovered out on the counter (so the air can get to them). They will crunch up on the outside, but still remain soft on the inside. If you store them in an airtight container, they will retain too much moisture and crumble easily.
Notes
In lieu of the flax meal slurry, you can replace the flax meal and boiling water with 1 large egg.
Recommended Products
We are a participant in the Amazon Services LLC Associates Program, an affiliate advertising program designed to provide a means for us to earn fees by linking to Amazon.com and affiliated sites.

This post may contain affiliate links which I may receive a small commission from (without any additional costs to you). The money earned from these commissions helps me maintain this website. Thank you for your support in this way!