You know your life as a food blogger has reached an all time low when you are caught in the kitchen by your children licking vegan hot fudge sauce off of your shirt. And then they want a lick too. Yes, sadly that seriously happened. I was taking pictures and next thing I knew my shirt was covered in chocolate sauce. I really was just trying to prevent the washing machine from working overtime. Honest. Or at least that's what I'm telling myself.  😉
And fyi… no, I did not let my children lick my shirt. I don't like sharing my chocolate.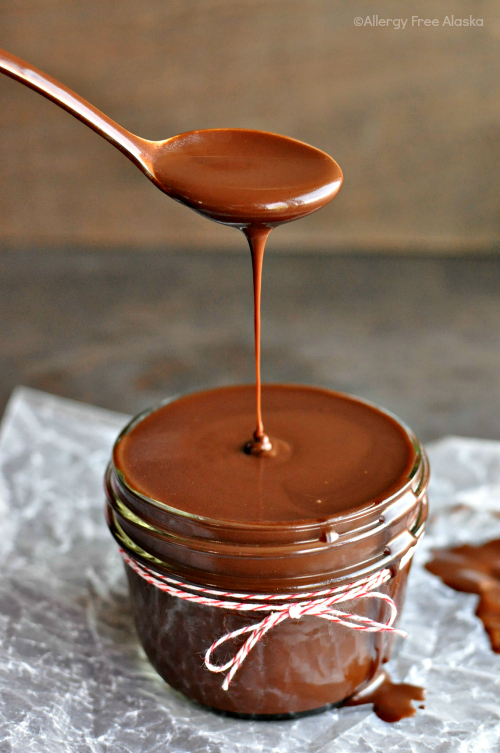 My Dad and I used to make hot fudge sauce together when I was a kid. I loved making treats with him, but I especially loved it when we made hot fudge sauce. It guaranteed we were going to have Hot Fudge Sundays for dessert. Who can possibly resist vanilla ice cream with hot fudge sauce and chopped nuts?
This Rich & Decadent Dairy Free Hot Fudge Sauce is ridiculous, and I mean that in such a good way – it's ridiculously good! Think of the inside of molten chocolate cake, you know that ooey-gooey fudge in the middle? Yeah, this is just like it. It's smooth, dark chocolate-y, and downright sinful. You'll be secretly sneaking spoonfuls from the refrigerator when no one is looking. Or dipping fruit into it. Or enjoying it in/on dairy free ice cream (There just might be another recipe coming soon… stay tuned!).
Peace, love, and hot fudge sauce.
xoxo,
Megan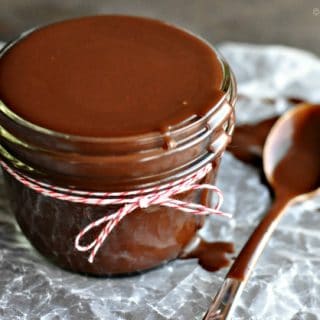 Hot Fudge Sauce with Cocoa
This Hot Fudge Sauce with Cocoa is smooth, dark chocolate-y, and downright sinful. You'll be secretly sneaking spoonfuls from the refrigerator when no one is looking.
Ingredients
14 ounces full fat canned coconut milk
½ cup coconut sugar
⅓ cup unsweetened cocoa powder
2 tablespoons vegan butter, or ghee for non-vegan
½ teaspoon vanilla extract
Instructions
In a blender, blend together the coconut milk, coconut sugar, and cocoa powder until smooth (this step ensures the sauce will be smooth and not lumpy).
Pour the mixture into a small saucepan and bring it to a boil over medium heat. Reduce heat to medium-low and simmer, stirring frequently, for 10 minutes and then remove from heat.
Whisk in the coconut oil and vanilla.
Allow the sauce to cool for 20 minutes. A thin film will naturally form over the top of the fudge sauce; this is perfectly normal. Simply give the fudge sauce a good whisk before pouring it into an airtight glass container. The sauce will continue to thicken while it cools.
Store in the refrigerator. Can be served cold or hot. Consume within 4-6 days.
Notes
Caution: Don't put this on the stove to boil and walk away! You have to babysit it, otherwise it could boil over and make a huge mess!
You also might like my "Liquid Gold" a.k.a. Dairy Free Caramel Sauce. Click here for the recipe.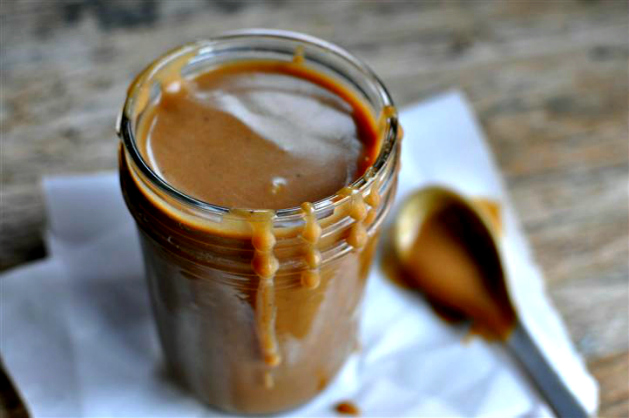 This post may contain affiliate links which I may receive a small commission from (without any additional costs to you). The money earned from these commissions helps me maintain this website. Thank you for your support in this way!