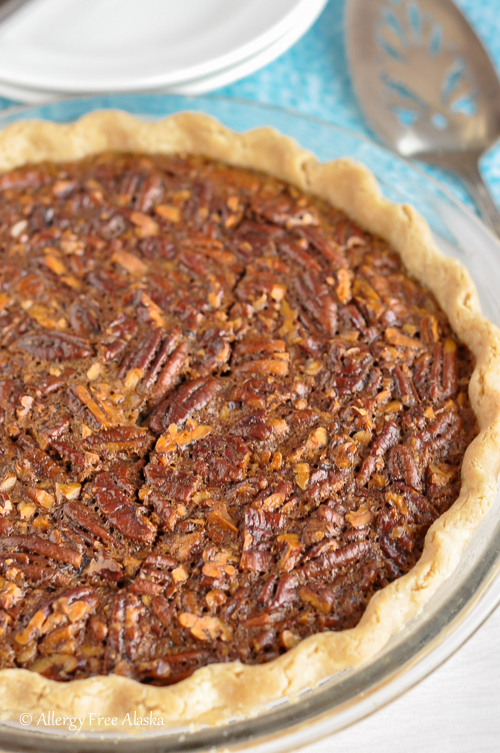 Pie… glorious, glorious pie. I have so many wonderful memories of making pies through the years with my Mom. She is such an expert pie maker – she had to be because of my dad. Out of all of Mom's pies, her pecan pie has always been one of my favorites. Flaky pie crust combined with a sweet filling and toasted crunchy pecans. It's a pecan lover's dream. 
This recipe is adapted from my Mom's, but I've updated it to make it corn syrup and refined sugar free. Swapping out the corn syrup for pure maple syrup adds to the depth and richness of the pie's flavor. Maple syrup is so amazing on it's own, but when used in pecan pie, it's downright fabulous. The organic coconut sugar definitely adds to the flavor, too, with its molasses-like undertones, but the maple syrup is definitely the "star of the show" here. That is, next to the pecans and gluten-free flaky pie crust of course. 😉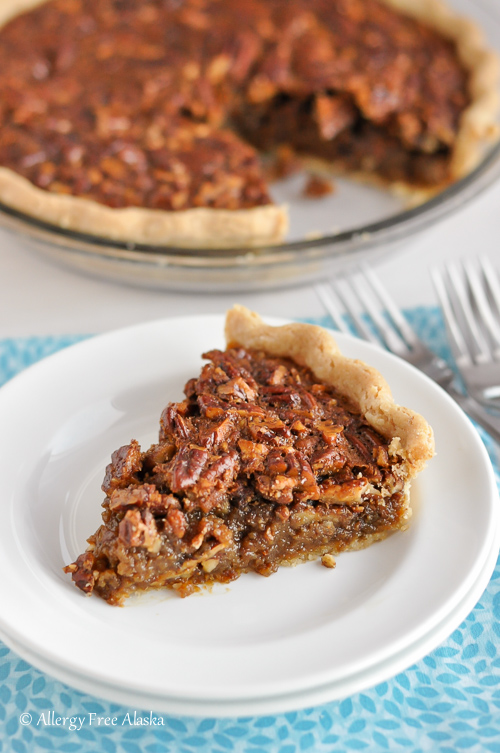 The hardest decision you'll have to make with this recipe is what to serve with it. How do you take your pie? With dairy-free vanilla ice cream? Or maybe just plain with a cup of coffee? What will you serve your pie with?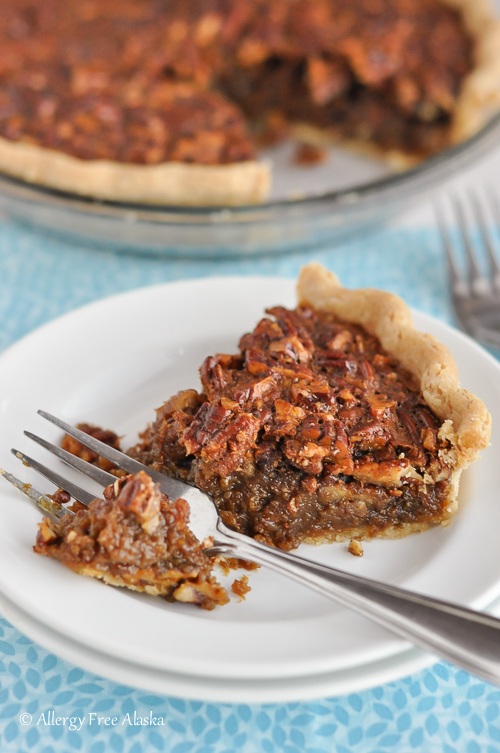 AND don't fret!! If you are PALEO/GRAIN-FREE & EGG-FREE, check out my Guilt-Free Pecan Pie Cookies. They are Paleo/grain-free, refined sugar-free, and vegan.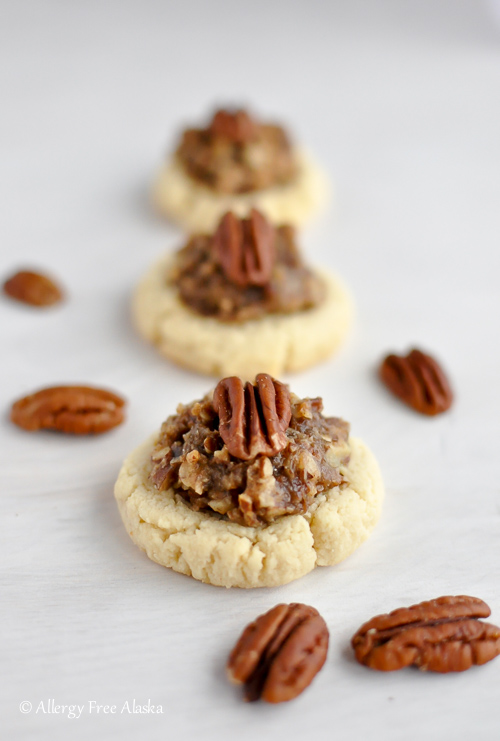 Gluten-Free Pecan Pie (Corn Syrup Free, Refined Sugar Free)
Ingredients
1 Unbaked Best Gluten-Free Flaky Pie Crust
1 cup organic coconut sugar (or palm sugar, or coconut palm sugar)
3/4 cup pure maple syrup
3 tablespoons vegan butter, melted and cooled
3 large eggs, at room temperature
1/4-1/2 teaspoon sea salt
1 teaspoon vanilla extract
2 cups raw pecan halves
Instructions
Preheat oven to 400 degrees (F).
In a medium-sized mixing bowl, whisk together the organic coconut sugar, pure maple syrup, vegan butter, eggs, sea salt, and vanilla extract. Stir in the raw pecan halves.
Pour the filling into the prepared unbaked pie shell and place the pie on a large baking sheet (just in case the pie spills over). Place the baking sheet in the oven and bake for 20 minutes at 400 degrees (F). Reduce the oven temperature to 350 degrees (F) and bake for an additional 30 minutes. The pie is completely cooked through when the top is deep golden and filling doesn't jiggle. The filling may puff up during baking. If this happens, don't be alarmed. It will settle as it cools. Place on a wire rack to cool. Cool completely before serving.
Recipe Notes from Megan
I don't recommend trying to make this recipe egg-free. Try these
Guilt-Free Pecan Pie Cookies
instead. They are grain-free, gluten-free, refined sugar-free and vegan.
If you can't have vegan butter of any kind, I'm sure coconut oil would work out well as a substitute.
Some like to toast their pecans prior to assembling their pecan pie. Please, PLEASE do NOT do that with this recipe, as the baking time is long enough to toast the pecans. If you toast the pecans beforehand, they will burn while baking.
Still need more pie?
Try my Gluten & Dairy Free Maple Pumpkin Pie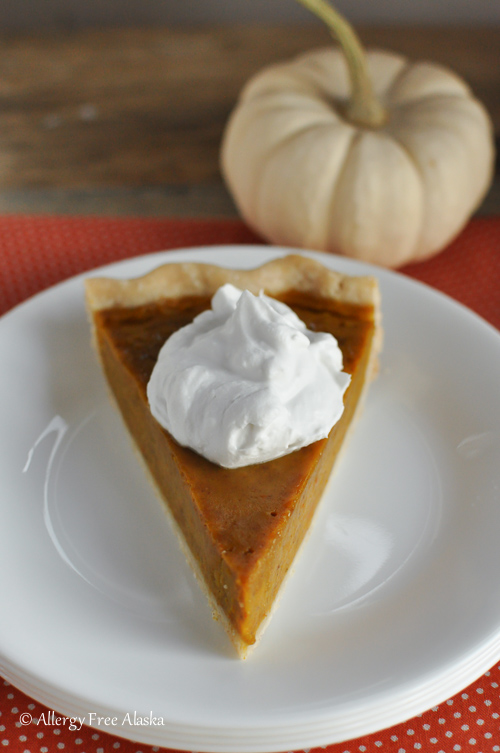 Or my Mom's Amazing Gluten-Free & Vegan Apple Pie

And of course, there's my Best Gluten-Free Flaky Pie Crust Recipe (that's also vegan)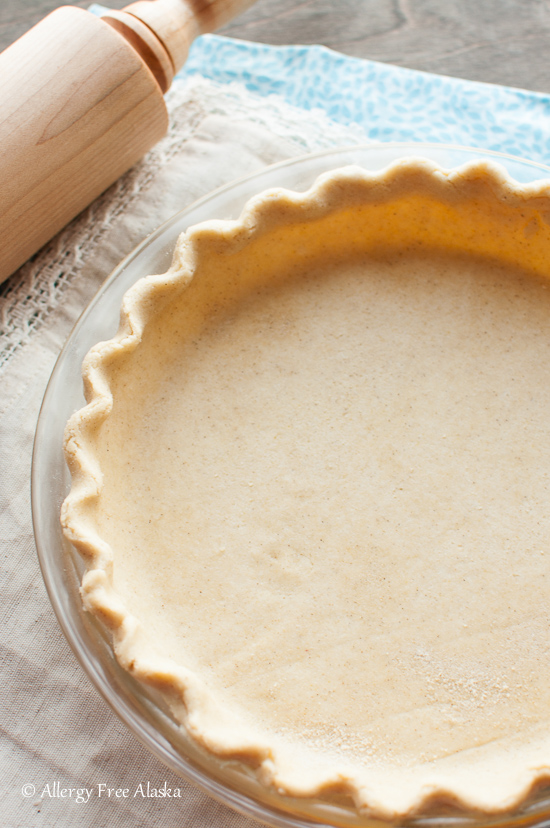 This post is linked to Savoring Saturdays, Saturday Night Fever, Tasty Tuesday, Talented Tuesday, You're Gonna Love It Tuesday, Handmade Tuesdays, Fat Tuesday, Two Cup Tuesday, Gluten Free Wednesday, Homestead Blog Hop, Create It Thursday, Gluten Free Friday and Foodie Friday. 
This post may contain affiliate links which I may receive a small commission from (without any additional costs to you). The money earned from these commissions helps me maintain this website. Thank you for your support in this way!