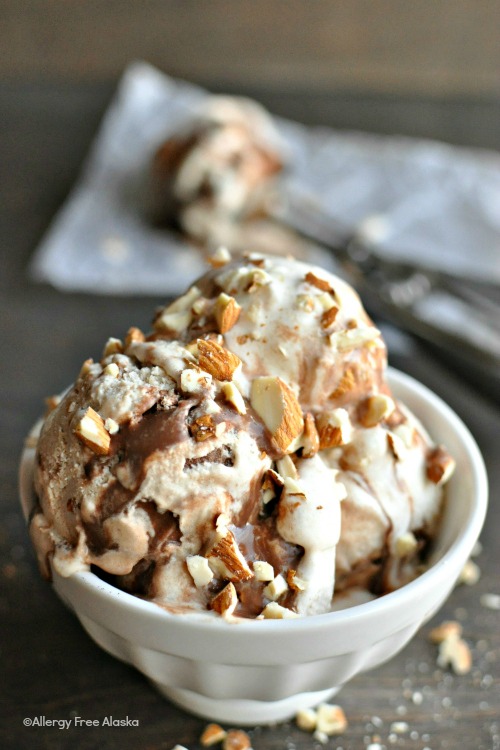 Creamy vanilla ice cream + rich & decadent hot fudge sauce + chopped almonds = pure bliss.  Seriously. You just can't go wrong with vanilla and chocolate. 
I'm very much an emotional eater; I've always been one, although I've curved it a lot over the last several years (or attempted to). Some days though, despite what is going on in life, I just want to eat a big bowl of ice cream. You know? It just makes everything better. 
I quit buying store-bought dairy free ice cream a while ago. Not because it didn't taste good (well, for the most part anyways), but because of what was in it (soy, xanthan/guar gums, sugar, agave, "natural flavors")… and the cost.  A family of four can completely decimate 1-2 of those little pint-sized containers in one night with no problems.
I figure if I can make something healthier here at home, that's nearly entirely sweetened using dates and stevia, that the whole family LOVES, then why not?
And in my opinion, the more ice cream in my freezer, the better. 🙂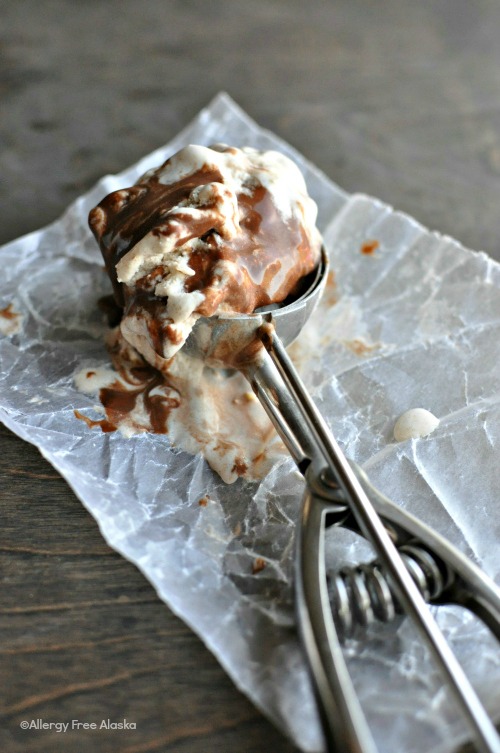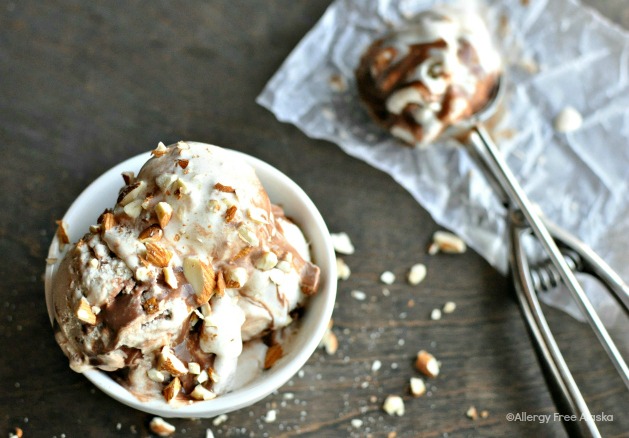 Course, as with most dairy free, egg free ice cream recipes, this Vegan & Paleo Fudge Tracks Ice Cream will be creamiest when it's at a soft serve consistency. It's how I prefer to eat it. If your ice cream has been sitting in the freezer for a while and is hard, simply let it warm up for a while on the counter, maybe 15-30 minutes; or if you're super impatient like me, you can zap it in the microwave for 15-30 seconds. 
And adding nuts is entirely optional.  🙂 
Vegan & Paleo Fudge Tracks Ice Cream
Serves:
about 1 1/2 quarts
Instructions
Place the chopped dates in a small mixing bowl and cover with 1 1/2 cups of hot water. Set aside for at least 10 minutes.
Drain the dates and discard the water.
Place the dates in a high speed blender with 1 can of full fat coconut milk (about 1 3/4 cups). Puree on high until smooth.
Add the remaining can of full fat coconut milk, unsweetened almond milk, vanilla extract, NuNatural's Liquid Vanilla Stevia, and sea salt. Blend until smooth.
Pour into a mason jar with a lid and refrigerate for 6 to 8 hours or until very cold.
Give the chilled custard a quick stir (it may separate in the refrigerator as it chills, this is completely normal) and then pour into an ice cream maker (I recommend this one) and churn according to manufacturer's instructions.
Place half of the ice cream into a freezer safe 1 1/2-2 quart glass storage container (I use the biggest container in this set) and then gently spread 1/4-1/3 cups of the fudge sauce over the top of the ice cream. Repeat the layers with the remaining ice cream and fudge sauce.
Serve immediately for soft serve, or freeze for at least 4-6 hours for a firmer texture.
Top with chopped almonds if desired.
Recipe Notes from Megan
The brand of canned coconut milk you use can make a HUGE difference in the quality and taste of your ice cream. My absolute favorite brand of coconut milk is the
Aroy-D brand
, which is guar gum and preservative free. I don't recommend using the Natural Value brand, as often times it's gritty and will not produce ice cream with a smooth texture.
This recipe is linked to, Marvelous Mondays, Fat Tuesday, Allergy Free Wednesday, Gluten Free Wednesdays, Waste Not Want Not Wednesdays, Frugal Day Sustainable Ways, Thank Your Body Thursday, Simple Lives Thursday, Pennywise Platter, Fight Back Friday and Gluten Free Fridays. 
This post may contain affiliate links which I may receive a small commission from (without any additional costs to you). The money earned from these commissions helps me maintain this website. Thank you for your support in this way!