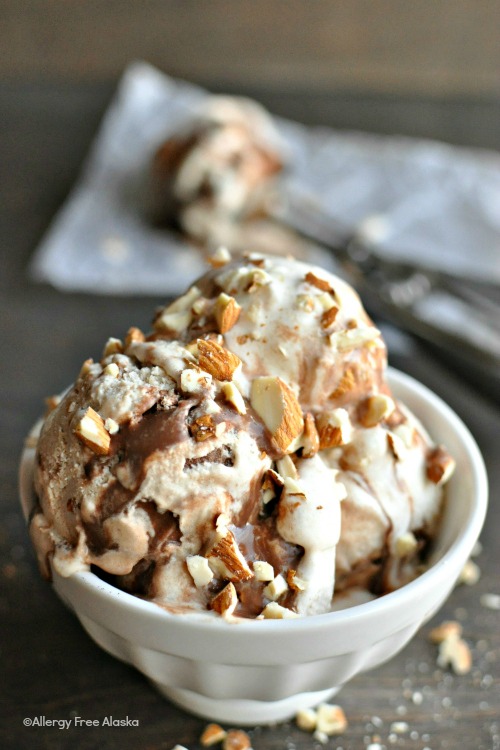 Creamy vanilla ice cream + rich & decadent hot fudge sauce + chopped almonds = pure bliss.  Seriously. You just can't go wrong with vanilla and chocolate.
I'm very much an emotional eater; I've always been one, although I've curved it a lot over the last several years (or attempted to). Some days though, despite what is going on in life, I just want to eat a big bowl of ice cream. You know? It just makes everything better.
I quit buying store-bought dairy free ice cream a while ago. Not because it didn't taste good (well, for the most part anyways), but because of what was in it (soy, xanthan/guar gums, sugar, agave, "natural flavors")... and the cost.  A family of four can completely decimate 1-2 of those little pint-sized containers in one night with no problems.
I figure if I can make something healthier here at home, that's nearly entirely sweetened using dates and stevia, that the whole family LOVES, then why not?
And in my opinion, the more ice cream in my freezer, the better. 🙂
Course, as with most dairy free, egg free ice cream recipes, this Vegan & Paleo Fudge Tracks Ice Cream will be creamiest when it's at a soft serve consistency. It's how I prefer to eat it. If your ice cream has been sitting in the freezer for a while and is hard, simply let it warm up for a while on the counter, maybe 15-30 minutes; or if you're super impatient like me, you can zap it in the microwave for 15-30 seconds.
And adding nuts is entirely optional.  🙂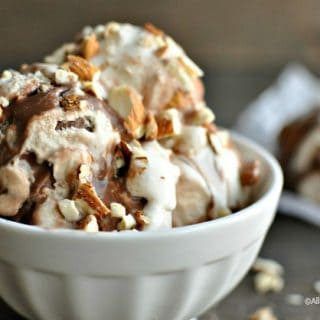 Vegan & Paleo Fudge Tracks Ice Cream