I have the perfect summertime recipe for you today, that's sugar free and absolutely delicious! This Sugar Free Triple Berry Cobbler (Grain & Nut Free) is the perfect dessert to bring along on a picnic, camping trip, or to make for your 4th of July celebration!
…… or to have for breakfast (not that I would know anything about that)! 😉
If you are worried about using stevia in this recipe, don't be. It blends in wonderfully with the berries. I can't even detect it, and neither can my husband. Course the brand of liquid stevia you use is key. I only recommend the NuNatural's brand of stevia. When used properly, it doesn't have the bitter aftertaste that other stevias do.
This is truly dessert eating at its finest, especially because it's sugar and guilt free!
Enjoy!
xoxo,
Megan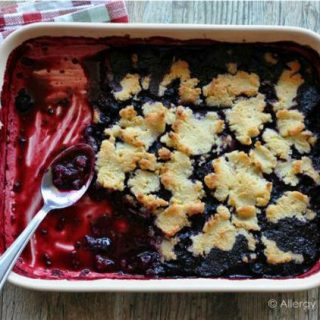 Sugar Free Triple Berry Cobbler (Grain & Nut Free)
Ingredients
Filling:
8 cups frozen triple berry blend
3 tablespoons arrowroot starch
1 teaspoon cinnamon
½ teaspoon nutmeg
¼ teaspoon NuNatural's Vanilla Stevia
Topping:
4 eggs, at room temperature
½ cup coconut oil, just melted
½ cup coconut flour
¼ teaspoon sea salt
¼ teaspoon baking soda
1 teaspoon vanilla extract
15 drops NuNatural's Vanilla Stevia
Zest of 1 lemon (about 2-3 teaspoons)
Instructions
Preheat oven to 400 degrees (F), and lightly grease a 9x13 baking dish.
Place the berries in a large mixing bowl and thaw at room temperature until they are just starting to turn soft and juicy. Do not completely thaw.
Add in the arrowroot starch, cinnamon, nutmeg, and vanilla stevia and toss until the berries are well coated in the mixture.
Place the berries in the baking dish and use a spatula or the back of a spoon to evenly distribute them in the pan.
In the bowl of an electric mixer, whisk together the eggs, coconut oil, and coconut flour. Stir in the sea salt, vanilla extract, vanilla stevia, and lemon zest. Crumble the dough topping evenly over the berries.
Bake until golden brown and bubbly, about 25 - 35 minutes. Serve warm or at room temperature with your favorite ice cream.
This post may contain affiliate links which I may receive a small commission from (without any additional costs to you). The money earned from these commissions helps me maintain this website. Thank you for your support in this way!
This recipe is linked to Make Your Own Monday, Teach Me Tuesday, Fat Tuesday, Slightly Indulgent Tuesday, Allergy Free Wednesday, Frugal Day Sustainable Ways, Thank Your Body Thursday, Tasty Traditions, Full Plate Thursday, Simple Lives Thursday and Pennywise Platter, Gluten Free Fridays andWellness Weekend.