Happy New Year! 2014 was a fantastic year filled with lots of great moments and memories, but I look forward to 2015 with hope and excitement. There will be new goals, accomplishments, and even more memories made. I can't wait to see what this new year brings!
When I set out to make this Smokey Chicken and Green Beans Over Quinoa dish, I actually didn't think I would post the recipe on the website. Our family had a busy day, I was pressed for time, and hadn't planned anything in advance for dinner. I defrosted some chicken breasts I had in the freezer and quickly threw dinner together with ingredients I had on hand. AJ and the girls ended up loving it, and they all agreed I needed to post the recipe for you. Gotta love it when recipes on the fly turn out to be a family favorite!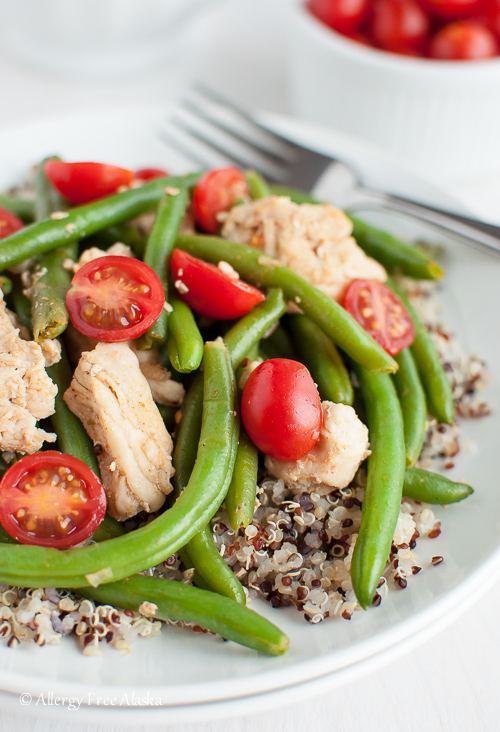 At first glance, this Smokey Chicken and Green Beans Over Quinoa might not appear full of flavor, but I can assure you it most definitely is. Chicken pieces are cooked in ghee, shallots, fresh garlic, and smoked paprika, then tossed with green beans, more smoked paprika, and fresh grape tomatoes. The end result is moist, tender, slightly smokey and rich chicken pieces with scrumptious green beans, and tangy, sweet tomatoes that burst in your mouth as you chew. This is an easy and healthy meal your whole family will enjoy!
If you're looking for more yummy gluten-free chicken recipes, try these baked chicken kabobs.
Time Saving Tip:
Cook the quinoa and tenderize/cut up the chicken breasts a day in advance; when you're pressed for time this dish will come together even more quickly with that prep work already done.
HAPPY NEW YEAR!!!
xoxo,
Megan
"Sometimes it feels like there are so many things in this world that we can't control. Earthquakes, floods, reality shows. But it's important to remember the things that we can - like forgiveness, second chances, fresh starts. Because the one thing that changes the world from a lonely place to a beautiful place is love. Love, in any of its forms, love gives us hope." ~anonymous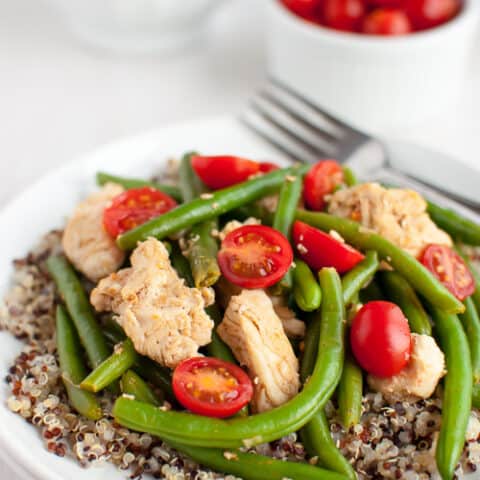 Smokey Chicken and Green Beans Over Quinoa
Ingredients
2 lbs. chicken breasts (about 4 large)
24 oz. frozen green beans (about 8 cups)
⅔ cup thinly sliced shallots
2-3 garlic cloves, minced
2 tablespoons ghee (or coconut oil or olive oil or butter)
1 teaspoon smoked paprika, divided
¼ teaspoon sea salt + more to taste
¼ teaspoon ground black pepper
1 cup grape tomatoes, halved (or cherry tomatoes)
1 cup uncooked tri-color quinoa
Instructions
To cook the Smokey Chicken and Green Beans:
Use paper towels to blot any excess moisture from the chicken breasts, and then place them in a gallon sized sealable bag. Put the bag on top of a large cutting board, and use the smooth side of a meat tenderizer/mallet to pound the chicken until it is about ½-inch thick (if you don't have a meat tenderizer/mallet, you can also use a heavy rolling pin to beat the chicken).
Remove the chicken breasts from the bag and cut into 1-inch pieces. Discard the bag.
In a 12-inch skillet (I recommend this pan), warm the ghee over medium heat. Add the shallots and garlic and cook for 1-2 minutes.
Turn the heat to high and carefully place the chicken in the pan. Season with ½ teaspoon of smoked paprika, sea salt and ground black pepper. Stir occasionally and cook for 10 minutes.
Add the frozen green beans to the skillet and season with the remaining ½ teaspoon of smoked paprika. The skillet will be full, so very carefully use a pair of tongs to toss the green beans with the chicken. Toss occasionally, and continue to cook for about 7 minutes, or until the green beans are hot.
Remove from heat and toss in the grape tomatoes. Season with more sea salt if desired. Serve hot over quinoa.
To cook the Quinoa:
Cook according to package directions, or use The Better Way to Cook Quinoa method: Place the uncooked quinoa in a saucepan with 6 cups of water. Bring to a boil and simmer for 12-15 minutes, or until done. Strain through a fine mesh sieve and transfer the quinoa to a medium sized bowl. Let rest for 5 minutes, and then gently fluff with a fork.
Notes
Tri-color quinoa is a blend of black, red, and yellow quinoa. Feel free to use any color of quinoa you prefer.
If you have fresh green beans on hand, I'm sure they will probably work fine in this recipe. You just might need to cook them a little longer than what the recipe calls for.
You might also like this
Quick & Healthy Meal in Under 30 - Sausage & Veggies
: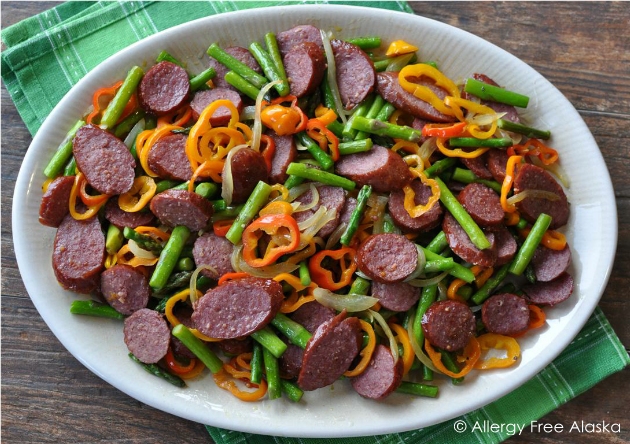 Or this
Sweet Potato Breakfast Skillet with Bacon
: