I live in Alaska and eat fresh salmon from my freezer regularly, but do you think I have a salmon recipe posted on my website? Nope, not a single one. You see, I've had salmon prepared just about every way imaginable. Like most Alaskan kids, I've been eating it my entire life.
My family has caught them, gutted and cleaned them, smoked them, canned them, fried and baked them, and even fed them to our cats (Halibut and cod included, and no – I'm not joking. Although my mom would only give the cats the freezer-burnt fish).
We probably ate salmon and halibut more frequently than chicken or beef growing up.
Out of all of the ways I've had salmon, smoked is still my favorite. Nothing beats the taste of fresh caught and smoked salmon. It's the best (although these burgers are really high on my list too)!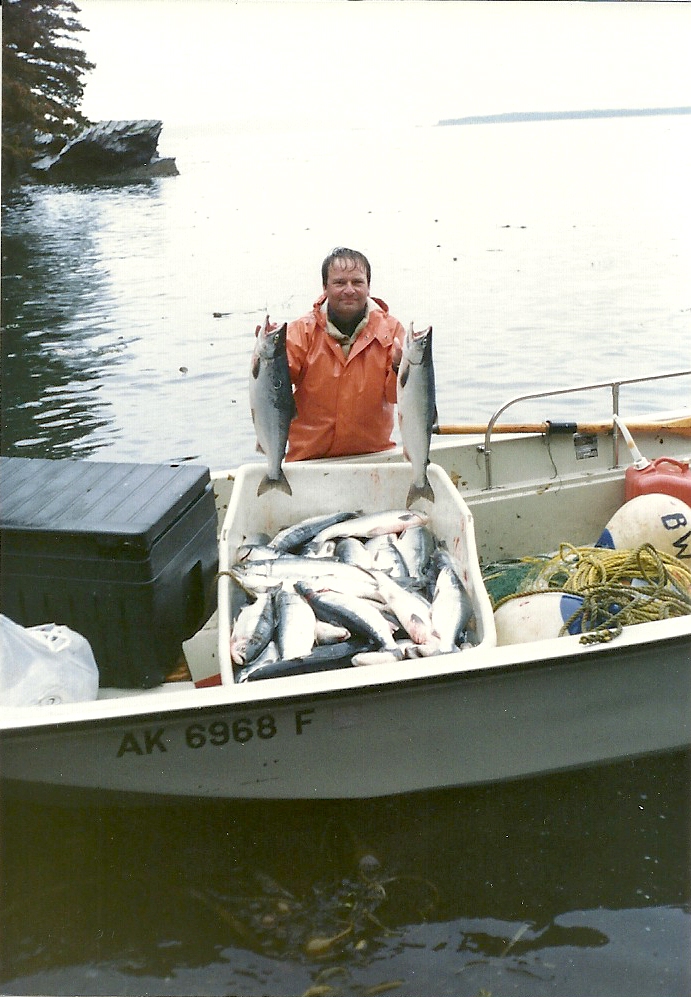 I'm so accustomed to eating salmon that posting a recipe for baked or grilled salmon for all of you just wasn't going to cut it. Nope. In order for this Alaska chick to finally post a recipe for salmon it had to be something extra special (the baked and grilled recipes will come later).
I promise you these Slammin' Alaska Salmon Burgers with Garlic Dill Aioli were well worth the wait. These burgers are moist, flavorful, and even better yet – gluten free, grain free, and packed with heart healthy omega 3 fatty acids.
And these are particularly popular with children. My girls gobble them up and it is rare that we actually have any leftovers whenever I make them.
The Garlic Dill Aioli is a wonderful addition to these salmon burgers; however, the sauce is optional. The burgers are perfectly flavored and seasoned, making them excellent on their own. But, don't let me dissuade you. If you are a garlic lover, the Garlic Dill Aioli packs a powerful punch of flavor. It's delicious – and not just for pairing with salmon burgers.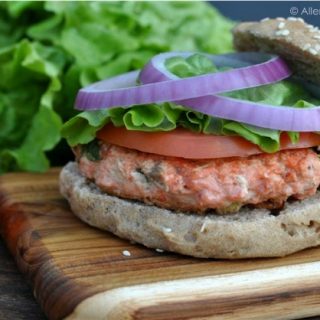 Slammin' Alaska Salmon Burgers with Garlic Dill Aioli
Yield:
6 four-inch burgers
These salmon burgers are moist, flavorful, and even better yet – gluten free, grain free, and packed with heart healthy omega 3 fatty acids.
Ingredients
For the Slammin' Alaska Salmon Burgers
1.75 pounds Alaska wild caught salmon fillet, skinned & deboned (I use sockeye)
3 tablespoons mayonnaise
2 tablespoons fresh squeezed lemon juice
1 large egg
1 garlic clove, minced
¼ teaspoon dried dill
¼ teaspoon sea salt
¼ teaspoon ground black pepper
⅓ cup almond flour, gently packed
¼ cup cilantro, chopped
¼ cup green onion, chopped
oil, for frying
For the Garlic Dill Aioli
2 garlic cloves, minced
⅛ teaspoon sea salt
2 egg yolks
2 teaspoon fresh squeezed lemon juice
½ teaspoon Dijon mustard
½ teaspoon dried dill
½ cup olive oil
Instructions
To make the Slammin' Alaska Salmon Burgers, cut the salmon into 2 inch chunks, and combine ⅓ of the pieces with the mayonnaise, lemon juice, egg, and garlic in a food processor and process until the mixture turns into a paste.
Add the remaining salmon pieces and pulse until the larger salmon pieces are partially combined with the paste mixture. Do not over process; ¼ inch pieces of salmon should remain.
Place the mixture into a bowl and stir in the dried dill, sea salt, black pepper, almond flour, cilantro, and green onion. On a baking sheet lined with parchment paper, form into 6 patties, packing firmly.
Heat a skillet over medium heat. When the pan is hot, add 2 tablespoons of oil and let it warm. Transfer the patties using a sturdy spatula to the hot pan. Cook the burgers, 3-4 minutes per side, or until they are just cooked through and crisp and golden. Be careful not to overcook. Add more oil to the pan as needed.
To make the Garlic Dill Aioli, mash the minced garlic with the sea salt until it's a paste. Combine the garlic paste, egg yolks, lemon juice, Dijon mustard, and dried dill in a medium sized mixing bowl. Whisk until the yolk mixture is frothy and bright in color. Slowly drizzle in a few drops of olive oil at a time into the yolks and continue to whisk constantly until all of the oil is incorporated and the mixture emulsifies. Chill in an airtight container in the refrigerator.
Notes
You don't have to have a food processor in order to make these burgers, but it does make the process much easier. In lieu of the food processor, simply follow the instructions above and use a good sharp kitchen knife!
In regards to deboning salmon, sometimes I'll use my fingers to pull the bones out and sometimes I'll use a pair of tweezers. Either way you choose, the bones come out easier if you pull them out going against the grain of the salmon.
Recommended Products
We are a participant in the Amazon Services LLC Associates Program, an affiliate advertising program designed to provide a means for us to earn fees by linking to Amazon.com and affiliated sites.
All my love!
xo,
Megan