These sausage stuffed mini peppers are a colorful low-carb and gluten-free show stopper, filled with protein and veggies. Everyone always goes for seconds (or thirds!)!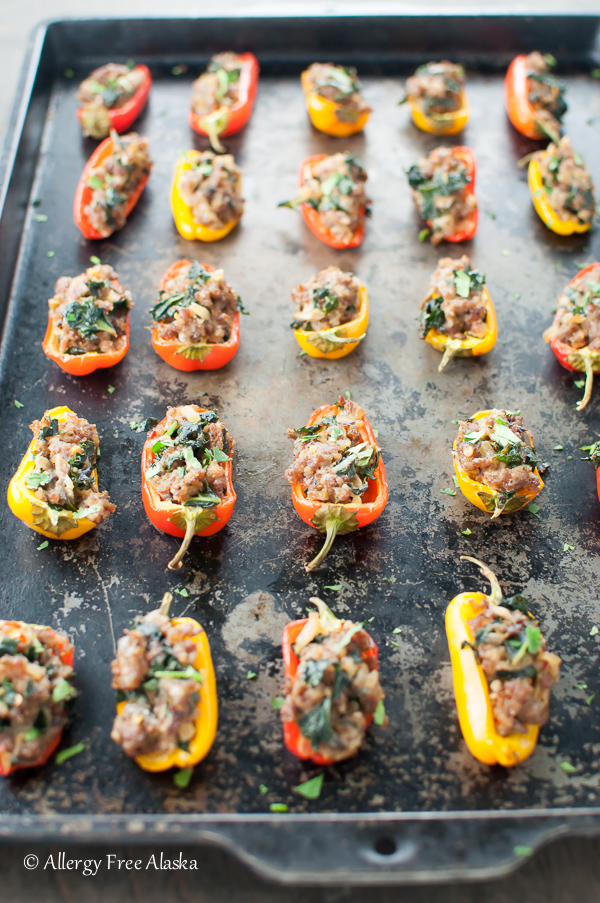 I'm in shock that it's December 14th. Wow! Where has the first half of December gone?! Thankfully, I started shopping on Amazon and Etsy for Christmas presents months ago (I LOVE Etsy!), so we are nearly done. Now it's just getting through this week of work (I'm taking the week of the 21st off), cleaning, baking, and making memories with our girls.
The past few years we've decorated gingerbread houses, which is always a fun tradition. This year I'm hoping to write down my recipe (last year I didn't, unfortunately) to share with all of you. I make the gingerbread house from scratch, so it's completely gluten-free and safe for the girls to touch (there's bound to be some finger licking along the way).
In addition to making memories with our girls, my husband and I are looking forward to celebrating our 12th wedding anniversary on December 21st. We are spending the day in town, kid-less, and will hopefully enjoy eating out (sushi) and some last minute shopping. Why is it that we always end up grocery shopping and running errands when we don't have the kids?
Please tell me we're not the only couple who does that?!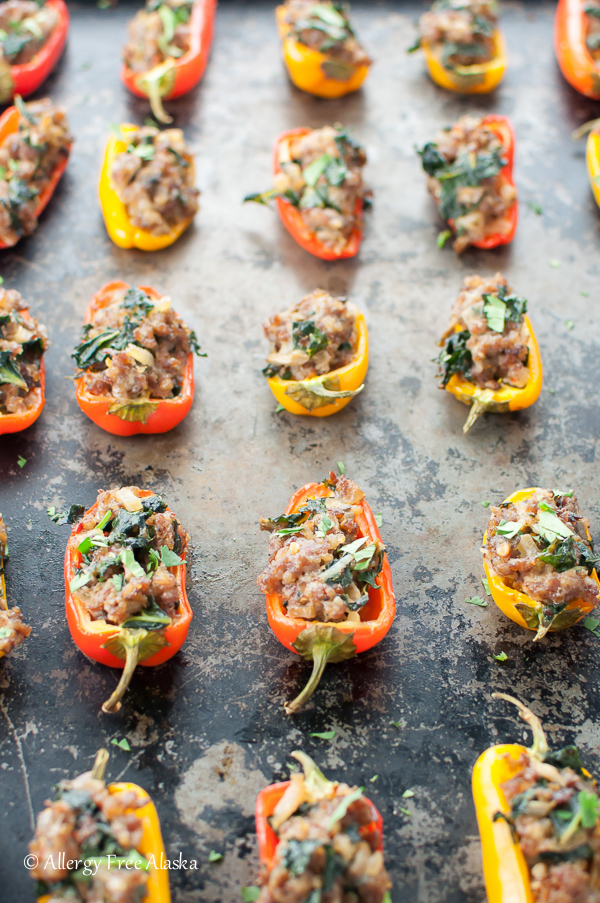 In preparation for all of the holiday get togethers, I developed this recipe for Sausage Stuffed Mini Peppers. These tasty finger-friendly bites of deliciousness are the perfect appetizer, loaded with flavorful sausage and veggies.
In fact, I made these and took them to a ladies gathering at our church. They were a hit. The pan was empty in no time, and a friend was begging for the recipe. I think that's a sure sign of a great recipe!
I personally like these stuffed mini peppers with sausage because they aren't your standard fruit and veggie platter, or crackers and cheese platter. These peppers are a colorful show stopper, filled with protein and veggies.
My friend (after she tried them, loved them, and asked for the recipe) said something along the lines of, "Everything in them, I would never eat. I'm glad I tried them first before I asked what was in them!"
I hope all of you enjoy them just as much!
Sausage Stuffed Mini Peppers Substitutions
-I use blanched almond flour to make this recipe grain-free/Paleo, but if you are nut-free, feel free to substitute gluten-free bread crumbs instead. 
-I use Romano cheese because the girls and I do well with sheep's milk cheese. If you don't do well with it, feel free to omit it. 
I hope the following weeks are filled with joy and laughter in the midst of this busy season! Enjoy this sausage stuffed mini peppers recipe!
All my love,
Megan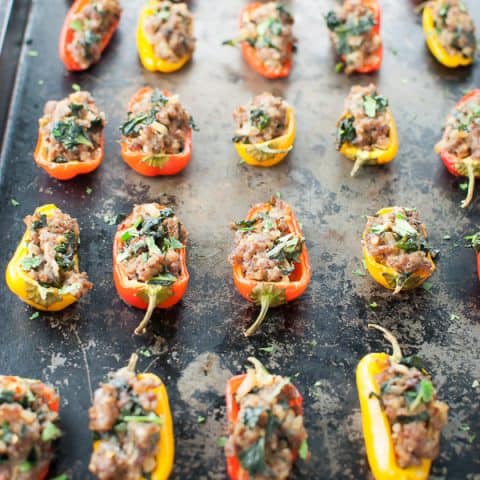 Sausage Stuffed Mini Peppers
Additional Time:
20 minutes
These sausage stuffed mini peppers are a colorful low-carb and gluten-free show stopper, filled with protein and veggies.
Ingredients
1 pound gluten-free pork sausage (I use Natural Jimmie Dean)
¾ teaspoon crushed red pepper flakes
⅓ cup minced shallot
1 ½ cups minced mushrooms
1 ½ cups minced kale
⅓ cup finely shredded Romano cheese, optional
2 tablespoons blanched almond flour
1 large egg
16-20 mini sweet peppers
Instructions
In a 12-inch skillet (I use this cast iron one), cook the sausage with the crushed red pepper flakes until cooked through. Use your spatula to break the sausage up into small pieces while cooking. Remove the cooked sausage from the skillet and place on a plate lined with paper towels. The paper towels will help absorb excess oil. Set aside.
If there is more than 1 teaspoon of oil left over from cooking the sausage in the skillet (just eyeball it), wipe it out with paper towels, but leave at least a teaspoon. Place the shallot, mushrooms, and kale in the skillet and cook over medium heat until soft. Remove from heat, and place the veggie mixture into a medium-sized mixing bowl. Add the sausage to the veggies in the bowl, and place in the refrigerator until room temperature, about 20 minutes.
Preheat oven to 400 degrees.
Slice the mini sweet peppers in half lengthwise, leaving the stem in tact. Remove the seeds (it's okay if there are a few seeds remaining).
Remove the bowl from the refrigerator, and add the finely shredded Romano cheese, blanched almond flour, and egg. Stir until combined.
Use a small spoon to press the filling into the peppers, one at a time. Divide the stuffed peppers between 2 – 9 x 13 x2 baking dishes (I use these Pyrex dishes) and place the peppers pepper-side down. Cover with aluminum foil, and bake for 20 minutes. Serve warm or at room temperature.
Notes
If you don't consume pork, feel free to substitute beef or turkey sausage instead!

To measure the kale, I mince it and then pack it into my measuring cups to get the measurements.
Recommended Products
We are a participant in the Amazon Services LLC Associates Program, an affiliate advertising program designed to provide a means for us to earn fees by linking to Amazon.com and affiliated sites.
This post may contain affiliate links which I may receive a small commission from (without any additional costs to you). The money earned from these commissions helps me maintain this website. Thank you for your support in this way!