When I was little, I remember my mom making popsicles very similiar to these, but she used orange juice concentrate and cane sugar instead of pure unsweetened orange juice and honey/stevia. In any case, I loved the popsicles she made for my brother and I, and wanted to recreate them for my girls, just with healthier ingredients.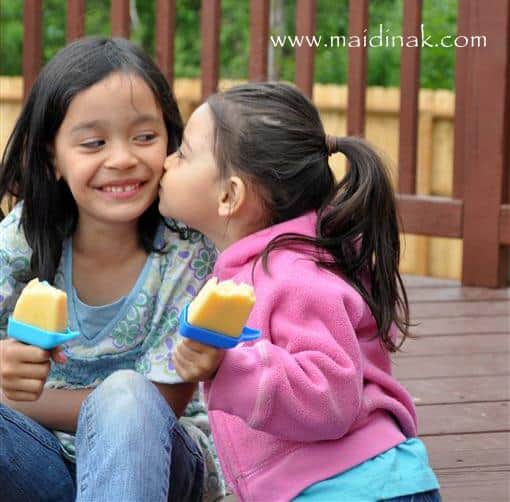 Orange Creamsicle Popsicles Recipe
Yields 8 – 10 popsicles
2 cup unsweetened orange juice (I use the Naked brand of orange juice, it has no added sugar, no preservatives, non-GMO, and it's vegan)
¾ cup plain yogurt (you can use dairy yogurt, or coconut milk yogurt for dairy free/vegan)
2 – 3 tablespoons raw runny honey, or organic agave nectar, or coconut nectar, etc.
¼ teaspoon vanilla extract
10 drops liquid vanilla stevia (I use the NuNatural's stevia brand. If you don't like to use stevia, simply increase the amount of honey/liquid sweetener used)
Combine all ingredients in a blender and blend until smooth.
Taste mixture and add more sweetener if desired.
Pour into popsicle molds and freeze overnight.
Enjoy!
Megan