We celebrated a birthday this week! Our little miss Abbi turned 6, which I still can't believe. These past 6 years have flown by so quickly.
When Abbi was about 2 years old we switched her to a completely gluten-free diet (you can read Abbi's story in detail here, including information on her symptoms and how we discovered it was gluten). Every birthday party since then has become easier as I've gotten a better handle on gluten-free baking.
I'll let you in on a little secret though: I hate baking cupcakes. Well, okay… used to hate baking cupcakes. Every gluten-free recipe I tried would fail; I can't even begin to guess how many cupcakes met our trash can over the years. It's kind of embarrassing.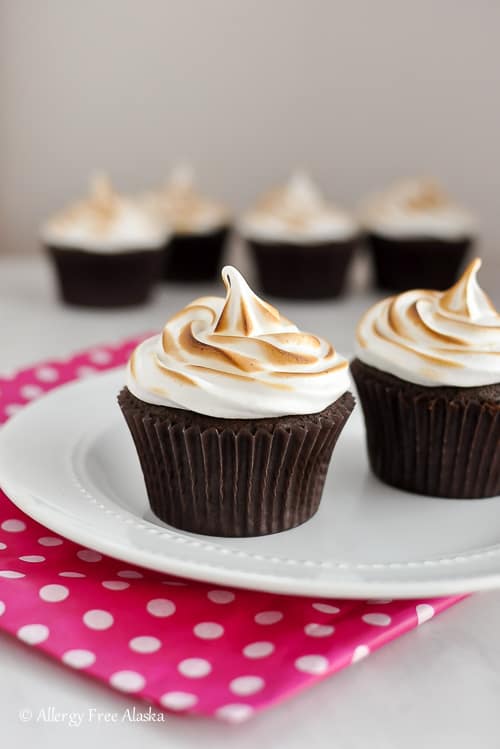 Finally though, I managed to create a delicious gluten-free and xanthan gum-free chocolate cupcake the whole family loves.
You can certainly frost these cupcakes with whatever frosting you like, but for Abbi's birthday, I wanted to do something super special. Our girls never get to eat marshmallows, mainly because of the amount of sugar in them. For birthdays though, I'm definitely okay with making an exception.
These Gluten-Free Chocolate Cupcakes with Toasted Marshmallow Frosting were so much fun to make, and toast (I got to play with the kitchen torch)!
The frosting will surprise you. It's very light and sweet, but not overly sweet (the recipe makes a lot of frosting, so the 2 cups of organic cane sugar goes a long way, vs. a normal frosting recipe that uses 3-5 cups of powdered sugar).
In any case, the cupcakes were a huge hit – especially with the birthday girl!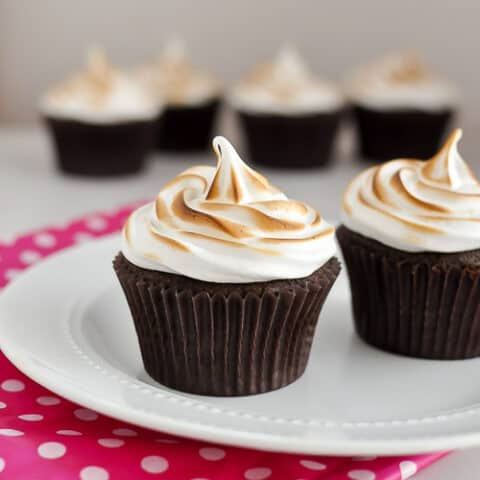 Gluten-Free Chocolate Cupcakes with Toasted Marshmallow Frosting
Ingredients
For the chocolate cupcakes:
½ cup sorghum flour
½ cup millet flour
½ cup brown rice flour
½ cup tapioca starch
½ cup cocoa powder
2 teaspoons psyllium husk powder
1 teaspoon baking soda
½ teaspoon sea salt
1 cup vegan butter, softened (or ½ cup ghee & ½ cup coconut oil)
¾ cup organic cane sugar
1 cup unsweetened applesauce
1 ½ teaspoons apple cider vinegar
1 teaspoon vanilla extract
¾ cup coffee, cooled (or water)
2 eggs
For the marshmallow frosting:
8 egg whites
2 cups organic cane sugar
½ teaspoons cream of tartar
2 teaspoons vanilla extract
Instructions
To make the chocolate cupcakes:
Preheat oven to 350 degrees (F) and line a muffin tin with 20 paper liners.
In the bowl of an electric mixer, cream together the vegan butter and the organic cane sugar.
Add the unsweetened applesauce, apple cider vinegar, vanilla extract, coffee, and eggs, and mix until combined.
In a large mixing bowl, whisk together the sorghum flour, millet flour, brown rice flour, tapioca starch, cocoa powder, psyllium husk powder, baking soda, and sea salt.
Slowly add the flour mixture into the wet ingredients, and stir until just combined. It's okay if there are a few lumps.
Divide the batter between the 20 paper-lined tins, filling each about ⅔ full.
Bake for 15-17 minutes, or until a toothpick, when inserted into the center of a cupcake, comes out mostly clean (a few loose crumbs is okay). Really watch these cupcakes during the last few minutes of baking. If baked too long, they will be a little on the dry side. Transfer the cupcakes to a wire rack to cool.
To make the marshmallow frosting:
Fill a medium sized saucepan with an inch of water and place over medium heat. Bring to a boil.
Mix the egg whites, organic cane sugar, and cream of tartar in a medium to large sized heat-safe mixing bowl (whatever size works best to nest on top of the saucepan, without touching the water).
Place the mixing bowl on top of the saucepan, and whisk constantly until the organic cane sugar dissolves and reaches 170 degrees F. Remove from heat and carefully transfer the contents into the bowl of an electric mixer.
Whisk on low for 30 seconds and gradually increase speed to high. Whisk for an additional 6-8 minutes, or until stiff glossy peaks form.
Add the vanilla extract and mix until combined.
Immediately place the frosting into a piping bag with a ½ inch star tip and frost cooled cupcakes.
Use a kitchen torch to carefully toast the marshmallow frosting.
Notes
Make sure all of your ingredients are at room temperature.
Fluff your flours, starch, and cocoa and then use a spoon to sprinkle the flour into the measuring cup. Use the back of a knife to scrape off the excess and level off the cups.
FYI - The marshmallow frosting recipe makes a large amount, so feel free to liberally top your cupcakes (even more-so than what I have pictured).
Add ⅓ cup of chocolate mini chips to the cupcake batter if desired.
This post may contain affiliate links which I may receive a small commission from (without any additional costs to you). The money earned from these commissions helps me maintain this website. Thank you for your support in this way!