The girls and I recently went blueberry picking with my parents up north near Eureka. We had a great time, although being out in the wilds of Alaska is always a little nerve racking. If you surprise an unsuspecting bear, odds are a fun outing can turn dangerous extremely fast. Which is why my dad had his iPhone attached to speakers, so we were blaring Pandora out in the middle of the tundra. If a bear is close, and he can hear you, chances are he'll leave you alone. Surprising them never ends well, though. My children were encouraged to be loud, and both my mom and dad were carrying guns.
The drive up to Eureka was beautiful. I got some great pictures along the way: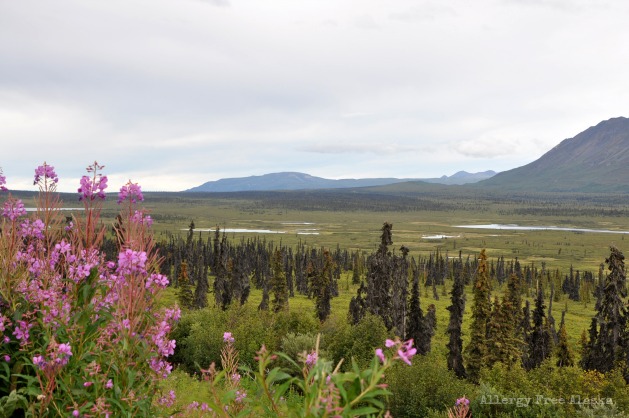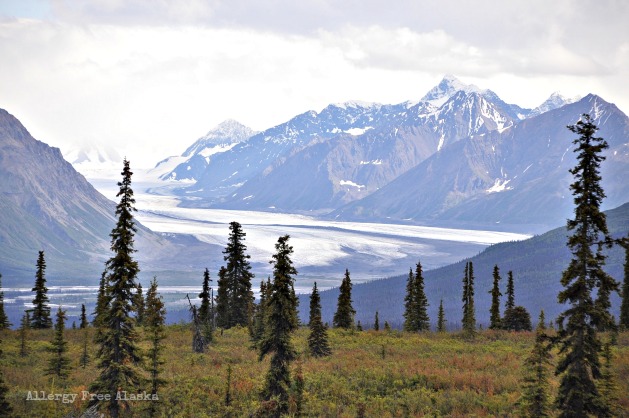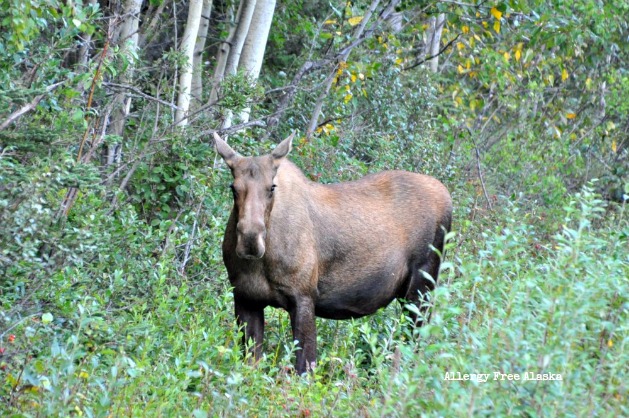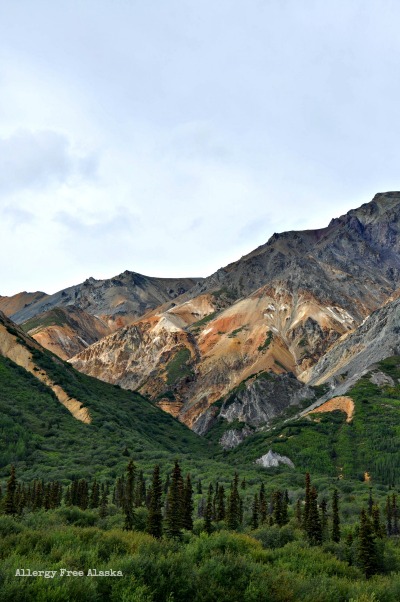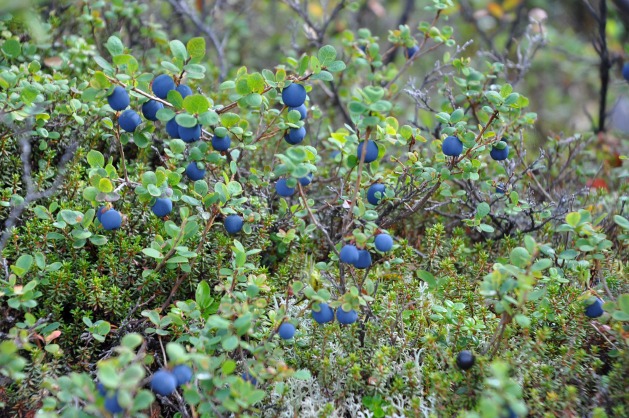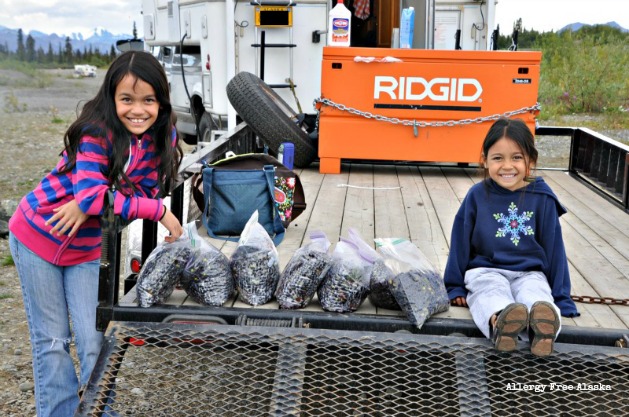 And then there's the loot… the girls and I went home with 6 1/2 gallons of wild blueberries. It was a very successful haul!
Now that my freezer is full of blueberries, I thought it was time to begin using them up – starting with this Gluten Free Blueberry Coffee Cake. Coffee cake is one of those special treats I enjoy making on the occasional weekend for my family, during a holiday, or when we have company over. It goes perfectly with coffee or tea, and can be eaten for breakfast, or as an afternoon or after-dinner snack.
Sometimes the best part of the coffee cake is the topping, but I don't like it when it is completely sugar-laden. For this recipe, I decided to go with a topping that was mainly chopped walnuts with a hint of sweet, instead of being mainly sugar (course, if you need nut-free due to allergies, you can find a nut-free substitution in the recipe notes below). The walnut pieces toast while the coffee cake bakes in the oven, providing a nutty, delicious crunch. I use organic palm sugar to sweeten my coffee cake, which is why this cake is darker in color than many other coffee cakes. Palm sugar is rich, with flavor notes of caramel and butterscotch. If you don't have it readily available (or prefer a cake lighter in color), feel free to substitute organic cane sugar in the cake, and organic brown sugar in the topping.
I'm off to grab another cup of coffee and a slice of Blueberry Coffee Cake. 😉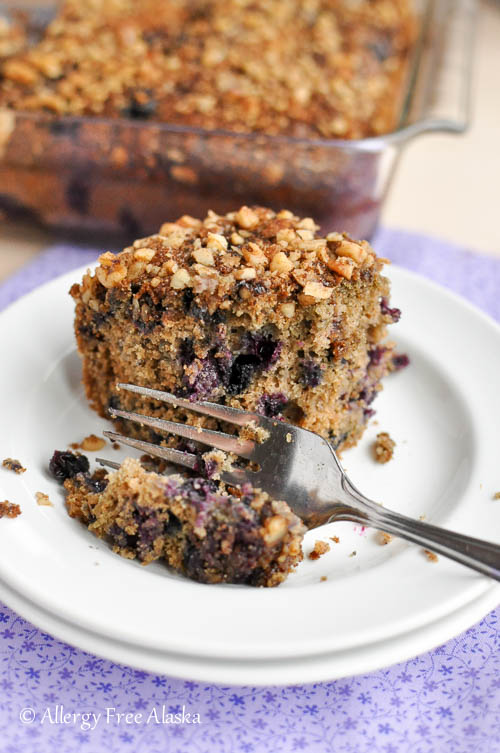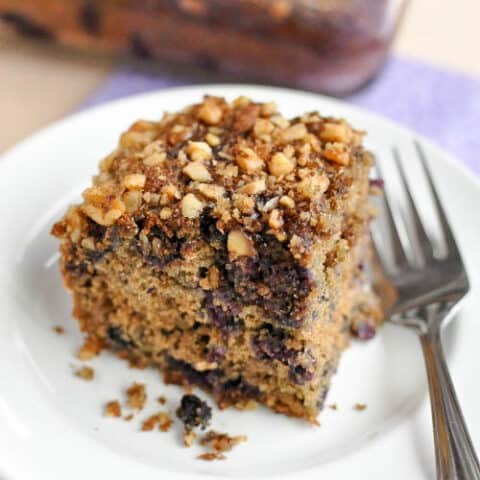 Gluten Free Blueberry Coffee Cake
Ingredients
For the cake:
1 cup sorghum flour
1/2 cup brown rice flour
1/2 cup tapioca starch
1 1/2 teaspoon ground cinnamon
1 teaspoon baking soda
1/2 teaspoon ground nutmeg
1/4 teaspoon sea salt
1 cup unsweetened applesauce
2/3 cup olive oil (melted coconut oil should also work)
1/2 cup organic palm sugar or organic cane sugar
2 large eggs
2 tablespoons pure maple syrup or honey
1 tablespoon psyllium husk powder
2 teaspoons vanilla extract
1 1/2 cups blueberries (if using frozen, thaw first & discard the excess juices)
For the topping:
1/2 cup chopped walnuts
3 tablespoons organic palm sugar or organic brown sugar
1/2 teaspoon ground cinnamon
Instructions
Preheat oven to 350 degrees (F) and lightly grease an 8"x8"x2" baking pan with oil.
In a medium sized mixing bowl, combine the unsweetened applesauce, olive oil, organic palm sugar, eggs, pure maple syrup, psyllium husk powder, and vanilla extract. Set aside.
In a large mixing bowl, whisk together the sorghum flour, brown rice flour, tapioca starch, ground cinnamon, baking soda, ground nutmeg and sea salt.
Carefully add the wet mixture into the dry, and mix until just blended.
Fold in the blueberries.
Pour the batter into the baking pan and use a spatula to evenly spread the batter.
Now make the topping and evenly sprinkle it over the top of the batter.
Bake for 50-60 minutes, or until a toothpick, when inserted into the middle of the coffee cake, comes out clean.
Notes
For a nut-free topping, mix 1/4 cup of organic palm sugar (or organic brown sugar), 2 tablespoons of all-purpose GF flour blend (or 2 tablespoons of millet flour), 2 tablespoons of ghee (or shortening, or coconut oil), and 1/2 teaspoon ground cinnamon.
Combining the organic palm sugar with the wet ingredients allows the larger sugar granules to dissolve. If you choose to use organic cane sugar instead of palm sugar, feel free to add it into the dry ingredients instead of the wet.
The psyllium husk powder is what takes the place of xanthan gum in this recipe. The recipe will fail without it - it's what binds everything together.
I have not tried making this recipe egg-free. If you do, please come back and let us know what you tried, and if it worked.
This post may contain affiliate links which I may receive a small commission from (without any additional costs to you). The money earned from these commissions helps me maintain this website. Thank you for your support in this way!