This gluten-free fish batter produces crispy and flakey gluten-free fried fish pieces. Use whatever firm white fish you have on hand; my family prefers fresh halibut or rockfish.
Being the good Alaskan girl I am, I couldn't let all my gluten-free peeps down by not providing you a killer gluten-free fish batter.
I grew up eating fried halibut, but my mom would bread it with whatever was in the Krusteaz package (you know the one I'm talking about?); she would make a batter out of it. This Gluten Free Beer Battered Halibut is my take on my mom's recipe – just without the junk.
The best flour for gluten-free fish batter
Since this is the first cassava flour recipe I've posted, I wanted to give you my take on two different brands of cassava flour. Otto's Naturals Cassava Flour is probably the brand you see most often around the internet.
True honesty here – I have not tried Otto's Naturals brand. I use Moon Rabbit Premium Cassava Flour. Otto's Naturals is roughly $19 on Amazon, while Moon Rabbit is about $10 for the same amount of flour (based on the prices listed on 01/30/2016, subject to change).
I can't, in clear conscious, promote a flour that is $9 more expensive. I know many of you (like me) have a family to support and provide for. The price difference is why I currently use and recommend the Moon Rabbit brand.
I've ordered several packages of the Moon Rabbit Premium Cassava Flour. All of the packages have been consistently good. The grind is good, the smell is good, I haven't had a problem with any of it. That said, since I have not tried the Otto's Naturals brand, I can't tell you how (or if) they compare much.
I grew up halibut fishing on Kodiak Island with my family. Dad had a skiff (pictured below in the background), so we would go fishing often. Mom would feed us halibut and salmon several times a week, since it was fresh and available.
In my teens I developed an aversion to eating halibut; I avoided eating it whenever mom would let me get away with it. Finally when I was pregnant with my first daughter, I craved it… bad! But I no longer had access to it like I did; I finally realized then how lucky and blessed we were growing up.
This is my dad, in the middle, with two family friends and his 387 pound halibut (I think this picture was taken in the late 90's). Dad had to use his backhoe just to hold up the fish! These days, I don't get to enjoy fresh halibut often, but when I do, this Gluten-Free Beer Battered Halibut is one of my favorite ways to eat it!
This Gluten-Free Beer Battered recipe makes crisp pieces of tender halibut. Alternately, if you're wanting to pan fry your halibut, vs. deep frying, you might try this recipe for gluten-free pan fried fish.
I cut my halibut into small chunks, but feel free to cut your fish into larger pieces if that's your preference; you'll just need to adjust the frying time accordingly. Since we are very health conscious, I use and recommend organic coconut oil for frying, but feel free to use whatever oil you prefer.
My girls enjoy dipping their halibut pieces in ketchup, while my husband and I enjoy this Lemon Caper Sauce. If there's an allergy-friendly tartar sauce available, that would also be a great choice!
Alcohol free variation for gluten-free beer batter
If you avoid alcohol, please feel free to substitute club soda for the gluten-free beer.
I hope you enjoy this gf fish batter as much as my family does!
Megan
Gluten-Free Fish Batter Recipe: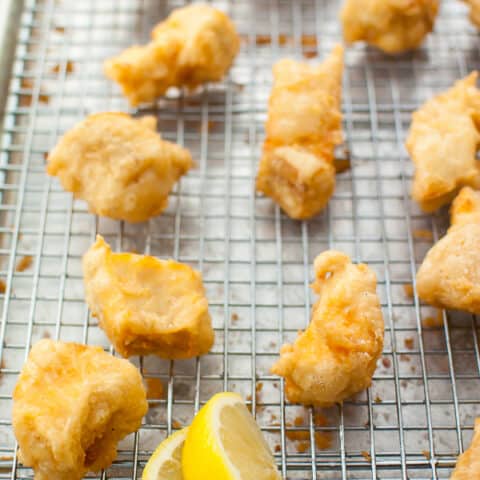 Gluten Free Fish Batter
Yield:
1.5 pounds of fried fish
This gluten-free fish batter produces crispy and flakey gluten-free fried fish pieces. Use whatever firm white fish you have on hand.
Ingredients
1 cup + 2 tablespoons cassava flour
1 to 1 ½ teaspoons sea salt
1 teaspoon garlic powder
½ teaspoon ground black pepper
¼ teaspoon baking soda
pinch of cayenne pepper
1 large egg, at room temperature
12 ounces gluten-free beer, at room temperature (see recipe notes)
1 ½ pounds halibut (or another firm white fish), cut into 1 to 1 ½-inch pieces
oil for frying
Instructions
In a large Dutch oven or deep fryer, preheat the oil to a temperature of 350-365 degrees (F). If using a Dutch oven, use enough oil to fill the pan by 3 ½ to 4 inches. If using a deep fryer, use the amount of oil suggested in the fryers directions.
Blot the fish with paper towels until it's as dry as possible.
In a large mixing bowl, combine 1 cup cassava flour, 1 teaspoon sea salt, garlic powder, black pepper, baking soda and cayenne pepper. Taste it. If you'd like to increase the sea salt, garlic powder, or cayenne pepper, feel free to do so.
Whisk in the large egg and the gluten-free beer; continue to whisk until no lumps remain. The batter will be bitter, but this bitterness will not be present in the final product. Add a piece of fish to the batter, and then pull it out. The batter should coat the fish, but it shouldn't be too thin or thick. If the batter needs to be thickened up, add an additional tablespoon of cassava flour and whisk until blended. Test the thickness of your batter again, and add another tablespoon of cassava flour only if needed.
Add all of the fish to the batter bowl, and then fry the battered fish in small batches for 2-3 minutes. Do not overcrowd the pan.
Remove the fried fish to a cooling rack sitting inside half a sheet pan (these are similar to the cooling racks I have). This will help keep the fish crispy. Serve immediately with ketchup, tartar sauce, or Lemon Caper Sauce.
Notes
If you avoid alcohol, feel free to replace the gluten-free beer with club soda or a plain seltzer water.

If the halibut is tough, that means it was either cooked for too long, or it's old (not fresh) fish.

If the fish is sticking to the bottom of the Dutch oven, or to the deep fat fryer basket, make sure the oil is being kept at a consistent 350 degrees (F); a candy thermometer will help with this. Also, using a set of tongs, hold half of a single piece of battered fish in the oil for a few seconds to heat it through completely, before dropping completely into the oil.

You absolutely can fry larger pieces of fish, you'll just have to adjust the cooking time accordingly.
Recommended Products
We are a participant in the Amazon Services LLC Associates Program, an affiliate advertising program designed to provide a means for us to earn fees by linking to Amazon.com and affiliated sites.
This post may contain affiliate links which I may receive a small commission from (without any additional costs to you). The money earned from these commissions helps me maintain this website. Thank you for your support in this way!