Your whole family won't believe this creamy Dairy Free Macaroni and Cheese contains no dairy! It will satisfy the pickiest of eaters!
When I gave up dairy it was very difficult for me to also give up my macaroni and cheese. Well… okay, honestly it was hard to give up cow's milk dairy cheese in general.
There is something to be said about the distinct flavors of Gorgonzola, creamy Havarti or a sharp cheddar, and it is very difficult to replace them. I've tried just about every vegan cheese out there, but it's just not the same (and they don't make my tummy feel very good).
But macaroni and cheese? I've been eating it for as long as I can remember.
And I really don't think it matters what age you are – young, old, or a thirty-something stay at home mom like me; macaroni & cheese is comfort food. Always has been, always will be.
Dairy Free Macaroni and Cheese Desperation:
I was determined to find a dairy-free macaroni replacement. Years ago I first made dairy-free cheese sauce out of raw cashews. It good, but cashews are expensive, not to mention they are very high in fat. Now don't get me wrong, I'm not generally one to count calories or fat content (especially healthy fats), but 2 cups of cashews to 4-5 cups of vegan cheese sauce is a little… lush.
I wanted to create a healthier dairy-free cheese sauce that was made from ingredients I already had in my pantry, was creamy, froze well, and satisfied not only me, but my children. It took a while to get the recipe just right, but once I did everyone was in agreement – they really loved this recipe for Dairy Free Macaroni and Cheese. We hope you do, too.
xoxo,
Megan
If you can't do butternut squash, you might also try this Dairy Free Mac and Cheese, or this Vegan Cajun Mac and Cheese.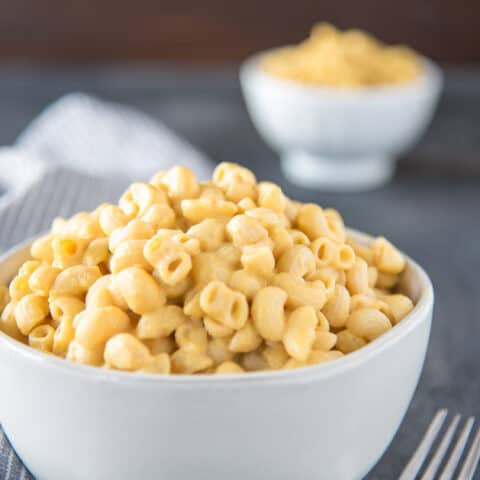 Dairy Free Macaroni & Cheese
Ingredients
12 ounces gluten free noodles (macaroni, spirals, shapes, etc...)
2 cups Vegan Cheese Sauce (recipe below)
Instructions
Cook the noodles according to package directions. Strain.
Place the noodles in a large mixing bowl and pour the Vegan Cheese Sauce over the noodles and gently stir to coat.
Serve immediately.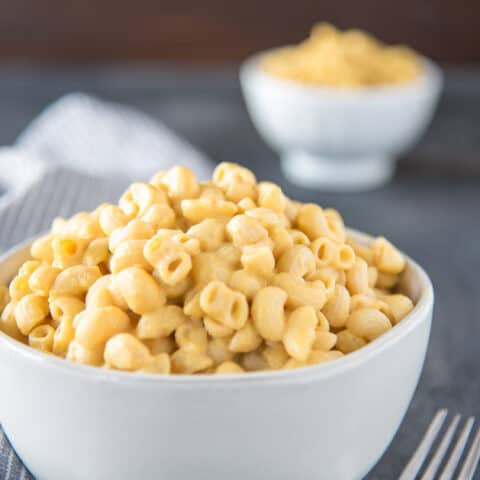 Vegan Cheese Sauce
Ingredients
¼ cup raw almonds or raw sunflower seeds
3 tablespoons shelled hemp seeds
1 ½ cups cold water
⅓ cup nutritional yeast
1 teaspoon garlic powder
1 teaspoon onion powder
1 teaspoon sea salt
1 teaspoon Dijon mustard
1 tablespoon lemon juice, fresh squeezed
15 ounces butternut squash puree (canned or fresh)
2-3 tablespoons vegan butter substitute or ghee for non-vegan
Instructions
In a high-powered blender, process the almonds or sunflower seeds into flour.
Add the hemp seeds and water, and blend for 30 seconds on high.
Add the nutritional yeast, garlic powder, onion powder, sea salt, Dijon mustard, lemon juice, and butternut squash, and blend until smooth and creamy.
To finish the sauce, add the ghee or vegan butter substitute and blend on medium for another 10 seconds.
Store in an airtight container in the refrigerator and consume within 3-5 days. Or freeze in an airtight container and consume within 6-8 weeks.
Notes
You can use this sauce immediately; however, I recommend letting it sit in the refrigerator overnight to allow the flavors to merry. The flavors will be milder on the second day, and I prefer its flavor then.
I sometimes freeze a portion of this sauce in covered ice cube trays. When my girls need an added "incentive" to eat their veggies I can easily pull out a cube and defrost it in the microwave or on the stove top.
We are a participant in the Amazon Services LLC Associates Program, an affiliate advertising program designed to provide a means for us to earn fees by linking to Amazon.com and affiliated sites.