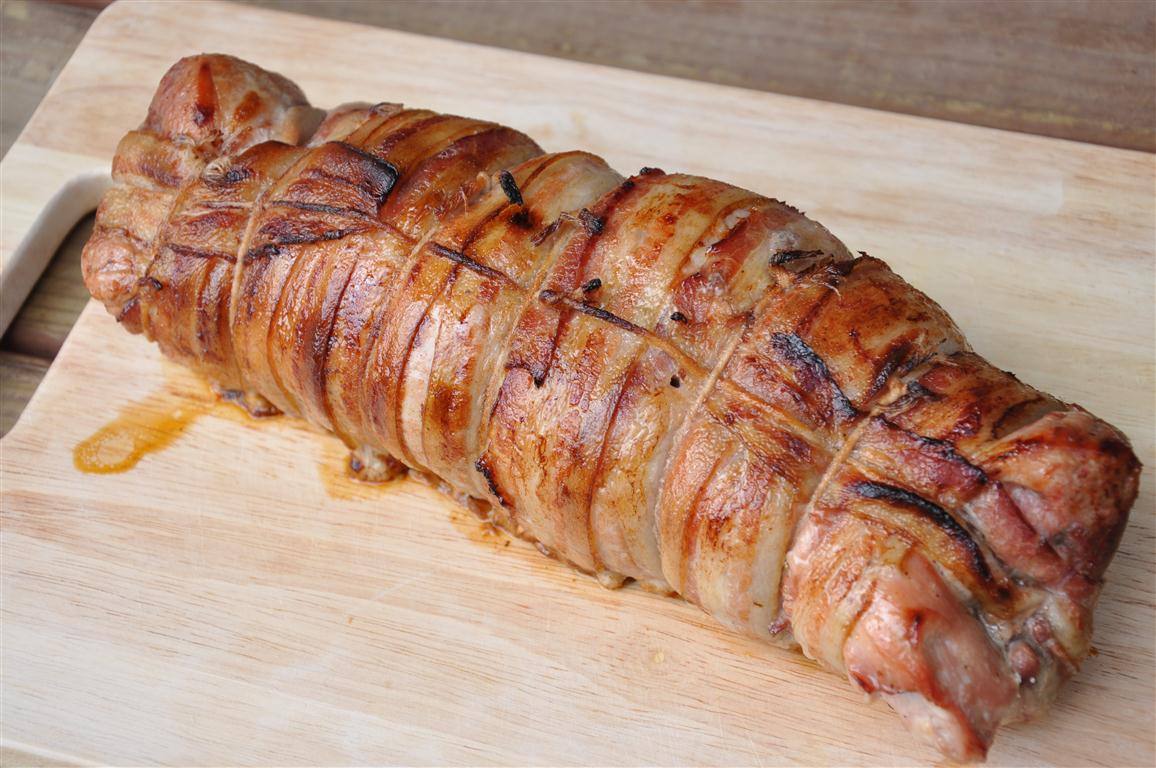 Let me just say this:
Bacon + pork tenderloin + homemade apple chutney = juicy, tender, flavorful awesomeness!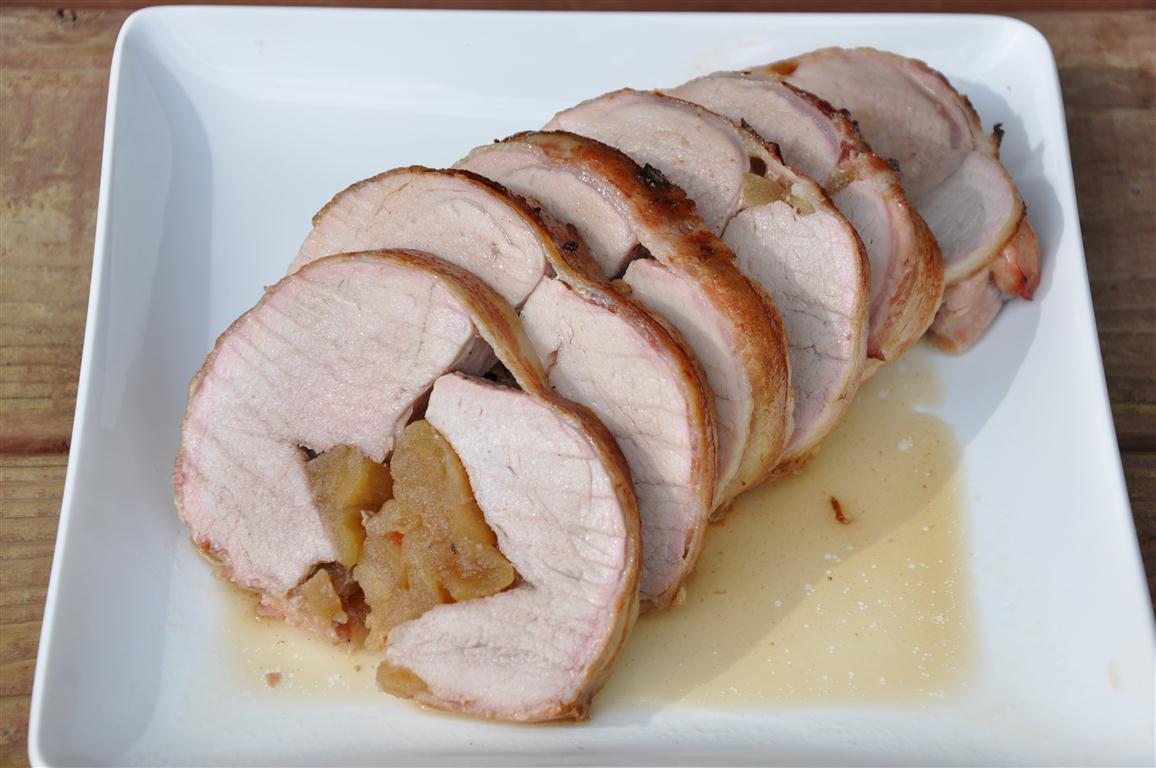 Bacon Wrapped Pork Tenderloin with Apple Chutney Stuffing
Here's what you'll need:
1 pork tenderloin, 2.5 – 3 lbs
1 package Applegate Farms Hardwood Smoked Sunday Bacon
1 Apple Chutney recipe (see below)
cooking twine
sea salt
black pepper
garlic powder
olive oil
Directions:
Rinse the pork tenderloin in cool water and then pat dry with paper towels.  Using a sharp kitchen knife, slice into the middle of your pork tenderloin lengthways from top to bottom to "open it up" and make more room for the apple chutney stuffing.  Slice into the tenderloin with your knife at about ½ an inch depth.  Lightly sprinkle the insides of your pork tenderloin with sea salt, pepper, and garlic powder.  Stuff each portion of the tenderloin with apple chutney, then carefully bring both sides together and wrap with bacon.
(It's a bit cumbersome, but hang in there.  I promise it's worth it!)
Tie securely with kitchen twine in several different places.  Lightly baste the bacon wrapped tenderloin with oil.  Place in a 9 x 13″ baking dish and bake in a preheated 375 degree (F) oven for about an hour or until a thermometer reaches at least 155 degrees (F).  Cover with aluminum foil and let rest for 10 minutes (remember the internal temperature will continue to rise inside the meat).
Remove the kitchen twine, slice, and enjoy!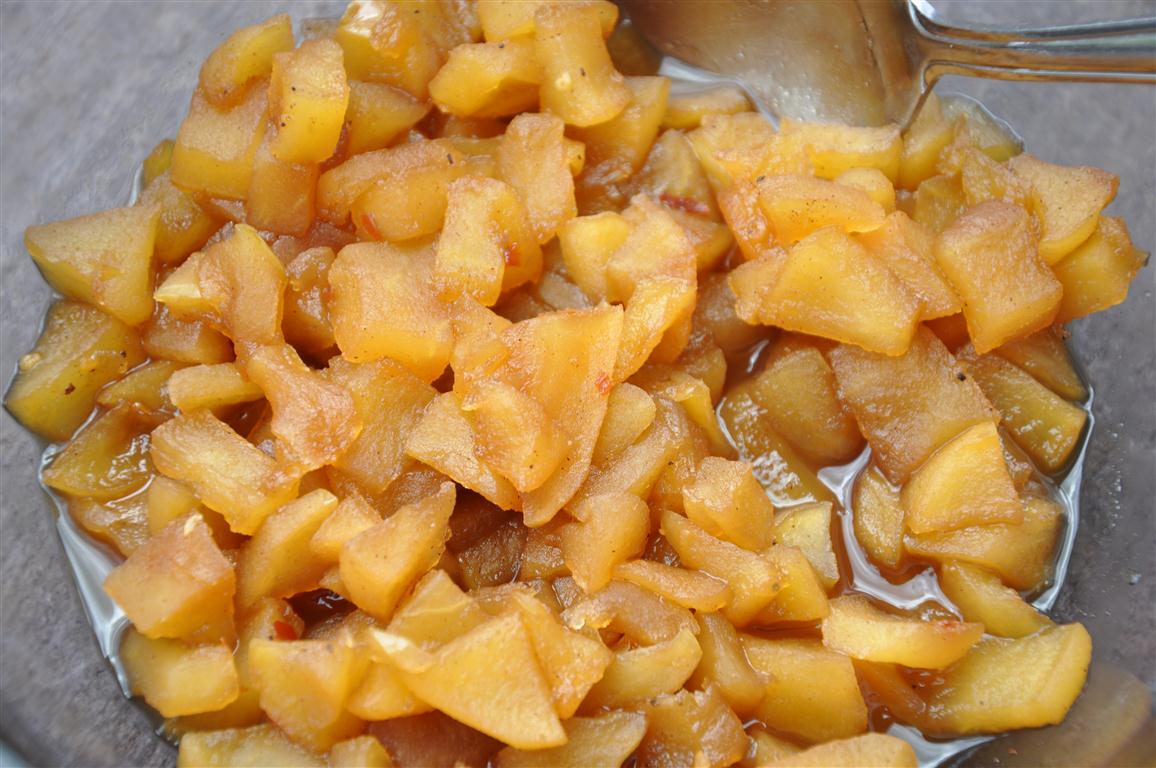 Apple Chutney Recipe:
4 small organic apples, peeled and chopped in to small pieces (I used Braeburn apples – it's what I had)
¼ cup rice vinegar, low sodium & low sugar
¼ cup coconut palm sugar
¼ piece of a large yellow onion (leave as a chunk, do not slice)
¼ tsp cinnamon
⅛ tsp ground ginger
2 pinches red pepper flakes
pinch of nutmeg
black pepper
Bring all ingredients to a boil in a saucepan, then reduce heat, cover, and simmer for 25 minutes, stirring frequently.  Remove onion chunk and refrigerate until ready to use.
🙂 Megan