In addition to painting my nails and eating bon bons all day (lol), I happen to LOVE easy "lazy" meals. After I do homeschool with the girls in the afternoon, I often test and experiment with 2-3 recipes, so by the time dinner rolls around I'm out of steam and don't want to cook anything else. Which is exactly why I love this Lazy Mom's Creamy Tomato Basil Soup. It's made out of ingredients that I always have on hand, so I don't have to plan ahead, and it hardly takes any time to make. To keep it a simple "lazy" meal, I normally throw together a quick salad to go along with our soup. Who doesn't like a good soup and salad? 😉 
All my love,
Megan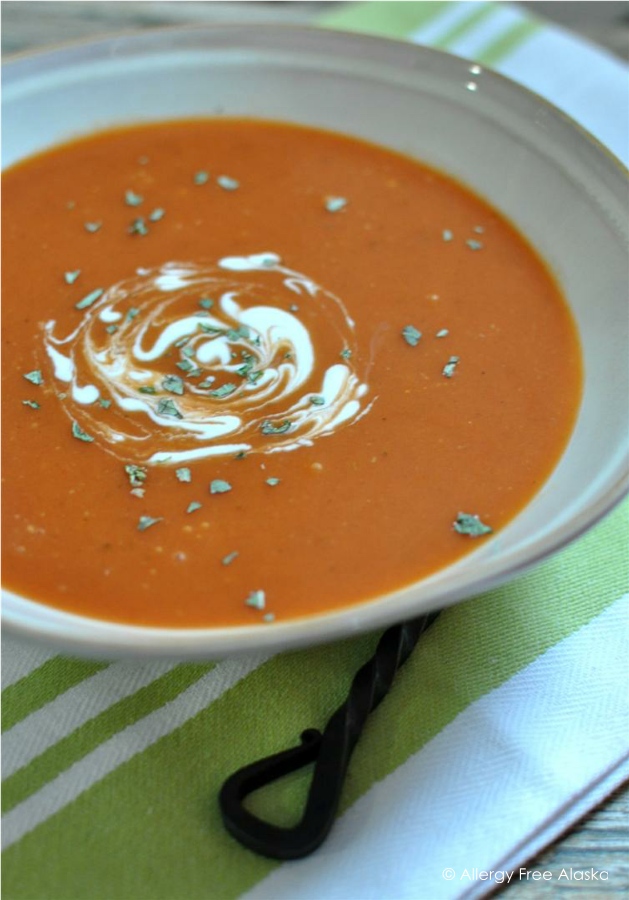 Lazy Mom's Creamy Tomato Basil Soup
Instructions
In a Dutch oven, warm the oil over medium heat.
Add the onions and cook until soft, about 3-4 minutes.
Add the garlic and dried basil and cook for another minute.
Stir in the crushed tomatoes with basil, vegetable or chicken broth, and palm sugar. Bring to a boil over high heat.
Reduce heat to medium and simmer for 15 minutes.
Remove from heat and use an immersion blender to puree the soup until smooth.
Stir in canned coconut milk and season to taste with sea salt and fresh ground black pepper.
Serve with freshly baked Gluten & Dairy Free Dinner Rolls slathered with ghee.
Recipe Notes from Megan
I HIGHLY recommend
this brand of coconut milk
. It's smooth, creamy, and has no preservatives, additives or gums. It's just straight coconut milk. It does spoil quickly, so use what you need and freeze the remaining.
If you can have sheep milk dairy, try sprinkling your soup with a bit of picorino ramano cheese. It's fabulous.
This recipe is linked to Make Your Own Monday, Teach Me Tuesday, Fat Tuesday, Allergy Free Wednesday, Gluten Free Wednesdays, Frugal Day Sustainable Ways, Thank Your Body Thursday, Tasty Traditions, Full Plate Thursday, Simple Lives Thursday, Wellness Weekend and Pennywise Platter, and Gluten Free Fridays. 
This post may contain affiliate links which I may receive a small commission from (without any additional costs to you). The money earned from these commissions helps me maintain this website. Thank you for your support in this way!