Oh goodness… I can't believe it's December! What happened to November?! In less than 2 weeks AJ and I will celebrate our 10th wedding anniversary, and then in 2 1/2 weeks it will be Christmas. It's all coming so fast – time needs to slow down so I can get done what I want to! And actually, as far as shopping is concerned, I'm just about done; I just want more time time to fit in all of the craft and baking projects.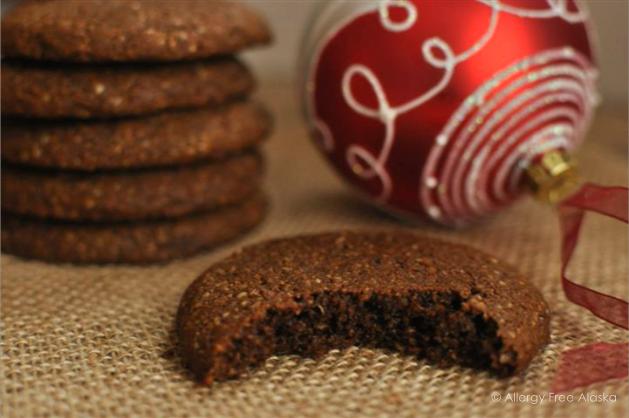 I have a weakness for cookies… especially ones of the ginger molasses variety (they taste SO good dunked in a cup of black coffee!). The distinct molasses and spicy ginger flavors blend so well together, and while I do like the harder ginger snaps, there's something equally amazing about the big and soft ginger molasses cookies. These Big & Soft Paleo Ginger Molasses Cookies certainly live up to their name. They are big, and so soft they nearly melt in your mouth. Bet you can't eat just one!

OH! And speaking of cookies… my sweet and talented friend, Jeanine, of The Baking Beauties, is offering a FREE Gluten Free Cookie E-book as a Christmas present to her readers (how awesome is that??!). You can download the E-book and find out more information about it by clicking HERE.
Enjoy!
xoxo,
Megan
Big & Soft Paleo Ginger Molasses Cookies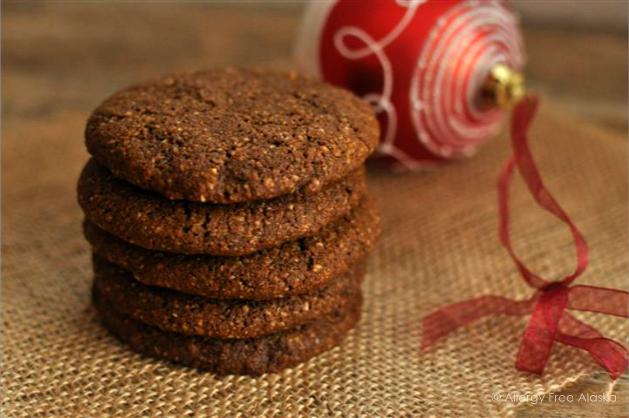 Ingredients
1 1/2 cups blanched almond flour (I use either Honeyville or Anthony's)
1/2 cup arrowroot starch
1/4 cup coconut flour
2 teaspoons ground ginger
1 teaspoons baking soda
3/4 teaspoon ground cinnamon
1/2 teaspoon ground cloves
1/4 teaspoon sea salt
1/2 cup coconut oil, just melted
1/4 cup unsulphured molasses
1/4 cup honey or pure maple syrup
1 egg
Instructions
Preheat oven to 350 degrees (F).
In a large mixing bowl, combine the almond flour, arrowroot starch, coconut flour, ground ginger, baking soda, ground cinnamon, ground cloves, and sea salt.
Mix in the coconut oil, unsulphured molasses, honey or pure maple syrup, and the egg and mix until combined.
Refrigerate the dough for at least 2 hours.
Roll heaping tablespoons of dough into balls and place them on a parchment or silicone lined baking sheet. Gently flatten the balls of dough with your fingers until they are about 1/2 inch thick.
Bake for 9-12 minutes. Leave the cookies on the baking sheet to cool.
http://www.allergyfreealaska.com/2013/12/09/big-soft-paleo-ginger-molasses-cookies/
Copyright 2013-2014 Megan Ancheta, Allergy Free Alaska, LLC.
This post may contain affiliate links which I may receive a small commission from (without any additional costs to you). The money earned from these commissions helps me maintain this website. Thank you for your support in this way!
This recipe is linked to Make Your Own Monday, Teach Me Tuesday, Fat Tuesday, Slightly Indulgent Tuesday, Gluten Free Wednesday, Allergy Free Wednesday, Frugal Day Sustainable Ways, Thank Your Body Thursday, Tasty Traditions, Full Plate Thursday, Simple Lives Thursday and Pennywise Platter, Gluten Free Fridays andWellness Weekend.