I fell in love with my husband over a skillet of breakfast hash. Okay, honestly I was already in love with the man, but some of my favorite memories of us in our early years include sharing a breakfast skillet at a local diner. The diner was known for their huge breakfast skillets, and would serve them all throughout the day. Every weekend we would order one and share it. It was just the two of us back then, and in those moments we discussed our futures, our jobs, our crazy families, how many kids we wanted to have, etc… But then there were also times where a comfortable silence would fall between us and we would just be. Content to know we were there with each other, and it was all that mattered in that place and time. Maybe that's why breakfast foods are so comforting to me now. It doesn't matter the time of day, give me bacon, waffles, eggs, hash browns, etc., with a cup of coffee and my family, and I'll be a happy camper.
Since overhauling my diet, I've had to find alternative ingredients to traditional hash browns made from white potatoes, and these yummy Zucchini & Sweet Potato Hash Browns definitely satisfy my craving. But don't let them fool you, they aren't just for breakfast; they will make an excellent side dish at any meal.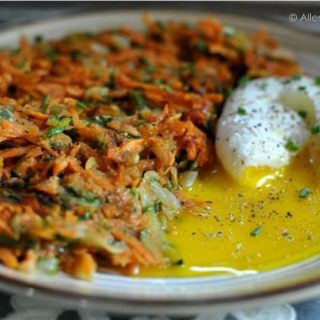 Zucchini & Sweet Potato Hash Browns
Ingredients
2 small zucchini, grated
½ teaspoon sea salt
1 medium sweet potato, peeled and grated
½ cup onion, minced
1 tablespoon of ghee, or coconut oil
Fresh ground black pepper to taste
Instructions
In a large mesh colander (like this one), mix the grated zucchini with the sea salt. Place a dish underneath the colander and set aside for 10 minutes. The salt will draw the liquid from the zucchini.
Place the grated sweet potato and minced onion in a medium sized mixing bowl.
Squeeze the excess liquid from the zucchini so it's very dry (I use my hands to do this – just grab a handful of it and squeeze the excess liquid right into the sink to discard the liquid and then blot with paper towels) and place it in the mixing bowl with the sweet potato and onion; mix well. Taste and add more salt and fresh ground black pepper if desired.
Preheat a 12 inch skillet (this one is my favorite) over medium heat and add the oil. Once the pan is hot, add the hash browns. Use the back of a spatula to press the hash browns down into the pan. Allow the hash browns to cook for 3-6 minutes undisturbed. When the hash browns are slightly golden, flip them over in sections. Use the back of your spatula, again, to press them down into the pan. Cook another 3-6 minutes. Remove from heat and serve immediately.
Notes
These will never get really crispy like white potato hash browns, but are more of a soft consistency.
Enjoy!
Megan