It might not be officially fall, but it feels somewhat fall-ish here in Alaska. The temps have dropped, the leaves are falling, and I have the sudden urge to make Dairy Free Peppermint Hot Cocoa (a stevia sweetened version of it anyways) and wear my goose down vest. I'm sad to have to say goodbye to summer, and especially the lack of daylight, but I do love fall. It's my favorite season, and you have to admit, there is something extra special about enjoying a piping hot bowl of soup when the weather is chilly.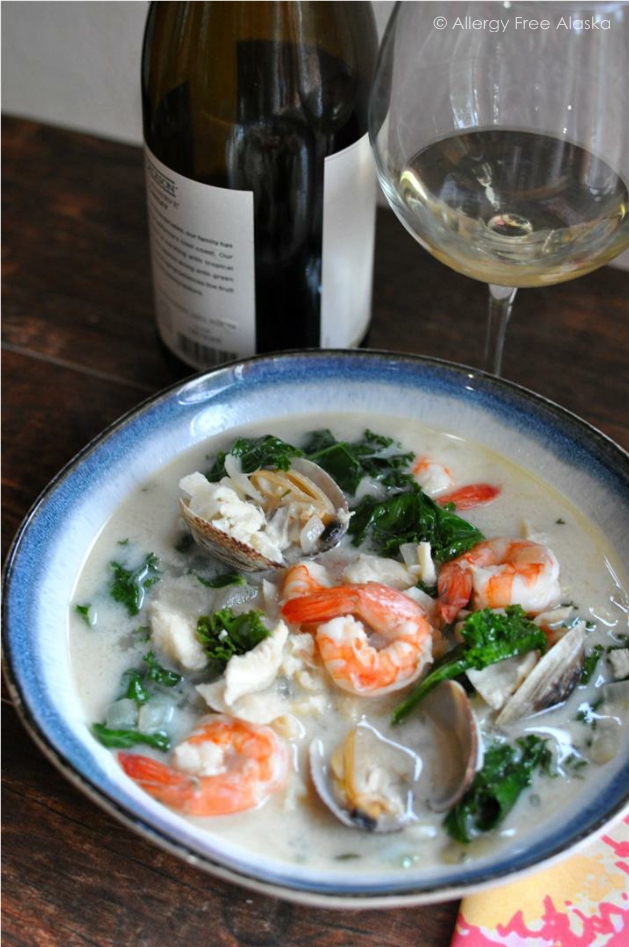 I've been holding on to this recipe for while. I'm not quite sure what I was waiting for, but since sharing my Slammin' Alaska Salmon Burgers a few weeks ago I wanted to continue to share with you my love of the ocean and fresh seafood. I'm going home to Kodiak, Alaska within a few weeks for a visit, and I can't wait. It's been 9 years since I've been back to the island I consider my home. The ocean is unavoidable there, and so is its smell. I think that when you are raised on an island in the middle of an ocean saltwater and seaweed run in your blood. It's almost like a drug or an addiction you can't ever get over, that's constantly calling your name and beckoning you back. This White Cioppino with Kale (Seafood Stew), reminds me of home. Its broth is rich and full of flavor from the sea - with halibut, shrimp and clams.
Cioppino is traditionally a tomato based seafood stew, but I guess I'm a nonconformist when it comes to my food. And the fresh kale from our local farm is not only aesthetically pleasing (it reminds me of seaweed floating in the ocean), but is delicious and hardy - not to mention good for you.
I'm headed to Kodiak by myself, for a girl's trip with one of my best friends that's flying up from Idaho. I'm a little hesitant to leave my kiddos and hubby, but I'm really looking forward to getting away. I still have plenty of really good friends in Kodiak, so my time will be full of catching up and visiting the shoreline. I hope to get some good pictures of the sites and wildlife while I'm there. The sea lions generally hang out on the harbor docks, so they should at least be easy to find. 😉 Make sure you follow me on Instagram - I'll be sharing photos from the island there!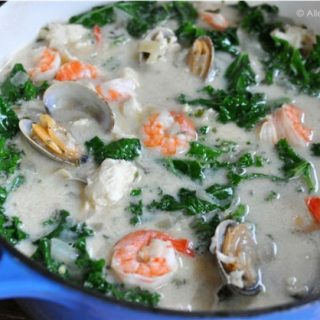 White Cioppino with Kale (Seafood Stew)
This White Cioppino with Kale (Seafood Stew), reminds me of my childhood home (Kodiak Island, AK). Its broth is rich and full of flavor from the sea – with halibut, shrimp and clams. 
Ingredients
3 tablespoon ghee, coconut oil or olive oil
1 large sweet onion, chopped
4-6 garlic cloves, minced
1 cup good tasting chardonnay wine (I prefer Kendall Jackson)
5 cups chicken broth
14 ounces canned coconut milk, full fat
1 tablespoon dried parsley
1-2 jalapenos, seeded and minced (optional)
1 pound halibut, cod, or other firm white fish, chopped into 1-inch pieces
1 pound raw shrimp, shelled and de-veined
1 pound manila clams, rinsed well
1 bunch kale, removed from stem and chopped into 2-inch pieces
Sea salt & fresh ground black pepper to taste
Instructions
In a large Dutch oven, warm the oil over medium-high heat. Add in the chopped onion, season with sea salt and freshly ground pepper, and cook until soft. Reduce heat to medium-low, and let the onions cook for another 15-20 minutes until they are golden brown, stirring occasionally. Add the garlic and sauté for another minute.
Increase the heat to high and add the wine, chicken broth, coconut milk, dried parsley and jalapenos (if desired). When the broth starts to boil, add the fish and cook for 5 minutes. Add the shrimp, clams, and kale and cook for another 5 minutes or until the clams fully open and the shrimp are bright pink.
Taste and add additional sea salt & fresh ground pepper if necessary. Serve immediately.
Parents, be warned - if your children are anything like ours, they will try their hardest to talk you into keeping all of the clam shells!
All my love,
Megan