It's August already… I can't even believe it. School starts here in another few short weeks, although since I homeschool our children, we school on a somewhat year-round basis. Schooling almost year-round gives us the opportunity to take breaks whenever something fun presents itself, regardless of when that might be. That's something I really love about homeschool – the flexibility. Being able to do school from wherever we want (the coffee shop, grandma's house, on the road, etc), whenever we want, and if the girls show an interest in something specific we can even study what they want (within reason). Homeschool just works out really well for our family – and I'm very thankful for it!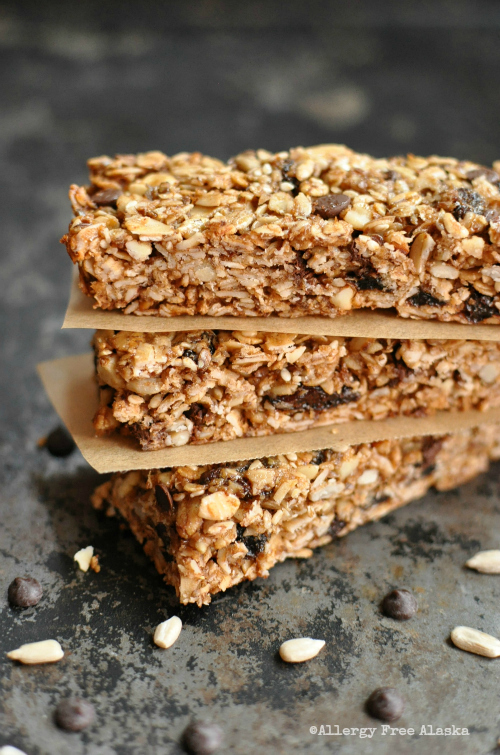 Speaking of school, that is actually the reason for this post. Whether your children attend school out of your home, or you homeschool, granola bars are perfect for snacks and lunch boxes (of course, adults love them too!). I've been making these Perfect Gluten-Free Egg-Free Granola Bars for my girls now for over a year, and they love them! This recipe is clean – made with real good-for-you wholesome ingredients. You don't have to think twice about your children eating them, and they can be customized, too, according to your or your child's liking.
You might also check out these clean-eating No Bake Apple Pie Granola Bars from A Mindful Mom.
I hope you have an amazing school year!
All my love,
Megan
PS- Don't forget to check out my Gluten-Free Lunchbox Roundup: 40 Kid-Friendly & Allergy-Friendly Recipes!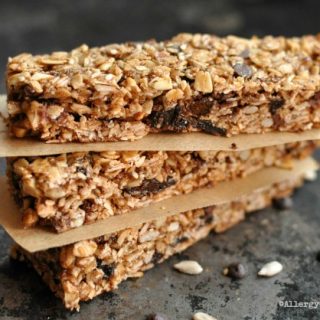 Perfect Gluten-Free Egg-Free Granola Bars
Ingredients
3 cups gluten-free rolled oats
1 cup desired nuts, chopped
½ cup unsweetened shredded coconut
½-3/4 cup desired dried fruit (like raisins, cherries, cranberries, blueberries)
½ cup Enjoy Life Mini Chocolate Chips
⅓ cup flax meal
¼ cup raw sunflower seeds
¼ cup palm sugar
2 tablespoons raw sesame seeds
1 teaspoon cinnamon
¼ teaspoon sea salt
2 teaspoons vanilla extract
½ cup coconut oil, melted
½ cup honey
Instructions
Preheat oven to 325 degrees (F) and line a 9.5x13x1" metal pan with parchment paper.
In a large mixing bowl, combine the gluten-free rolled oats, desired nuts, unsweetened shredded coconut, desired dried fruit, Enjoy Life Mini Chocolate Chips, flax meal, sunflower seeds, palm sugar, sesame seeds, cinnamon, and sea salt.
Add the vanilla extract, coconut oil and honey. Mix well.
Use a lightly oiled spatula to press the granola mixture evenly down into the parchment-lined pan.
Bake for 26 - 28 minutes, or until the edges of the granola bars are golden brown.
To avoid crumbling, fully allow the granola bars to cool before cutting or removing from the pan. Store in an airtight container.
Notes
For the recipe to work properly, you must use coconut oil and a metal pan (not glass) - there are no substitutes!
This post may contain affiliate links which I may receive a small commission from (without any additional costs to you). The money earned from these commissions helps me maintain this website. Thank you for your support in this way!