I loved animal crackers as a child. My mom would frequently buy them for me as a treat. I would play with them, bite a head off, play with them some more, dismember a bear… It sounds much more gruesome than it is, BUT admit it – you did it too!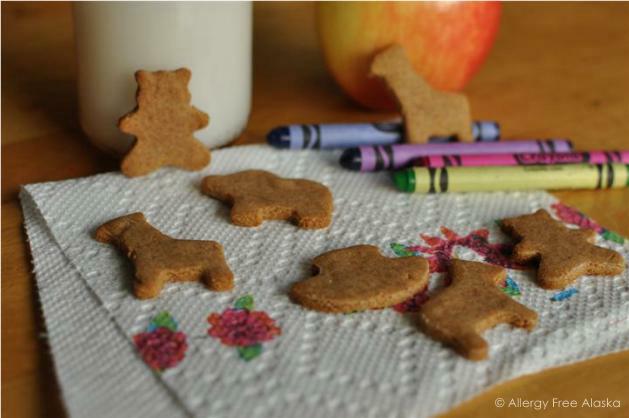 I wanted my children to experience the same joy of eating animal crackers as I did, which is why I developed this gluten free recipe. These Paleo Animal Crackers are so much healthier than the ones I used to eat as a kid. The almond and coconut flours are packed with protein, healthy fats, and fiber. Really, for a snacking cookie (err… cracker), you can't get much healthier than this. 
I love watching my girls eat these animal crackers. Snack time regularly becomes an all out giggle-fest! Course, you don't have to be a kid to appreciate them. Animal crackers were meant to satisfy the kid in all of us, regardless of age.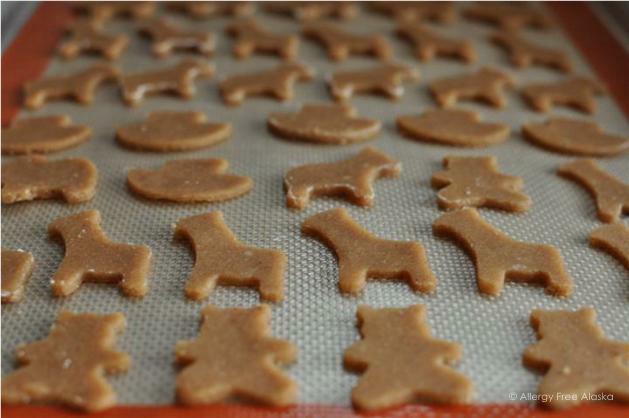 This dough is really easy to work with. It rolls out like a dream and holds its shape really well, even when cut into smaller shapes. I like to use this small frosting spatula to assist in maneuvering the cutouts onto the baking sheet. 
Regarding Substitutions:
This recipe is strictly written as a grain free recipe using almond and coconut flours. Substituting sunflower seed flour for the almond flour may possibly work for a nut-free dough; however, I have not tried it. I do not recommend substituting any other flours.
Flax eggs or "gel" may work as a substitution for the eggs, but again, I have not tried it. If you do try it, please come back and share your results!
Lots of love from my kitchen to yours! 
xoxo, 
Megan (with a long E)
Paleo Animal Crackers
Instructions
Preheat oven to 350 degrees (F).
In a large mixing bowl, whisk together the almond flour, coconut flour, cinnamon, baking powder, baking soda, sea salt and nutmeg.
Cut in coconut oil until mixture resembles fine coarse crumbs. Add in the eggs, runny honey, and vanilla extract; mix well and then let the dough rest for about a minute (this gives the coconut flour time to soak up moisture). Mix again for 30 seconds.
Divide the dough into two balls. Wrap one of the balls securely with plastic wrap (so it doesn't dry out) and place the other ball of dough onto a large piece of parchment paper. Flatten the dough into a round disk with your hands, and then cover it with another large piece of parchment paper. Use a rolling pin to evenly roll the dough until it is 1/8 inch thick.
Gently peel back the top sheet of parchment paper and cut the dough into desired shapes using cookie cutters (I have this set, but I think these or these look awesome too), or a pizza cutter. If you are cutting the dough into large cracker shapes, score each cracker with a fork 2-3 times.
Carefully transfer the crackers onto a parchment or silicone lined baking sheet.
Repeat with the second half of cracker dough.
Bake for 7-10 minutes, or until the crackers are golden brown on the bottom. Allow the crackers to fully cool.
Recipe Notes from Megan
These crackers do not get really crunchy; however, the longer they bake the crunchier they become (just be very careful not to burn them). I store my crackers open to the air (it helps them keep what crispiness they have) instead of in an airtight container.

The dough can be refrigerated (just make sure the balls of dough are securely wrapped in plastic wrap), but must be at room temperature prior to rolling.

To avoid the dough sticking to the cookie cutters, simply dip the tips of the cookie cutters into tapioca starch before cutting your shapes. Repeat as needed.


 This recipe is linked to Teach Me Tuesday, Fat Tuesday, Slightly Indulgent Tuesday, Allergy Free Wednesday, Frugal Day Sustainable Ways, Thank Your Body Thursday, Tasty Traditions, Full Plate Thursday, Simple Lives Thursday and Pennywise Platter.