I wrote this post yesterday evening (Thurs, Dec. 13) and scheduled it to go live on my website this morning (Fri, Dec. 14) at 7am Alaska time. It went live just a few short hours before I found out about the horrific tragedy in Connecticut. My heart is absolutely broken for those suffering because of one man's senseless act of violence against the innocent. May those taken forever rest in peace.
~Megan
Our puppy, Thor, turned one year old yesterday! To celebrate his birthday, the girls and I made him treats with all of his favorite things: peanut butter, apple and carrot.
Thor was definitely one happy guy!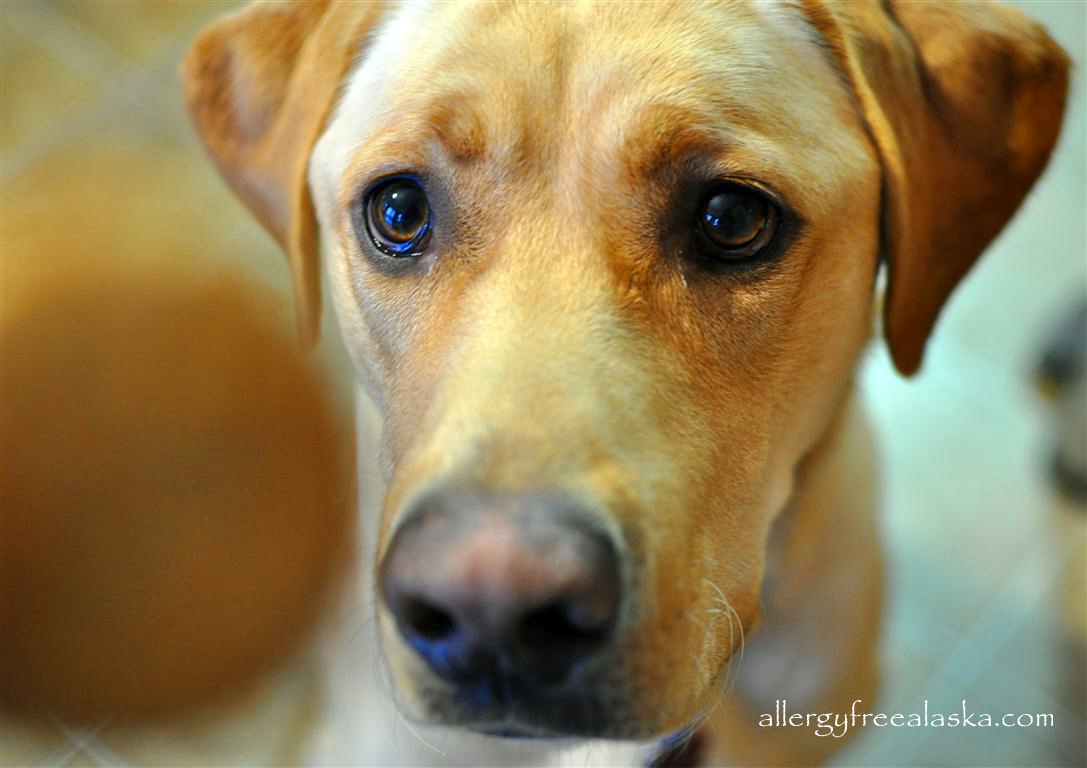 As I shared with you on Facebook, we got Thor in February of this year, but just shortly before that, we watched cancer slowly claim the life of my FIL. Words can't describe the devastation and grief his death brought. As a mother, I don't think there is any worse feeling than to hold your babies as they cry crocodile tears sobbing for a loved one they will never see again. The light disappeared from their eyes, but a little yellow ball of fur we named Thor helped bring the sparkle back.
There is something magical about animals, isn't there? Being able to reach people when no one else can with their unconditional love and devotion. When we brought Thor home he filled our days (and nights) with chaos and joy. Over the last 10 months he's grown from a crazy puppy to a (still crazy) very loyal member of our family. He won't go upstairs to bed until I do (I'm always the last one to bed) and when I let him into the girl's room, he checks to make sure both of them are in their beds, and then kisses them goodnight.
It's true… I'm really sentimental about my dog, but after the last year, it is certain that Thor was meant for our family. He's been such a gift and I will forever be grateful he has helped my girls (and I) cope with our grief.
Do you have a pet? I'd love it if you would leave me a comment and tell me about them!
I would've liked to use a dog bone cookie cutter to make these, but I don't currently own one, so I just used what we had (and what was easy). Abbi really wanted to make star and angel doggie treats, but I quickly shut those suggestions down!
Gluten Free Dog Treats (with grain free option)
Yields about 3 dozen small treats

⅓ cup unsweetened apple sauce
½ cup creamy peanut butter (I use Adam's)
1 egg
½ teaspoon baking powder
¼ cup flax meal
¾ cup garbanzo bean flour
¾ cup brown rice flour + extra for rolling
½ cup grated carrot
Preheat oven to 300 degrees (F) and line a large baking sheet with parchment paper.
In a large mixing bowl, cream together the apple sauce, peanut butter, and egg.
Whisk in the baking powder and flax meal, and then add the garbanzo bean flour and brown rice flour. Stir until well combined and then mix in the grated carrot.
Sprinkle a clean surface with brown rice flour and form the dough into a disk. Place the disk on the clean surface, sprinkle it with more brown rice flour and roll it out, until it's about a ¼ inch thick.
Use cookie cutters to cut out desired shapes, or use a pizza cutter to cut the dough into square shapes. (We used a round cookie cutter that was 1 ¾ inch in diameter.)
Place the dog treats on the baking sheet and bake for 25 – 30 minutes, or until they are slightly golden brown. If your shapes are larger than 1 ¾ inch, you might need to bake them longer.
Allow the dog treats to completely cool before feeding them to your pet!
Megan's Recipe Notes:
It was my intention to make these dog treats grain free, but after taking stock of my flours, I realized I wouldn't be able to. This recipe is very forgiving, and although I haven't tried it yet, I do believe substituting almond flour or more garbanzo bean flour for the brown rice flour would work well. If any of you do try substituting with either of those flours, please leave me a comment below and let me know how they turned out!
On a side note, my FIL wasn't the only member of our family that we lost this year (it's been a hard year). That said, if any of you are struggling with grief (especially children), I highly recommend the book, "Tear Soup," by Pat Schwiebert. It is a picture book about grief that is appropriate for the whole family. My oldest daughter carried the book around with her for a full week after the death of her Papa. It was a huge help to all of us.
We hope your doggies love these as much as our big guy does!
xoxo,
Megan