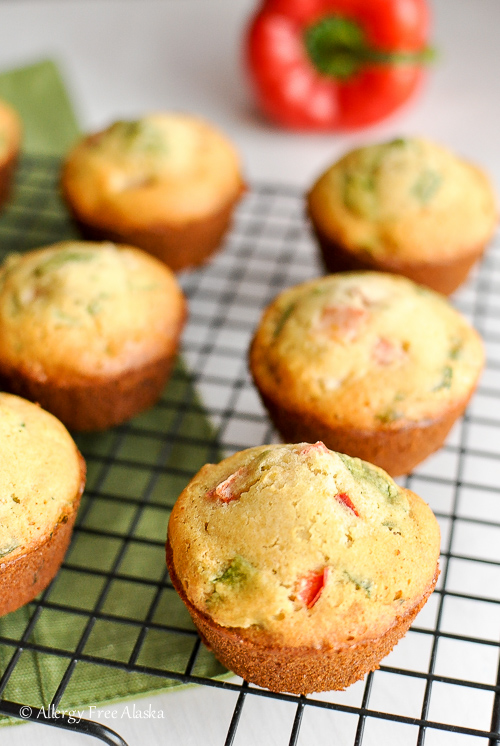 Look no further – these are the perfect breakfast muffins! The base of these Gluten-Free Breakfast Muffins with Ham & Veggies is slightly sweet, like cornbread almost – thanks in part to the millet flour. Millet flour looks like a finer version of cornmeal because of its light yellow color. It's slightly sweet and adds a lighter, slightly crumbly texture to baked goods. It's one of my favorite gluten-free flours to bake with. To balance out the sweetness of the muffin, I've added salty ham, while the veggies are there to not only add flavor, but nutritional value. I like to sneak as many veggies into my husband and children as a possibly can – I'm sure many of you do the same!  😉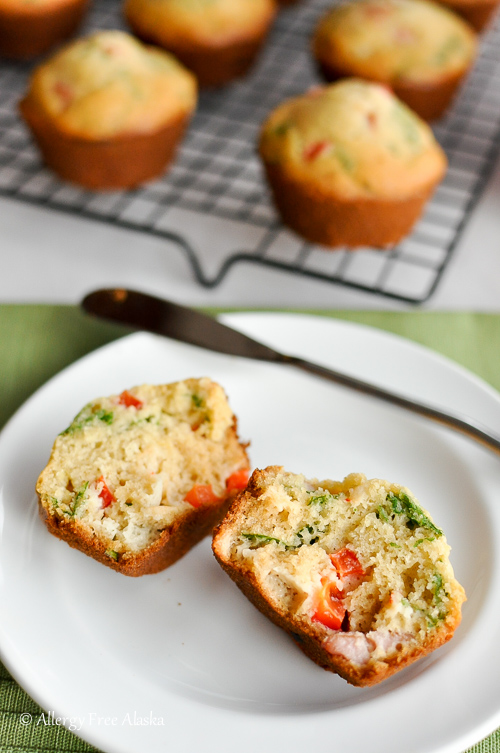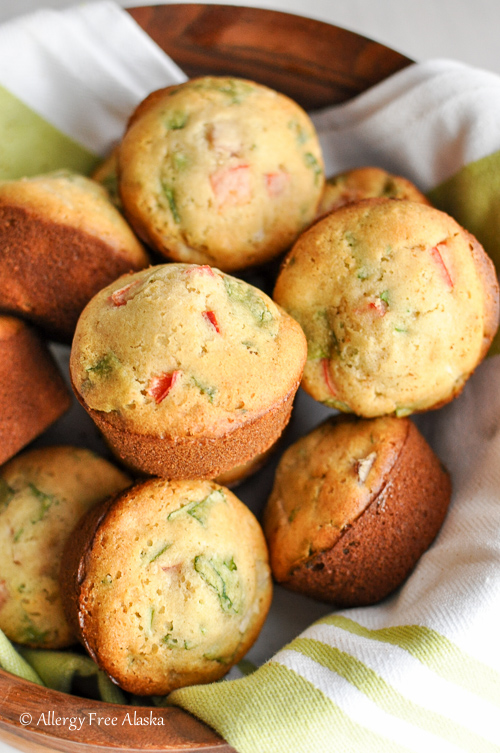 Our house is going to be completely turned upside down schedule-wise for the next month. We've got a whole lot going on, but the biggest change is that AJ has training for work 2 weeks in early November (he's a computer nerd). AJ will have to log in remotely from home to join a class in Florida. So if the class starts in Florida at 8am, he has to log in from Alaska at 4am (weekends included). On top of a full day of class, he'll have to study an additional 2-3 hours afterwards (they have to pass a series of tests). Brutal, huh? I'm going to have to focus on keeping the girls occupied, quiet (ha, ha… wish me luck), while trying to support AJ as much as I can. This training in his line of work is kind of a big deal, so we're getting ready to "hunker down and plow through" so to speak. Any extra prayers you want to send our way would be much appreciated!
All my love,
Megan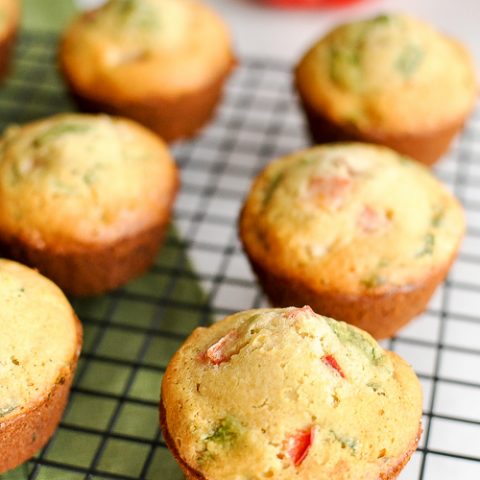 Gluten-Free Breakfast Muffins with Ham & Veggies
Ingredients
1 cup millet flour
⅓ cup blanched almond flour
⅓ cup tapioca starch
1 teaspoon psyllium husk powder
¾ teaspoon baking soda
½ teaspoon sea salt
2 large eggs
½ cup olive oil or melted coconut oil
½ cup full fat canned coconut milk
4 tablespoons honey or maple syrup
1 cup diced ham (see recipe notes for pork alternatives)
½ cup minced red bell pepper
½ cup chopped fresh spinach (pack it in the measuring cup)
Instructions
Preheat oven to 375 degrees (F).
In a large mixing bowl, whisk together the millet flour, blanched almond flour, tapioca starch, psyllium husk powder, baking soda, and sea salt.
In a separate mixing bowl, combine the eggs, olive oil, full fat canned coconut milk, and honey.
Pour the wet ingredient into the dry, and mix until combined.
Add the diced ham, minced red bell pepper, and chopped fresh spinach.
Generously grease 12 muffin tins (for this recipe I prefer to use a non-stick muffin tin) and evenly divide the batter between them.
Bake for 15-17 minutes, or until a toothpick, when inserted into the center of a muffin, comes out mostly clean (a few loose crumbs is okay).
Notes
As an alternative to ham, try beef sausage, diced turkey bacon, turkey sausage, or diced chicken sausages as a substitute.
This post may contain affiliate links which I may receive a small commission from (without any additional costs to you). The money earned from these commissions helps me maintain this website. Thank you for your support in this way!