One more bon bon recipe! I'm a fan a berry flavored ice cream when it's paired with chocolate, but many of you on Facebook clearly told me you weren't, so I wanted to make sure you weren't left out of the bon bon party. 😉
These Chocolate Covered Vanilla Ice Cream Bon Bons are begging for your attention… and begging to be eaten. Creamy vanilla ice cream paired with chocolate is most definitely a winner, but if you want to change the flavor, this basic bon bon recipe will allow you to do just that. Make sure you check out the "Megan's Recipe Notes" section of the recipe for a list of possible flavor adaptations. And if you have any questions at all, just let me know. 🙂
All my love,
Megan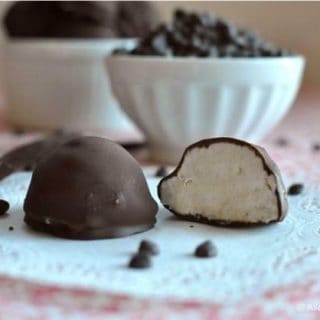 Chocolate Covered Vanilla Ice Cream Bon Bons
Ingredients
For the vanilla ice cream filling:
½ cup chopped dates, packed
½ cup almond milk or coconut milk beverage
2 ¼ cups canned coconut milk (make sure you use full fat)
1 teaspoon vanilla extract
3-5 drops NuNatural's Liquid Stevia or 1-3 teaspoons maple syrup
For the outer chocolate shell:
1 cup Enjoy Life Chocolate Mini Chips
3 tablespoons coconut oil
Instructions
To make the vanilla ice cream filling:
In a small heavy bottomed sauce pan, heat the dates and the almond milk over medium heat. Once it starts to boil, removed from heat and set aside for 5 minutes (this will help further soften the dates).
Place the mixture in a high powered blender (be careful, it will be hot!) and blend on high for 1 minute.
Add the coconut milk, vanilla extract, and stevia or maple syrup. Blend until smooth.
Place the vanilla ice cream mixture in an ice cream maker, and process according to your machine's directions. Freeze in an airtight container for at least 2 hours.
Use the smallest kitchen scoop you have (like the smallest scoop in this picture) to scoop the vanilla ice cream into little balls and place them on a chilled and parchment lined baking sheet. Place in the freezer for 30 minutes.
To make the outer chocolate shell:
Melt the chocolate chips and the coconut oil over a double broiler or in a microwave (If you use a microwave be very careful not to burn the chocolate).
Dip the vanilla ice cream balls, one by one, into the chocolate (I like to use a fork for this, because the excess chocolate will drip right through the slots), completely coating them. Place back onto the chilled baking sheet and freeze for another 30 minutes.
Store in the freezer in an airtight container and consume within 2 weeks.
Notes
If you run out of chocolate for the outer shell, simply melt together an additional ⅓ cup of chocolate chips and 1 tablespoon of coconut oil.
How can I make this recipe without an ice cream maker?
You can try one of the methods listed HERE, or you can skip the bon bon idea altogether and pour the vanilla filling into popsicle molds, freeze them, and then dip the frozen popsicles into the chocolate to form chocolate covered popsicles. The popsicle method won't be nearly as creamy, but it still might satisfy the craving (with less work involved).
This recipe has a lot of potential for you to turn these beautiful bon bons into whatever flavor combination you like. Here are some additional flavor ideas for you:
Mint – To the blender, add a handful of baby spinach (for color) and ½-1 teaspoon of peppermint extract
Toasted Coconut – To the blender add ½-1 teaspoon of coconut extract and then stir in (by hand) ¼-1/2 cup of toasted coconut
Cherry Chip – stir in (by hand) bits of cherry (fresh or frozen) and chocolate shavings
Peanut Butter – replace maybe ½ cup of the canned coconut milk with creamy peanut butter
You can view my Chocolate Covered Raspberry Bon Bon recipe by clicking HERE: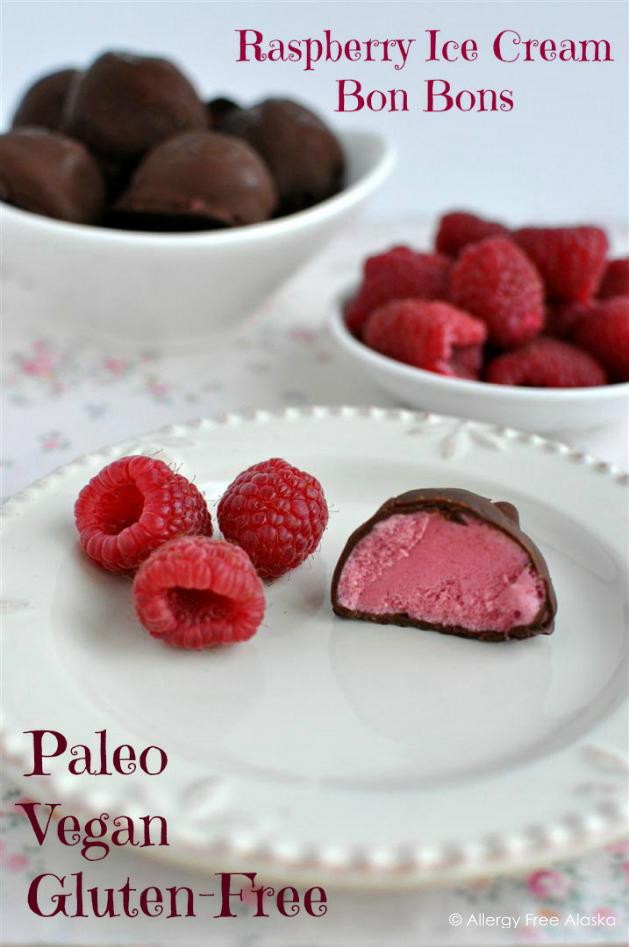 This recipe is linked to Mostly Homemade Monday, Natural Living Monday, Teach Me Tuesday, Healthy Tuesday, Fat Tuesday, Allergy Free Wednesday, Gluten Free Wednesdays, Frugal Day Sustainable Ways, Thank Your Body Thursday, Tasty Traditions, Full Plate Thursday, Simple Lives Thursday, Pennywise Platter, Healing with Food Friday, Wellness Weekend, The Paleo Rodeo and Gluten Free Fridays.
This post may contain affiliate links which I may receive a small commission from (without any additional costs to you). The money earned from these commissions helps me maintain this website. Thank you for your support in this way!