My best friend is half Korean. When I was 8 or 9 years old I remember sitting at her kitchen table while her mom served us lunch. I was mortified when I discovered there was seaweed in my won ton soup. My friend recognized the look of horror on my face and said, "Eat it. It's good!" I ate it, but it took a few times for me to really develop a taste for it.
Same goes for kimchi… it took me a while to develop a taste for it, enjoy it, and to want to eat it (I only started making it a few weeks ago). My brother bought some homemade kimchi from a local Asian store, and it was phenomenal. I couldn't stop eating it. It was a perfect balance of spicy, sweet, tangy, salty, and then you have the back note flavors of ginger and garlic. I loved it so much I had to figure out how to make it myself, just a bit healthier than some of the other recipes I've come across (that contain cane sugar and plenty of sweet rice flour).
My best friend recently returned from a trip to Korea and sent me some authentic Korean red pepper. You know you're a crazy foodie when something as simple as fresh ground red pepper makes your day (but it came all the way from Korea!).

I've made at least 3 batches of this kimchi, and people keep stealing it, so I think that's a good sign. This stuff is addictive. Pretty soon your friends are going to steal your kimchi!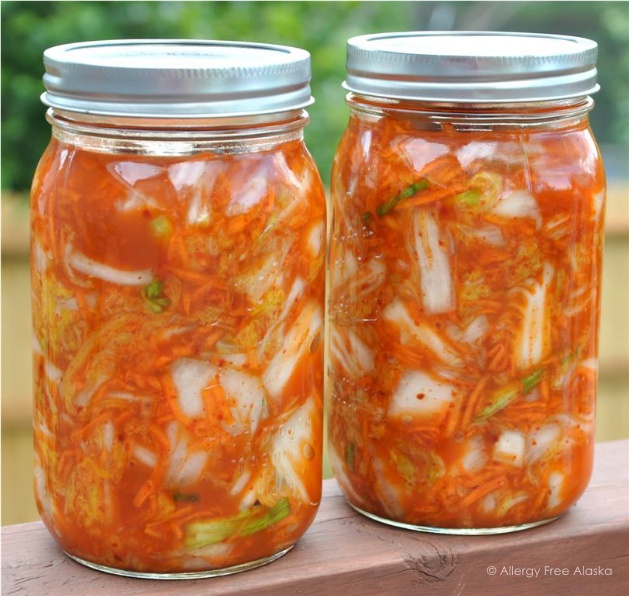 There are a lot of different ways to eat kimchi. Some people enjoy eating it by itself and others with rice and meat. I've even heard of people making sandwiches using kimchi as the filling (which is definitely NOT my choice way of eating it). Bottom line is there is no right or wrong way to eat kimchi. Discover what you like best and enjoy it that way.

This recipe is linked to the GFE Gluten Free Virtual Support Group, EOA Link Up, Allergy Free Wednesdays, the Gluten Free Homemaker, Slightly Indulgent Tuesday, Frugal Days Sustainable Ways, Simple Lives Thursday, and Fat Tuesday.
Megan's Kimchi Recipe:
Note: There are several types of ground red pepper, but make sure you use Korean red pepper in this recipe. You can buy Korean red pepper from your local Asian market.
2 heads of Napa cabbage (medium sized cabbages are best)
2 tablespoons sea salt
6 – 8 tablespoons Korean red pepper
1 3/4 tablespoons fish sauce (omit if vegan)
4 teaspoons runny honey (or coconut nectar for vegan)
1 tablespoon ginger, fresh grated
2 -3 garlic cloves, pressed
1 to 1 1/2 bunches of scallions, cut into 2 inch pieces
3 to 4 carrots, peeled and shredded
Remove outer leaves from the cabbages.
Cut each cabbage in half lengthwise, trim the ends, and then roughly chop it into 2 to 3 inch pieces.
In a large mixing bowl, layer the chopped cabbage with the sea salt. Allow the cabbage to sit with the sea salt for about an hour; stirring occasionally (This is a good time to get your hands dirty. Stir the cabbage using your hands and don't be afraid to squeeze it. This will help the salt draw out the moisture from the cabbage, which is a very good thing. Do not discard this liquid).
Sprinkle in the Korean red pepper, fish sauce, honey, ginger, and garlic. Mix well.
Stir in the scallions and carrots.
Divide the kimchi into two 4-quart glass jars. Using the back of a spoon, pack the kimchi into the jars, leaving about an inch of room at the top of each jar. Make sure your kimchi has just enough liquid to be submerged. (I generally have a 1/4 to a 1/2 cup of liquid left over after I pack my jars that I end up discarding. This is an incredibly messy process for me. I make a complete mess of the jars when I'm packing my kimchi, and if you do the same, it's okay as long as you rinse the outside of the jars and wipe the inside and outside of the rim. When fermenting vegetables, you want your jar to be as clean as possible, otherwise it may mold.)
Place the lids loosely on the jars and put the jars in a shallow baking dish (in case they overflow while fermenting). Place in a cool dark area and allow the kimchi to ferment for 2 to 5 days before storing in the refrigerator. (I found it helpful to take the back of a spoon and push down on the kimchi a few times during the day while it was fermenting. It prevented my kimchi from overflowing releasef the air that built up in the jar.)
This is my cabbage after I layered it with the sea salt in my mixing bowl: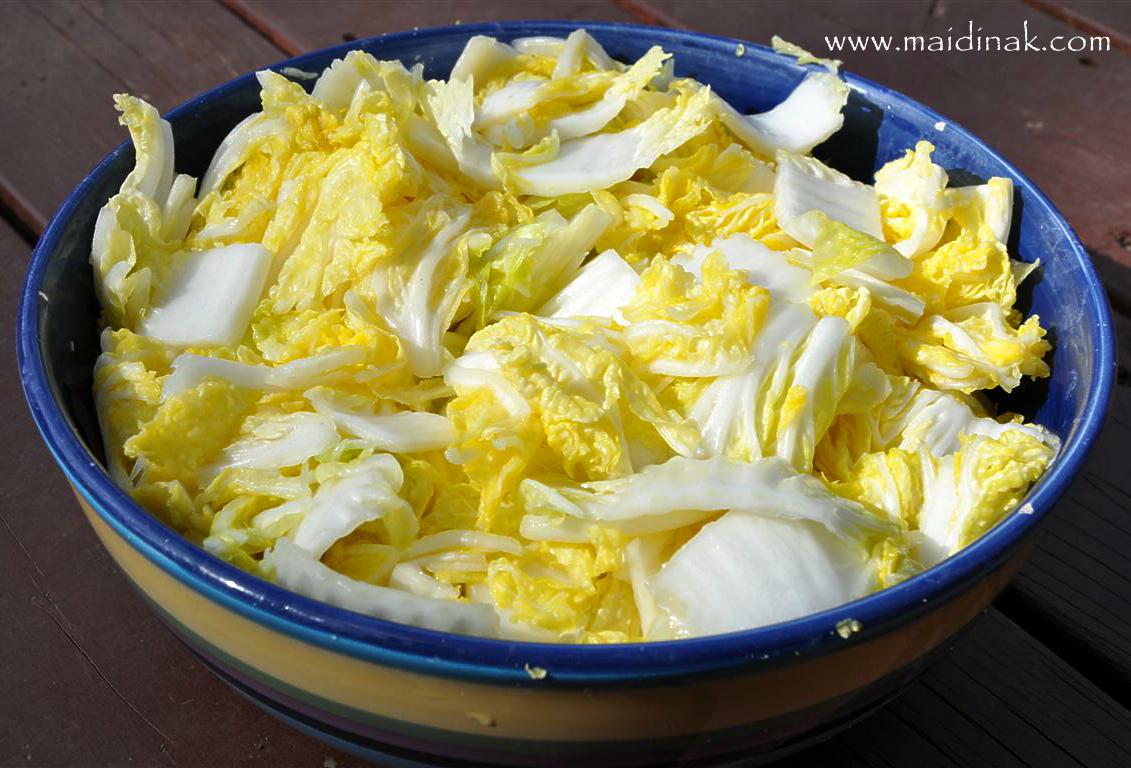 The salt eventually broke down the cabbage and drew out the moisture. Now you are ready to add the rest of your ingredients and pack the kimchi into glass jars!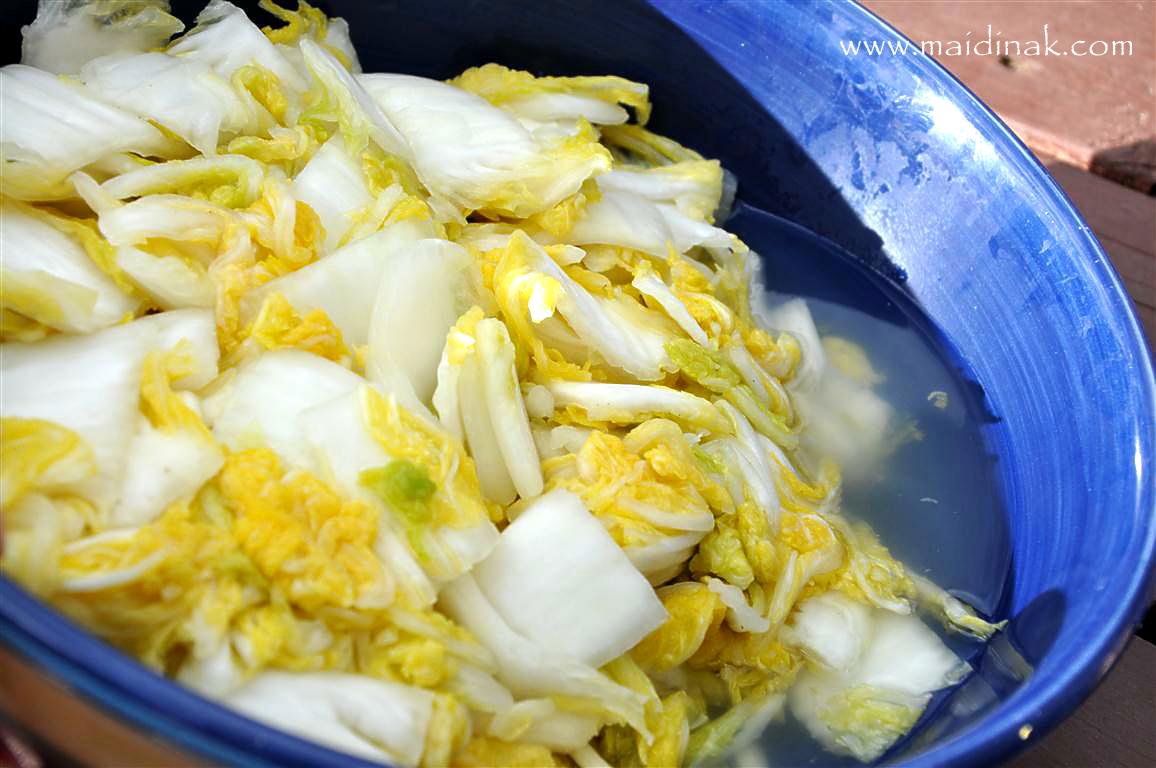 Enjoy!
Megan