These Gluten Free Rice Free Multigrain Dinner Rolls remind me of what I remember wheat bread tasting like. They are hearty rolls made from gluten free whole grains, yet fluffy and soft. Perfect for sopping up all of that gravy-goodness on your holiday plates!
Prior to going gluten free, I was a wheat bread girl. I loved the heartiness of it, as well as the flavor. When I finally went gluten free, it took me a while to figure out a bread recipe I really, really loved, but when I did, it was the loaf variation of this Gluten Free Rice Free Dinner Roll recipe: my Gluten & Rice Free Multigrain Bread.
Many readers love that bread recipe, so I knew I needed to covert it to a dinner roll recipe.
These Gluten Free Rice Free Multigrain Rolls are hearty rolls made from gluten free whole grains, yet fluffy and soft. The whole grains and flax add a nuttiness, while the molasses give it a rich, full bodied flavor. If you aren't a molasses fan, simply replace it with more honey.
I think you will be pleasantly surprised how much of a "wheat bread-like" taste these rolls have. 😉
What are your Thanksgiving Day plans? We are having a house full. My brother and his family are coming out, along with some good friends. I'm making a prime rib instead of a turkey, and am looking forward to eating lots of PIE. 😉 I'm making both my Gluten Free Dairy Free Maple Pumpkin Pie, and my Gluten Free Pecan Pie (Refined Sugar-Free, Corn Syrup-Free).
Whatever your plans are, I'd like to wish you all a Happy Thanksgiving. May God bless you and your family over the upcoming year. I pray all of you are surrounded by love and laughter!
All my love,
Megan
And if you aren't a "wheat bread-like" fan, try my Gluten Free Dairy Free Dinner Rolls that come in 3 flavors: Plain, Rosemary & Garlic, or Onion. These have more of a "white bread-like" taste.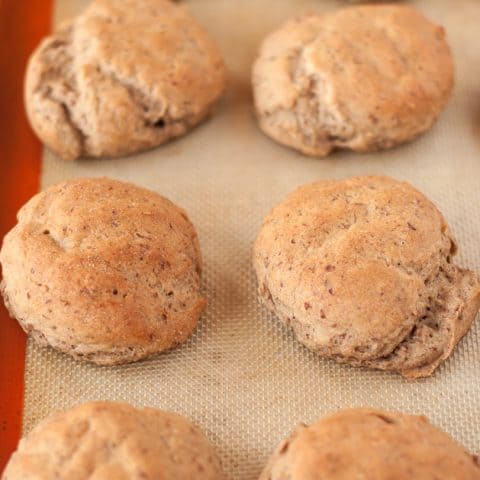 Gluten Free Rice Free Multigrain Dinner Rolls
Additional Time:
40 minutes
Total Time:
1 hour
17 minutes
These Gluten Free Rice Free Multigrain Dinner Rolls remind me of what I remember wheat bread tasting like. They are hearty rolls made from gluten free whole grains, yet fluffy and soft
Ingredients
Yeast Ingredients:
1 cup + 3 tablespoons hot water (105-110 degrees F)
2 teaspoons dry active yeast
1 teaspoon organic cane sugar
Dry Ingredients:
¾ cup sorghum flour
½ cup millet flour
½ cup teff flour
½ cup tapioca starch
¼ cup flax meal
1 ¾ teaspoons xanthan gum
1 ¼ teaspoon sea salt
Wet Ingredients:
2 eggs
3 tablespoons olive oil
1 tablespoon honey
2 teaspoons molasses (or more honey)
½ teaspoon apple cider vinegar
Instructions
In a small mixing bowl, combine the organic cane sugar and hot water. Sprinkle in the yeast and give it a quick stir to combine. Allow to proof for 7 minutes (set a timer!) – NO more, NO less time. Make sure to have the other wet and dry ingredients mixed and ready to go when the 7 minutes are up!
Using a heavy-duty mixer with a paddle attachment, combine the sorghum flour, millet flour, teff flour, tapioca starch, flax meal, xanthan gum, and sea salt.
In a separate mixing bowl, whisk together the eggs, oil, honey, molasses, and vinegar.
When the yeast is done proofing, add the wet ingredients to the dry. Stir until it's a little paste-like and then slowly add the yeast mixture. Using the mixer's low speed setting, mix for about 30 seconds. Scrape the sides of the bowl and then mix on medium for 2-3 minutes or until the dough is smooth. Make sure to stop the mixer and scrape the sides of the bowl if necessary.
Drop the dough using an ice cream scoop onto a parchment lined cookie sheet. There is just enough dough for 12 separate rolls, so divide the dough up equally between the 12.
Wet your fingers and use them to shape the dough into circles or fix the minor imperfections (they don't have to be perfect). Flatten each ball of dough so that it's approximately ¾ -1 inch thick (keep wetting your fingers as you go along so that the dough does not stick to them).
Allow the rolls to rise in a warm spot for about 40 minutes.
Preheat the oven to 375 degrees (F). When the oven is fully preheated, bake the rolls for approximately 14 - 17 minutes. They will be slightly golden brown when finished baking, so will the bottom of the rolls.
Remove the rolls from pan and allow them to cool on a wire rack. Cool for at least 15 - 20 minutes before serving.
Recommended Products
We are a participant in the Amazon Services LLC Associates Program, an affiliate advertising program designed to provide a means for us to earn fees by linking to Amazon.com and affiliated sites.
This post may contain affiliate links which I may receive a small commission from (without any additional costs to you). The money earned from these commissions helps me maintain this website. Thank you for your support in this way!