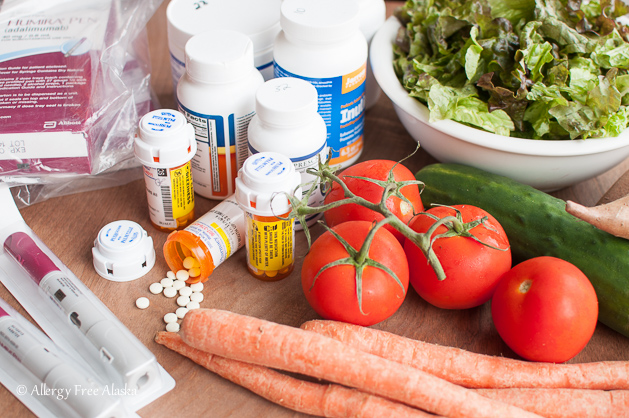 I'm struggling emotionally. I'm in physical pain, yes, because of my psoriatic arthritis and spondylitis, but mentally I'm beating myself up. I'm grieving. Grieving the idea that some days I. Just. Can't. I can't continue with treating this illness with diet alone and I'm on the brink of heading into my rheumatologist's office and asking to be put on another biologic (Embrel or Simponi to be exact). I've been gluten-free, dairy-free, refined sugar-free, mostly corn-free, and processed food-free for over 5 years now. I've tried the vegan way of eating, I've done the Paleo diet, I've used essential oils, etc. I've fought long and hard, and yet today… it's still not enough. I make nearly everything from scratch, I've made fermented foods, soaked grains, avoided night shades, switched all of my soaps/cleaners/makeup to gluten-free and pure ingredients, and even still… it's not enough. We went through a long period of time where we only bought organic foods. I've spent out the wazoo for various supplements, herbals, curcumin (tumeric in high doses), fish oils, D3, etc… It still wasn't enough.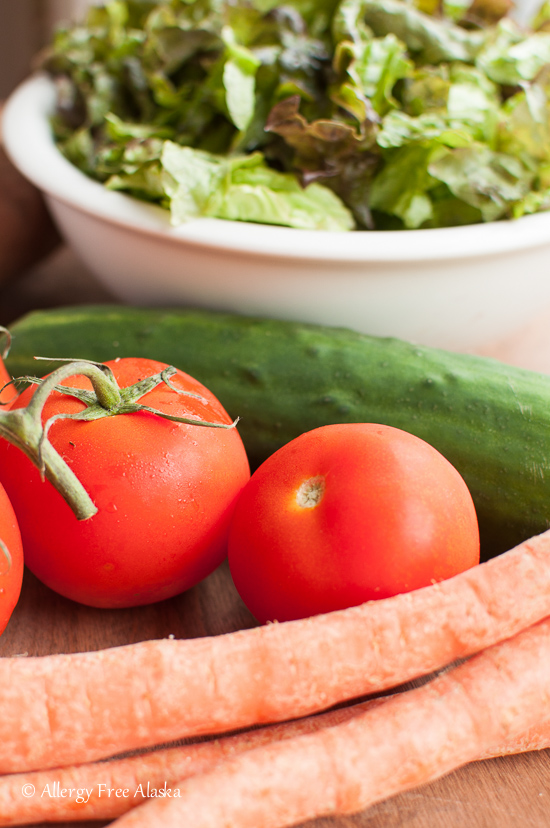 What do you do when a diet doesn't heal chronic illness? When it's just not enough?
While I can't tell you specifically what to do (because only you really know what's best for you), here's what I'm doing: I'm grieving, I'm praying, and I'm thinking very seriously about waving my white flag and asking for the heavy-duty medications I never wanted to be put on. Embrel and Simponi are medications given by injection. Embrel is a once a week injection, while Simponi is a once a month injection. They are chemotherapy drugs, as they lower your immune system and make it more difficult for your body to fight infection. The list of side effects are long; however, they have proven to be effective in slowing down the progression of long-term joint damage for those of us with chronic auto-immune arthritis. I just want some relief. Long-term relief and a break from the pain.
I'm trying very hard to overcome the negative talk in my head saying, "Whatever you try, it just isn't enough." That's been very difficult, because I've busted my butt trying. I feel like I'm letting myself down admitting to my doctor I'm struggling, really struggling, that I just can't handle the pain, nausea, and exhaustion anymore. I realize I'm being overly critical of myself, but I imagine there are also others out there struggling with similar emotions. I know in my heart of hearts my God will take care of me – whatever happens, and I need to depend on Him instead of myself. I'll always pray for my miracle, but my disappointment still lingers. I'm human, and I'm struggling and praying my way through it.
On top of my own personal disappointments, there are continuous comments from others that seems to always drive the stake in further:
"Well then obviously you're not using the oils right, or not using the correct ones."
"You need to use X brand of oils instead of Y brand. X brand is far superior."
"You haven't tried Paleo long enough."
"You need to try the GAPS diet and stick to it until you're healed."
"You or your family must have committed a horrible sin for you to be so sick."
"You should be doing the Paleo Auto-Immune Protocol."
"Whole 30 will cure you if you stick to it long enough."
"If you're not eating 100% organic, how can you expect to feel well?"
"I heard tart cherry juice and apple cider vinegar will cure arthritis."
Please understand, some individuals have success using oils (no matter what brand), the diets mentioned above, and I fully support eating organic foods. My point is, just because something specific has worked for you, doesn't mean it will work the same for the next person, or heal their diseases. Removing allergens from my diet and eating non-processed, whole foods gave me the ability to function for several years. And I truly believe my health would be worse off today had I not changed my eating habits. Essential oils and some of the supplements also helped. So why the recent change? I don't know. Maybe it's just the disease progressing? My current stress level? Being busier than normal? All of the above? My guess is as good as yours. I just know that I'm reaching my wits end and I'm feeling like I'm running out of natural options. It's frustrating.
What about you? Have you been in a similar situation?
"Don't make me adult today. Please don't make me adult."
~Author Unknown
xoxo,
Megan
UPDATED- To read an update on this story, please see Part 2: When a Diet Doesn't Heal Chronic Illness.
This post is linked to Fat Tuesday.