If you are new to this series, make sure you check out part 1 and part 2 of "Things I feed my (gluten free & whole food) kids!
Breakfast/Snacks:
Grapes & Strawberries-
It isn't very often we get to enjoy fresh strawberries (or grapes) for that matter around here. They are generally too expensive, but thankfully, I was able to get both of these for a good price. The girls were happy.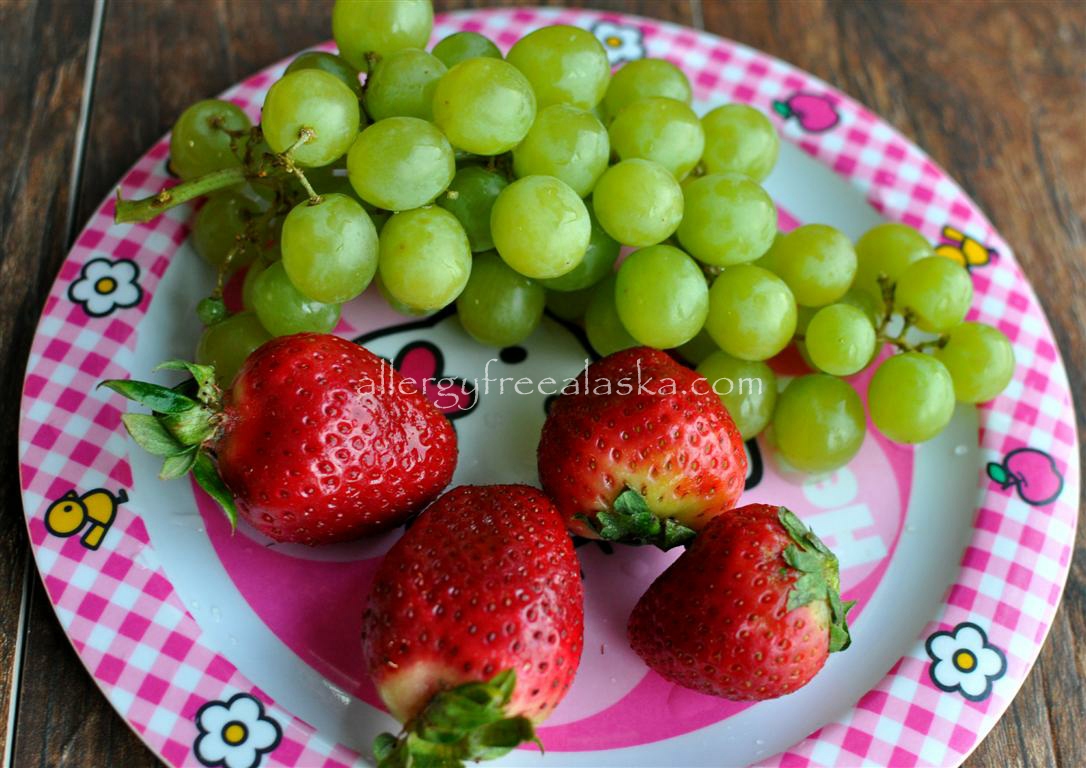 "Instant" Oatmeal-
Oatmeal is the perfect breakfast on cold winter mornings! I buy the Bob's Red Mill gluten free quick cooking oats and make my own "instant" oatmeal for the girls.
For Kylie (age 7) , I combine 1/3 cup of oats with 1 tablespoon palm sugar, 1/4 teaspoon pumpkin pie spice, and about 2/3 cup boiling water. Let it sit a couple minutes, stir, and add more liquid if necessary.
For Abbi (age 4), I combine 1/4 cup of oats with 2 teaspoons palm sugar, 1/8 teaspoon pumpkin pie spice, and about 1/2 cup boiling water. Let it sit a couple minutes, stir, and add more liquid if necessary.
The oatmeal can be topped with nuts, fruit (fresh or dried), seeds, and/or maple syrup.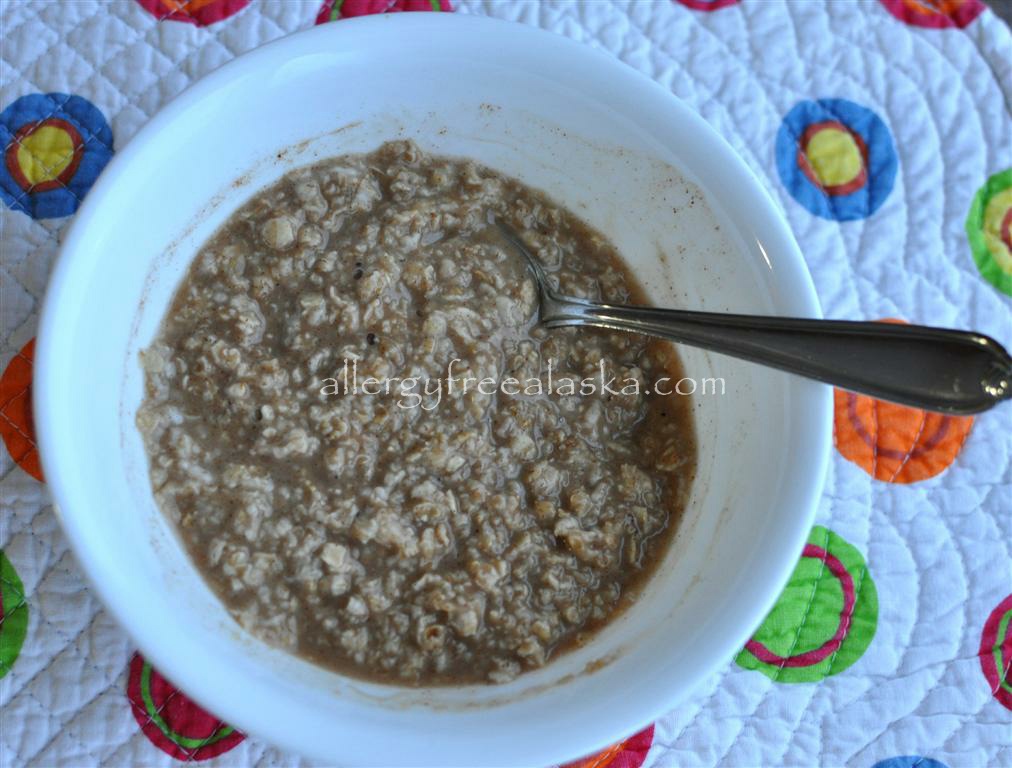 Muffins-
I make muffins 1-2 times a week. They are perfect for on-the-go breakfasts or snacks, generally store well in the freezer, and please not just the girls, but my husband too.
Try this recipe for Apple Cinnamon Muffins. They are gluten, dairy, egg, soy, and refined sugar free!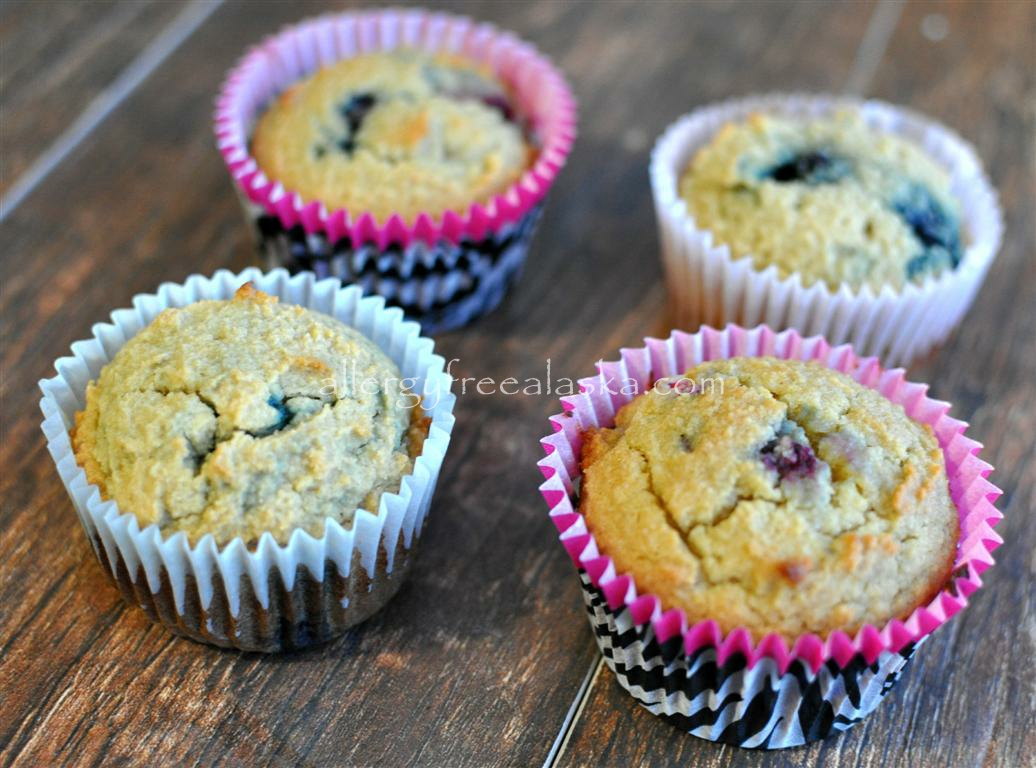 Granola Bars-
Granola bars are another staple food in our house. They are great for breakfast or snacks, and you can customize them to your families' tastes (chocolate chips are a must have in our house).
This recipe for No Bake Rice Crispy Treat Bars is a family favorite.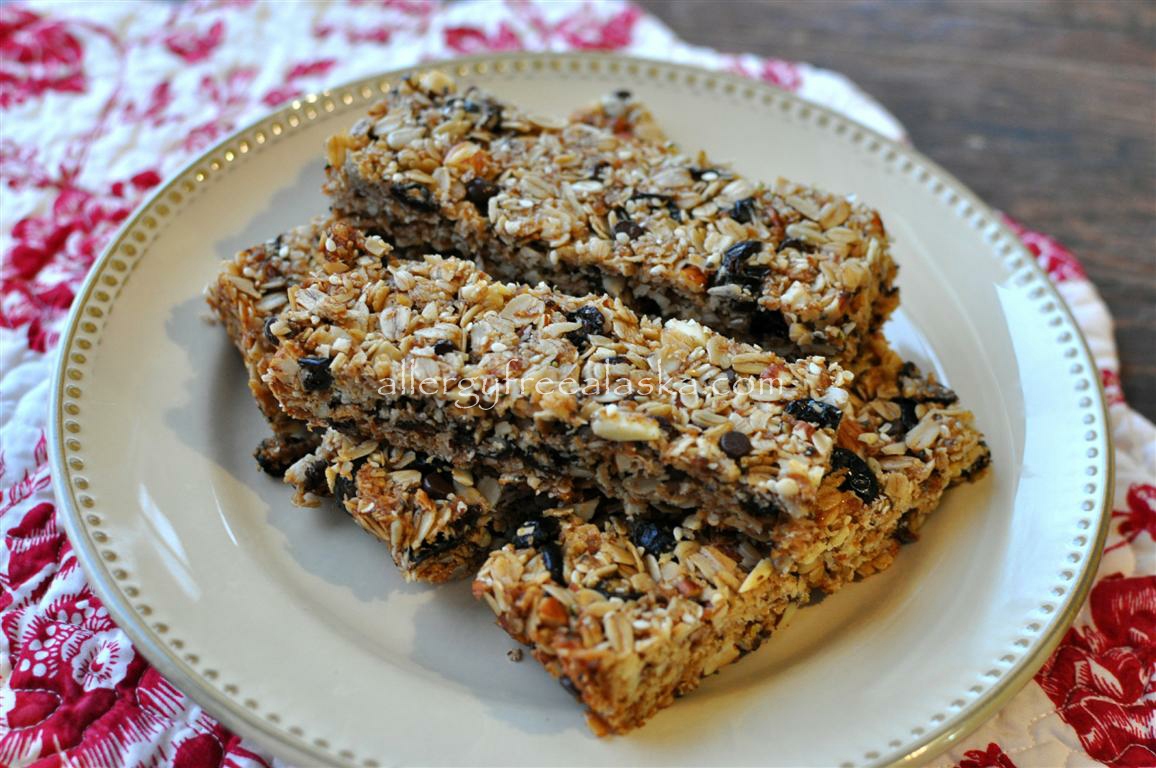 Chocolate-
Chocolate isn't something I give the girls on a regular basis, but it is nice to keep some on hand for them to have as a treat from time to time. The Taza Mexican chocolate is gluten, dairy, and soy free. I buy the Mexican chocolate disks (they come in different flavors) locally at Allen & Peterson, Non Essentials or Modern Dwellers. You can also buy it online from Amazon, or directly from the Taza website (it looks like they have quite a variety of bars to choose from on their site).
You can also make your own customized gluten, dairy and soy free chocolates using my Quick & Easy 2-Ingredient Chocolates recipe.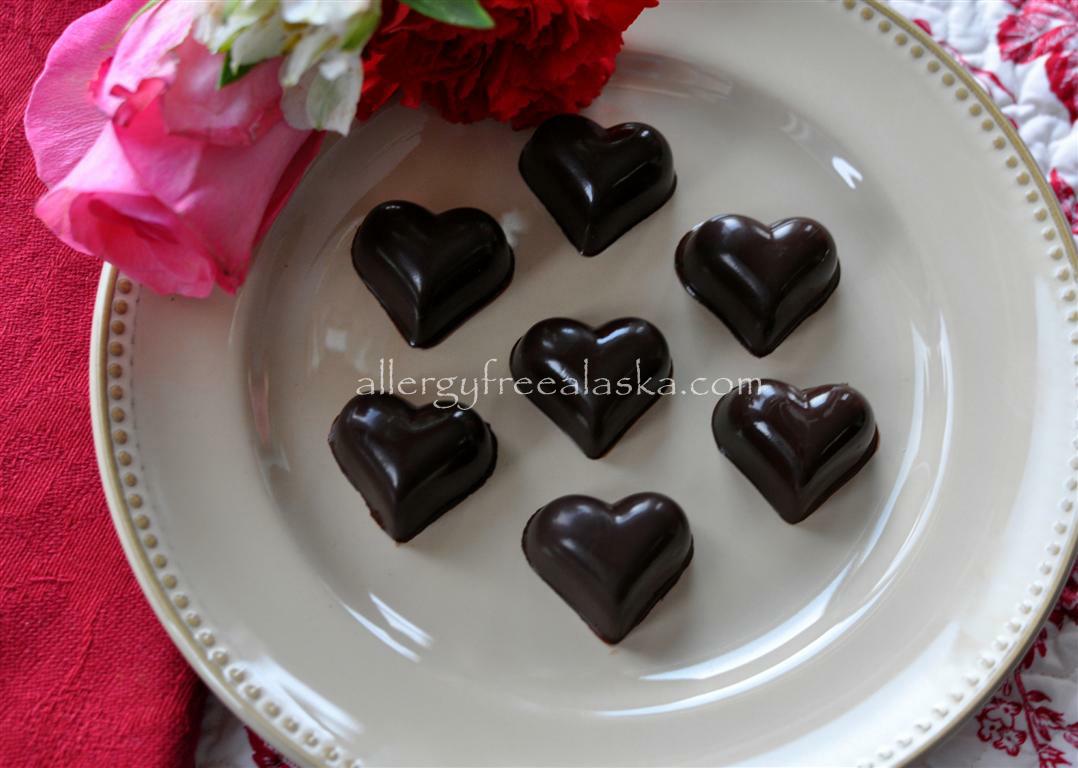 Lunch:
Romaine with leftover Greek style salad, leftover steak pieces, and steak dipping sauce-
The girls aren't huge steak lovers, but they are guaranteed to eat every single last piece if I make them Mom Ancheta's steak dipping sauce to go along with it.
Mom Ancheta's steak sauce is the easiest thing to make, combine equal parts of apple cider vinegar and Bragg's Liquid Aminos (or wheat free tamari). Stir in ground black pepper, a sprinkle of garlic powder, and sliced onions. Dip away, my friend, dip away!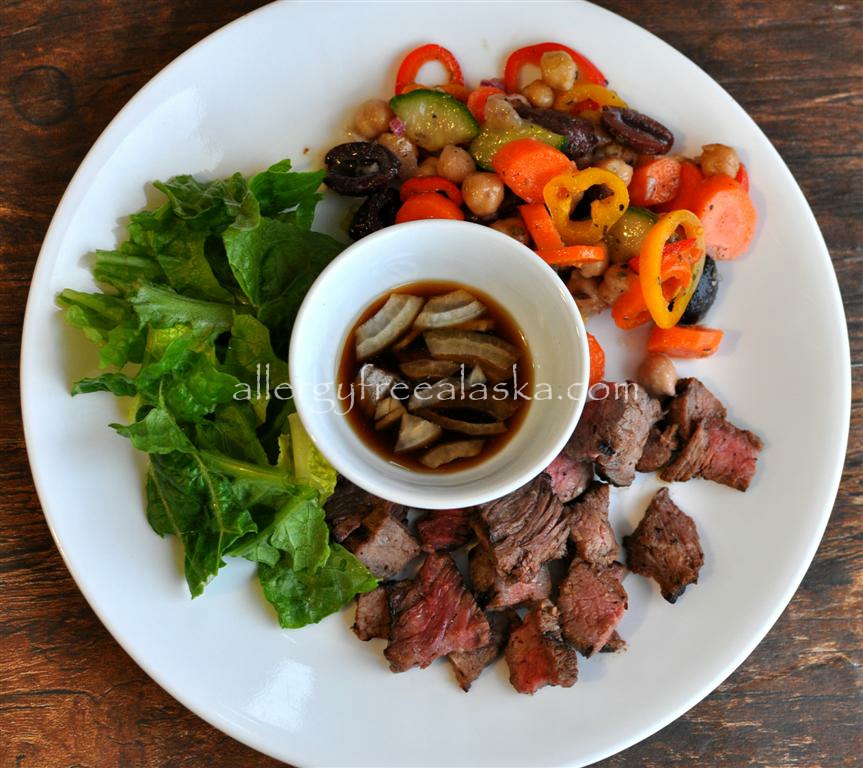 Grain Free Sushi for Kids (fully cooked):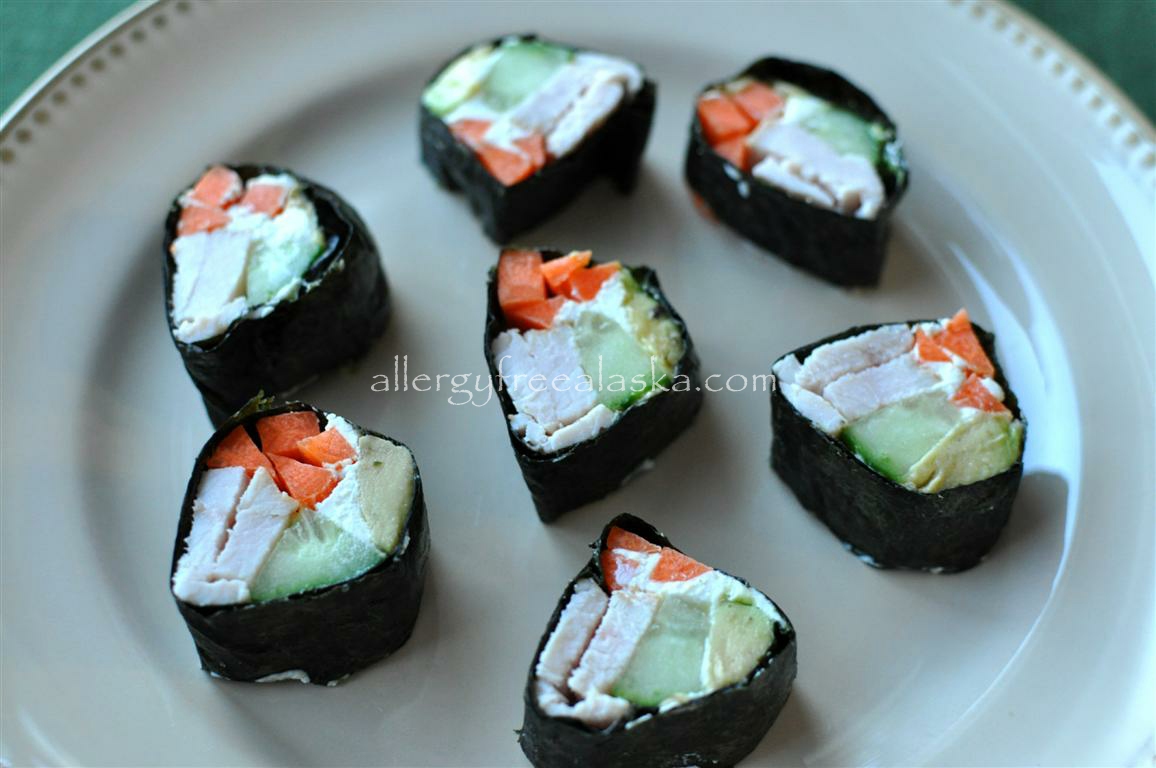 Hormel Naturals turkey lunch meat, salad with balsamic vinegar, grapes, brown rice snaps, and goat cheese-
When I first eliminated corn from my diet years ago, the only cracker I could find without corn ingredients were Edward & Son's Brown Rice Snaps. They are relatively expensive (nearly $5 a package here locally), so I purchase them when we can afford them in bulk from Amazon (I ration them out to the girls sparingly, otherwise they would eat an entire package in one sitting).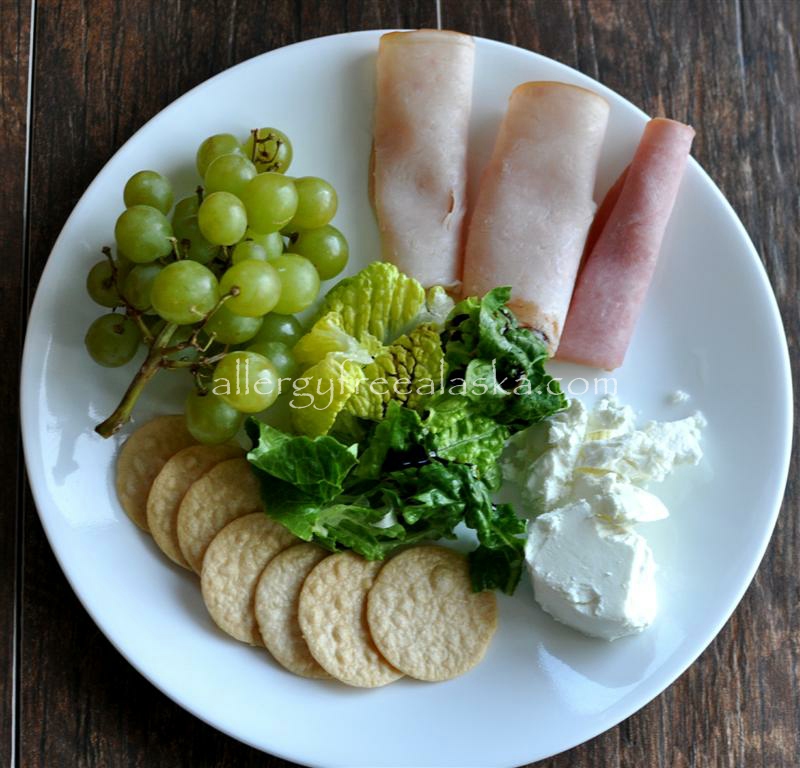 Tinkyada spaghetti noodles with leftover homemade meaty marinara and salad with balsamic dressing-
I will post the meaty marina sauce recipe soon (it's killer)!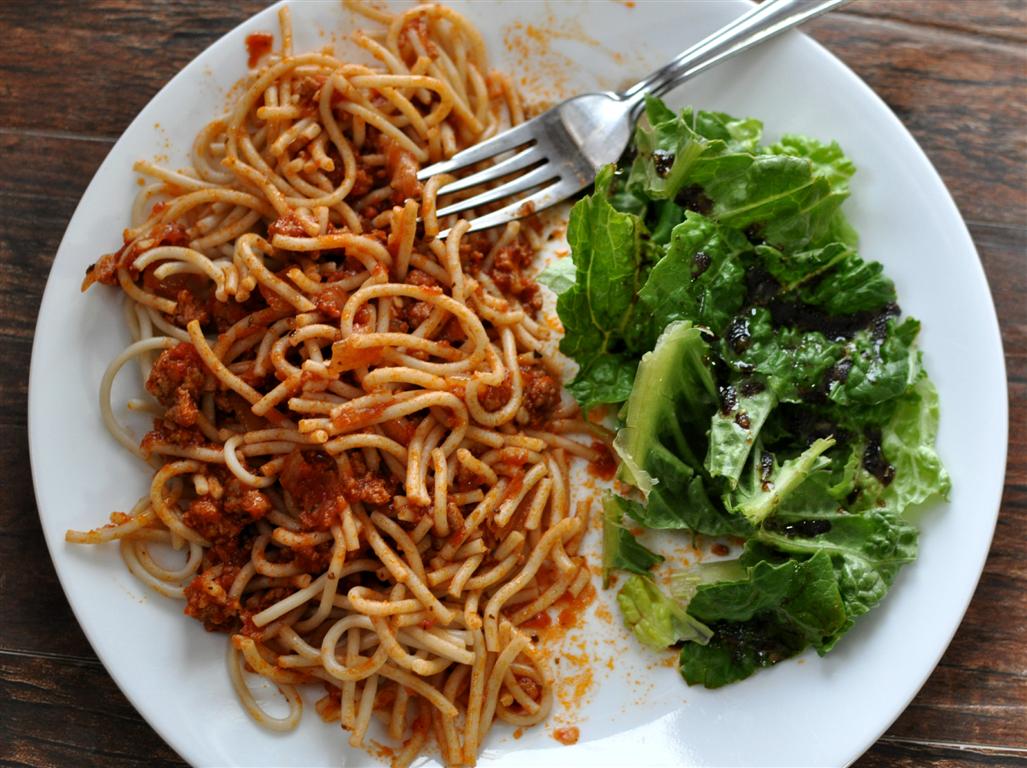 Hormel Natural's ham lunch meat, carrot sticks, apple slices, and almonds-
This was Abbi's (age 4) plate. I can't remember what was for dinner the night before, but I remember there wasn't enough leftover for lunch (and the fridge was running on empty). This was what we had, so this was lunch!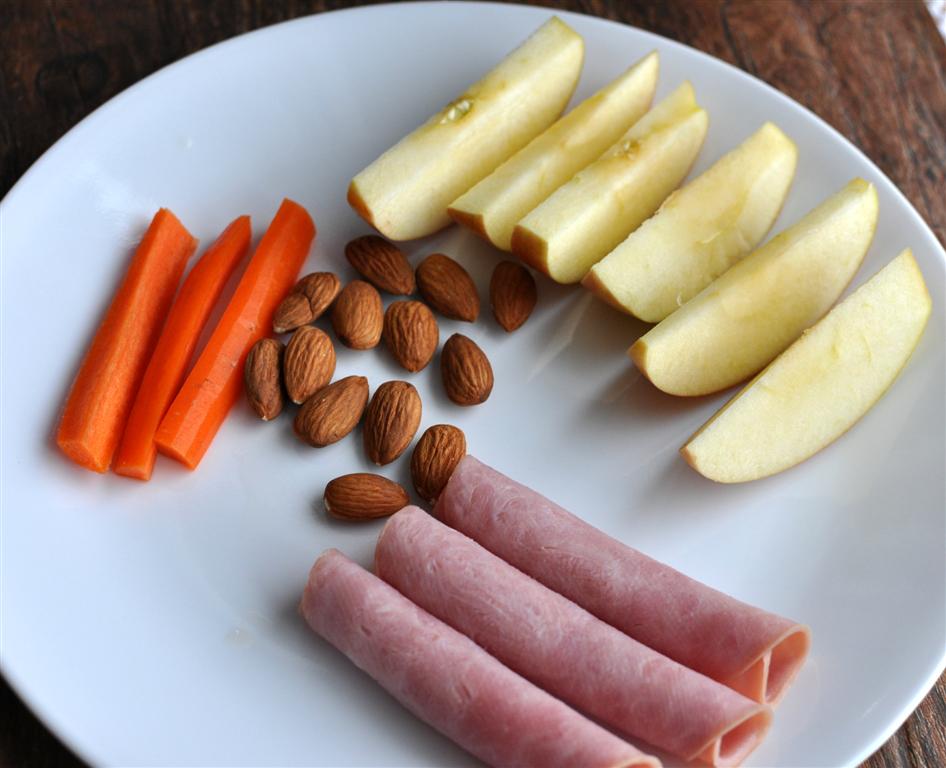 Leftover pork chop in bone broth with peas and quinoa-
What do you do when you have to feed 3 people with 1 leftover pork chop? Make soup. And the quinoa is in there, it's just hiding on the bottom.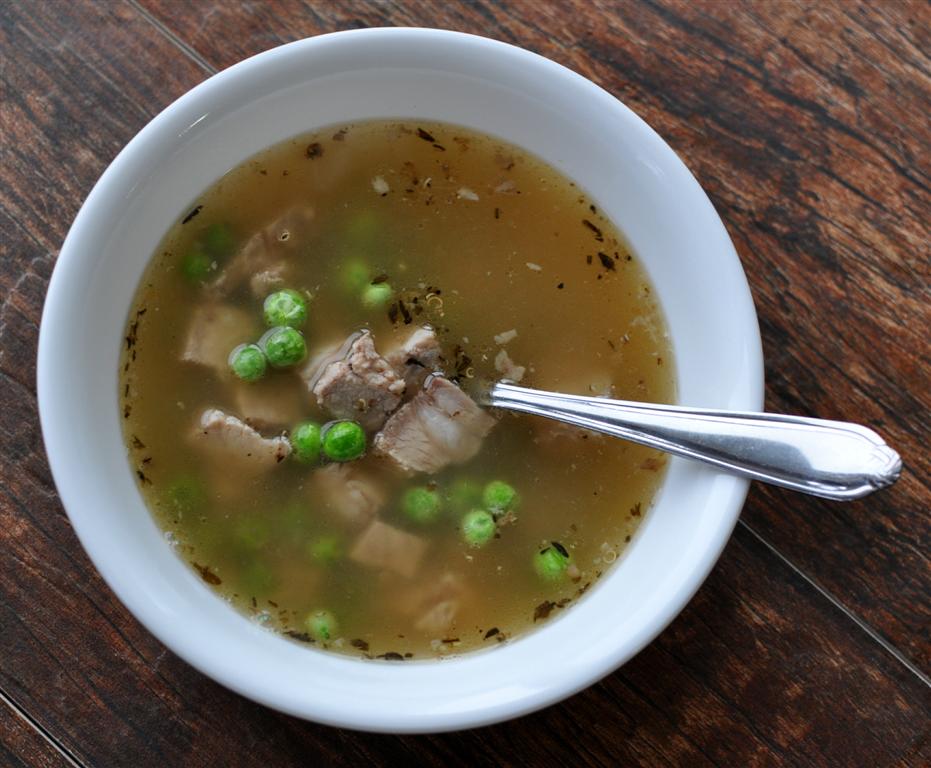 Dinner-
Beef stir fry with broccoli, water chestnuts, and green onion with a sprouted quinoa rice blend-
I sometimes cook with soy, and sometimes I don't. This particular dish I made without wheat free soy sauce. As a soy sauce alternative, I used a combination of sea salt, garlic, and a tiny bit of molasses. We didn't even notice the soy sauce was missing.
Fyi, I don't care for coconut aminos (ick). They have a completely different flavor than soy sauce; they are sweeter and much less salty.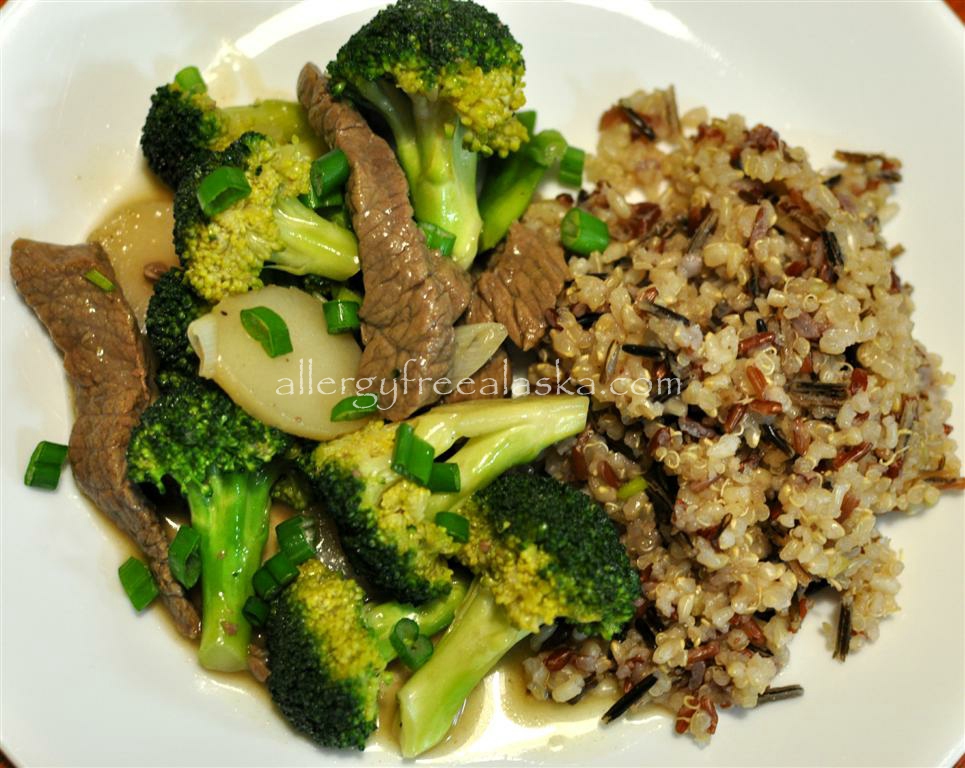 Baked chicken, sweet potato with coconut oil, and green beans with ghee-
Meaty marinara (recipe coming soon) with Tinkyada spaghetti noodles and salad-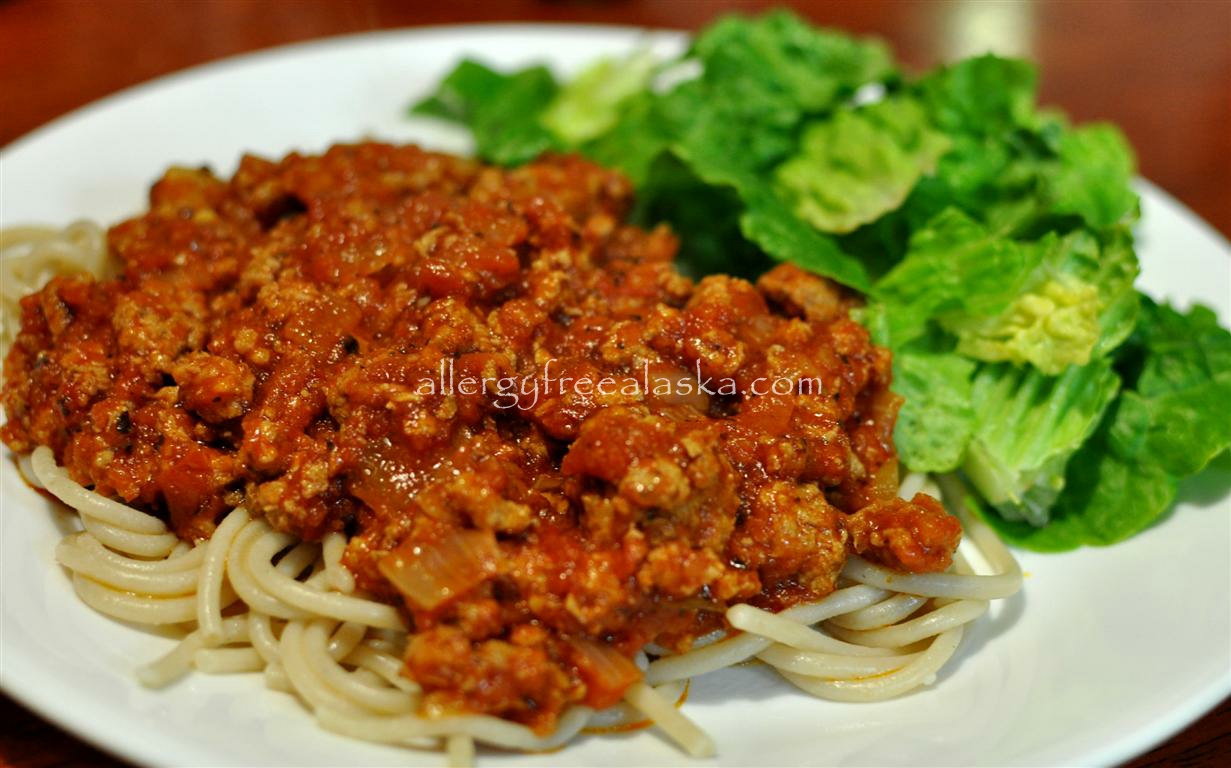 GF Chicken sausages, skillet potatoes fried in ghee & olive oil, and a veggie saute with mushrooms, onions, purple cabbage, and sweet peppers-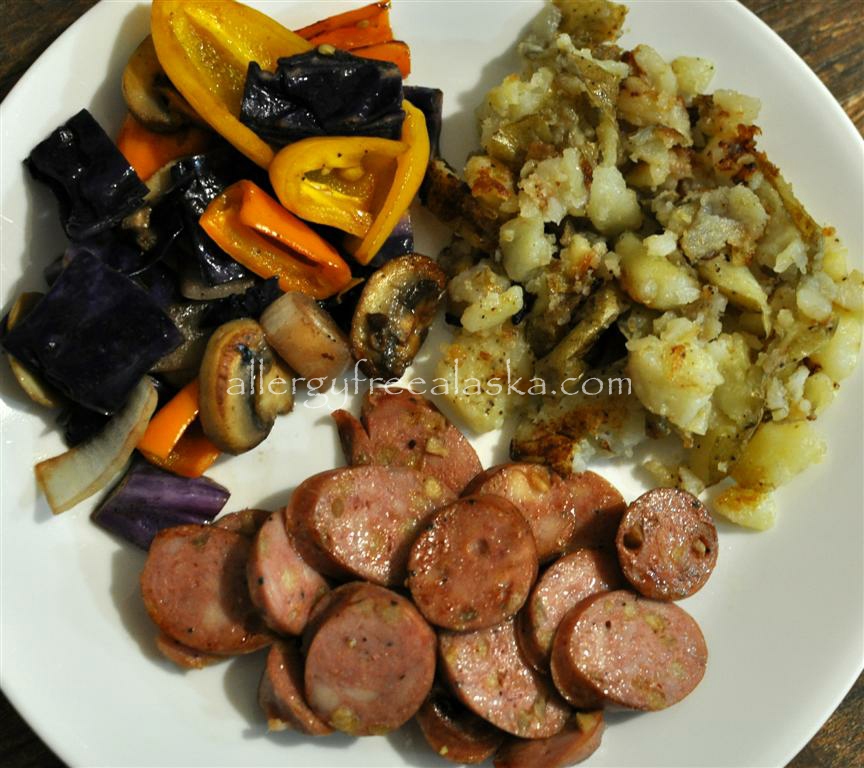 Stuffed chicken breasts wrapped in bacon (stuffed with spinach, goat cheese, and garlic) & peas-
The chicken breasts were an experimental recipe. Everyone liked them; I will definitely make them again… sometime.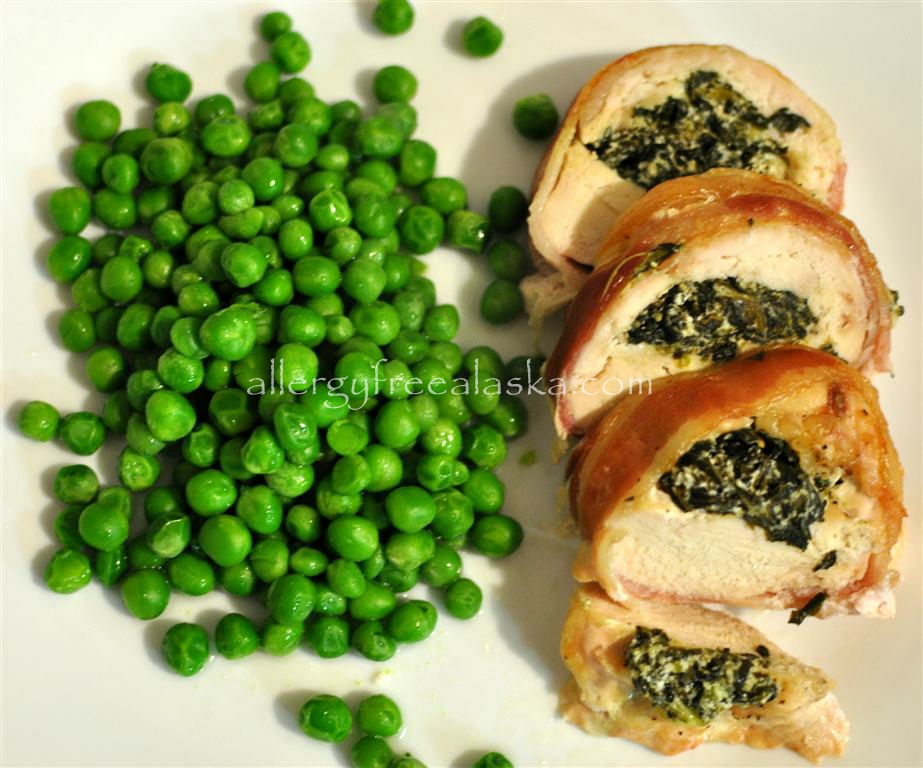 Hamburgers with Daiya cheese, bacon, avocado, and Organicville Ketchup with a side of rosemary sweet potato wedges-
These gluten & dairy free hambuger buns will rock your socks!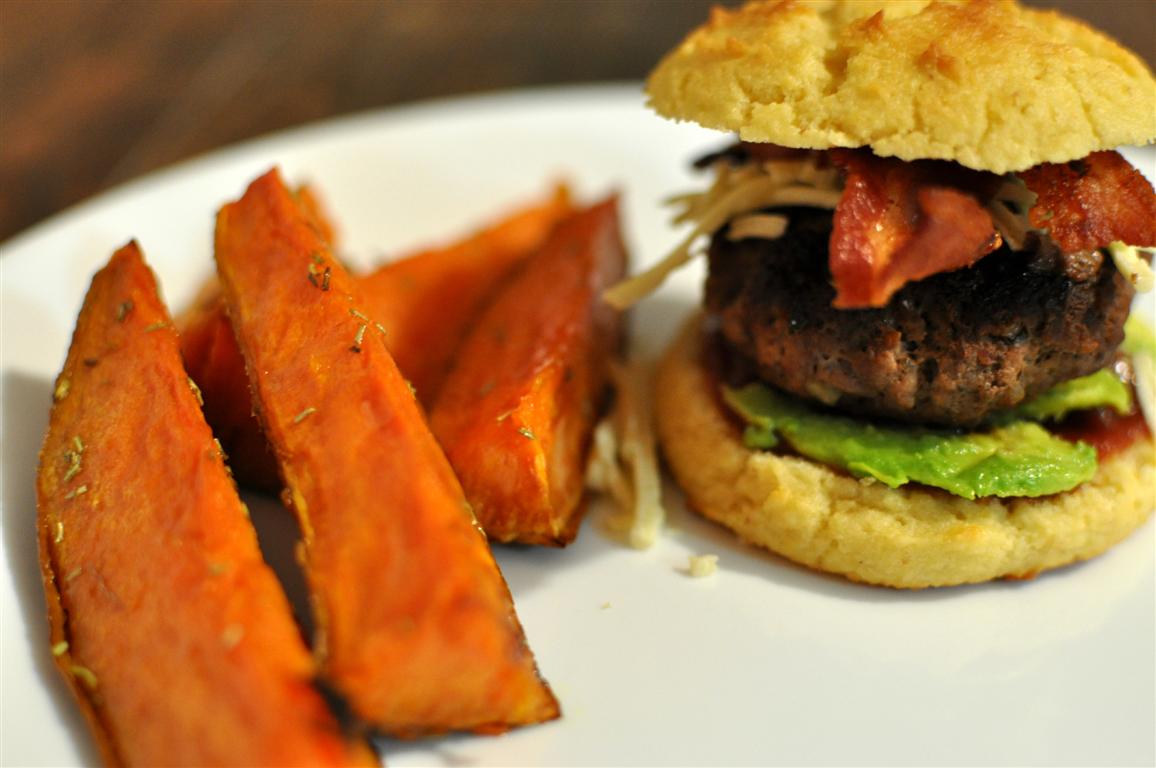 Chicken Sate with peanut dipping sauce, carrot sticks & cucumber slices-
Another experimental dinner; it was a hit. The peanut dipping sauce still needs some work though.
In the meantime, if you need a chicken sate recipe, this recipe from the Food Network got great reviews (I haven't tried it myself), just make sure you use GF soy sauce and fish sauce.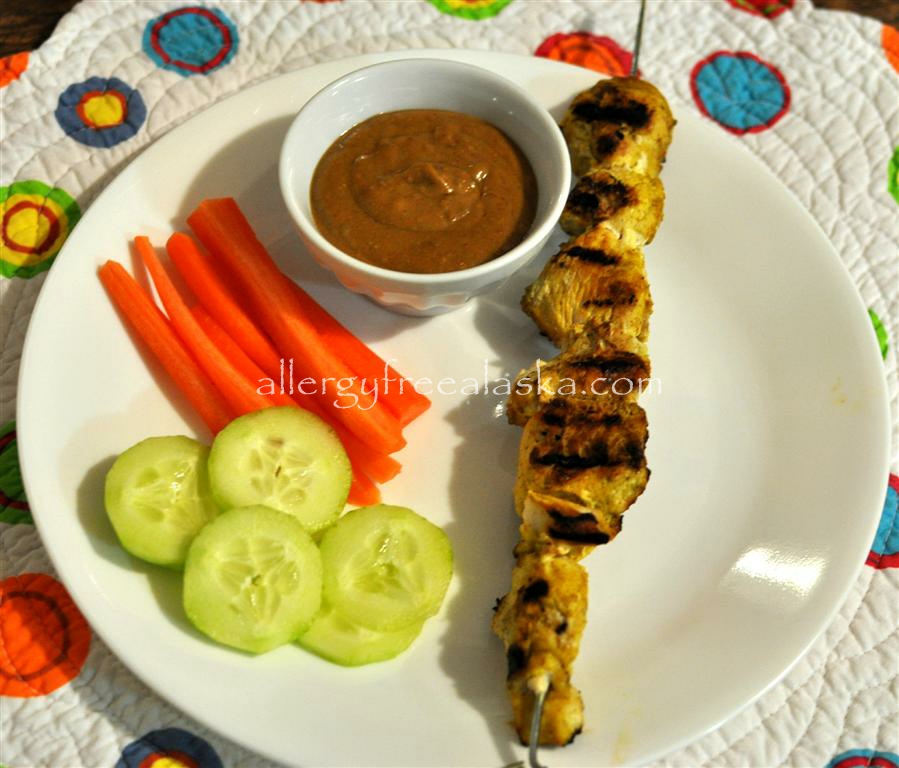 Did this post help you? What did you find helpful?
xo,
Megan