Has another week gone by already? And is it really February?! I don't know about you, but I keep dreaming of flip flops and sunshine! Summer can't come soon enough!
For those of you who missed last week's "Things I feed my (gluten free & whole foods) kids, " you can view it HERE.
I have to say a big huge thank you to my girls this week. They never once complained when I said, "Wait! Don't take a bite yet; I have to take a picture!" They just giggled and waited patiently; I am a lucky momma!
Breakfast:
Granola-
I try to keep the pantry stocked with homemade granola (*try* is the key word here). The girls enjoy eating granola plain or with almond milk. Depending on what's available in our kitchen, sometimes we eat it with fruit and/or dairy free yogurt.
This recipe is for Chai Spiced Honey Granola, a recipe that I'm saving for my cookbook. You're going to love it!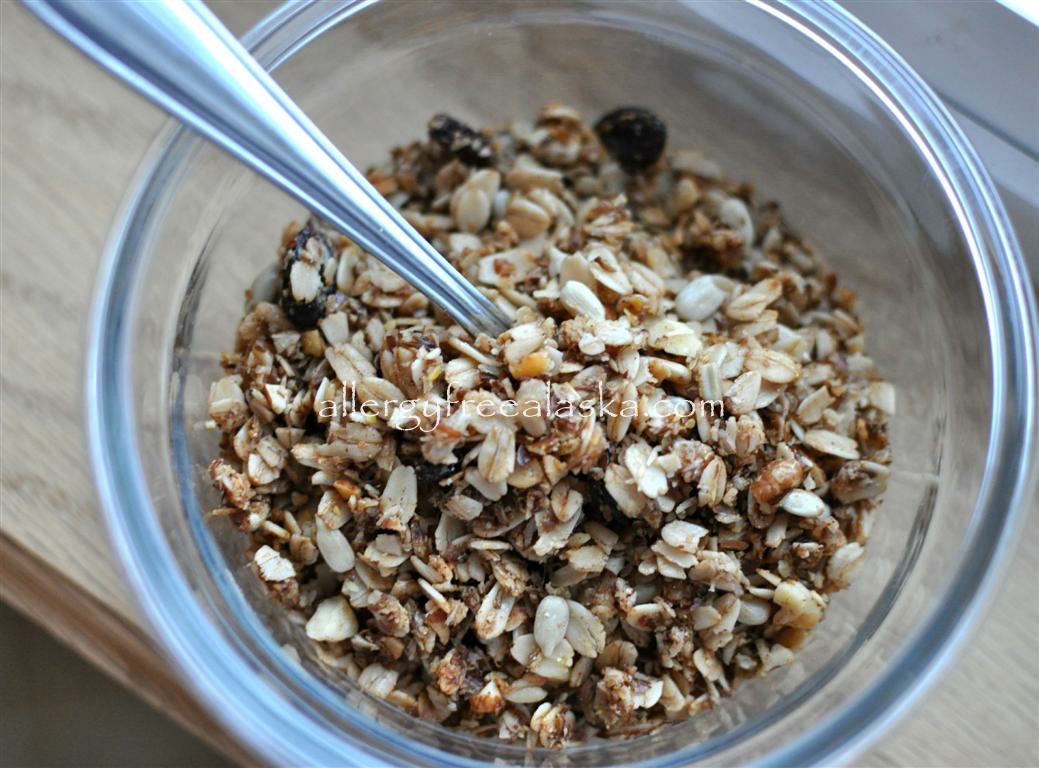 A fried organic free-range egg & a leftover baked sweet potatoes topped with ghee-
I am so thankful that no one in our house has an egg allergy. Eggs are my go-to food for quick protein, and they are simple and easy to prepare.
In a perfect world, our family would eat 100% organic all the time; unfortunately, that is not the case. We are a one income family, so I have to pick and choose what we can afford to buy organic for the week. Organic free-range eggs are the one item I never compromise on; I always buy organic free-range eggs. The girls prefer their eggs "gooey."  I am constantly dipping my fingers into various doughs and batters to taste and get a sense of what flavors and spices I need to adjust, all while raw eggs are present.
Conventionally-raised eggs are far more likely to be contaminated with disease-causing bacteria such as salmonella.
~Dr. Mercola
I have enough health issues, I don't need to add salmonella to the list too!
If you are still on the fence about buying organic free-range eggs, check out this article discussing The Health Benefits of Organic Eggs.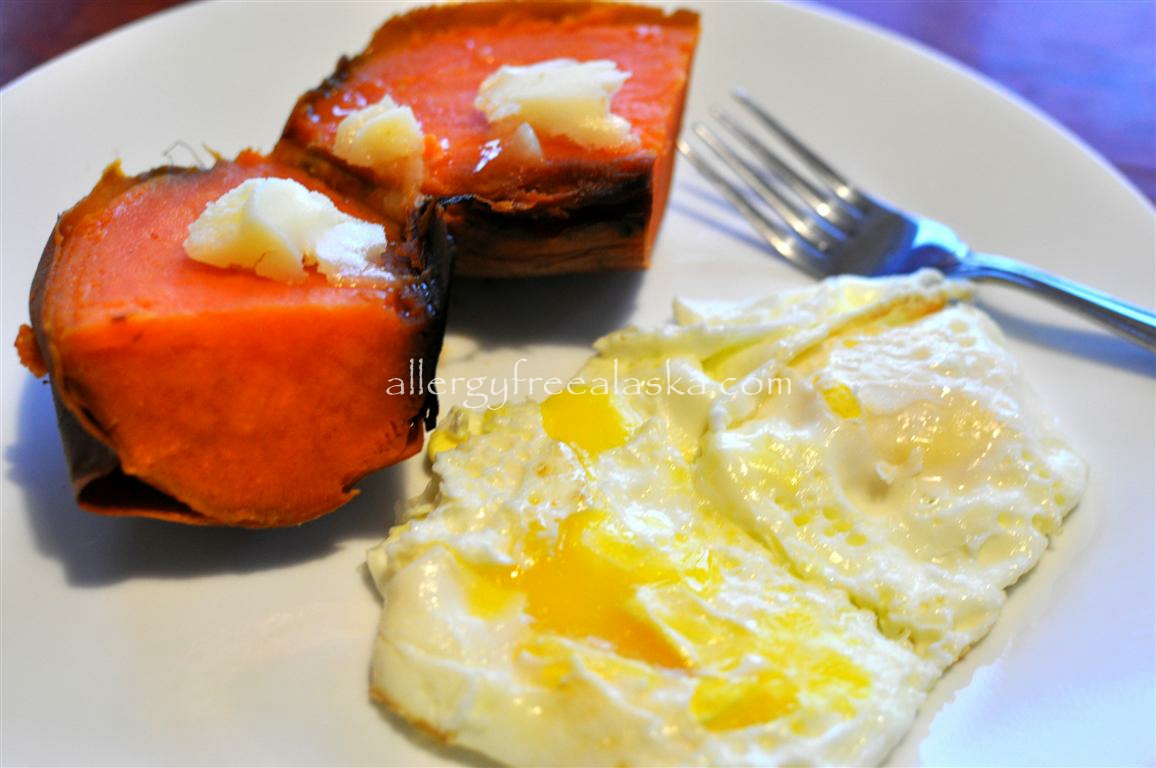 Grain free Dutch baby pancakes topped with frozen raspberries & drizzled with maple syrup-
The girls were over the moon for these. I don't have the grain free recipe posted (it was just something I threw together at the last minute), but I have a gluten and dairy free recipe HERE, which the girls are just as crazy about!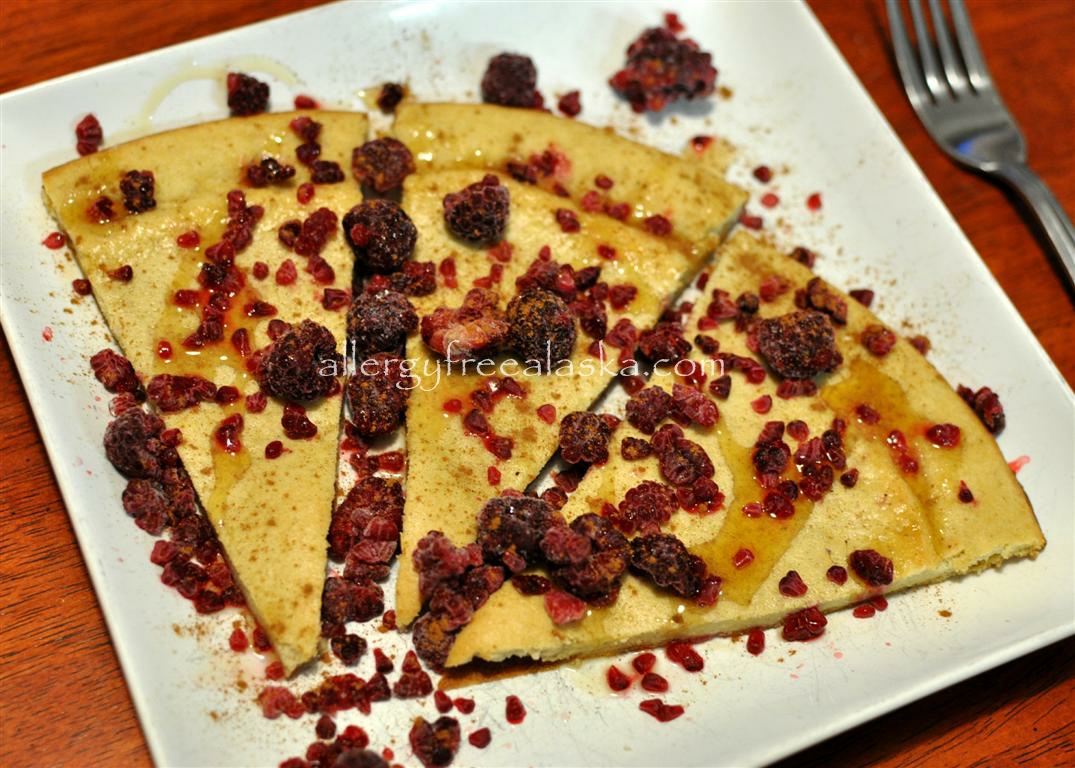 Enjoy Life Original Crunchy Flax Cereal–
This is another cereal we like. Generally the girls eat it plain, without almond milk, but I do allow them a tiny sprinkle of palm sugar (like 1/2 teaspoon). This is the only cereal they are allowed to "sprinkle sugar on;" I generally wouldn't allow it, but this cereal is only sweetened with honey and raisin juice concentrate (way to go, Enjoy Life!!). I buy it in bulk from Amazon.com.
Ingredients
Whole Sorghum Flour; Ground Flax Seed; Honey; Raisin Juice Concentrate; Salt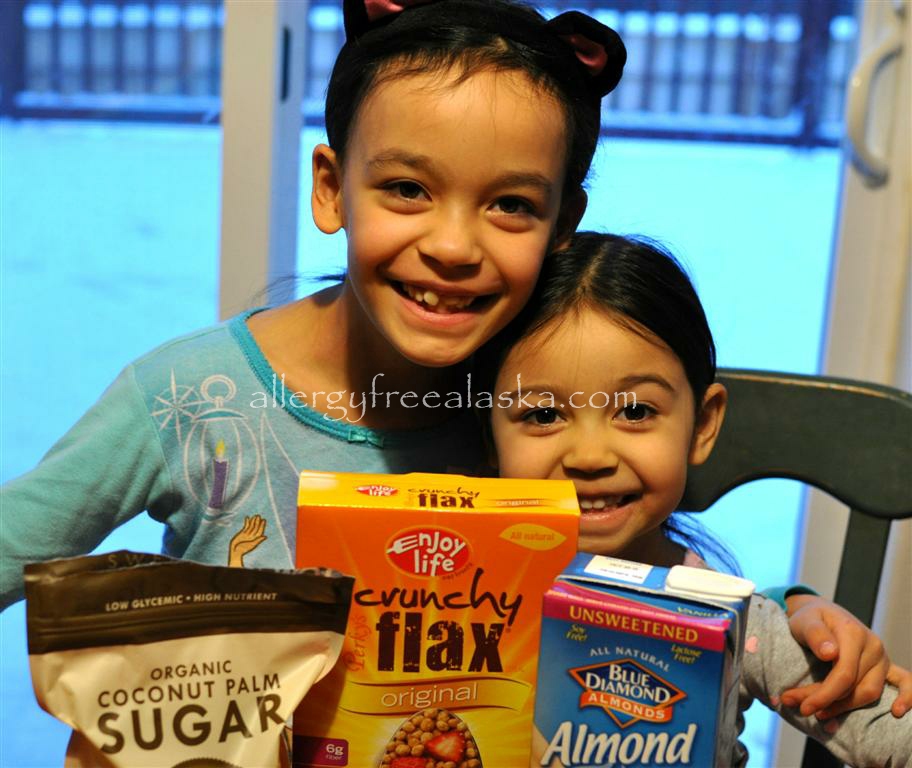 Green smoothies made from almond milk, spinach, a banana & frozen mango chunks-
Green smoothies are an excellent way to get immediate nutrients into children (and people of all ages). When Abbi was a toddler (2-3 years), green smoothies were the ONLY way I could get her to eat any sort of vegetables (and believe me I tried soooooooo hard). When you blend spinach with other fruit, the fruit masks the flavor of the spinach, so unless your child sees you add spinach to the smoothie, they will never know it's in there (although they may wonder why their smoothie is green).
If you need a recipe for a green smoothie, try this Green Mango Yogurt Smoothie or this Green Spinach Smoothie.
You can also use kale or chard (or any other greens) in smoothies, but the store by my house doesn't carry either, so we mostly stick with spinach.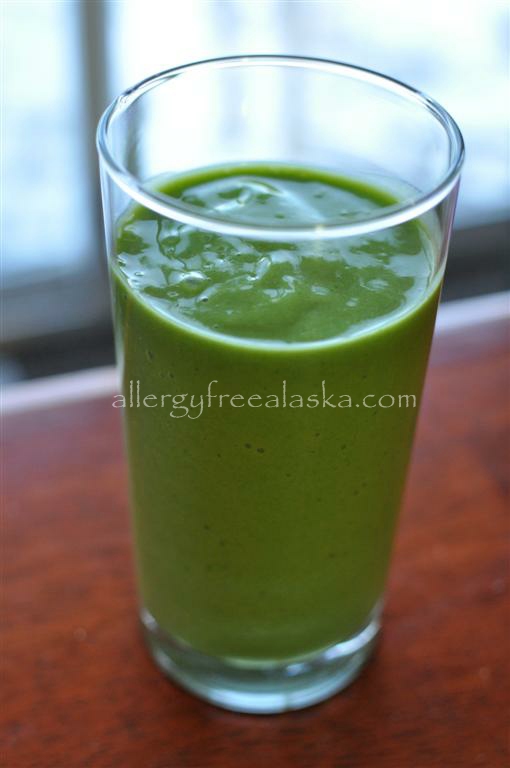 Lunch:
A chicken sandwich made from leftover chicken, homemade mayo, & lettuce on a grain free bun with carrot sticks, cucumber & balsamic vinegar (for dipping)-
You might question the balsamic vinegar, but it really is just plain balsamic vinegar pictured in the little bowl below. The girls like it because it's tangy and slightly sweet. When I don't have time to throw together a quick salad dressing or dipping sauce, I always use pure and plain balsamic vinegar!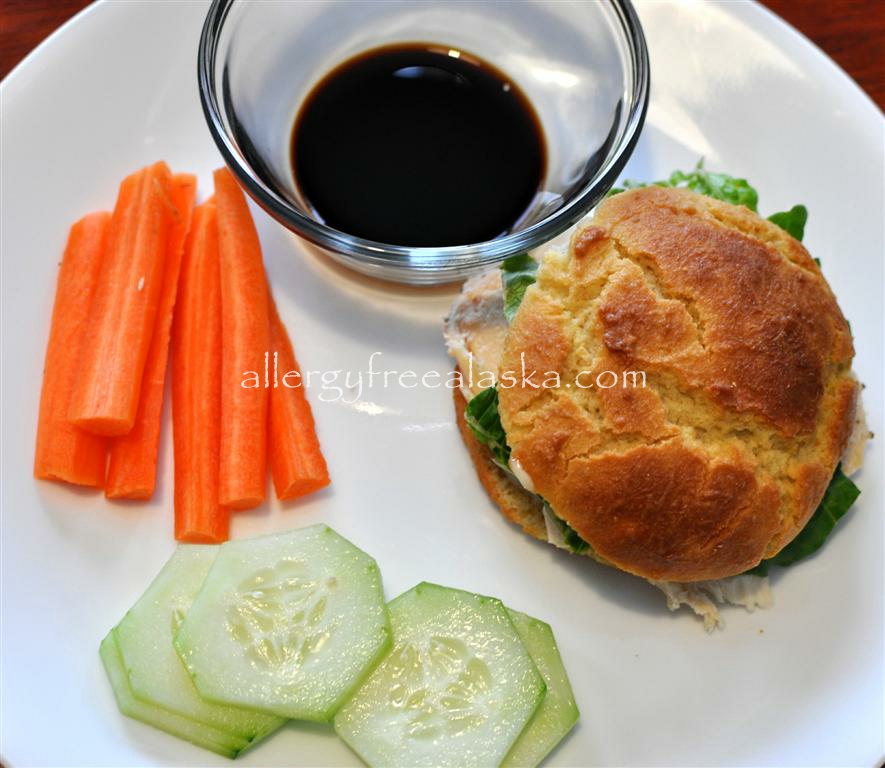 Chicken fried rice/quinoa-
I used a leftover sprouted rice and quinoa blend (there's more information about this blend down in the dinner section). Also in the refried rice/quinoa is garlic, onions, carrots, peas, leftover chicken, eggs and Braggs Liquid Aminos.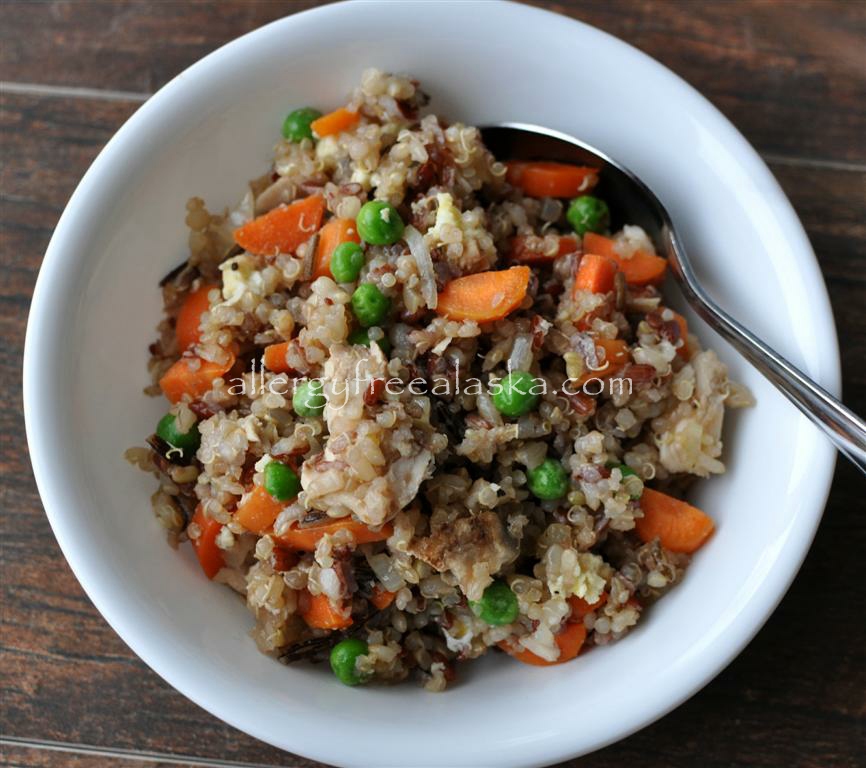 Tinkyada spaghetti noodles with leftover Amy's Kitchen Organic Tomato Basil Pasta Sauce & a green salad-
The Amy's Kitchen Pasta Sauce was what I used last week as a pizza sauce on the girl's mini pizzas. When I was at the store, I couldn't find any pizza sauce that was gluten free with whole food ingredients (and I didn't have time to make my own). I highly recommend this sauce; the girls thought it was great (especially on the pizza)!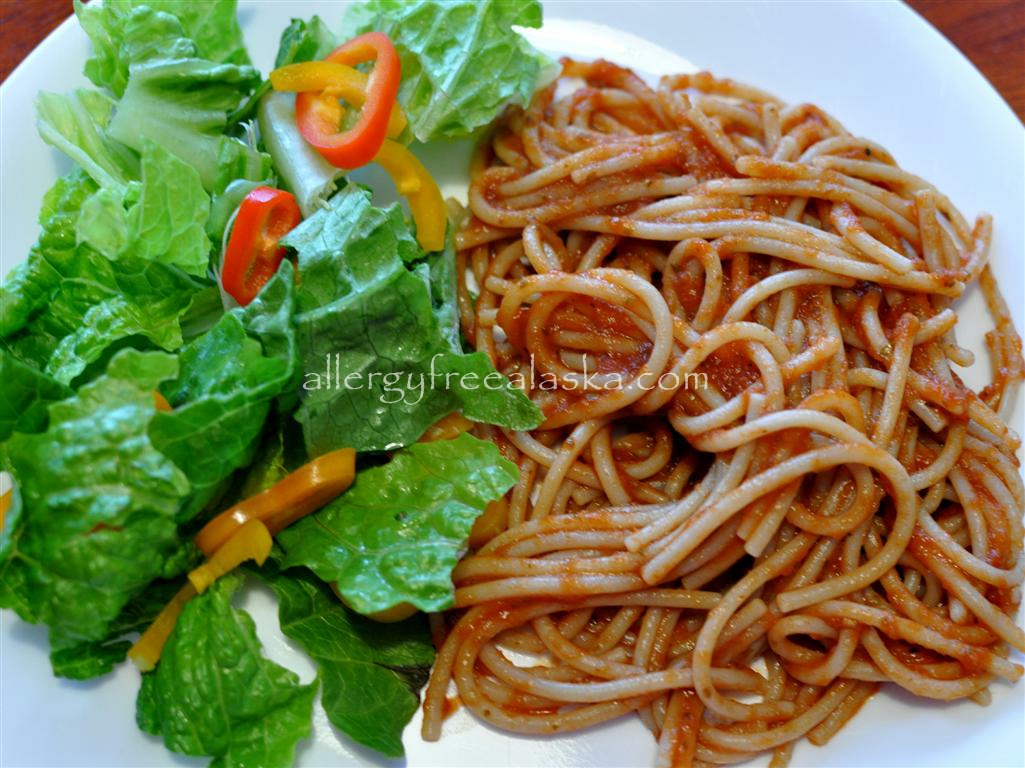 Gluten free chicken apple sausages cooked in a hot skillet with onions, peppers & frozen green beans-
I try to cook enough food at dinner time to have leftovers for lunch the following day, but there are times when there are no leftovers, which is why chicken sausages are great. I keep our fridge stocked with them (when we can afford it).
I slice the sausages up and toss them in a skillet with whatever veggie I have on hand. It is very easy to make a quick meal for a family of 4 with a few chicken sausages and some various veggies.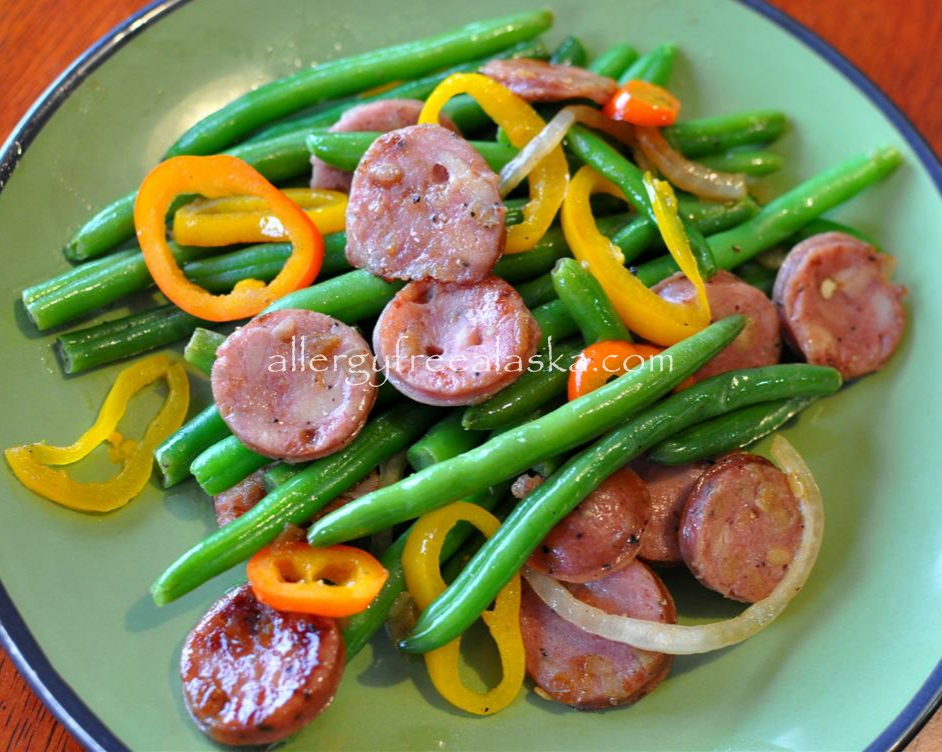 Snack:
Fruit smoothies with almonds, bananas, frozen strawberries & frozen mango chunks-
I always have bananas and frozen strawberries in my kitchen and buy other frozen (and fresh) fruit when we can afford it (so smoothies flavors vary from paycheck to paycheck… lol).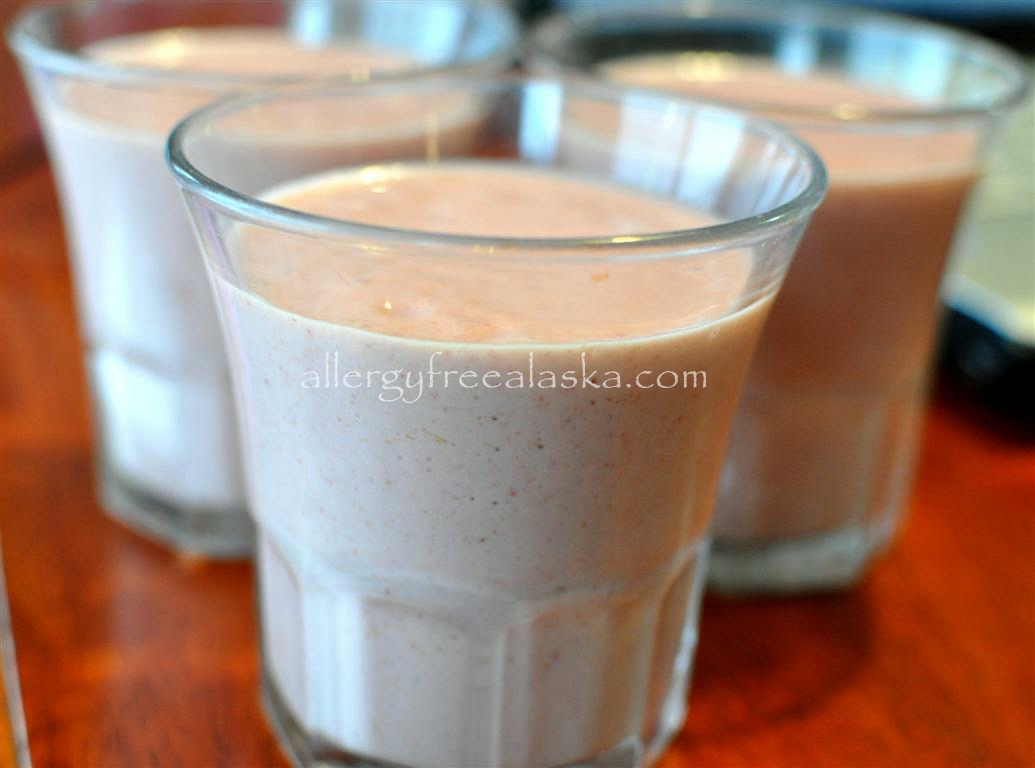 One of the best and easiest snacks ever: orange & apple slices-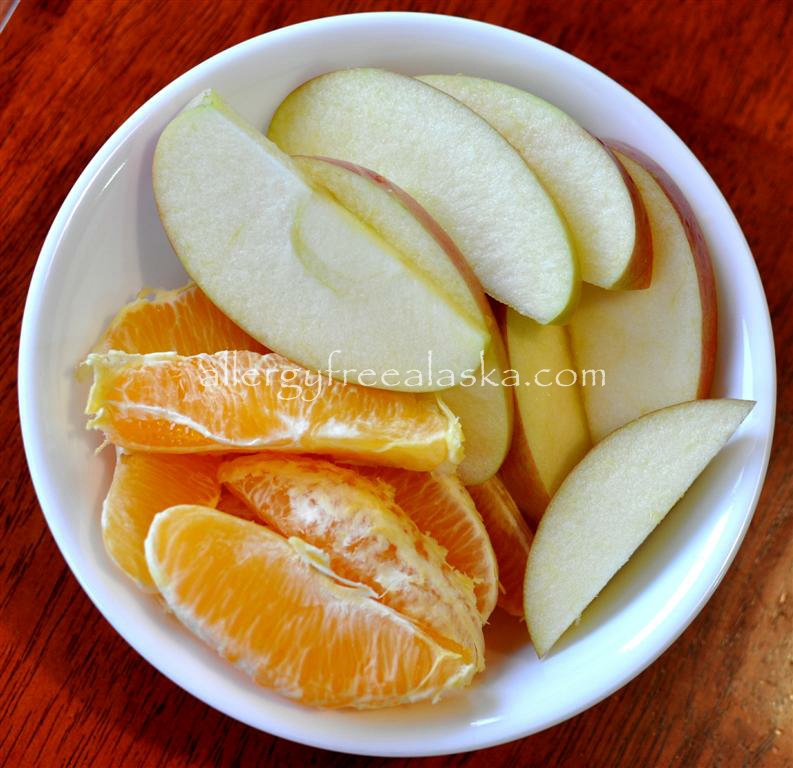 Sugar & Dairy Free Fudgsicles-
These are some of the easiest popsicles you will ever make. The girls think they are getting a special treat, and I'm satisfied knowing they are HEALTHY and sugar free.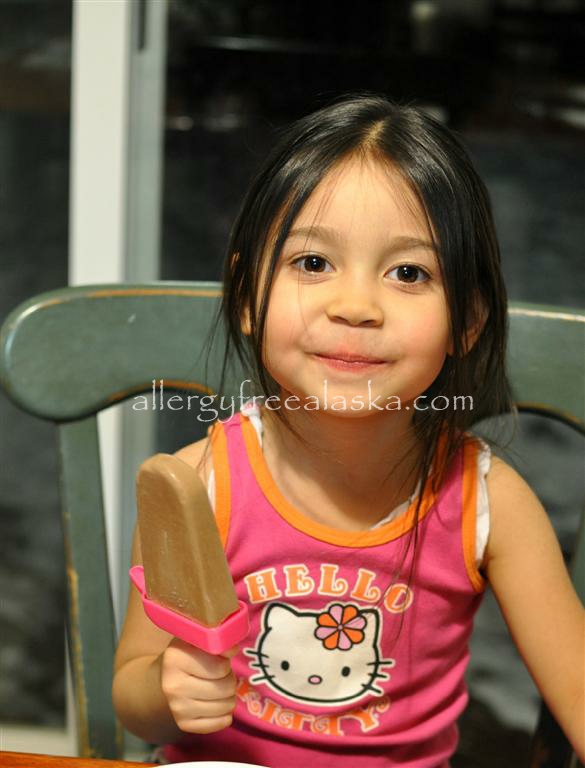 Banana Hemp Bowls-
These are actually wonderful for breakfast or snack, and the girls get over-the-moon excited for them because of the chocolate chips (recipe is coming soon).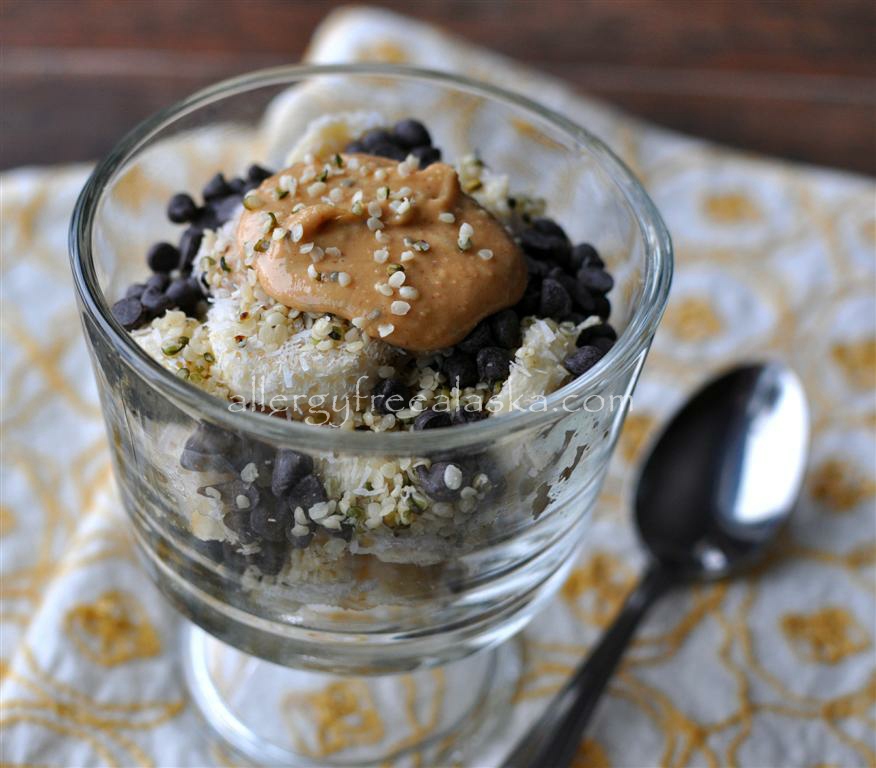 Dairy Free Mint Chocolate Chip Ice Cream-
This is another recipe I'm saving for the cookbook (which, by the way, will have a whole chapter dedicated to dairy free ice cream recipes). My ice cream recipes are simple, healthy, and don't taste like coconut milk! This came out a little too green (I think), but what do you think? Do you like the color of it? Or would you prefer it to be a lighter green color?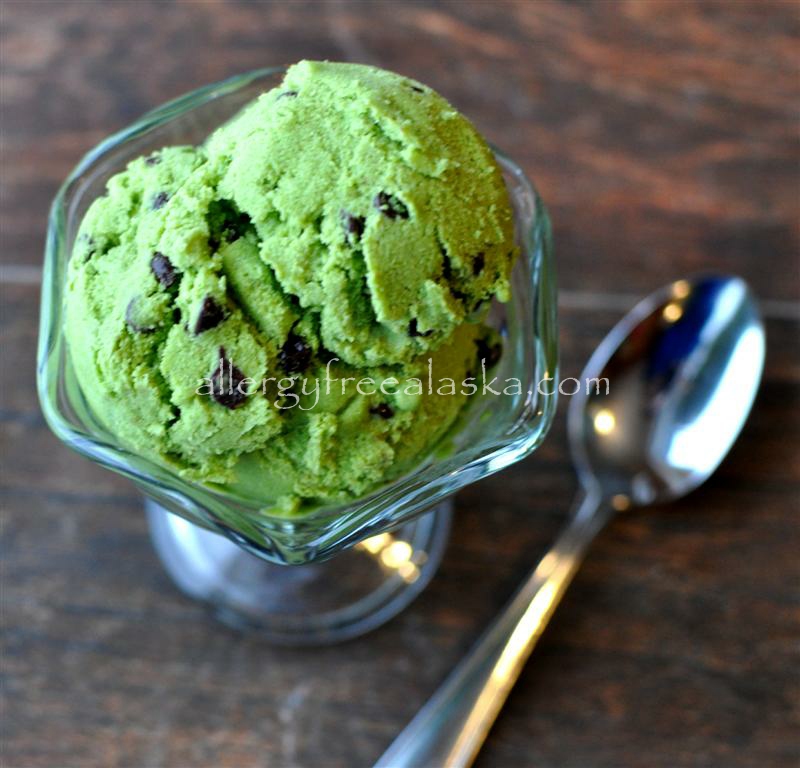 Dinner:
Marinated & baked chicken, baked sweet potatoes with ghee, sauteed kale & frozen peas-
This was Abbi's plate; she doesn't really care for kale, but we made her eat a little bit of it anyways.
Since I know the girls don't like kale, I made a second vegetable, peas, just to make sure they had some "green food" that they enjoy. I put a larger portion of kale on Kylie's plate than Abbi's, and as the girls get bigger I hope kale will become something they are more familiar with and open too.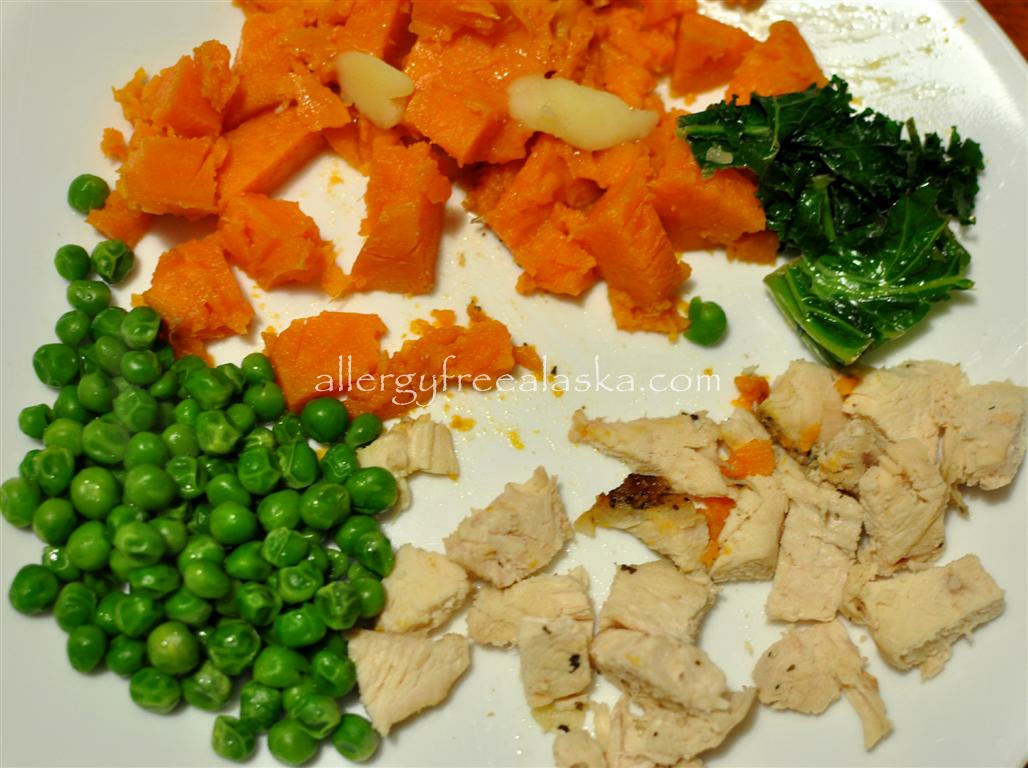 Scrambled eggs with mushroom & green peppers, served with a side of GF/nitrate free bacon-
This was one of those nights that dinner snuck up on me. My hubby called to tell me he was on his way home from work and I realized I hadn't planned anything for dinner. Thank God for eggs, whatever spare veggies are on hand, and bacon in the freezer!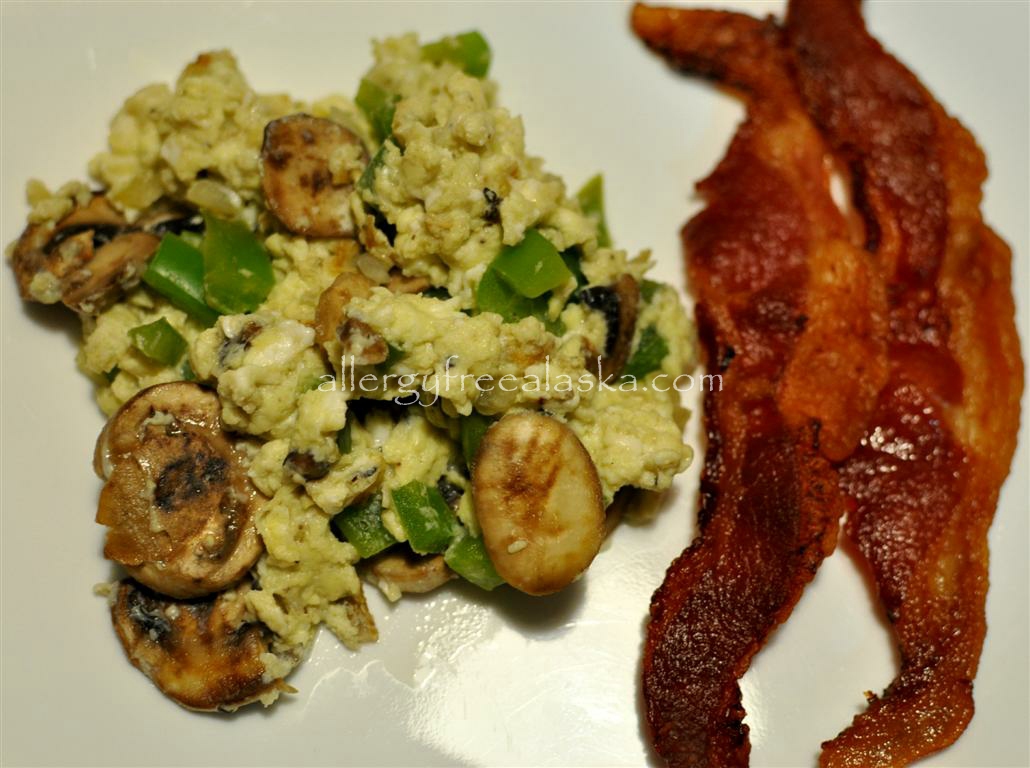 Baked wild caught Alaskan Rex Sole, a salad with a Greek twist & a sprouted rice & quinoa blend-
My dad bought some wild Alaskan Rex Sole directly from a friend/cannery in Kodiak, so fortunately I have some of it in my freezer. Sole is a white flounder type of fish that is very thin, delicate, and light in taste. I actually prefer it fried, but baking it is much easier (and healthier).
This is Kylie's plate. If I made Abbi a plate like this, she would never touch the fish or the salad, because she would be focused on eating the rice/quinoa only. To begin with, I gave Abbi fish and salad (in appropriate portions for a 4 year old) and told her she had to eat salad and fish first before having rice/quinoa. This little "move" on my part has saved us from multiple dinner time tantrums. Abbi ate her salad and fish without a problem and was super excited to receive her rice/quinoa when it was time!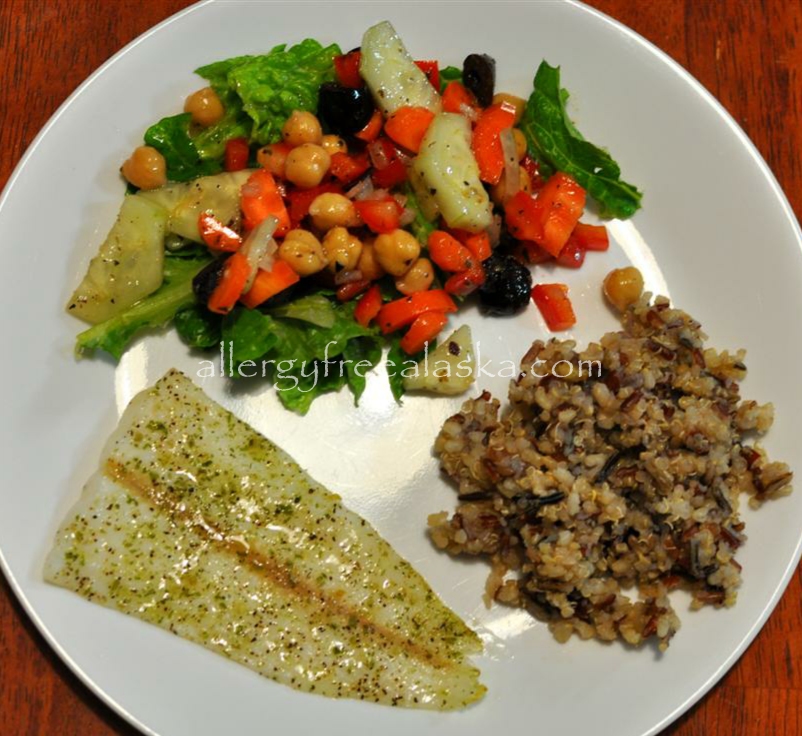 This is the Sprouted Rice and Quinoa Blend I buy from Costco or Three Bears. I like that it's already been sprouted so it's easier to digest (I never plan enough in advance to sprout grains ahead of time). We like this, and I will continue to buy it when able.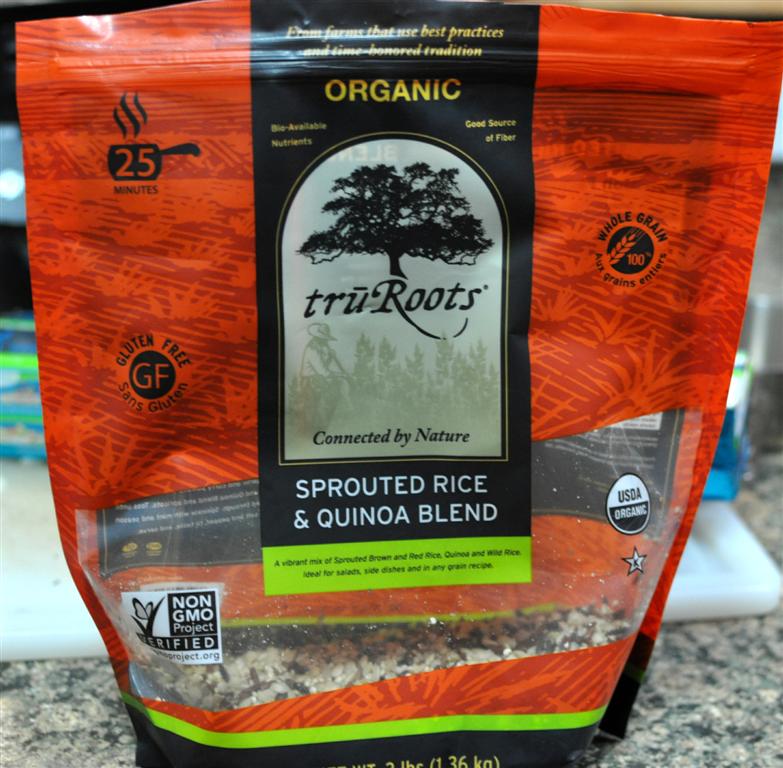 Experimental marinated & baked pork chops with green beans sauteed in coconut oil-
Like I've said before, my family is 100% subjected to all of my cooking experiments, these pork chops included. 🙂 Fortunately, they were not an epic fail, but probably a recipe that will fall into the normal "Ancheta Family Meal Rotation."
A few things I have learned about feeding kids:
Some things are meant to be eaten with hands instead of silverware (green beans included). I'm fully supportive of proper table manners, but I also pick my battles. Who am I to rob my children from eating all of their green veggies if all it takes is the use of their little fingers? If they are happy to eat their green beans with their fingers, without complaining, I'm happy to oblige them.
If you cook any type of meat on a bone (like chicken or pork chops), don't cut the meat off the bone, but give it to your child whole (only while under adult supervision, and provided that it's an older child with teeth capable of chewing… parents use discretion!). My girls love to eat meat off of the bones; it's just more exciting that way. Yes, they get dirty, but they are happy and eat until their little tummies are full.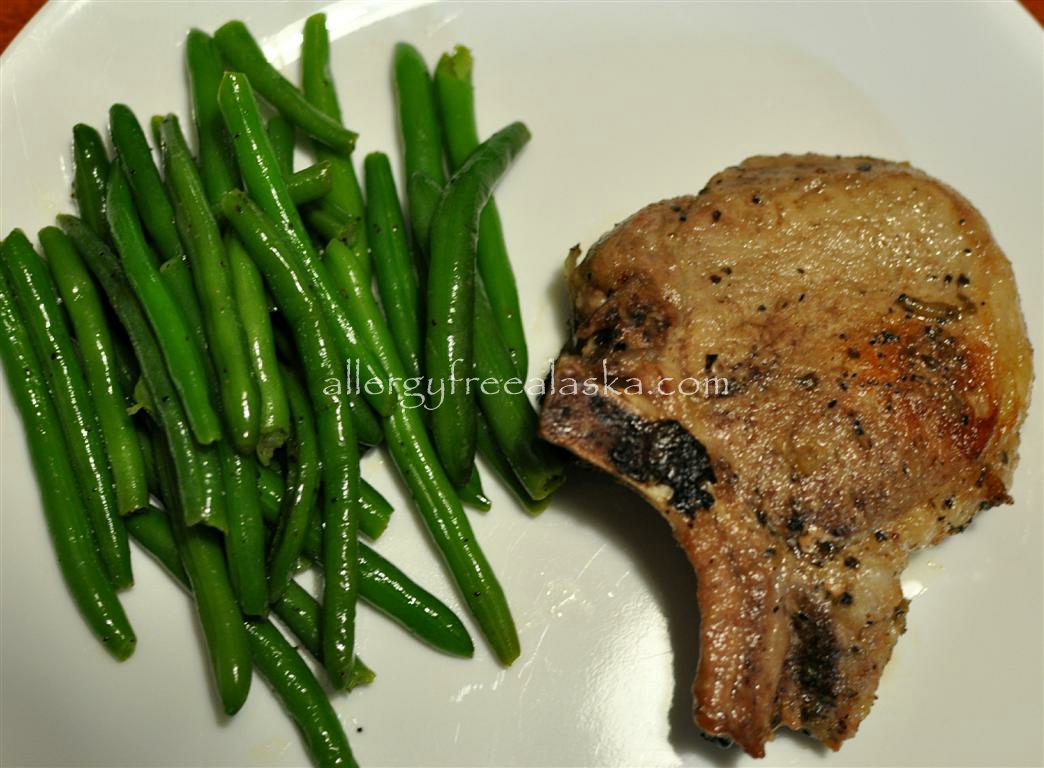 As you can see, most of the meals we eat around here are fairly simple. We eat lots of salads and fresh/frozen produce. I throw together many meals last minute because I'm a such a poor planner (I fully acknowledge it's a problem).
My children weren't born loving salad and veggies. We've had to really work on it, and we're still working on it. Some nights are a real battle, full of tears, tantrums, and the whole nine yards, but we've also made lots of progress in the last several months. Staying committed and consistent has been key for us. I don't make second meals or provide alternative options (kale is an exception); the girls have been taught they have to eat what's provided. This mind-set may not work for everyone, but it's what works for us!
This post is linked to My Meatless Mondays, Make Your Own!, Slightly Indulgent Tuesdays, Tasteful Tuesdays, Fat Tuesdays, Allergy Free Wednesday and Hearth & Soul Hop.

xoxo,
Megan