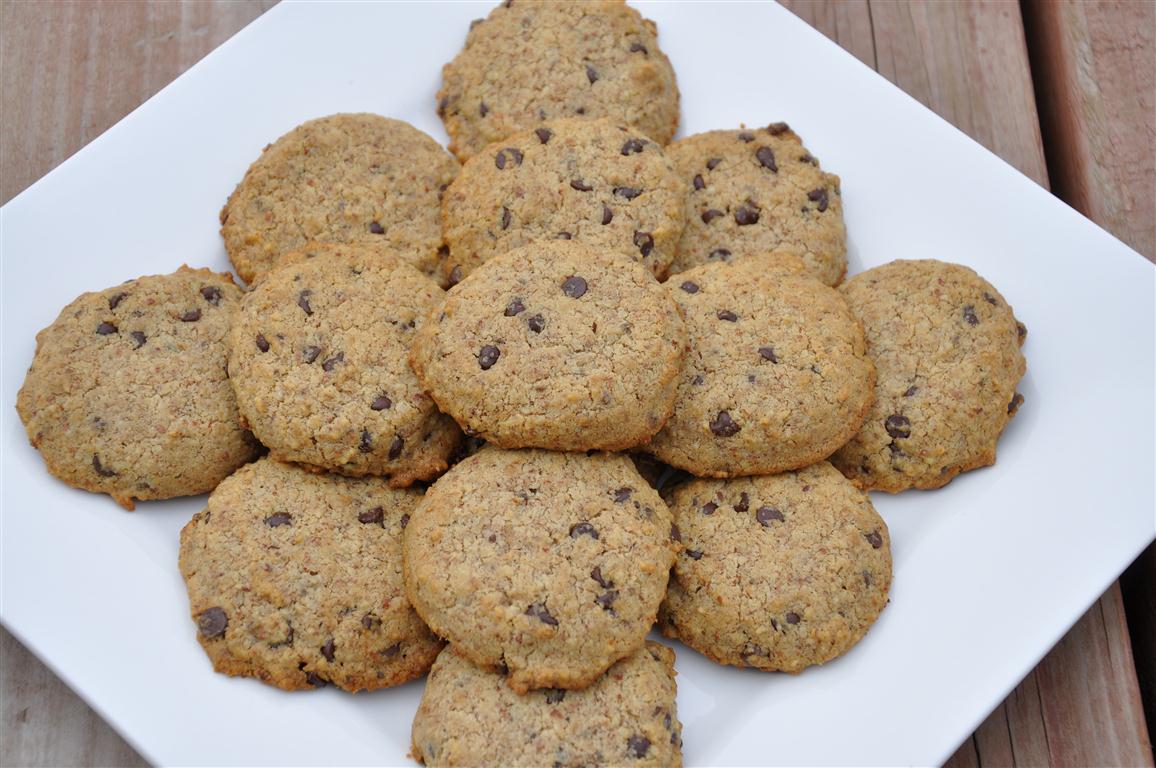 I did something I don't normally do today. I told my girls they could eat as many chocolate chip cookies as they wanted to for a snack. 😉 You should have seen the looks on their sweet faces! They were so happy!
I do not use store bought almond flour in this recipe (which is expensive!). I make my own. I simply grind whole raw almonds (skins on) in my food processor into a fine meal/flour.
Here's a little health tid-bit on almond skins courtesy of Wikipedia:
In a study printed in the Journal of Agriculture and Food Chemistry, experts discovered that almonds contain phenolics and flavonoids (a combination of flavonols, flavan-3-ols, hydroxybenzoic acids and flavanones) in their skins analogous [is comparable] to those of certain fruits and vegetables. For instance, a one-ounce helping of almonds holds a similar quantity of total polyphenol as ½ cup of cooked broccoli.
Which means if I'm going to bake with almond meal/flour, I would prefer the meal/flour to include the skin. 😉 Wouldn't you?
Those of you who have been keeping up with my blog know I've been trying to use stevia more in my baking. It's been hard, but I'm managing! The first bottle of liquid stevia I purchased was Sweet Leaf Vanilla Creme Stevia. It's good, but after trying the NuNaturals Vanilla Stevia I can confidently say I will always buy the NuNaturals brand. It doesn't have the bitter aftertaste the Sweet Leaf brand does.
Stevia Sweetened Chocolate Chip Cookies Recipe:
yeilds about 2 1/2 dozen cookies

Using an electric mixer, mix together:
1/2 cup Spectrum Shortening (or another non-dairy substitute, coconut oil, Earth Balance, etc…)
1/4 cup unsweetened apple sauce
1 tsp ground chia seeds (I buy my chia seeds from Amazon)
2 tsp vanilla
3/4 tsp NuNaturals Liquid Vanilla Stevia
2 organic eggs
Then add:
1 tsp salt
1 1/2 tsp baking soda
1/2 tsp baking powder
3/4 cup tapioca flour
2 1/4 cup finely ground almonds (I grind my own – see my note above!)
1/2 – 1 cup chocolate chips (I used 3/4 cup of Enjoy Life minis, but you could also use cocoa nibs, carob chips, or your favorite brand of GF/DF chocolate chips)
Drop dough by heaping tablespoons on an ungreased cookie sheet. Gently pat down the tops of the cookies until they are about 1/2 an inch thick. Bake in a preheated 375 degree (F) oven for about 9 minutes.
Enjoy!
Megan
This recipe is linked to the Gluten-Free Homemaker.