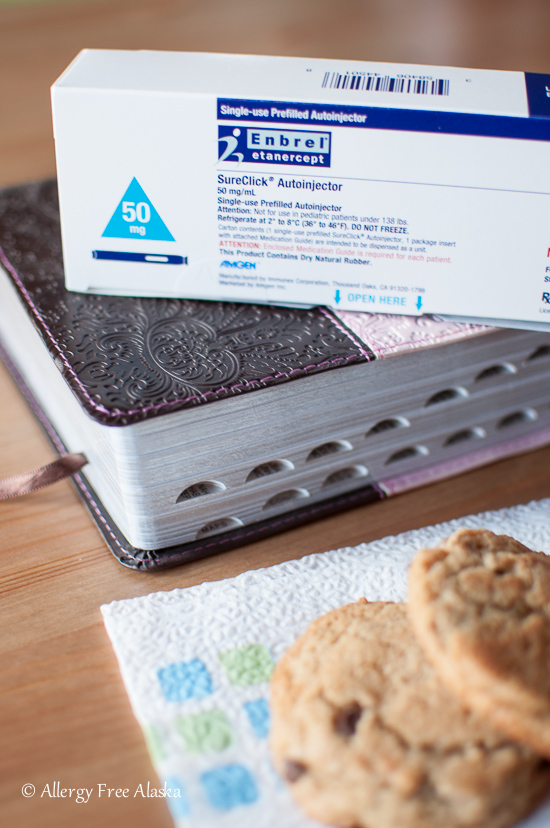 When I first wrote When a Diet Doesn't Heal Chronic Illness, it was an attempt to let loose some very raw emotions. I didn't count on it turning into something so encouraging. The minute I clicked on the post publish button, the comments, emails, and Facebook messages started pouring in – in droves. I had no idea what response I would receive, if any, and yet the outpouring of your love and support was a balm to my weary soul. You encouraged me, prayed for me, loved me. I was (and still am) blown away by the response. I read many of your messages with tears in my eyes. My husband and I met with my rheumatologist yesterday, and the nurse gave me my first injection of Enbrel. You gave me the boost I needed to put the guilt aside and step out in faith. It was time. I needed it, and my family needed it.
I wanted to share with you, what one reader, Jacqui, wrote me. Her words were so beautiful and inspiring that I'm thinking of framing them and keeping them in my kitchen, or at my desk, somwhere where I will see and read them often (Jacqui, I can't thank you enough for your encouragement and words of wisdom! Lots of love to you!):
"And then there's our fickle soul…up and down with emotion… And the battle wears on us until that brings a chemical deficit that results in yet another physiological symptom…depression. ?
So, what do we do? We cry…and we rest…and we refuse to let the enemy beat us up when we are reminded that our Father has plans for us, and that… They. Are. Good! They sure don't feel good…but we must refuse to believe the lies that hover, and choose…choose to believe the One Who never lies. (Preaching to myself, here. Just dried some of my own tears.)"
Putting my feet forward without being able to see what lies in front of me is daunting. I won't lie, part of me is really scared. My anxiety yesterday while at my doctor's office and at the blood draw clinic was through the roof. Today I'm doing better, but I keep visualizing all of my fears in a bucket, and I keep laying that bucket down at the feet of Jesus. Some of you might understand that, others of you might not… and that's okay. But mentally my faith is the one thing that always, always gives me the hope to keep stepping forward. I'm trying to believe Enbrel will work, and will work well, for whatever amount of time I need it to. Easier said than done, but I'm giving my best effort to remain hopeful.
When I was chatting with my rheumatologist yesterday, he mentioned if the Enbrel did fail, it's a possibility I can try Otezla next. I surprisingly had never heard of Otezla. It's actually a pill that doesn't suppress the immune system like biologics do. The bummer is one must try and fail Methotrexate, Humira, and Enbrel before being a candidate for it (so far I've tried and failed Methotrexate, and Humira), otherwise insurance won't pick up the tab. From what I understand, Otezla is ridiculously expensive, even more expensive than some of the biologics, which can range from $15k-60k annually (source). I don't know yet what my insurance is going to cover for Enbrel. When I was on Humira 3 years ago, insurance thankfully picked up most of the tab and made it surprisingly affordable. I'm hoping the same will ring true for Enbrel.
I told my doctor yesterday that, "I am so tired (mentally, physically, emotionally)." Here's to a new outlook, to better health, to medication working well, and to an amazing social media community. Thank you so much, friends. Your support means more than you will ever know.
xoxo,
Megan
PS- If any of my autoimmune friends have been on Otezla, I'd love to hear your results with it if you're willing to share.
PPS- My Ultimate Paleo Chocolate Chip Cookies really are perfect for anxiety… not that I would know anything at all about emotional eating. *eye roll* Let's just say I won't openly admit how many cookies I ate in a 36 hour period. 😉