I've been blessed to meet some incredible food writers over the last few years, one of which is the amazing Ricki Heller (RickiHeller.com). Ricki is a master gluten free and vegan cook, who also specializes in sugar-free (low-glycemic) and allergen friendly treats. Her new cookbook, Naturally Sweet & Gluten-Free arrived on my doorstep just days ago and I've been devouring it. Vegan or not, this cookbook is an absolute must-have for anyone eating gluten free and needing wholesome treats that won't compromise flavor or the waist line. It's just an added bonus that this cookbook is truly vegan – which makes it also dairy and egg free! 
In addition to being gifted in the kitchen, Ricki is a genuinely wonderful person. When I first found out I had to completely remove sugar from my diet months ago, Ricki was one of the very first people I reached out to for help. She offered her support and advice, but more importantly, she made time for me (thank you, Ricki!). Ricki is beautiful inside and out, and I think Naturally Sweet & Gluten-Free captures Ricki's character perfectly – it is visually stunning book (from front to back cover) and contains reliable recipes the entire family will love. 
Today I'm honored that Ricki will share with you her favorite low-glycemic sweeteners and a recipe for vegan Sunshine Breakfast Loaf, which is directly from Natually Sweet & Gluten-Free (I know, it looks amazing, doesn't it?!). 
~Megan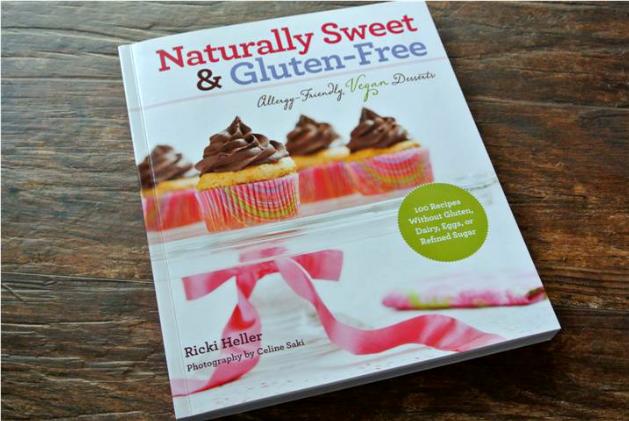 Living a Sweet Life—with Low Glycemic Sweeteners (by Ricki Heller)
Pretty much ever since I began eating solid foods, I've been a sugar addict. (Okay, so maybe I was a sugar addict even before I ate solid foods. I just couldn't talk about it back then).  Like many other people in the Western world, I was raised on lots of packaged foods with added sugars; I was given confections as treats when I was a child; and I consumed dessert every day (or more than once a day).  With eating habits like that, is it any wonder we're a nation of overweight, under-exercised, chronically ill sweets lovers?
Well, when I first began my journey toward better health, the number one thing to go was refined sugar. I started baking with less refined, natural sweeteners like maple syrup and Sucanat, but even that wasn't enough to curb the longing for the white stuff. After being diagnosed with candida (an overgrowth of yeast in the body) for the second time in 10 years, I finally decided to get my health under control and figured out what would work for me. I couldn't give up the joy of dessert in my life, and also didn't want to compromise on flavor or texture.
In the end, I determined how to create delectable desserts using low glycemic, natural sweeteners, used in combination with whole foods for nutritious, low-fat and high-fiber desserts that actually taste great. Baking with low glycemic sweeteners isn't as daunting as one might think. In fact, that's what my cookbook, Naturally Sweet and Gluten-Free, is all about: showing people who have shunned sugar, or those with multiple food allergies or sensitivities, that they can still enjoy all their favorite sweet treats, and no one need be the wiser. Because really, what's life without some sweetness?
Here are some of my favorite low glycemic sweeteners and how I use them to achieve stellar results.
Stevia. A natural herbal sweetener derived from the stevia rebaudiana plant, stevia is my number one go-to sweetener. It rates a "0" on the glycemic index, which means it won't spike your blood sugar levels when you eat it. It's also the most popular sweetener in Japan, and has been for decades. It doesn't come without challenges, though, especially if you are new to using stevia.
To begin with, because it's up to 300 times sweeter than sugar, a very little bit of stevia replaces a lot of sugar. That means you could use perhaps 1/4 teaspoon (1 ml) stevia instead of up to a cup of sugar. Clearly, those two measurements are not equal! So when you use stevia, you need to add other ingredients to replace the bulk—and binding power—of the sugar.
In addition, some people find that stevia has a slight aftertaste for them. I avoid this problem by adhering to what has become my mantra about stevia: "less is more." I always aim for the least amount required to achieve the bare minimum sweetness that still tastes good. That way, I never overdo it. When a lot of sweetening power is needed, I tend to combine stevia with another sweetener (usually coconut sugar), to achieve the benefits of both.  
I love stevia in puddings, breakfast bakes, smoothies, and pretty much any baked good.
Coconut Sugar. This low glycemic sweetener (35 on the glycemic index) has become all the rage over the past couple of years, and I understand why: it doesn't cause spikes in blood sugar, it actually contains some minimal nutritional value, and it has a lovely, mild flavor somewhere between caramel and butterscotch.
In addition, coconut sugar can be measured like white sugar, since it's also dry and crystalline. While most sources say that coconut sugar can be measured one-for-one instead of regular sugar, I've found that it doesn't taste quite as sweet as sugar, so I always mix mine with a little stevia to boost the sweetness. That way, I also use less coconut sugar, and the final product is still very low GI.
Finally, I have found that coconut sugar doesn't dissolve quite as readily as white sugar, either, so I just add it with my wet ingredients instead of the dry, and it melts right into the batter or dough perfectly.
Coconut sugar is perfect in brownies, cookies, or cakes—well, just about anything!
Coconut Nectar.  Coconut nectar is derived from the coconut palm tree just like coconut sugar, but it's not dehydrated the way the sugar is. As a result, it provides a thick, sticky syrup that also tastes a bit like caramel and is low on the glycemic index. Coconut sugar is a great replacement for honey or brown rice syrup. When I'm looking for something caramelly or slightly gooey, I turn to coconut nectar.
Agave. Agave is also a sweetener I enjoy on a much more limited basis. It's low on the glycemic index and has a lovely, light flavor, but there has been controversy about the amount of fructose in agave, and the fact that this can be hard on the liver. My take on agave is to use it sparingly, but not worry about it when you do. If an entire recipe contains 1/4 cup (60 ml) of agave, say, that means that one individual serving provides only about 3/4 teaspoon (7.5 ml), not something about which I'd be overly concerned.
Because of its mild flavor and very light color, I love to use agave in vanilla cakes or bars, as well as lightly flavored confections like lemon or banana (though I rarely use banana these days anyway!).
 Yacon Syrup. This low glycemic sweetener is derived from a tuber (root) that is native to South America. Many sources list its glycemic index score as "0," meaning it has no effect on blood sugar levels. I find that yacon tastes sort of like a cross between molasses and apple cider vinegar—that is, not quite as sweet as molasses, with a bit of a sour, fermented (though not unpleasant) tang.  It doesn't taste all that sweet, however, so I always combine it with something else rather than using it as a primary sweetener. 
I also find yacon's flavor can be a bit strong for some people, so I'd advise using yacon in strongly flavored desserts, like brownies, anything chocolate, or spice cakes, cookies or other treats.
Lo Han Guo (Monkfruit). I've only just found this sweetener and must admit that I haven't used it yet, but supposedly measures like sugar and is also very low on the glycemic index. Apparently it's been used in China for decades, and with no flavor and a sweetness factor more than 300 times that of white sugar—well, definitely worth a try!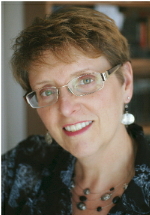 Bio: Using only whole foods ingredients, a generous pinch of humor and input from her two chatty canines, Ricki shares gluten-free, allergy-friendly and sugar-free recipes on her blog, RickiHeller.com
Ricki's second cookbook, Naturally Sweet & Gluten Free, will be released in September, 2013. Her first book, Sweet Freedom, is one of only three cookbooks recommended by Ellen DeGeneres on her website. Ricki is also an Associate Editor for Simply Gluten-Free Magazine and has written for Clean Eating magazine, Allergic Living, Living Without, VegNews, and many other publications.
 Ricki lives near Toronto, Canada with her husband and two dogs.
Sunshine Breakfast Loaf by Ricki Heller
The prunes in this delightful loaf add sweetness, and the hints of orange and cinnamon are a lovely combination. For best results, be sure to choose prunes that are still soft and moist, rather than ones that have dried out.
Serves:
Makes 1 loaf (about 8 to 10 slices)
Ingredients
3 1/4 oz (90 g) prunes (dried plums) (about 7 to 8 large prunes or 12 - 15 small prunes)
3/4 cup (180 ml) canned or homemade unsweetened pumpkin puree (see page 23)
1/2 cup (40 g) coconut sugar
1/8 tsp (.5 ml) pure stevia powder or 25 to 30 drops pure plain or vanilla stevia liquid, or to taste
2 tsp (10 ml) finely grated orange zest, preferably organic (about 1 medium orange)
1 cup (240 ml) pure unsweetened orange juice (from 3–4 medium oranges)
1/4 cup (60 ml) sunflower or other light-tasting oil, preferably organic
2 tsp (10 ml) ground chia seeds (from about 1 tsp or 5 ml whole seeds)
1 tsp (5 ml) pure vanilla extract
1 tsp (5 ml) apple cider vinegar
5 Tbsp (25 g) whole psyllium husks
1/4 cup (35 g) unsalted pumpkin seeds, raw or lightly toasted
1/2 cup (50 g) walnut pieces, raw or lightly toasted
1 1/4 cups (165 g) Ricki's All-Purpose Gluten-Free Flour Mix
1/2 cup (80 g) teff flour
2 tsp (10 ml) baking powder
1 tsp (5 ml) baking soda
1/2 tsp (2.5 ml) fine sea salt
1 Tbsp (15 ml) ground cinnamon
Instructions
Preheat the oven to 350 F (180 C). Line a 4.5 x 8.5-inch (11 x 22-cm) loaf pan with parchment paper, or spray with nonstick spray.
In the bowl of a food processor, process the prunes until they are almost smooth. Add the pumpkin, coconut sugar, stevia, orange juice, oil, chia, vanilla, vinegar, and orange zest and blend again until smooth. Add the psyllium last and pulse just to blend. By hand, gently stir in the pumpkin seeds and walnut pieces; do not process again.
In a large bowl, sift the all-purpose flour, teff flour, baking powder, baking soda, salt, and cinnamon; whisk to combine. Pour the wet mixture over the dry and stir just until blended (do not overmix). The batter will be thick (more of a spoonable consistency than a pourable one).
Turn the batter into t he pan and smooth the top. Bake 50 to 60 minutes, rotating the pan about halfway through baking, until a tester inserted in the center comes out clean. Cool 10 minutes in the pan before removing to a cooling rack. See page 37, storing baked goods. May be frozen.