This perfectly moist, gluten-free zucchini bread is a delightful Goldilocks recipe. I started with a time-tested formula from AllRecipes, but I swapped out the wheat flour, added more zucchini, and reduced the sugar a touch. The first test batch was still a little too sweet for my taste, so I lowered the sugar some more and tried a different type of oil. The second batch hit the sweet spot, but the bread didn't quite fill out the pans. For the third batch, I increased all of the base ingredients and decided to leaven the batter solely with baking soda for mightier lift. This time, the boisterous loaves were just right.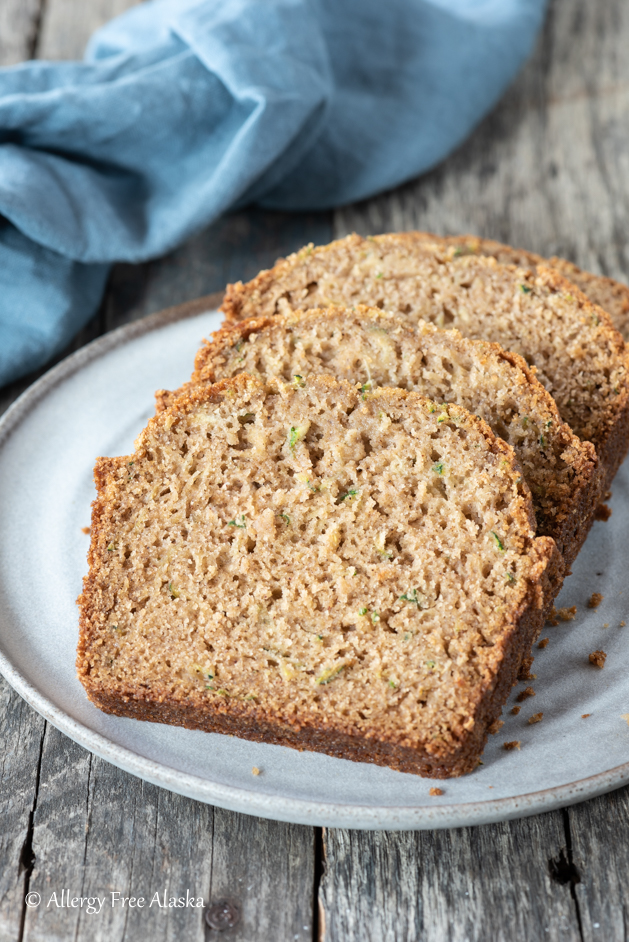 Baking this sweet quick bread has become a family affair. My daughter Kylie (14) grates the zucchini while my daughter Abbi (10) measures the ingredients for me. And we all wait, not-so-patiently, for the finished loaves to cool. If you slice into gluten-free zucchini bread while it's still warm, it can be crumbly. But sometimes it's worth the risk for a straight-from-the-oven slice.
My husband enjoys this bread with his morning coffee, but you might like it as an afternoon treat. The loaves are also great for gifting, and can be sliced and sold at bake sales. For extra curb appeal, try the icing recipe mentioned in the tips below.
For the Love of Zucchini
Zucchini is an interesting vegetable because its ancestors are native to the Americas, but it was introduced to the Italians who developed and named the squash we buy today. They call it zucchino, and many other Europeans call it courgette (a term coined by the French). In North America we adopted the name as zucchini, although it's sometimes labeled as Italian squash.
This tender summer squash is available year round, but grocers and gardens literally overflow with zucchini from July to September. My favorite way to enjoy the abundance is gluten-free zucchini bread. This recipe uses a full 4 cups (about 2 medium-to-large zucchini)! I use more zucchini in this recipe than your average version because it helps to keep the bread moist – dryness can be the downfall of gluten-free quick bread.
If you have even more zucchini to use up, you might want to whip up some of these gluten-free recipes:

Tips to Make this Gluten-Free Zucchini Bread Your Own
This is a delicious treat as is, but I certainly won't be offended if you opt to try any of the following ideas.
Flavorful Additions
For true dessert bread, you can add about ¾ to 1 cup of dark, semi-sweet, or white chocolate chips (dairy-free, if needed). If you prefer a little crunch, and aren't allergic to nuts, add about 1 cup chopped pecans or walnuts. Stir these dry additions in with the zucchini.
Icing on the Bread
For a truly special treat, make a vanilla icing to top this gluten-free zucchini bread. Sift 1 1/2 cups of gluten-free powdered sugar into a bowl. Whisk in up to 2 tablespoons of dairy-free milk beverage to get a consistency that's pourable but not too runny. If desired, whisk in ½ teaspoon of vanilla extract. Drizzle the icing over the completely cooled loaf.
Veggie Variations
If you have other fruits or veggies on hand, you can substitute them for part of the zucchini. Shredded carrots or beets go very nicely in this bread. I also like the combination of zucchini and apples, which I used in this bread recipe.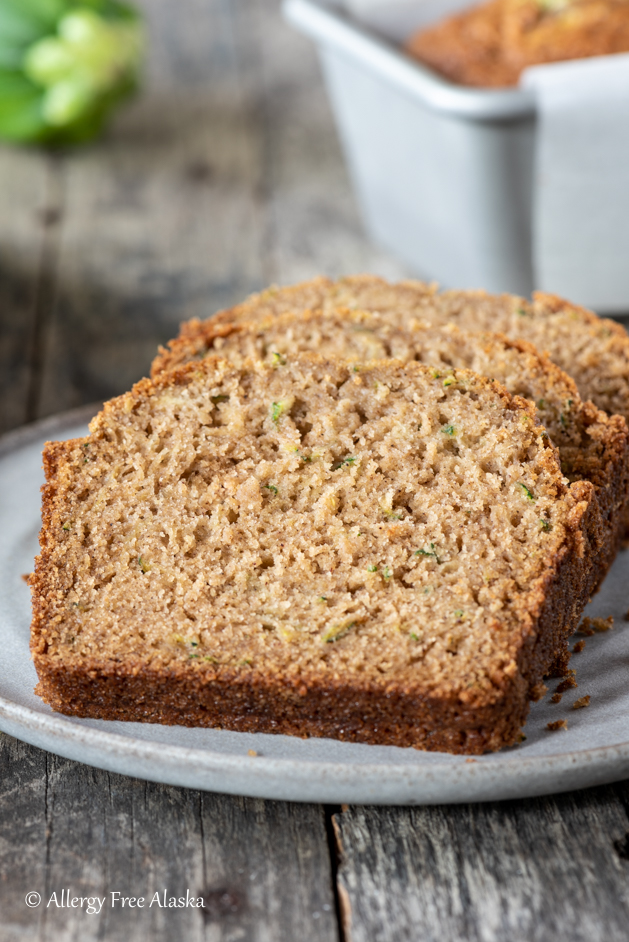 Gluten-Free Zucchini Bread Substitutions
Gluten-free baking is truly a science, which is why I would tread lightly with making any changes. But here are my suggestions if you are considering any major modifications.
Loaf Pan Swaps
I bake this recipe in two 4.5″ x 8.5″ bread pans for nice tall bread. You can use 9″ x 5″ pans, but they will make shorter loaves which can cook more quickly. The larger pans tend to take just 35 to 45 minutes in the oven, so you'll want to check for doneness 5 minutes earlier than the recipe states.
Oil Options
I think olive oil produces the best results in this recipe. I use a regular olive oil that contains just a little extra-virgin olive oil. Because this gluten-free zucchini bread bakes at a relatively low temperature, you can use extra-virgin olive oil, but it has a more pronounced flavor. Extra-light olive oil is a great option if you want neutral-tasting oil.
Coconut oil also works well in this recipe but it produces a slightly thicker batter (particularly if any of your ingredients are cool) that's also lighter in color. My preference is still for the runnier batter, darker color, and more compatible flavor from olive oil.
Sweet Subs
Most zucchini recipes use just white sugar, but I like to use part brown sugar for a little more oomph. It adds just a smidgen of moisture and imparts a deeper flavor. If you only have white cane sugar, you can substitute it for the brown sugar.
If you need a refined sugar-free option, coconut sugar might work, but the bread will be a touch drier and less sweet.
Tapioca Starch, Sorghum Flour & Brown Rice Flour
My blend has a higher ratio of flour to starch than most gluten-free flour blends, which is why I don't recommend using a store-bought version. You might also run into issues if the store-bought blend contains any binders, since I add a specific amount of xanthan gum separately in this recipe. If needed, you can substitute white rice flour for the brown rice flour. But I would caution against making any other changes to the dry ingredients, unless you are baking the recipe at high altitude …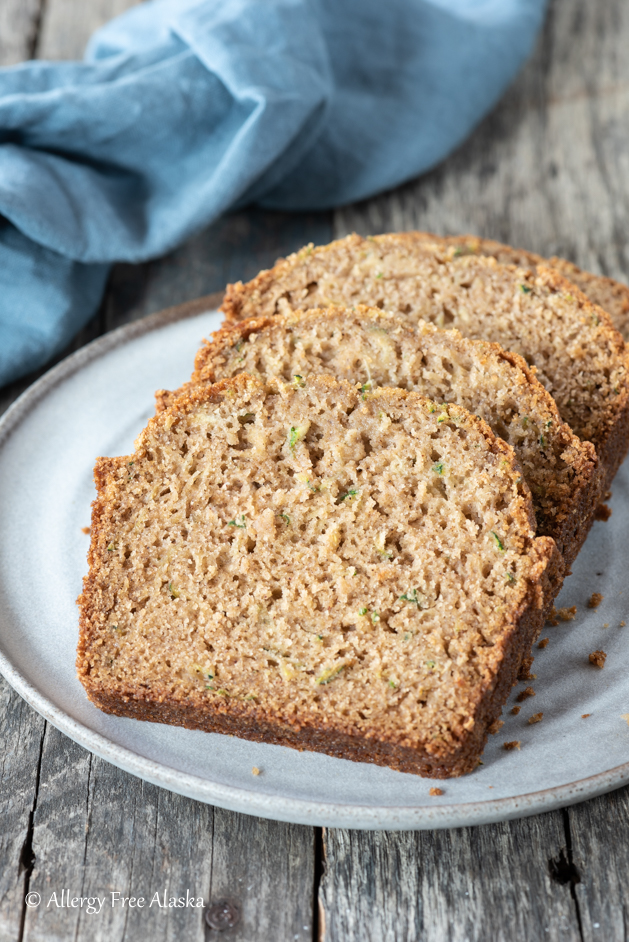 High Altitude Tips
I haven't tested this recipe for high altitude, but if you are baking it above 3000 feet, start by reducing the baking soda to 1 1/2 teaspoons. If you are baking above 4000 feet, reduce it to 1 teaspoon. You can tell if there is still too much leavener if the loaves have a bitter or soapy taste or if they rise too much and crack or collapse. Other modifications might help to perfect the recipe, but reducing the baking soda will yield some immediate gluten-free zucchini bread success!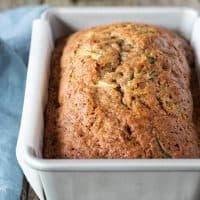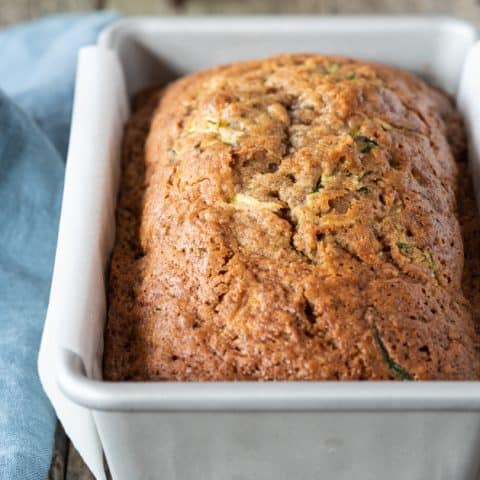 Gluten Free Zucchini Bread
Total Time:
1 hour
10 minutes
This tender and moist Gluten-Free Zucchini Bread is a beloved recipe by everyone! It's dairy-free and makes 2 loaves at a time.
Ingredients
1 cup olive oil (or coconut oil, melted)
1 cup organic cane sugar
1 cup organic brown sugar
1 tablespoon vanilla extract
4 large eggs
1 1/4 cup tapioca starch
1 1/4 cup sorghum flour
1 cup brown rice flour
1 1/4 teaspoon xanthan gum
1 teaspoon sea salt
2 teaspoons baking soda
1 tablespoon ground cinnamon
3/4 teaspoon ground nutmeg
4 cups grated zucchini
Instructions
Preheat the oven to 350 degrees (F). Line two 8.5 x 4.5" bread pans with parchment paper and generously grease.
In a large mixing bowl, whisk together the olive oil, organic cane sugar, organic brown sugar, vanilla extract, and eggs.
In a separate mixing bowl, whisk together the tapioca starch, sorghum flour, brown rice flour, xanthan gum, sea salt, baking soda, ground cinnamon, and ground nutmeg.
Add the dry ingredients into the wet, and mix until well combined.
Stir in the grated zucchini.
Divide the batter between the two prepared bread pans. Bake for 45-55 minutes, or until a toothpick, when inserted into the center of the loaf, comes out mostly clean.
Allow the loaves to cool for 10 minutes in the pans before removing and placing on wire racks. Cool completely before slicing


Notes
Do not squeeze the liquid from your zucchini! This recipe needs the added moisture.
Recommended Products
We are a participant in the Amazon Services LLC Associates Program, an affiliate advertising program designed to provide a means for us to earn fees by linking to Amazon.com and affiliated sites.