These Gluten Free Vegan Chocolate Chip Cookie Sweet Rolls are decadent bread rolls filled with chocolaty goodness and topped with a sweet glaze. We prefer to eat ours warm, with the chocolate melted and ooey-gooey.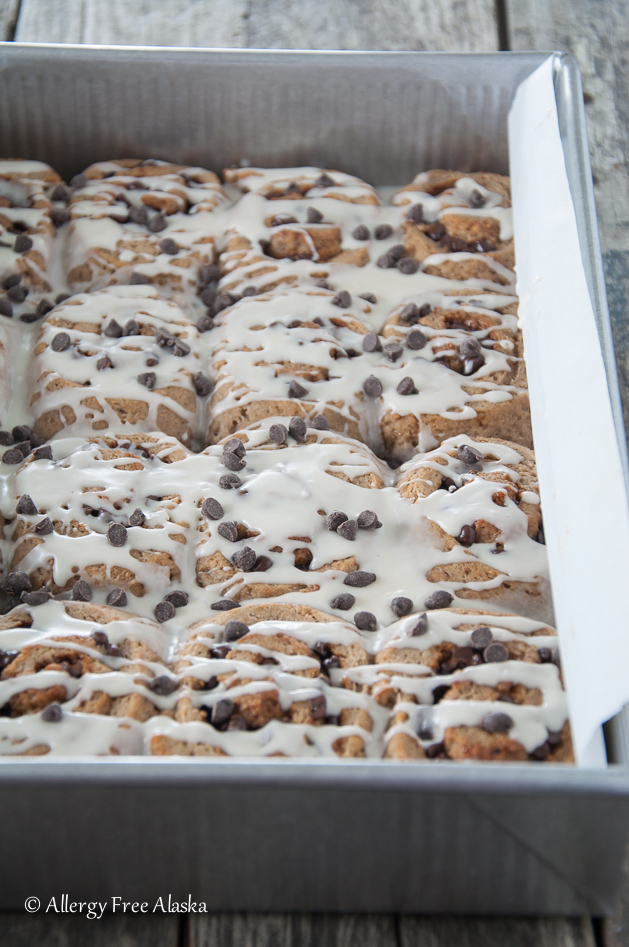 Thank you, Enjoy Life Foods, for sponsoring this post. I only work with companies I use and recommend, so you can be sure the content and opinions expressed here are all my own. Be sure to check out Enjoy Life Foods for more allergen-free recipes and products!  Follow them on Facebook! 
Saturday I had to make a quick trip into the grocery store to grab a few things. This particular store allows various organizations to sit inside their front doors with a table to sell things for fundraising. On this particular Saturday there was a table of baked goods, and a young boy approached me and asked if I'd like to buy anything. I replied, "Thank you, but I can't eat anything on your table due to dietary restrictions." The boy's mom, who was standing behind the table, looked at me and said the boy knew all about what I was saying because he had allergies too. He also couldn't eat anything on the table.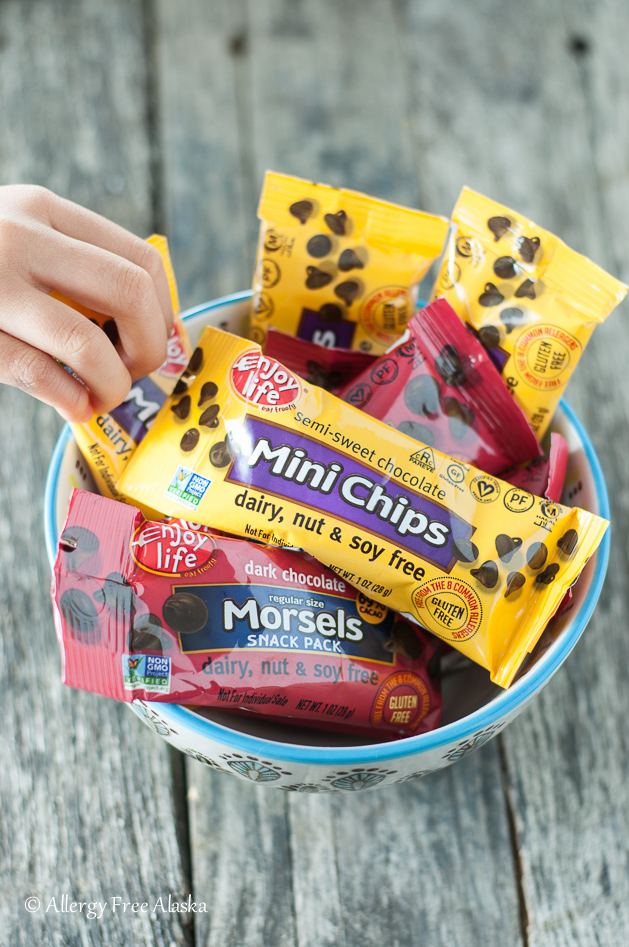 I went about my shopping, but while I was checking out, I remembered I had a few packs of Enjoy Life Food's Dark Chocolate Morsels Snack Packs in my purse (I always keep a few in there for my girls). As I was leaving the store, I gave them to the boy's mom, so he could have a special safe treat (because he had to sell treats he couldn't have!).
The mom was so appreciative, and had never heard about Enjoy Life Foods, so I was able to briefly tell her all about them.
Their products are certified gluten-free and free-from the top 8 most common allergens as defined by the FDA (wheat, dairy, soy, eggs, peanuts, tree nuts (including coconut), fish and shellfish). They are also all verified Non-GMO, certified Kosher and Halal, and are made with no artificial ingredients. A selection of their products are also certified vegan.
This is one of the many reasons I love Enjoy Life Foods, not only are they completely allergy-friendly, but because of their snack packs I was able to make a little boy's day a little brighter.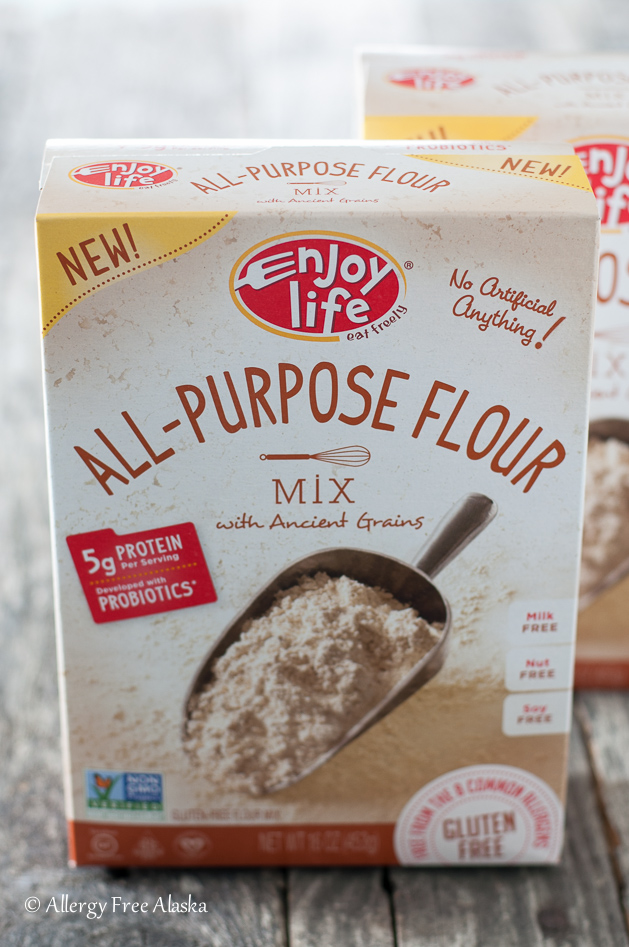 Enjoy Life Food's
 3 Baking Chocolates (Semi-Sweet Mini Chips, Semi-Sweet Mega Chunks, and Dark Chocolate Morsels) are also certified Paleo-Friendly by the Paleo Foundation. You can find full ingredient and nutritional information 
here
.
Their 5 Baking Mixes (Brownie, Pancake & Waffle, Muffin, Pizza Crust and All-Purpose Flour) are also certified vegan. They are made with a blend of ancient grains (teff, buckwheat, millet and quinoa), contain 5g of plant-based (algal) protein per serving, and contain the probiotics strain 
Ganeden BC30
! You can find full ingredient and nutritional information 
here
.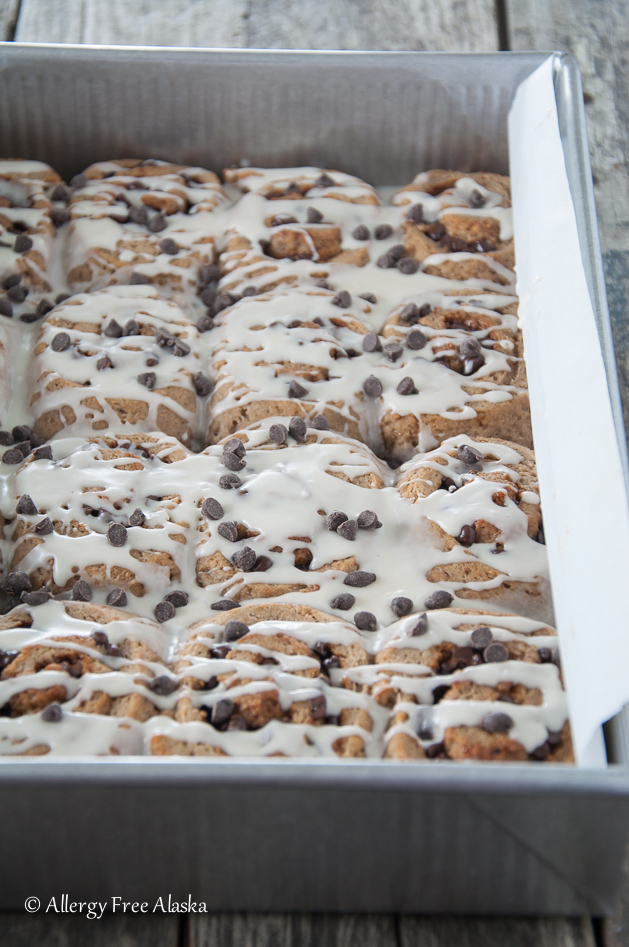 These Gluten Free Vegan Chocolate Chip Cookie Sweet Rolls are a fun twist on my
Perfect Gluten-Free Dairy-Free Cinnamon Rolls
 recipe. They remind me of a Pain au chocolat with a wonderful gluten-free dough, instead of croissant dough.
I mean, is there anything better than fresh baked bread and melted chocolate? Even better that the two are combined into one decadent treat. My girls absolutely went nuts over these rolls. I hope you and your family will too! 
xoxo, 
Megan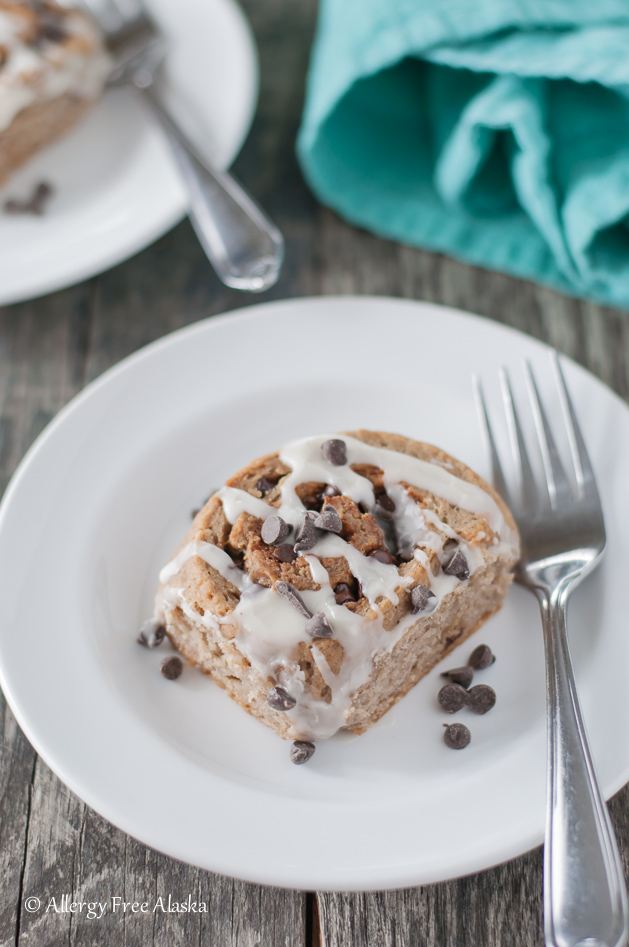 Gluten Free Vegan Chocolate Chip Cookie Sweet Rolls
Author:
Megan Ancheta, Allergy Free Alaska LLC
Ingredients
Yeast Ingredients:
2 teaspoons organic cane sugar
1 1/3 cup warm water (between 105-115 degrees F)
2 1/4 teaspoons dry active yeast
Wet Ingredients:
2 tablespoons ground chia seed + 6 tablespoons hot water (or 2 large eggs for non-vegan)
1/2 cup + 1 tablespoon full fat canned coconut milk (or 7 tablespoons dairy-free milk + 1 tablespoon vegan butter)
6 tablespoons vegan butter, melted and cooled (or ghee for non-vegan)
Dry Ingredients:
1 1/2 cups Enjoy Life Foods GF All-Purpose Flour (or see notes for sub)
1 1/2 cups tapioca starch
1 cup sorghum flour
4 tablespoons Now Foods psyllium husk powder
5 tablespoons organic cane sugar, divided
2 teaspoons baking powder
1 1/2 teaspoons sea salt
Filling:
3 tablespoons vegan butter, melted
1/4 cup organic brown sugar, divided
1 cup Enjoy Life Foods Chocolate Mini Chips, divided
Glaze:
1 1/2 cups organic powdered sugar
2-3 tablespoons water
Instructions
In a small mixing bowl, combine the 2 teaspoons of organic cane sugar with the hot water. Sprinkle in the yeast and give it a quick stir to combine. Proof for 8-10 minutes, until the yeast is nice and foamy. Make sure you have the other ingredients mixed and ready to go when the proofing time is up.
In a small mixing bowl, make the chia seed slurry. Whisk together the 2 tablespoons of chia seed meal with 6 tablespoons hot water. Set aside for 10 minutes. (If you are using eggs, skip this step.)
In the bowl of an electric mixer, use the paddle attachment to stir together the GF All-Purpose Flour, tapioca starch, sorghum flour, psyllium husk powder, 3 tablespoons of organic cane sugar, baking powder and sea salt.
In a separate mixing bowl, whisk together the chia seed mixture (or eggs), canned coconut milk and vegan butter.
When the yeast is done proofing, add the wet mixture into the dry ingredients. Stir until the mixture is paste-like, and then slowly pour in the yeast mixture. Stir for 30 seconds on low. Use a spatula to scrape down the sides of the bowl and then mix for an additional 3 minutes at medium speed. The dough will be sticky and shaggy.
Place the dough in a well-oiled large mixing bowl and push the dough down into the bowl with oiled hands or an oiled spatula, so it's spread out evenly. Cover the bowl with a clean kitchen towel (or plastic wrap). Place in a warm spot to rise for an hour.
Use a large sharp knife to cut the dough evenly in half while it is still in the bowl.
Lightly mist a large work surface with oil or water (I prefer to use oil) and then carefully lay down a 20-22" long piece of plastic wrap. Sprinkle the plastic wrap with 1 tablespoon of organic cane sugar.
Place one of the dough portions on the plastic wrap and roll the dough into a 16"x10" rectangle. (Don't use any additional flour for rolling. This dough is relatively easy to work with and shape. If you do struggle with rolling it out, cover the dough with an additional piece of 20-22" long piece of plastic wrap, and roll the dough out between the layers.) If your dough tears, simply push/pinch it together with your hands.
Brush the dough with the melted vegan butter, leaving an inch of raw dough along the top edge - the 16" edge furthest from you. This raw edge is where the rolls will seal shut. Sprinkle 2 tablespoons of organic brown sugar out evenly where you brushed the vegan butter. Now sprinkle 1/2 cup of chocolate mini chips out evenly on top of where you sprinkled the sugar.
Starting at the 16" edge closest to you, gently lift the plastic wrap and use it to carefully roll the dough away from you into a cylinder. While you roll the dough, use your hands to gently squeeze the cylinder to ensure it is rolled tightly. Use the opposite side of the plastic wrap, the side furthest from you, to roll the cylinder back towards you, so the cylinder is sitting in the middle of the plastic wrap with the seam at the bottom. Blunt or pinch the ends of the cylinder closed so chocolate chips don't spill out (if you get a few falling out, (gently) shove them back in and continue to pinch the end of the cylinder closed.
Break off a 12-inch piece of unflavored dental floss (or thread) and very carefully slide it under the dough to the middle of the cylinder. To make your cut, pull the ends of the floss up and cross over the top of the dough. Cut each of the cylinder halves in half, and then continue to cut each of the 4 pieces into 2 rolls, 8 rolls in all.
Repeat steps 8-12 to finish rolling out and forming the second half of remaining dough. Reuse the plastic wrap or break off a new piece, whatever your preference is.
Place the rolls cut side up in a well-greased 9"x13" baking dish. Cover the baking dish with a clean kitchen towel or plastic wrap and rise in a warm place for 1 hour. After the hour is up, the rolls will look relaxed, but will not appear to have risen much. This is okay, as they will raise more while baking.
Preheat oven to 350 degrees (F). Bake for 40-45 minutes, or until the tops of the rolls are golden brown.
Frost the rolls with the glaze while they are still slightly warm. Consume within 2-3 days.
Recipe Notes from Megan
If you don't have Enjoy Life Food's GF All-Purpose Flour on hand, simply substitute 1 cup millet flour and 1/2 cup brown rice flour.

If the yeast is not foamy after proofing it, throw it out and start again. This means something is wrong - either your yeast is old or your water isn't the right temperature.