Dairy Free Instant Pot Mashed Potatoes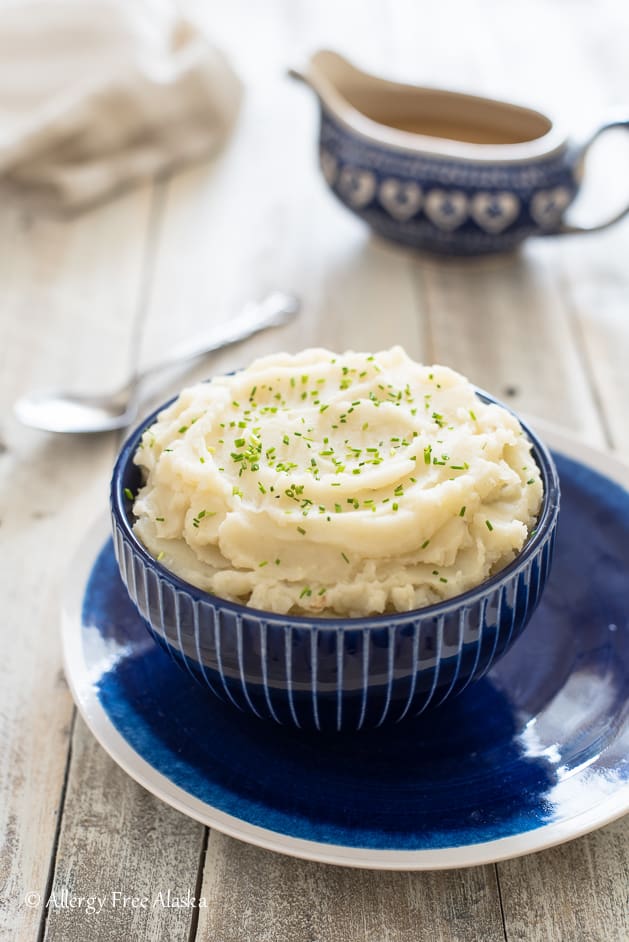 Author:
Megan Ancheta, Allergy Free Alaska LLC
3 pounds potatoes, peeled and cut into 1.5-2 inch cubes
4 cups cool water
3 – 4 garlic cloves
1/2 teaspoon sea salt
2 tablespoons vegan butter (or ghee for non-vegan)
1/2 cup vegetable broth (or chicken broth for non-vegan)
1/4 – 1/2 teaspoon sea salt
black pepper to taste
To the stainless steel bowl of the Instant Pot, add the cubed potatoes, cool water, garlic cloves, and 1/2 teaspoon sea salt.
Check the ring on the Instant Pot lid to make sure it's in the proper place, and then click the lid into place on the Instant Pot. Set the vent to "seal." Cook on high pressure for 7 minutes.
When the Instant Pot is done and beeps, use a wooden spoon to flip the vent from "seal" to "vent" to quick release the pressure (DO NOT use your hands to do this. The steam that will come out of the valve can cause burns). When all of the pressure has been released, and the release valve has collapsed, open the Instant Pot.
Use hot pads to remove the bowl from the Instant Pot bowl (careful, it will be hot!), and drain and discard the water from the potatoes using a colander.
Place the potatoes back into the Instant Pot bowl, and add the vegan butter, vegetable broth, sea salt, and black pepper. Mash until the desired consistency is reached. Taste, and add more sea salt and pepper if needed.
The starch content will vary from potato to potato; if you're mashed potatoes are too thick for your liking, thin them out with more broth.

This recipe will work with any potato (russet, red, golden, etc.).
Recipe by
Allergy Free Alaska
at https://www.allergyfreealaska.com/dairy-free-instant-pot-mashed-potatoes/