Vegan Salted Caramel Frappuccino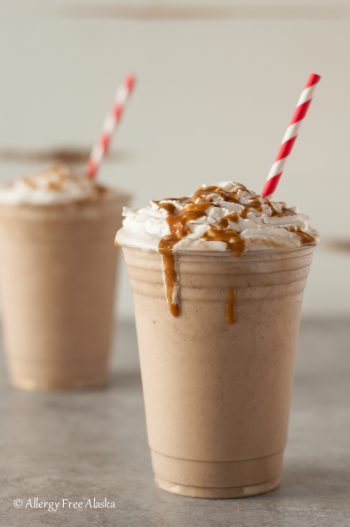 Author:
Megan Ancheta, Allergy Free Alaska LLC
1 cup ice
1/2 cup strong coffee, cooled
1/4-1/2 cup canned coconut milk (full fat is best; not lite)
To make the frappuccino, combine the So Delicious Salted Caramel Cluster Ice Cream, ice, strong coffee, and 1/4 cup of canned coconut milk in the container of a high speed blender. Blend on high until smooth. If the blender needs more liquid to get the ingredients moving, add more canned coconut milk, tablespoon by tablespoon, until the mixture moves fluidly.
Pour into a tall glass and top with So Delicious CocoWhip and Liquid Gold a.k.a. Vegan Caramel Sauce.
Consume immediately.
Feel free to use either caffeinated or decaf coffee in this recipe.
Recipe by
Allergy Free Alaska
at https://www.allergyfreealaska.com/vegan-salted-caramel-frappuccino/